Ohio State no longer has Urban Meyer, one of the most successful head coaches in college football history, and it doesn't have Dwayne Haskins, who produced the most prolific passing season in program history last year.
Yet, the expectations at Ohio State remain as high as ever.
With less than a week until the Buckeyes kick off their game against Florida Atlantic at noon on Saturday, we wrap up the Eleven Warriors Season Preview with a look at the 10 biggest remaining questions that will determine the fate of the 2019 season.
Is Justin Fields a championship-level quarterback as a first-year starter?
It would be difficult to doubt Fields' long-term potential.
He'll be the top-rated recruit to ever play for Ohio State and was the No. 2 overall prospect in the class of 2018. Fields beat Trevor Lawrence, among other quarterbacks, to win the Elite 11 MVP two years ago, and he pairs that throwing ability with a 6-foot-3, 223-pound frame and speed to run the 40-yard dash in 4.5 seconds or less.
Still, expectations have been kept in check because he has never started a game and transferred to Ohio State in January, giving him less than a year to learn Ryan Day's offensive system.
Though Fields' natural gifts are obvious when watching him, he might need time to become the quarterback Day envisioned when he landed him. How quickly he develops could determine whether or not the Buckeyes reach their potential in 2019.
Can J.K. Dobbins have his desired rebound season?
The numbers tell the story of Dobbins' two years.
2017: 194 carries, 1,403 rushing yards, 7.2 yards per carry, 7 rushing touchdowns
2018: 230 carries, 1,053 rushing yards, 4.6 yards per carry, 10 rushing touchdowns
Season Previews
Dobbins characterized his sophomore season as a "failure," which is a harsh way to describe a year in which he cracked 1,000 rushing yards for the second time. But he undoubtedly didn't produce at the level he did as a true freshman.
Now leading a backfield without a true No. 2 running back, Dobbins has to perform at the level he did in 2018. He seems to have taken the right steps, dropping from 12 percent to 8 percent body fat and showing enough leadership to become a team captain. But now he'll have to translate that into results on a team that needs him at his best, especially in the early portion of the season as Fields eases into his first year as a starting quarterback.
He has high goals, too.
"I just feel like I'm the best running back in the nation and I want to prove that, and I didn't last year," Dobbins said. "And I have a chip on my shoulder because I know I can do better."

Does Ohio State have enough depth at quarterback and running back to get by?
When Day finally announced what everybody already knew, that Fields will start at quarterback, he didn't name a backup quarterback. Why? Because the battle between Gunnar Hoak and Chris Chugunov was closer than the supposed competition featuring Fields and Hoak.
That could be taken as a sign that Fields has ingratiated himself as part of the offense quicker than possible. But more than likely it also means Hoak didn't blow everybody away with his performance in camp. Chugunov, who transferred from West Virginia last offseason, wasn't brought in with an expectation of playing a meaningful snap for the Buckeyes. Yet he might find himself second on the depth chart next week.
Without sugarcoating anything, that's a serious problem.
The Buckeyes also spent the entirety of preseason camp searching for a backup running back. It appears Demario McCall likely won the job, but he did so in part because Master Teague got injured and the only other candidates are true freshmen who have never played a snap. He might have performed well in practice, but he didn't face a particularly staunch field.
If Ohio State has its way, the team will never have to play its backup quarterback in non-blowout snaps and it won't need to rely heavily on a non-Dobbins running back. But unexpected scenarios tend to pop up, which could test the Buckeyes.
Who will complement K.J. Hill as Ohio State's top receivers?
At some point this year, Hill will most likely break the record for most receptions in Ohio State history. He needs only 48 catches this season to break David Boston's record of 191.
But who will join him as Fields' top targets?
Hill caught 70 passes for 885 yards and six touchdowns last season as one of Haskins' receivers. With Terry McLaurin, Johnnie Dixon and Parris Campbell gone to the NFL, other wideouts must step up alongside Hill.
Austin Mack and Binjimen Victor will likely start, but neither wideout has ever caught more than 26 passes in a season. Now seniors, both have one final year to have an elusive breakout performance.
Chris Olave and Garrett Wilson, two underclassmen, could make major impacts. Olave, one the speediest receivers on the team, has a chance to make up for some of the game-breaking ability lost when McLaurin, Dixon and Campbell left. Wilson has sensational ball skills, though he's just a freshman. Jaelen Gill and Jaylen Harris are candidates to make leaps, too.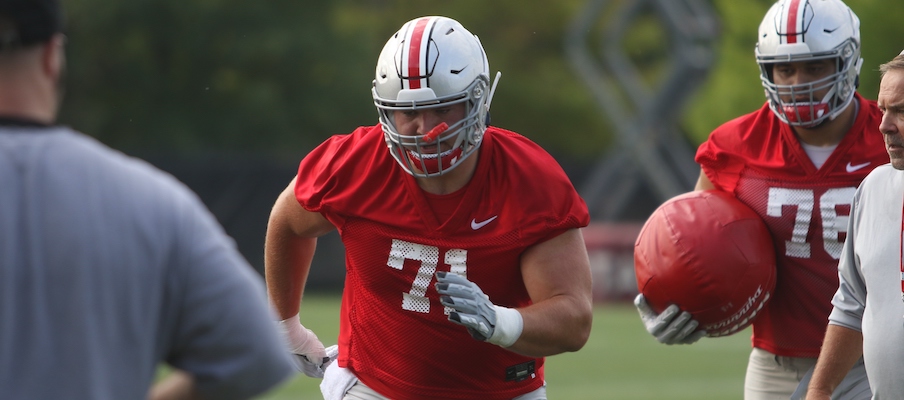 Can this inexperienced offensive line be an upgrade from last season?
Among its six offensive linemen in contention to start this season, only Thayer Munford started more than two games for Ohio State last season. Yet, despite its inexperience, the unit could be an upgrade from last year.
Munford should be improved as Fields' blind-side protector. Jonah Jackson, a Rutgers transfer, has more than a year of experience as a starter and performed well at left guard throughout preseason camp. Josh Myers, the top-rated Ohio recruit in 2017, has never started but has gained the confidence of his teammates and coaches at center. Wyatt Davis impressed in two starts at right guard to end the 2018 season. Branden Bowen is a fifth-year senior with six games of starting experience, and Nicholas Petit-Frere was the top-rated offensive line recruit a year ago.
All six of Ohio State's possible five starters across the line have notable upside, and together they have a chance to be an improvement from last year's line. Making that a reality would greatly benefit Fields and Dobbins.
How well do the returning linebackers play under Al Washington?
Billy Davis is gone to the NFL, but he didn't take any Ohio State linebackers with him.
All starters from last year's team – Malik Harrison, Tuf Borland and Pete Werner – along with Baron Browning, the top backup at the position, return for the 2019 season. And even though Teradja Mitchell, K'Vaughan Pope and Dallas Gant had strong offseasons, the four linebackers who played most last season appear to be the four that will play the most at the second level of the defense for Al Washington in 2019.
Harrison, Borland, Werner, Browning and the rest of the linebacker unit collectively didn't play up to the standard set at Ohio State last season. They're all back for redemption this fall. Whether they can make a wholesale improvement could ultimately determine whether the Buckeyes have the improvement they're seeking on defense this year.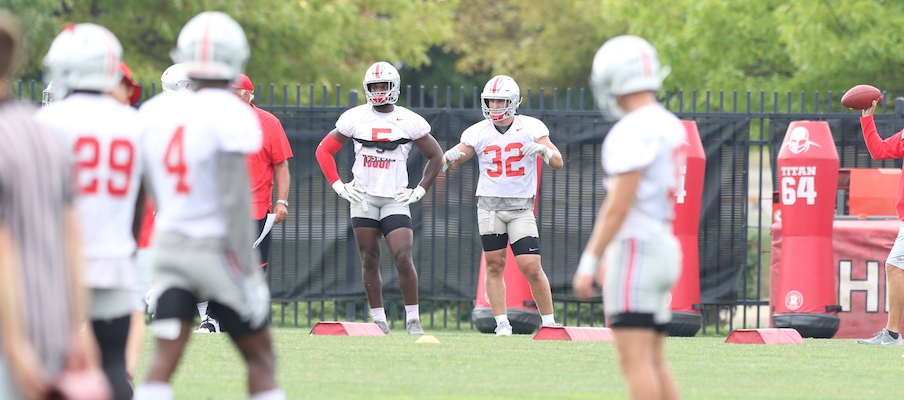 Does the new defensive scheme prove to be what the Buckeyes need?
When Day put together his defensive coaching staff, he only kept one assistant from the Urban Meyer era: defensive line coach Larry Johnson. He turned over the rest of the staff, hiring Greg Mattison as co-defensive coordinator, Jeff Hafley as co-defensive coordinator and secondary coach, Washington as linebackers coach and Matt Barnes as assistant secondary coach and special teams coordinator. 
With the new coaches came a new scheme that has been widely dissected before it has even seen the field in a game.
Throughout the offseason, both the coaches and players have had plenty of positive takeaways. Damon Arnette went as far as to say "the Bullets are back, for real." But the Buckeyes will need to prove that this fall.
Can the defensive backfield return to "Best In America" status under Jeff Hafley?
Ohio State doesn't lack for talent in the back end of its defense.
With Jeff Okudah, Shaun Wade and Arnette at cornerback and Jordan Fuller at safety, Hafley has a lot to work with. Can he put them in the best position to make plays? His players have bought into that idea.
No longer will the Buckeyes play press-man coverage the vast majority of the time. Instead of two deep safeties, they'll often have a single free safety patrolling the defensive backfield. Brendon White has moved from safety to bullet, a hybrid linebacker-safety position. 
Okudah, Wade, Arnette and Fuller have all expressed confidence in Hafley's scheme. They'll have a chance to offer a first glimpse on Saturday.
Does Ryan Day have what it takes to succeed at the highest level as a head coach?
Day led the Buckeyes through fall camp and won three games as a head coach last year. But he hasn't fought for a College Football Playoff berth and maintained one of the nation's top programs for an entire season as a head coach.
With five assistant coaches, assistant athletic director for football sports performance Mickey Marotti, assistant athletic director for player personnel Mark Pantoni and associate athletic director/general manager of football operations Brian Voltolini still at Ohio State, Day maintained key pieces of the infrastructure of the football program that Meyer took to the highest level. But he'll have to prove that Meyer's absence doesn't alter the trajectory of Ohio State.
Can this team make it back to the College Football Playoff?
This is the ultimate question.
Everything else simply builds to this. Does Ohio State have enough talent to not just make the playoff but to win the national title? Yes. But that doesn't mean they'll actually make it happen.
In order to reach the College Football Playoff for the first time since 2016, the Buckeyes need Day and Fields to be the real deal, and they need a majority of these other questions to turn in their favor.