Ohio State's defensive backfield has its sights set on reclaiming its "Best In America" status.
Last year didn't go as planned. The Buckeyes ranked 85th in the nation in opposing passing yards per game and intercepted just 2.25 percent of opponents' passes, which ranked 86th in the country. But with almost the entire secondary back this season – save for cornerback Kendall Sheffield, who left for the NFL and became a fourth-round pick by the Atlanta Falcons – the cornerbacks and safeties have a high level of confidence as the 2019 season nears.
"Reset," Damon Arnette said this week. "Click a reset button. Forget it. Don't even think about last year. Don't even think about that because the Bullets are back, for real."
With a largely new defensive coaching staff, the Buckeyes will be running a scheme with stark contrasts to what they did last year. Jeff Hafley, an NFL defensive backs coach for the past seven years, returned to the college ranks as Ohio State's co-defensive coordinator and secondary coach. He teams up with new assistant secondary coach Matt Barnes, who was previously the special teams coordinator and linebackers coach at Maryland.
With Jordan Fuller at safety and Jeff Okudah, Shaun Wade and Arnette at cornerback, the new staff has a talented group of defensive backs to work with.
"They're working hard," Hafley said this week. "I think they've had a good camp. They're learning the scheme. I think they're gaining confidence, which, to me, is the most important thing. I want those guys to play confident. I want them to have fun. Because on game day, we've got to go play. And I think they're getting close. The confidence is definitely growing."
We take a deep look at Ohio State's defensive backfield as we near the season opener in this edition of Eleven Warriors' 2019 Season Preview.
What We Know
Season Previews
Even though Ohio State lost Sheffield, a starter last season, its cornerbacks have a chance to become one of the team's top units.
They're led by Okudah, a rising junior who is widely regarded as a possible first-round pick in the 2020 NFL Draft. His draft stock rose with his impeccable performance in the Rose Bowl, and he has a chance to secure himself as a top pick with a strong season. Dane Brugler of The Athletic already ranks him as the No. 4 overall prospect for next year's draft, and ESPN's Mel Kiper Jr. has him as the No. 15 overall prospect.
If he reaches his potential under Hafley, Okudah could give Ohio State's pass defense a massive boost as a possible lockdown cornerback. 
He'll likely be joined on the outside by Arnette, who has started more games than any other player on Ohio State's defense. The fifth-year senior nearly left for the NFL, but he chose to return after talking to Hafley and former Ohio State wide receiver Cris Carter. In preseason camp, he has spent the majority of the time playing outside corner, but he has also shifted inside to cover slot receivers at times.
Wade, it appears, will play nickelback most of the time, but he can also shift outside to play cornerback and even has experience at safety. His experience at multiple positions could make him one of the most indispensable players on the Buckeyes' defense.
Unlike in past years, Okudah, Arnette and Wade won't be playing press-man coverage on the vast majority of their snaps. Instead, Hafley prefers to vary his coverages, mixing between looks, playing both man and zone.
"You'll see us press," Hafley said. "I just don't think it will be on every single play."
Behind the trio of cornerbacks expected to play the most, Amir Riep, Marcus Williamson, Sevyn Banks, Cameron Brown and Tyreke Johnson are competing for playing time. Like Wade, Riep can play cornerback, nickelback and safety. Williamson, a junior, is in the mix for a backup spot. Banks and Brown had strong camps. Johnson had an undisclosed injury throughout preseason camp and remains sidelined, though he's not expected to be held out much longer, per Wade.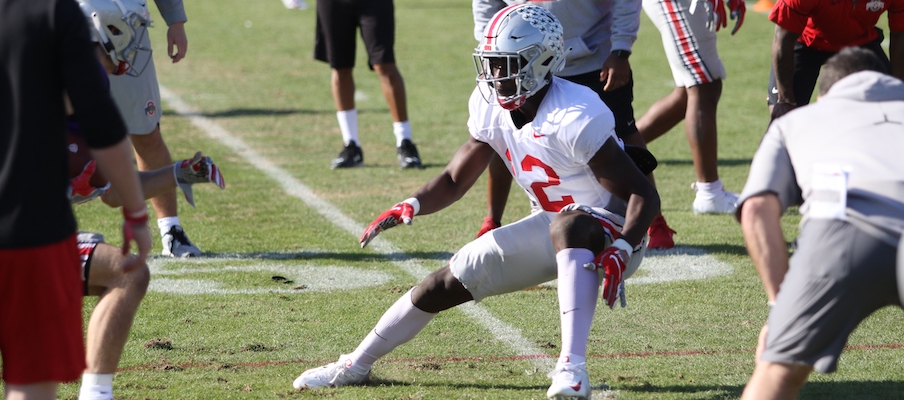 Fuller will play safety once again for the Buckeyes, and because Brendon White moved to the bullet position (which is considered to be a linebacker position), he'll likely be the only starter at the position. Ohio State has frequently lined up with only one deep safety in offseason practices, and Fuller will fill that role.
As a fourth-year senior with more than a year of starting experience, Fuller is the linchpin to the defensive backfield. He could have left for the NFL, but he chose to remain in college both to earn his degree – he's a two-time academic All-American – and to become more of a playmaker. 
If the Buckeyes opt to go with a second safety to play alongside Fuller, which they'll likely do at times, Isaiah Pryor and Josh Proctor are the top options.
Pryor started seven games last season before suffering an injury, and did not play again on defense after White took his place in the starting lineup. Proctor, a rising sophomore, only played three defensive snaps last season but has impressed throughout fall camp. During preseason camp, he had about eight interceptions, Okudah said, more than anybody else on the team.
Marcus Hooker is competing for his first snaps as a Buckeye after redshirting last season, partially due to injury. Bryson Shaw is beginning his first season as a Buckeye and is a redshirt candidate if he does not earn playing time on special teams. Ronnie Hickman, a former top-125 overall recruit, will likely miss his freshman season as he recovers from a torn ACL.
What We Don't Know
As much confidence as Ohio State's cornerbacks have in them getting back to the level at which they believe they're supposed to play, it's not possible to know whether that happens until the games begin. To make matters more uncertain, they're playing in a different scheme with new coaches.
Kerry Coombs and Taver Johnson recruited them to play press-man coverage, and they taught them that style of play until Ryan Day hired Hafley in January. All three starting cornerbacks have expressed great degrees of confidence in Hafley's plans, but they'll have to show those improvements beginning on Aug. 31, which they understand.
"I think (next) Saturday is the first chance that we have to show that BIA is out looking for redemption," Okudah said. "Saturday is the first day to put it on tape. We've known how we've performed on the practice field, but if you can't translate it to the game field, it really has no effect or it doesn't mean anything. Our goal is to put what we've seen out there for y'all on Saturday."
Okudah, specifically, has a chance to turn into a star. But can he make that happen? He certainly showed flashes in the Rose Bowl, but now he has to play that way for an entire season.
Arnette, too, will be challenged to play at an improved level. He was flagged for five pass-interference penalties last season, which he'll have to avoid this season.
Playing a simplified defense could help with that, though it's still a bit unclear how that will play itself out on Saturdays. Pryor said the secondary has about 20 different coverage packages this season, which is far fewer than it had a season ago.
"Last year, it felt like every game we had a new coverage or a new defense we were trying to put in for that specific team," Pryor said. "And now, this year, we can more just tweak it to fit it instead of just having a whole new defense you needed to learn."
That could impact Pryor and the rest of the safeties. Fuller said he believes this defense will allow him to make more game-changing plays.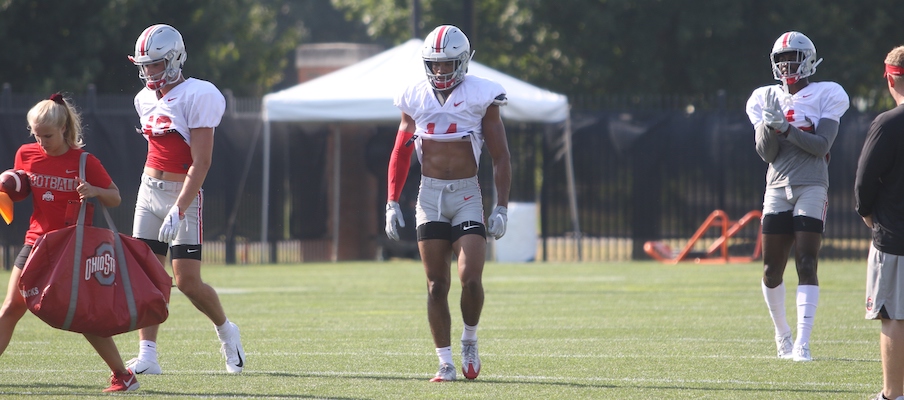 Players to Watch
Ohio State's 2019 Defensive Back Roster

| No. | Name | Ht. | Wt. | Year | Hometown (High School) |
| --- | --- | --- | --- | --- | --- |
| 1 | JEFF OKUDAH | 6-1 | 200 | JR | Grand Prairie, Texas (South Grand Prairie) |
| 3 | DAMON ARNETTE | 6-0 | 195 | RS-SR | Fort Lauderdale, Florida (St. Thomas Aquinas) |
| 4 | JORDAN FULLER | 6-2 | 205 | SR | Old Tappan, New Jersey (Old Tappan) |
| 10 | AMIR RIEP | 6-0 | 195 | JR | Cincinnati, Ohio (Colerain) |
| 12 | SEVYN BANKS | 6-1 | 200 | SO | Orlando, Florida (Jones) |
| 13 | TYREKE JOHNSON | 6-1 | 196 | RS-FR | Jacksonville, Florida (Trinity Christian Academy) |
| 14 | ISAIAH PRYOR | 6-2 | 200 | JR | Lawrenceville, Georgia (IMG Academy) |
| 15 | JOSH PROCTOR | 6-2 | 205 | SO | Owasso, Oklahoma (Owasso) |
| 21 | MARCUS WILLIAMSON | 5-10 | 180 | JR | Westerville, Ohio (IMG Academy) |
| 24 | SHAUN WADE | 6-1 | 194 | RS-SO | Jacksonville, Florida (Trinity Christian Academy) |
| 26 | CAMERON BROWN | 6-0 | 188 | SO | St. Louis, Missouri (Christian Brothers College) |
| 28 | RONNIE HICKMAN | 6-1 | 200 | FR | Wayne, New Jersey (DePaul Catholic) |
| 29 | MARCUS HOOKER | 5-11 | 200 | RS-FR | New Castle, Pennsylvania (New Castle) |
| 30 | KEVIN DEVER | 6-0 | 195 | SO | Cleveland, Ohio (St. Edward) |
| 34 | OWEN FANKHAUSER | 5-11 | 195 | JR | Stow, Ohio (Stow-Munroe Falls) |
| 38 | BRYSON SHAW | 6-2 | 185 | FR | Eldersburg, Maryland (Bullis School) |
| 42 | LLOYD MCFARQUHAR | 5-9 | 170 | SO | Cleveland, Ohio (Brush) |
| 43 | RYAN BATSCH | 6-2 | 205 | RS-FR | Loveland, Ohio (Loveland) |
| 49 | DARRYL SINCLAIR | 5-9 | 185 | JR | Solon, Ohio (Solon) |
Everybody has their eyes on Okudah's NFL draft stock and Arnette's chase for redemption, but it would be foolish to overlook Wade. 
"Shaun's just a really smart player," Okudah said. "He doesn't get as much reps at corner as far as in practice or in seven-on-sevens or something like that. But if you put him out there at corner during the team setting, one-on-ones, he's able to still hold his own, which is pretty impressive for someone who doesn't get as many reps as maybe I do at corner."
Wade, Okudah and Arnette likely won't often getting subbed out for younger cornerbacks. They'll play the majority of snaps both on the outside and in the slot.
But if somebody pushes them for playing time, there's a good chance it'll be either Banks or Brown, both of whom impressed their teammates in preseason camp. Wade specifically named them as a pair that caught his eyes.
"Sevyn is 6-2, very, very strong and athletic," Wade said. "He can do every dunk in the book that you can think of. There's not a lot of 6-2, very, very strong looking like him. And he's only 18. He has so much time to go. When he learns the game, he's going to be a dominant player. And Cam, he's very, very fast."
Brown only played 24 snaps as a true freshman, when his season was cut short due to injury. Banks was relegated to special teams. Their lack of experience hasn't lowered Wade's excitement about them, though.
"If they left here, they could play anywhere," Wade said. "I promise you that."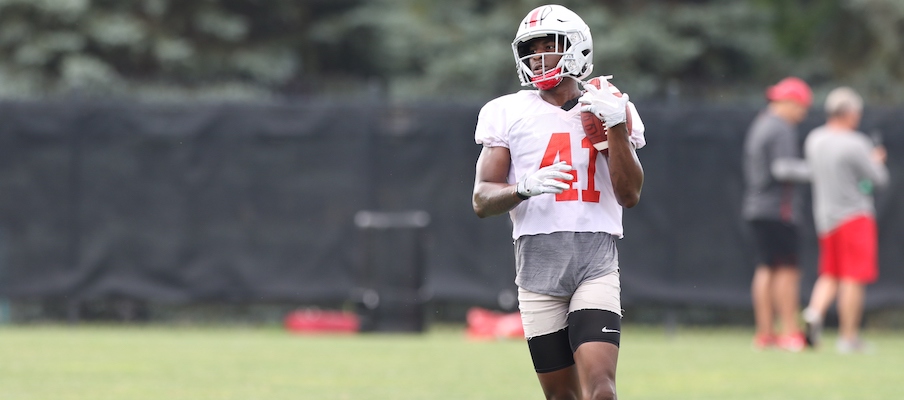 He has similar optimism about Proctor, too.
As of now, due to the presence of Pryor, it's not clear whether Proctor would even be the backup to Fuller. But there's no doubt the second-year safety impressed his teammates as much as anybody else in the secondary throughout fall camp.
Here's what the three starting cornerbacks said about him:
Wade: "He makes a lot of plays at safety. He's 6-3 but with Jalen Ramsey arms looking like Jalen Ramsey, running, hitting everything. He's going to be very, very (good). He's like Malik Hooker but bigger and taller."
Arnette: "You already know who he reminds me of. The Hook. He definitely reminds me of him back there. It's exciting."
Okudah: "He just has a knack for finding the football, whether it's through punching it out or making plays on the ball with his range. The way he generates turnovers is kind of like an Ed Reed kind of impact."
Jalen Ramsey. Malik Hooker. Ed Reed. Quite the trio of comparisons for somebody who has played just three defensive snaps at Ohio State.
Hafley didn't ramp up the expectations with a fourth comparison. Instead, he noted that Proctor finally has begun to find the play-to-play consistency he needs to take his game to the next level.
"If you look at the way Josh has practiced, you guys saw, Josh came out and it was like, interception, interception," Hafley said. "And then I think he started to press a little bit, and I think he was trying to make plays. But you've just got to let plays come to you in the scheme, and I think he's getting back to that. We just talked to him about being consistent, and if he's consistent, we'll find a role for him and we'll get him in."
Position Outlook
Ohio State doesn't lack talent in its secondary even though it didn't reach its desired results last year.
Fuller and Arnette have as much experience as anybody else on the defense, and with one year left in both of their careers, it's now or never to become the types of players they've hoped to develop into. 
The senior duo is complemented by Okudah and Wade, who were the No. 1 and No. 2 cornerback recruits in the 2017 recruiting cycle, respectively. Now in their third years, both cornerbacks seem to be on the precipice of breakout seasons. Okudah, already a top-rated NFL draft prospect, has as much natural talent as anyone else at the position in the country. Both he and Wade have long, lanky bodies and fast top-end speed that allow them to match up with a variety of receivers.
Many of the remaining questions pertain to how Hafley and Barnes intend to get the most out of this group.
Under Urban Meyer, the defensive backfield both played a similar style every year and produced draft picks seemingly every year. Day opted to hire somebody to alter the style of play with the hopes that the on-field results get back to an elite level.
Projected Depth Chart
Cornerback
Jeff Okudah
Sevyn Banks
Marcus Williamson
Cornerback
Damon Arnette
Cameron Brown
Tyreke Johnson
Nickelback
Shaun Wade
Amir Riep
Safety
Jordan Fuller
Isaiah Pryor
Josh Proctor