Ever since Mike Weber missed the 2017 season opener with an injury, leading to J.K. Dobbins starting his first-ever college game and rushing for 189 yards, Ohio State essentially housed a backfield with two starters.
It had Dobbins, and it had Weber. Two worthy options.
Neither running back was the full-time starter, leading to Tony Alford splitting their carries. Last year, they combined for more than 2,000 rushing yards with Dobbins accumulating 1,053 yards – crossing the 1,000-yard mark for the second year in a row – and Weber racking up 954 yards on the ground.
Ohio State won't need to split carries in a similar fashion this fall. Only Dobbins is back for the 2019 season.
Weber choosing to forgo his fifth year and leave for the NFL following the 2018 season clarified what at times became a running back situation for the Buckeyes. Dobbins, after splitting time with Weber the past two years, finally has his own backfield. He'll have one or two other players to complement him on the ground, but he's the sole focus at running back. If teams want to stop Ohio State's ground game, they'll be thinking about Dobbins and Justin Fields.
What We Know
Season Previews
Dobbins is the undisputed starter, a title no Buckeye running back has held since Weber ran for 1,096 yards as a freshman in 2016.
Both he and Weber spent the past two years trying not to cause a ruckus by never complaining about split carries. They toed the company line. But it wasn't difficult to see that they both would have preferred being the clear lead back. After Dobbins' 37-rush, 203-yard performance against Maryland that came due to Weber missing the game due to an injury, he gave off an invigorated vibe in his post-game interview.
He might never hit his career high of 37 carries again, but Dobbins will have a chance to power the ground game without a clear partner at running back with whom he'll have to split touches.
"I loved having Mike here, and there was benefits to sharing carries," Dobbins said. "But knowing that I'll be getting more carries than my first two years is kind of a good feeling because I'll be able to get into a rhythm and stuff like that. I think that helps a lot."
If Dobbins cracks 1,000 rushing yards for the third season in a row, he'll be the second player in Ohio State history to do so three straight seasons. Only Archie Griffin has rushed for at least 1,000 yards in back-to-back-to-back seasons.
Redshirt junior Demario McCall joins Dobbins in the backfield. He has bounced around between running back and H-back in his first three years at Ohio State, but his immediate future remains at running back.
Redshirt freshman Master Teague, freshman Marcus Crowley and freshman Steele Chambers round out the backfield. Teague had 17 rushes for 106 yards in his redshirt season.
What We Don't Know
As a freshman, Dobbins rushed for 7.2 yards per carry, and as a sophomore, he only averaged 4.6 yards per carry.
The decline in production led to some harsh self-critiques from the rising junior.
"I think I needed last year," Dobbins said. "You say it wasn't failure, but to me it was failure. Definitely. I rushed for 1,000 yards, but I feel like I can rush for way more yards this year because it was a failure. Last year was a failure to me. More pop, more explosion, more everything, you'll see this year."
A failure.
That's how much Dobbins expects from himself. 1,000 yards isn't enough. He needs better play-to-play performance.
By remaining at 215 pounds while dropping his body far percentage from 12 to 8, Dobbins has seemingly taken the correct steps for a rebound. But while we know he wants to get back to his freshman productivity, until his in-game production improves, we don't actually know that will happen. He's brimming with confidence, but he has to translate the work he did this offseason to the field for his junior season.
Given how many carries he expects, there's also the possibility they wear on him by the end of the season.
"Maybe I'm not as fresh at the end of the year," Dobbins said. "But we'll see."
Getting into better shape should help with that concern, Dobbins believes.
Beyond Dobbins, Ohio State has plenty of other questions in the backfield. Namely, who backs him up?
"We don't have that," Day said on Tuesday. "We have a lot of guys battling for it, but we do not have a legitimate backup running back right now."
McCall, Teague, Crowley and Chambers are vying for the spot.
Now in his fourth year, the pressure is on McCall to earn the job. Both injuries and a lack of a clear position have hurt him in the past, but he both is healthy and has an open job in front of him. It's up to him to capitalize.
Teague, in his second year, entered the fall with many people assuming he'd lay claim to the job. But he has missed multiple practices thus far in preseason camp, which naturally puts him at a disadvantage in the competition.
The uncertainty with McCall and injury to Teague has opened up an opportunity for Crowley and Chambers. Can either of them become Dobbins' backup? Don't rule it out.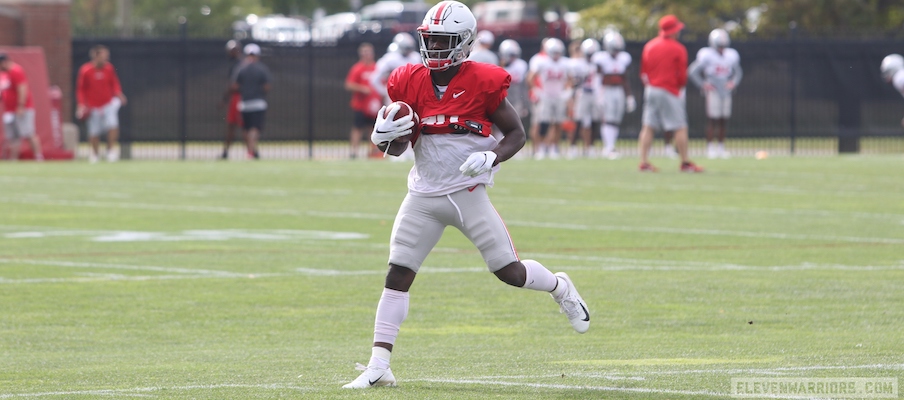 Players To Watch
Defenses know to fear Dobbins, but nobody else currently in the backfield has rushed for more than 115 yards since McCall had 270 yards as a freshman in 2016.
Opponents will have to learn about Ohio State's other running backs throughout the course of the season.
Ohio State's 2019 Running Back Roster

| No. | Name | Ht. | Wt. | Year | Hometown (High School) |
| --- | --- | --- | --- | --- | --- |
| 2 | J.K. DOBBINS | 5-10 | 217 | JR | La Grange, Texas (La Grange) |
| 22 | STEELE CHAMBERS | 6-2 | 215 | FR | Roswell, Georgia (Blessed Trinity Catholic) |
| 23 | MARCUS CROWLEY | 6-1 | 205 | FR | Jacksonville, Florida (Trinity Christian Academy) |
| 25 | XAVIER JOHNSON | 6-2 | 212 | RS FR | Cincinnati, Ohio (Summit Country Day) |
| 28 | AMARI MCMAHON | 6-0 | 205 | RS JR | Dublin, Ohio (Scioto) |
| 30 | DEMARIO MCCALL | 5-9 | 195 | RS JR | North Ridgeville, Ohio (North Ridgeville) |
| 33 | MASTER TEAGUE | 5-11 | 220 | RS FR | Murfreesboro, Tennessee (Blackman) |
| 43 | ROBERT COPE | 5-9 | 200 | RS FR | Dublin, Ohio (Jerome) |
If McCall can finally put it all together and become the player so many expected of him as a top-50 overall recruit in his class, the Buckeyes would have an intriguing complement to Dobbins. Teague, Crowley and Teague are built like typical between-the-tackles running backs. McCall, given his 5-foot-9, 195-pound frame, doesn't thrive in that role. Instead, he's more of a speed-reliant game-breaking back who can also catch passes out of the backfield.
"The first thing (McCall has) got to do is he's got to become the backup running back," Day said. "That's the first thing he has to do, and that's what he's working on right now. But he's worked at receiver for different camps, whether it was spring camp, bowl practice or preseason. So he has a wide variety of skills, and so there's a lot of things that we can do with him. You saw that toward the end of last year. We're really just focusing on him being the backup running back because J.K. can't handle all of that by himself. He's going to need help."
Teauge, like McCall, thrives with his straight-line speed, which led to him clocking a sub-4.4 40-yard dash at an Ohio State camp before committing. But at 5-foot-11, 220-pounds, he's much more of a workhorse running back, built to do damage up the middle. 
Crowley, the 2018 Florida Gatorade Player of the Year, and Chambers, an athlete who begins his career at running back but has the skillset to play defense, are the other options in the backfield. Neither of them were top-200 prospects out of high school, but given the uncertainty behind Dobbins, both have a shot to earn carries as freshmen. Crowley got a quick start, too, as an early enrollee.
Position Outlook
It's Dobbins, and then it's everybody else.
Of course, the Buckeyes both need and want a backup running back to emerge. With McCall's inconsistency, Teague's injury and the inexperience of Crowley and Chambers, they don't have many answers behind Dobbins, which naturally breeds concern. 
But more than anything, in order to be as successful as it wants to be in Day's first full season as a head coach, Ohio State needs Dobbins running at peak performance. Both he and his coaches have put loads of pressure on him to have a renaissance year in the backfield.
"There's a lot at stake," Dobbins said. "My main goal is to win a national championship, of course. With that, I just feel like I'm the best running back in the nation and I want to prove that, and I didn't last year. And I have a chip on my shoulder because I know I can do better."
Projected Depth Chart
1. J.K. Dobbins
2. Master Teague
3. Demario McCall
4. Marcus Crowley
5. Steele Chambers