No position group at Ohio State has gone more overlooked in August than the tight ends.
In four press conferences since the first day of preseason camp, head coach Ryan Day has mentioned a tight end or referenced the position group exactly once, and it came when he listed Luke Farrell, along with a few other players, as somebody who has been around the program for a while. Fan interest has drifted toward the defense and other facets of the offense, including Justin Fields and the right tackle competition. 
Despite the lack of excitement around the position, Ohio State has a trio of intriguing options at the position. Farrell, Rashod Berry and Jeremy Ruckert give tight ends coach Kevin Wilson a variety of skill sets to put to use.
Eleven Warriors' 2019 Season Preview rolls along with an in-depth look at Ohio State's tight end room.
What We Know
Season Previews
With Farrell, Berry and Ruckert, Ohio State has as much quality depth at tight end as it has at any other position on the team. That led to both Day and Kevin Wilson to openly wonder in the spring about multi-tight end sets and the ability to get creative to find ways to get them both involved with the offense and on the field as much as possible.
Farrell offers the most well-rounded game of any of the tight ends, which makes him the likely starter. He has run with the first-team offense and taken the first reps in individual drills throughout fall camp.
As a redshirt sophomore, Farrell caught 20 passes for 205 yards and a touchdown. He never had more than four catches or 44 receiving yards in a single game. But he showed that he has reliable hands to go along with a 6-foot-6, 250-pound frame that could lead to a matchup advantage against certain defenses. When he's in, opponents can't key on him as a pass-catcher because he also is arguably the best blocking tight end on the team.
Even though Farrell will likely start, Berry has been around the program longest and has played in nearly twice as many games. After spending the first two years at Ohio State on the defensive line, Berry found a home at tight end. He started four games in 2018. He caught only nine passes for 78 yards and two touchdowns last season, so he's not a primary receiver. But as an athletic, 6-foot-4, 255-pounder, he can be a factor as a blocker.
Ruckert has the most potential as a pass-catcher among the tight ends. Urban Meyer once called him possibly the best tight end prospect he has ever scouted. As a freshman, he only caught a single pass, but nobody doubts his talent level and long-term potential.
With three players whom Ohio State can rely on, the personnel isn't in question. Wilson has a trio of players who should allow him to get creative with how he uses them.
Jake Hausmann and Cormontae Hamilton round out the roster of scholarship tight ends. Hausmann was once the fourth-ranked tight end in the 2016 recruiting cycle, but he only played 11 offensive snaps last year and remains fourth on the depth chart. Hamilton enrolled this summer and is currently going through his first-ever preseason camp.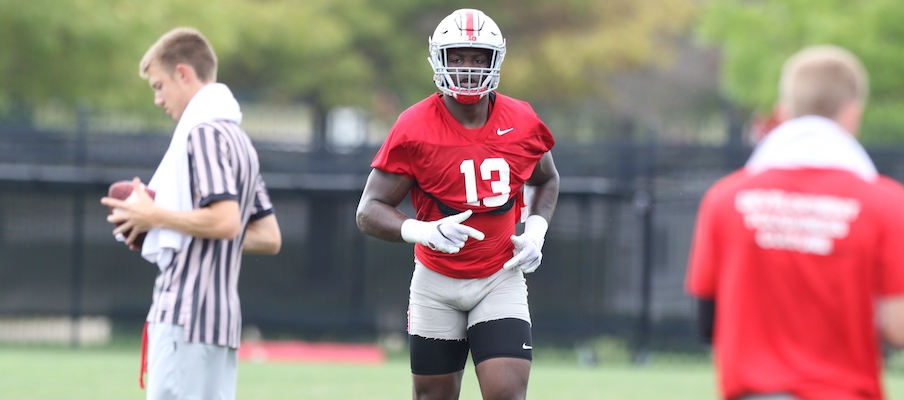 What We Don't Know
As much certainty as there is regarding which three tight ends will factor into games, it remains unclear just how Wilson and Day will deploy their trio of weapons.
With Ruckert as a potentially impactful pass-catcher, Berry a physical blocker and Farrell able to impact games both in the passing game and as a blocker, the delineations are fairly clear. But Wilson and Day have to figure out how to put them each into use on Saturdays, which could differ this fall since they have three relatively diverse skill sets.
They'll also have to determine how often they play. In the past, Wilson said, wide receiver depth led to only one tight end typically playing at a time. But with a deeper tight end group and a wideout room that lost Parris Campbell, Johnnie Dixon and Terry McLaurin, there's an opening for more multi-tight end sets.
"The only reason they're going to go out there is they're playing well enough to crack the top 11," Wilson said in the spring. "And they're helping your team win. They give you diversity, because you can go big in spread, but they also need to be productive. And right now it has a chance to be a productive group."
Farrell heads the group as the likely starter, but how much will his role increase? As a redshirt sophomore, he had the most receptions among tight ends. There's room for growth, though. Farrell didn't have a catch in five games and had three combined catches in the Michigan game, Big Ten championship and Rose Bowl.
Ruckert, too, appears in line for a notable increase in targets. He's only one year removed from entering the program as the second-ranked tight end in his class. How involved will he be in the offense? That's one of the biggest questions at the position.
Players to Watch
Ohio State's 2019 Tight End Roster

| No. | Name | Ht. | Wt. | Year | Hometown (High School) |
| --- | --- | --- | --- | --- | --- |
| 13 | RASHOD BERRY | 6-4 | 255 | RS SR | Lorain, Ohio (Lorain) |
| 34 | MITCH ROSSI | 6-0 | 240 | RS SO | Franklin, Tennessee (Franklin) |
| 37 | DERRICK MALONE | 6-5 | 245 | RS SR | Dayton, Ohio (Thurgood Marshall) |
| 81 | JAKE HAUSMANN | 6-4 | 245 | RS JR | Cincinnati, Ohio (Archbishop Moeller) |
| 83 | CORMONTAE HAMILTON | 6-2 | 263 | FR | Memphis, Tennessee (Whitehaven) |
| 84 | BROCK DAVIN | 6-3 | 240 | RS JR | Cincinnati, Ohio (St. Xavier) |
| 88 | JEREMY RUCKERT | 6-5 | 250 | SO | Lindenhurst, New York (Lindenhurst) |
| 89 | LUKE FARRELL | 6-6 | 250 | RS JR | Perry, Ohio (Perry) |
Since Farrell and Berry enter this fall with seven combined years of experience at Ohio State, there's not much uncertainty about how they can impact games.
Since Ruckert was a freshman who caught a single pass last year, all eyes are focused on him as a potential breakout candidate – even though the breakout could be capped due to the presence of Farrell and Berry. He's developing as a blocker but might already have a package of physical tools that allow him to become a matchup advantage in the passing game.
Day mentioned the possibility of Ruckert or another tight end lining up at H-back at times. In the spring, Ruckert spent time in the slot.
"I'm kind of going back to my old stomping grounds, so it's a lot of fun going out there and being allowed to do my thing," Ruckert, who played wide receiver in high school, said in the spring. "It's a different position obviously, because I'm not really attached to the ball. We got a lot of depth at tight end, so that allows me to do that, and learning from the older guys at H, too – K.J. (Hill), I'm learning a lot from him watching him, C.J. (Saunders) – so it's definitely something I'm learning and it's something I'm willing to do. Anything to help the team."
With Farrell, Ruckert and Berry in the picture, Hamilton likely won't play much this season and is a prime redshirt candidate. But at 6-foot-2 and 263 pounds, he's already the heaviest tight end on the roster, which could lead to different looks for him down the line.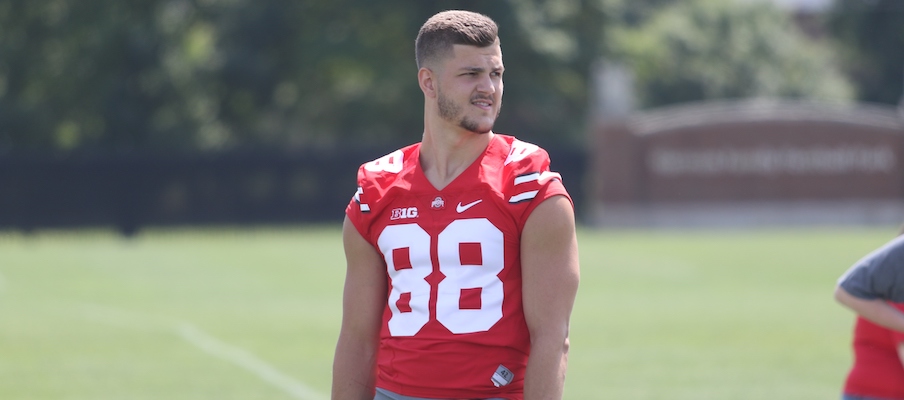 Position Outlook
Wilson prefers when he's given the chance to get creative as the tight ends coach, and he'll certainly have that opportunity this fall with Farrell, Berry and Ruckert all vying for playing time.
Since Wilson arrived at Ohio State prior to the 2017 season, the Buckeyes haven't had as deep as a tight end room as they have this fall. Farrell remains one of the most overlooked players on the team due to his position and low-key nature. Berry, in his fifth year, is one of the most athletic players on the team. Ruckert is the highest-rated tight end the Buckeyes have signed in the past 15 years and now has a year of collegiate experience.
No, this probably isn't the season the tight ends take Ohio State by storm. But the position could have an increased role in the offense.
A veteran group that didn't lose anybody after the 2018 season. The potential for more multi-tight end sets. A possibility of tight ends lining up in the slot. The natural development of Farrell, Berry and Ruckert.
What was believed to be the case this spring remains clear: Tight end is one of the strongest positions at Ohio State.
Projected Depth Chart
Luke Farrell
Rashod Berry
Jeremy Ruckert
Jake Hausmann