When an offensive line loses four starters from the season before, there's typically reason for concern.
Talk to just about anyone around the Ohio State football program about the Buckeyes' offensive line going into this season, however, and you'll hear almost nothing but confidence.
Malcolm Pridgeon, Michael Jordan, Demetrius Knox and Isaiah Prince – who started at left guard, center, right guard and right tackle last season – are all now gone from the program. Yet the Buckeyes are loaded with highly touted, up-and-coming offensive linemen that have many Ohio State coaches and players brimming with optimism about the talent they have up front.
Offensive line coach Greg Studrawa believes the state of his position group is the best it's been since he arrived at Ohio State, and head coach Ryan Day agrees.
"I feel as good as I've felt in the last couple years in terms of our depth," Day said. "We have seven or eight guys that can get in there right now and play."
Most of those players are still unproven, at least in the roles they will or could play for the Buckeyes this year, leaving plenty of unknowns still about the big bodies up front. If they can perform up to expectations, however, Ohio State's offensive line has the potential to be excellent, as we explore in this installment of the Eleven Warriors Season Preview.
What We Know
Season Previews
The lone returning starter from last year's offensive line is Thayer Munford, who started each of Ohio State's first 13 games last season as left tackle. He missed the Rose Bowl and all of spring practice due to a back injury, but as long he is healthy, he'll be the starting left tackle once again this year.
Jonah Jackson, who played in 29 games over the past three years at Rutgers and was a team captain and the starting right guard for the Scarlet Knights last year, arrived at Ohio State as a graduate transfer this summer and is in line to be the Buckeyes' new starting left guard.
Wyatt Davis, who started the final two games of last season at right guard after Knox suffered a season-ending foot injury, is set to become the full-time starter at that position this year. Fellow redshirt sophomore Josh Myers, who has never started a game for the Buckeyes but has been a staple on the first-team offensive line since the start of spring, is Ohio State's new starting center.
Branden Bowen, who started the first six games of the 2017 season at right guard before suffering a leg injury that sidelined him for the rest of that season and all of last season, has competed for the starting right tackle job in preseason camp with redshirt freshman Nicholas Petit-Frere, who appeared in just three games for Ohio State last season but was a five-star recruit out of high school in 2018.
Joshua Alabi, who started in place of Munford in the Rose Bowl, is expected to be Munford's backup at left tackle once again this season but is also considered to be a starting-caliber player by Studrawa and has been taking a substantial amount of first-team snaps in camp in place of Munford, who is on "volume control" according to Day because of his recovery from injury.
On the interior offensive line, true freshman Harry Miller has been the Buckeyes' second-team center in camp while Gavin Cupp, Matthew Jones and Ryan Jacoby have all taken second-team reps at guard.
In total, the Buckeyes have 15 scholarship offensive linemen, also including Kevin Woidke, a former walk-on who was placed on scholarship this spring; Max Wray, a redshirt freshman offensive tackle; and true freshmen Dawand Jones and Enokk Vimahi.
What We Don't Know
The biggest question surrounding the offensive line as of the time of this writing is who will start at right tackle. While Bowen and Petit-Frere have both gotten first-team reps at the position dating back to spring, a winner of that battle had not yet been named as of Saturday.
That announcement could potentially come as early as Monday, when Day is expected to announce the Buckeyes' starting quarterback and could make other depth chart announcements, but it's possible that battle could still extend until closer to the season, as Day said after the team's first scrimmage last Saturday that the competition between them had been "neck-and-neck."
"Bowen, he has more experience. He's been there before. I think this is the first time he's felt really strong on that leg (since his injury in 2017). He's doing a really good job. He's been solid," Day said. "And then Nick, not as much experience, a lot of upside. I think when you look at it right now, it's probably really close."
The other lingering question with just a couple weeks to go until the season is whether Munford will be fully healthy and ready to go on Aug. 31. Day said this week that he is "not concerned" and likes what he has seen from Munford in practice, but the fact that Alabi has continued to take regular first-team reps with just two weeks to go until the season opener suggests there's at least some likelihood he will see significant playing time early in the year.
With two starting-caliber players at both spots, both Day and Studrawa have said they are considering the possibility of rotating players at offensive tackle. There's reason to be skeptical whether that will actually happen, though; Studrawa said he would consider rotating offensive linemen going into last year, too, but the Buckeyes never did.
As for the offensive linemen we know will be in the starting lineup, there's reason to be confident that they will perform well, but they still have to prove it. Davis and Myers were two of the nation's top-ranked interior offensive linemen coming out of high school, but they're both first-year starters. Jackson was quietly one of the Big Ten's best offensive linemen at Rutgers last season – and he was ranked as one of the top two offensive linemen to hit the transfer portal this year as a result – but now he has to translate that to playing for one of the top teams in the country.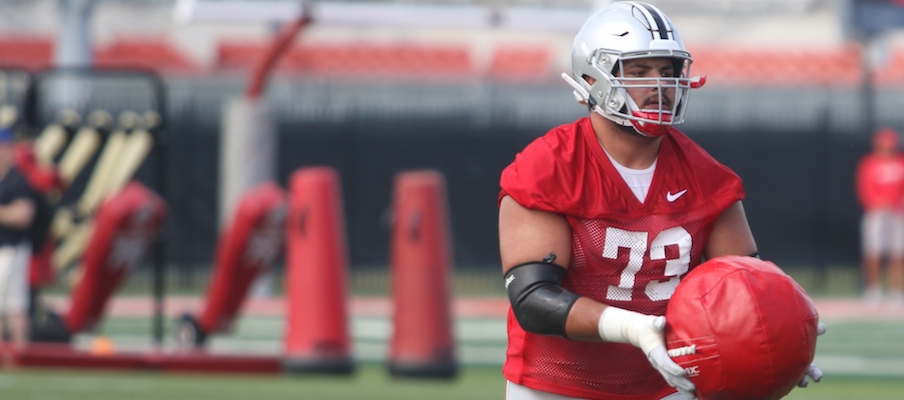 The bigger question on the Buckeyes' interior offensive line, though, is their depth. Miller has drawn rave reviews for how quickly he has gotten up to speed since arriving on campus this summer, but if anything happens to Myers, will Miller really be ready to step in and play this year? None of the Buckeyes' other backup interior offensive linemen have significant playing experience either. Given the stronger depth at tackle, it's plausible that Bowen could move back to guard if there are any injuries inside (while Jackson also has experience at center), but Bowen has been focused on playing tackle this offseason.
With the departure of three seniors (Pridgeon, Knox, Prince) and two three-year starters (Prince, Jordan) from last year's offensive line, it's also uncertain which offensive linemen – if any – will step up and become leaders for the entire team. Studrawa acknowledged in his media availability earlier this month that his players are "not out in the forefront right now in that category," but added that he wanted them to focus on doing their jobs in camp and believes their leadership will come with time.
Players to Watch
Ohio State's 2019 Offensive Line Roster

| No. | Name | Ht. | Wt. | Year | Hometown (High School) |
| --- | --- | --- | --- | --- | --- |
| 50 | NATHAN BROCK | 6-4 | 290 | RS JR | Powell, Ohio (Olentangy Liberty) |
| 52 | WYATT DAVIS | 6-4 | 313 | RS SO | Bellflower, Calif. (St. John Bosco) |
| 55 | MATTHEW JONES | 6-4 | 305 | RS FR | Brooklyn, N.Y. (Erasmus Hall) |
| 58 | JOSHUA ALABI | 6-5 | 305 | RS SR | Detroit, Mich. (Cass Tech) |
| 59 | ZACH STEVENSON | 6-3 | 275 | FR | Lewis Center, Ohio (Olentangy Orange) |
| 60 | RYAN SMITH | 6-3 | 270 | FR | Valley City, Ohio (Buckeye) |
| 61 | GAVIN CUPP | 6-4 | 308 | RS JR | Leipsic, Ohio (Leipsic) |
| 62 | BRANDON PAHL | 6-2 | 299 | RS SR | Cutler, Ohio (Warren) |
| 63 | KEVIN WOIDKE | 6-6 | 305 | RS SR | Cleveland, Ohio (St. Ignatius) |
| 64 | JACK JAMIESON | 6-1 | 285 | RS FR | Lakewood, Ohio (St. Ignatius) |
| 66 | ENOKK VIMAHI | 6-4 | 293 | FR | Kahuku, Hawaii (Kahuku) |
| 68 | RYAN JACOBY | 6-5 | 290 | FR | Mentor, Ohio (Mentor) |
| 69 | CHRIS KUHN | 6-5 | 270 | RS FR | Sandusky, Ohio (St. Mary) |
| 71 | JOSH MYERS | 6-5 | 310 | RS SO | Miamisburg, Ohio (Miamisburg) |
| 73 | JONAH JACKSON | 6-4 | 305 | RS SR | Media, Pa. (Penncrest) |
| 74 | MAX WRAY | 6-6 | 300 | RS FR | Franklin, Tenn. (Franklin) |
| 75 | THAYER MUNFORD | 6-6 | 310 | JR | Cincinnati, Ohio (Massillon Washington) |
| 76 | BRANDEN BOWEN | 6-7 | 315 | RS SR | Draper, Utah (Corner Canyon) |
| 77 | HARRY MILLER | 6-4 | 310 | FR | Buford, Ga. (Buford) |
| 78 | NICHOLAS PETIT-FRERE | 6-5 | 295 | RS FR | Tampa, Fla. (Berkeley Prep) |
| 79 | DAWAND JONES | 6-8 | 360 | FR | Indianapolis, Ind. (Ben Davis) |
While there's reason to believe that just about any of the potential starters up front could be breakout stars for the Buckeyes this year, the two offensive linemen who stand out as the most likely candidates to quickly make a name for themselves are Myers and Davis.
Both players have drawn consistent praise from their coaches and teammates dating back to this spring, and now that both of them have had two full years in Columbus to develop their crafts, they appear to be ready to make good on their recruiting hype and potentially emerge as dominant players.
Jackson described Myers as "the general of the offensive line," and Studrawa has expressed satisfaction with Myers' development.
"Josh Myers is becoming a great player, working his tail off," Studrawa said earlier this month. "His attention to detail is unbelievable. He's becoming exactly what I thought he would become."
Studrawa is so confident in Davis that he said he would want the California native to be his personal security if he was walking out of a bar late at night.
"That's how much I think of him," Studrawa said. "He is a fighter. He is a technician. He is a perfectionist."
Greg Studrawa on his confidence in Wyatt Davis: If I had my car parked tonight and was walking out of a bar late, Id be like, Wyatt, are you here? And Id feel comfortable getting to my car. pic.twitter.com/gkmjSCCpjE

— Colin Hass-Hill (@chasshill) August 8, 2019
Petit-Frere is another offensive lineman who has been hyped as a future star since he arrived on campus, given his status as a five-star recruit, but with Bowen back healthy and highly motivated to finish his career strong, Petit-Frere could potentially have to wait another year to get his chance to start. Nonetheless, he's a player whose development Ohio State fans will want to watch this season whether his snaps come as a starter or with the second-team offensive line.
The same is true for Miller, also a five-star recruit, who will only start this season if something goes wrong with Myers, Jackson or Davis but also appears to be on the fast track to future stardom and should at least see playing time as the second-team center in a few games as a true freshman.
Position Outlook
Realistically, expectations for Ohio State's offensive line should probably be tempered entering this season. With four new starters up front, it could take time for the Buckeyes' offensive line to develop into a cohesive unit, and there will likely be some growing pains along the way, especially early in the season.
The offensive linemen who haven't started yet are often more popular among fans than the ones who have, because those who play often get more attention for the sacks they give up or the penalties they commit than the blocks they actually make. Considering that Dwayne Haskins and the Buckeyes attempted 561 passes last season – third-most in the nation – and gave up only 23 total sacks, last year's offensive line probably didn't get the recognition it deserved for its performance in pass protection.
"I don't think that our offensive line and our running backs got enough credit last year for the protection that they gave Dwayne," Day said earlier this month. "When I look back on what they did in some of the bigger games, it was unbelievable. They didn't give up a lot of sacks, we picked up blitzes and even in one-on-one battles, we won a lot of those battles. There's a reason why teams stopped blitzing us, and that's because we picked up pressure."
Where last year's offensive line was mediocre, though, was opening up holes in the run game. Even though the Buckeyes had one of the biggest offensive lines in the country, they didn't consistently overpower opponents at the line of scrimmage, and averaged just 4.2 yards per carry in 2018 – tied for 76th in the Football Bowl Subdivision.
That's where Ohio State's offensive line will look to step up its game this season and clear more lanes for J.K. Dobbins, the Buckeyes' other running backs and dual-threat quarterback Justin Fields. And with a trio of potentially dominant road-graders inside in Davis, Myers and Jackson, there's reason to believe this year's offensive line could be a stronger force in the ground game this year.
"Our mindset for this year is like all right, we ain't get our run game going as well as we needed to," Munford said earlier this month. "We didn't break off the big runs that we needed to. Now this year, we got to work harder on runs and even better at pass sets."
Keeping pressure off the quarterback in the pocket will of course be a top priority for the offensive line, so the five up front will need to prove they can do that consistently. If they can do that, avoid costly penalties and perform up to their potential as run blockers, though, this year's offensive line has legitimate potential to be an upgrade from last year.
Projected Depth Chart
Left Tackle
1. Thayer Munford
2. Joshua Alabi
3. Max Wray or Kevin Woidke
Left Guard
1. Jonah Jackson
2. Matthew Jones
3. Enokk Vimahi
Center
1. Josh Myers
2. Harry Miller
3. Matthew Jones
Right Guard
1. Wyatt Davis
2. Gavin Cupp
3. Ryan Jacoby
Right Tackle
1. Branden Bowen
2. Nicholas Petit-Frere
3. Dawand Jones