The Larry Johnson defensive line factor remains in operation as Ohio State enters the 2019 season.
In all five years that Johnson has been a Buckeye, he has coached impactful defensive lines around which the rest of the defense gets built. That won't change in his sixth year, especially with a potential top-five 2020 NFL draft pick coming off the edge.
Chase Young was expected to become the star of Ohio State's Rushmen this year, but when Nick Bosa suffered a season-ending injury in the third game of the 2018 season, that spotlight came a year earlier than anticipated. He responded by putting together a 10.5-sack season despite playing through a pair of injured ankles.
As a junior, Young will again power the front four this season, and he'll have a healthy mix of veterans and rising underclassmen to aid him. The Buckeyes could go three-deep at all four positions on the defensive line, giving Johnson all the depth he desires.
Eleven Warriors' 2019 Season Preview continues with an in-depth look at Ohio State's defensive line.
What We Know
Season Previews
It all begins with Johnson.
As long as he's in Columbus, Ohio State will have a high-level defensive line. His coaching and recruiting successes date back to his 18-year stint at Penn State before he seamlessly transitioned to Columbus on Urban Meyer's staff in 2014. When Meyer retired, Ryan Day kept only one defensive assistant coach: Johnson. 
"He's a legend," Day said in December during his first full press conference after being named the head coach. "He has a legacy here, and what he's done with the defensive line, obviously, again, that's testimony. And so there's defensive linemen all over the country that want to come to get coached by Larry Johnson, and you can see that again in this class and the relationships that he built are really, really important, but again, the way he develops the young men on the field and off the field is what's key."
Not only does he develop, but he recruits at the highest level, which is how Young became a Buckeye.
Young, the No. 7 overall prospect in 2017, has lived up to all the hype that surrounded him when he arrived on campus. And even though he had double-digit sacks last year, he feels he can get better and hopes to eventually be known as the best pass-rusher in Ohio State history.
"I feel like it's that time," Young said. "I talk to coach J, it's just that time for me to step up and just be the player that I want to be, and I feel like this year is that year."
Across the line from Young, once again, will be Jonathon Cooper. The Gahanna product started 13 games last season and will be one of the veteran leaders of the defense this year.
Three other seniors – Jashon Cornell, Davon Hamilton and Robert Landers – lead Ohio State's defensive tackle group, which looks to make up for the loss of Dre'Mont Jones. All three have played a significant amount of snaps for the Buckeyes, combining for 111 game appearances already in their careers. None have picked up all-conference honors, but each of them have had stretches of strong play.
A talented group of underclassmen complement the veterans.
Tyreke Smith, Tyler Friday, Javontae Jean-Baptiste, Alex Williams, Zach Harrison and Noah Potter all have a chance to earn playing time at defensive end behind Young and Cooper.
Smith appeared to be in line for a substantial uptick in playing time after playing on the Rushmen package as a freshman, but he's still easing back from what Johnson called a "really bad" injury this offseason. He and Friday both earned meaningful snaps as first-year ends last year.
Jean-Baptiste and Williams never saw the field as freshmen. Both Harrison and Potter enrolled early this spring and have had their black stripes removed. Harrison, in particular, entered the program with high expectations as the No. 12 overall prospect in the 2019 recruiting cycle.
The young depth extends to defensive tackle, where sophomores Taron Vincent and Tommy Togiai have impressed. Vincent, known as a "battering ram," will back up Cornell at 3-technique, and Togiai, the strongest player on the team, will fight for snaps at nose tackle.
Haskell Garrett, now a junior, is expected to join Cornell and Vincent in a rotation at 3-technique. Antwuan Jackson will enter his redshirt junior season still competing for snaps at both nose tackle and 3-technique. Jerron Cage will provide additional depth. Jaden McKenzie enrolled this summer and will likely redshirt.
What We Don't Know
Johnson knows the level of play he'll get from Young. But the rest of the line? It's difficult to know right now.
Let's take a look at the biggest questions surrounding some of the other Buckeyes linemen:
Jonathon Cooper: Will he become a more impactful pass-rusher after his 2.5-sack junior season?
Robert Landers: Can he stay healthy for an entire season?
Davon Hamilton: Will he become the interior penetrator Day thinks he developed into?
Jashon Cornell: Will his move from defensive end back to defensive tackle unlock his potential?
Tyreke Smith: Can he get healthy and turn into a dynamic pass-rusher?
Taron Vincent: Will he help make up for the interior pass-rush lost by Dre'Mont Jones?
Tommy Togiai: Can he prove he deserves playing time behind two fifth-year seniors?
Javontae Jean-Baptiste: Can both his physical development and mental focus get to the point where Johnson can rely on him?
Zach Harrison: Will he be ready to contribute immediately? 
Almost every single lineman the Buckeyes expect to have on the field this season has a key question to answer.
Specifically, they'll all have to answer two main questions: how do the 3-techniques collectively replace Dre'Mont Jones, and can players not named Chase Young rack up sacks?
Jones destroyed offensive lines last year, and the Buckeyes have a committee of Cornell, Vincent and Garrett to replace him. The trio of defensive tackles feels confident, but they'll have to back that up. 
The defensive ends are confident, too, that they'll produce sacks, even though nobody at the position currently on the roster had more than 2.5 sacks last season except Young. If opponents key on Young, it'll be imperative to get pressure with the rest of the linemen, which defensive coordinator Greg Mattison believes will happen.
"As far as triple-teaming (Young), good luck," Greg Mattison said last week. "Good luck, because you've got Cooper, you've got some other guys right there; that means they are singled, and that's the beautiful thing in our package and what I'm excited about is you don't just have one ... If they were sitting here right now and you said to them, hey, they are all worried about tripling Chase, they would all look at you and say, 'Really, good, then I'm one-on-one.' Let's see what happens."
Mattison might be right, but it's not yet completely clear, which is the case for most of the lingering questions.
Cooper has a high motor and is talented enough to make a jump in his sacks and pressures. Cornell could become an impactful pass-rusher on the interior. Smith has a chance to be the pass-rusher opposite Young the team needs. Landers, Hamilton and Togiai could become a nearly impossible-to-block trio. Vincent might make a second-year leap with more snaps.
None of those are certainties, though. The Buckeyes will have to match their potential with production on the field this fall.
Players to Watch
Ohio State's 2019 Defensive Line Roster

| No. | Name | Ht. | Wt. | Year | Hometown (High School) |
| --- | --- | --- | --- | --- | --- |
| 2 | CHASE YOUNG | 6-2 | 265 | JR | Hyattsville, Maryland (DeMatha Catholic) |
| 6 | TARON VINCENT | 6-2 | 293 | SO | Baltimore, Maryland (IMG Academy) |
| 8 | JAVONTAE JEAN-BAPTISTE | 6-5 | 245 | RS-FR | Oradell, New Jersey (Bergen Catholic) |
| 9 | JASHON CORNELL | 6-3 | 285 | RS-SR | St. Paul, Minnesota (Cretin-Derham Hall) |
| 11 | TYREKE SMITH | 6-4 | 267 | SO | Cleveland, Ohio (Cleveland Heights) |
| 17 | ALEX WILLIAMS | 6-6 | 270 | RS-FR | Pickerington, Ohio (Pickerington North) |
| 18 | JONATHON COOPER | 6-4 | 257 | SR | Gahanna, Ohio (Gahanna Lincoln) |
| 33 | ZACH HARRISON | 6-6 | 255 | FR | Lewis Center, Ohio (Olentangy Orange) |
| 51 | BRETT NOVICK | 6-1 | 275 | FR | Katonah, New York (John Jay) |
| 52 | ANTWUAN JACKSON | 6-2 | 299 | RS-JR | Ellenwood, Georgia (Cedar Grove) |
| 53 | DAVON HAMILTON | 6-4 | 310 | RS-SR | Pickerington, Ohio (Pickerington Central) |
| 54 | TYLER FRIDAY | 6-2 | 260 | SO | Ramsey, New Jersey (Don Bosco Prep) |
| 56 | AARON COX | 6-3 | 255 | SR | Mantua, Ohio (Crestwood) |
| 57 | ZAID HAMDAN | 5-11 | 260 | FR | Mason, Ohio (Mason) |
| 67 | ROBERT LANDERS | 6-1 | 285 | RS-SR | Dayton, Ohio (Huber Heights Wayne) |
| 70 | NOAH DONALD | 6-1 | 265 | SR | Uniontown, Ohio (Walsh Jesuit) |
| 72 | TOMMY TOGIAI | 6-2 | 300 | SO | Pocatello, Idaho (Highland) |
| 90 | JADEN MCKENZIE | 6-3 | 285 | FR | Wake Forest, North Carolina (Wake Forest) |
| 92 | HASKELL GARRETT | 6-2 | 295 | JR | Las Vegas, Nevada (Bishop Gorman) |
| 97 | NOAH POTTER | 6-6 | 252 | FR | Mentor, Ohio (Ohio) |
| 98 | JERRON CAGE | 6-2 | 295 | RS-SO | Cincinnati, Ohio (Winton Woods) |
During Johnson's reign as Ohio State's defensive line coach, the defensive ends have received much of the focus. Nick Bosa. Joey Bosa. Sam Hubbard. Jalyn Holmes. 
Chase Young will continue that legacy in the fall. But with so many potentially impactful players on the interior, the Buckeyes' defensive tackles will come into the forefront.
"We're trying to take advantage of what we have," Johnson said. "We have a lot of depth on the inside. Trying to find a way to get six or seven guys ready to play. I like where we're at. We still have some room to improve."
At Big Ten media days, Day singled out Hamilton as somebody he expects to have a fifth-year leap, noting the change in his body.
Hamilton said he went from running a 5.4-second 40-yard-dash time to clocking the sprint in 5.0 seconds. Johnson, who also noted the need for the defensive tackles to be successful pass-rushers this fall, said the team's speed on the inside can be a major advantage.
Both Togiai and Vincent, second-year defensive tackles, are two of the more intriguing linemen.
If Togiai were on any other team, he'd likely start at nose tackle. But with Hamilton and Landers ahead of him on the depth chart, his snaps could be capped until he takes over in the 2020 season. Johnson noted he's less stiff this season, adding flexibility to his natural gifts.
Vincent has a slightly better case for playing time this season, but he remains behind a fifth-year senior at 3-technique. Once ranked the top defensive tackle in his recruiting cycle, Vincent could be in line to take over the starting spot in 2020 if he performs up to expectations this season.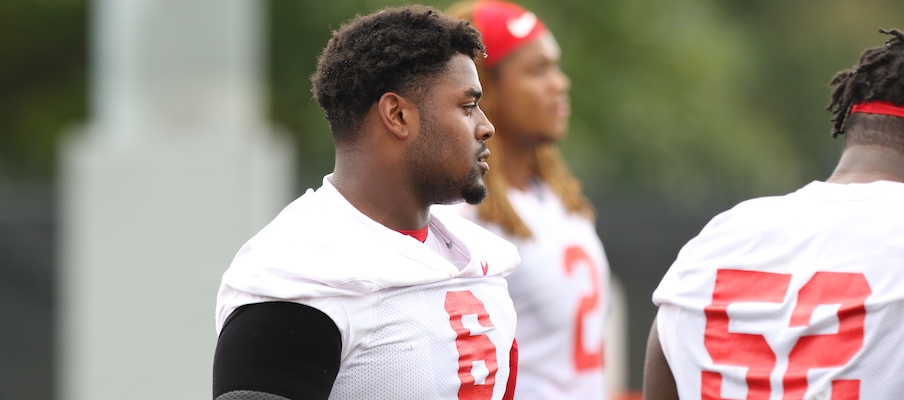 Smith, unless his injury hinders his development, joins Vincent and Togiai as another rising second-year lineman who could become a mainstay on the defensive front. As a true freshman, he gained Johnson's trust enough to become part of the Rushmen package, and that role will expand in his sophomore season.
"This year, we have a lot of sleepers that a lot of people – other than you guys – haven't heard about across the country," Young said. "Tyreke Smith, he's going to be a wicked guy coming off the edge. People don't know about him."
Position Outlook
With a top-end talent in Young and a host of options at both defensive end and defensive tackle, the Buckeyes once again should have a strong defensive line around which the rest of the defense can be built.
Few positions on the team have quite as much depth as defensive tackle. The Buckeyes have three redshirt seniors – Cornell, Landers and Hamilton – to pair with three reserves looking to earn more playing time – Vincent, Togiai and Garrett. Together, they have a chance to provide the Buckeyes with a stout interior that's able to present different challenges to offensive lines depending on who's in the game.
On the edge, Young deservedly earns most of the attention. Cooper and Smith will aim to provide him with worthy counterweights on the other side of the line, though, while Friday, Jean-Baptiste, Harrison, Williams and Potter are also each candidates to factor in.
Projected Depth Chart
Defensive End
Chase Young
Tyler Friday
Javontae Jean-Baptiste
Defensive Tackle
Davon Hamilton
Robert Landers
Tommy Togiai
Defensive Tackle
Jashon Cornell
Taron Vincent
Haskell Garrett
Defensive End
Jonathon Cooper
Tyreke Smith
Zach Harrison