With Chase Young and Jonathon Cooper back for the 2019 season, defensive line coach Larry Johnson doesn't have to spend much time considering which pair of edge rushers he'll trot onto the field to start the season opener on Aug. 31.
Lane Kiffin and Florida Atlantic will see a healthy dose of Young and Cooper in what will likely be the beginning of both of their final seasons at Ohio State. Behind the duo of upperclassmen, the Buckeyes have plenty of depth, though much of it remains inexperienced.
Second-year defensive ends Tyreke Smith, Tyler Friday, Javontae Jean-Baptiste and Alex Williams, along with freshmen edge rushers Zach Harrison and Noah Potter, all have the potential to take on significant roles in the rotation this year, even though only two of them – Smith and Friday – have played in games. Johnson likes to deploy a deep rotation, which means he won't count on Young and Cooper to play all the snaps.
As the season nears, we're taking a look at the offseasons of four edge rushers – Smith, Friday, Jean Baptiste and Harrison – who the Buckeyes could turn to behind Young and Cooper.
"So Much Improvement"
Most freshman defensive ends aren't 6-foot-6, 255 pounds, and those who are don't typically run 40-yard dashes in less than 4.5 seconds. 
That's what sets Zach Harrison apart.
"Yesterday we were watching practice film," defensive tackle Jashon Cornell said. "He ran 60 yards and caught the running back from behind."
Harrison emerged as a priority target of the Buckeyes years ago, picked them over Penn State and Michigan, then entered the program as a five-star prospect with plenty of hype, only adding to it by saying he wants to be remembered as one of the "greatest to come through Ohio State."
He enrolled early in January after graduating from Olentangy Orange, went through his first 15 spring practices and is currently in the middle of his first preseason camp.
"Zach has made so much improvement," Johnson said. "From high school to where he is right now today, it's a (180). He's a different player than what he was in high school. That's cool. Because he's grown. He's tough. He's physical, he's smart, he can run like the wind and he loves where he's at right now. He's got a chance to be a good player if he continues to develop."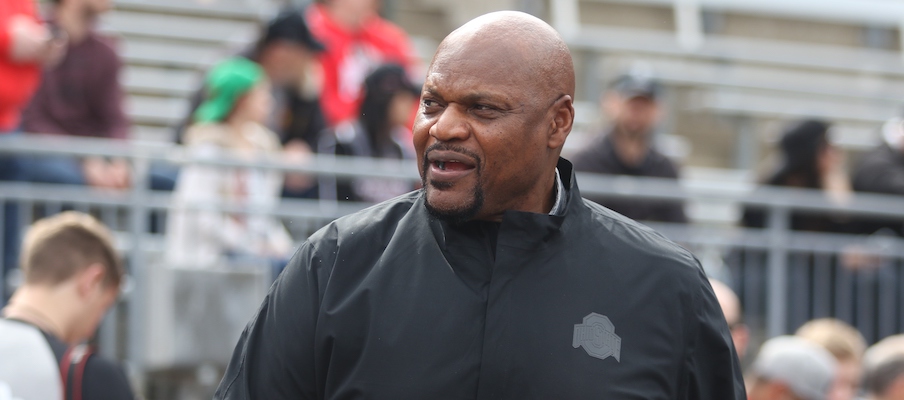 With enough veterans returning, Ohio State doesn't have to push Harrison into the lineup if Johnson feels he needs more development. The freshman will come off the bench, vying for playing with Smith, Friday, Jean-Baptiste, Williams and Potter.
"It's too early to say (whether Harrison will be in the rotation), but we're getting him ready," Johnson said Thursday. "My goal is to get him ready to play to see where he's at a week from now. We've got our first scrimmage on Saturday. He'll get a lot of plays. He's getting close, but I don't want to put that pressure on him."
"Baby Tyquan"
Tyler Friday didn't have to wait long for his Ohio State teammates to give him a nickname that he stills hears every now and then.
"As soon as I came here, they called me 'Baby Tyquan,'" Friday said. 
Growing up in New Jersey, Friday watched enough Buckeyes games to know who Tyquan Lewis was, even though he hadn't met him when he first heard the comparison.
"I knew exactly what Tyquan Lewis was, and he reminded me of myself," Friday said.
The similarities originate from the size and style of play of the current and former Ohio State linemen.
Unlike some of the long, lanky, athletic defensive ends that come through the program, both Lewis and Friday stand 6-foot-3, weigh around 260 pounds and don't overwhelm opponents with their athleticism. Instead, they rely on versatility, explosion and a combination of speed and strength at the point of attack. Lewis produced from the edge, but he also moved inside at times. Friday has that ability to move around on the line, too.
"When I first got the chance to talk to him, I just loved his intensity," Friday said. "And his body frame is a lot similar to mine, as well. So, watching his tape, talking to him whenever I can is something I really take advantage of."
Friday mentioned he wants to emulate Lewis' strength and how much he uses his hands against offensive linemen.
"Because with the bigger D-ends, they kind of rely on their power, and I didn't really want to be like that one-dimensional," Friday said. "So I see him use his hands a lot. That's something that I want to improve on. That's something I like about him, as well."
Lewis lacked flash, but he produced, winning the Big Ten Defensive Lineman of the Year award in 2016 and racking up 23.5 sacks at Ohio State. 
Similarly, Friday doesn't have Jean-Baptiste's frame, Harrison's athleticism, Williams' size or Smith's quickness. He hasn't been pointed to as a future first-round pick, unlike some of his fellow underclassmen. 
Lewis paved this path, and Friday has a chance to follow in his footsteps.
Getting Fully Healthy
As a freshman, Smith earned a role on Ohio State's vaunted Rushmen package. And while he didn't manage to record a sack in his first year, he made enough of an impression to play more snaps than any other first-year defensive lineman.
The pass-rushing ability that earned Smith a spot in the passing-down package? Ohio State wants to unleash it this fall.
"He brings us another element that we need," Johnson said. "We get Chase, we get Coop in a game. You leave those guys one-on-ones, there's a good chance this guy's going by you."
Before he sacks any quarterbacks, though, Smith needs to return to full health.
He underwent surgery this summer for an undisclosed injury. It was unclear the extent of Smith's ailment, but Johnson referred to it as a "really bad injury."
"Getting him healthy first, that's the big thing," Johnson said. "We're kind of bringing him along slow right now. He's got a chance to be really a special kid. And so we're bringing him along slow coming off the really bad injury."
Smith has been on the field in the three fall camp practices windows that have been open to the media, signaling he should be ready to go on Aug. 31.
"This year, we have a lot of sleepers that a lot of people – other than you guys – haven't heard about across the country," Young said. "Tyreke Smith, he's going to be a wicked guy coming off the edge. People don't know about him."
Weight Gained
Jean-Baptiste entered Ohio State not even close to being ready to play.
It had nothing to do with his ability, but rather his size. Jean-Baptiste weighed between 215 and 220 pounds when he enrolled at Ohio State. On a 6-foot-5 frame, that left him at a major disadvantage trying to pass-rush and hold his ground in the run game when facing offensive linemen who could outweigh him by 100 pounds or more.
Per Jashon Cornell, Jean-Baptiste put on "a lot of weight" and got stronger in the offseason.
"I'm pretty sure he's there," Friday said. "He's probably got about 10 more (pounds) to go, but he's made a big step because we had some linebackers that were heavier than him. Can't have that at D-end."
Jean-Baptiste is now listed at 245 pounds on the roster, which still makes him the lightest defensive end on the roster, but is less of an impediment to getting on the field.
With his weight where it needs to be, he can turn to the other side of his game that he has worked to improve: the mental aspect.
"One thing about Javontae is about him staying focused," Cornell said. "He can be a great player – like, a great player. But when his mental goes off, sometimes he shuts down. But if he stays consistent with his technique and his pass-rush abilities, Javontae is going to be a great player here."
Cooper, as the lone senior defensive end, has made working with Jean-Baptiste a priority of his.
"I have seen a lot of maturity from him and growth into being a man," Cooper said. "He takes criticism better than he used to. People would get on him before and he would shut down. Now he applies it to his game and gets better. He can be an amazing player. He just has to accept that."