Ohio State could potentially have one of the best quarterbacks in the country this year, but right now, the Buckeyes are surrounded by uncertainty at the most important position on the field.
For the second year in a row, Ohio State is entering the season without a single quarterback who has started a game for the Buckeyes – but this year, the Buckeyes don't even have a single quarterback who has been on their roster for more than a year.
Dwayne Haskins is now in the NFL, and Tate Martell, Matthew Baldwin and even walk-on Kory Curtis opted to transfer out of the program this offseason. In their place, Ohio State now has a quarterback room that primarily consists of players who transferred to Ohio State from other schools, highlighted by Georgia transfer Justin Fields and graduate transfers Gunnar Hoak (Kentucky) and Chris Chugunov (West Virginia).
That's not an ideal position for the Buckeyes to be in, as new Ohio State head coach Ryan Day – who was previously the Buckeyes' offensive coordinator and quarterbacks coach – and the rest of the staff have not had the opportunity to develop and prepare those quarterbacks for multiple years like they had with Haskins going into last season.
In Fields, though, Ohio State has a highly touted quarterback prospect who was ranked as one of the top players in the country coming out of high school; in Hoak and Chugunov, the Buckeyes have two other quarterbacks with playing experience at Power 5 schools.
Will that be enough to keep Ohio State's offense churning in 2019? 
As Ohio State's Aug. 31 season opener draws ever nearer, we begin our 2019 Season Preview with an overview of Ohio State's signal-callers and an outlook for what to expect from them this season.
What We Know
Season Previews
We don't yet know that Justin Fields will be Ohio State's starting quarterback this season, because as of the time of this writing, Ryan Day has not named a starting quarterback. It would come as a surprise to just about everyone, though, if the talented sophomore from the Peach State doesn't lead Ohio State's offense onto the field when the season begins against Florida Atlantic.
Fields was ranked as the No. 2 overall prospect in the recruiting class of 2019; after deciding to leave Georgia after just one year, he received the highest ranking from 247Sports of any player to hit the transfer portal this offseason. After backing up Jake Fromm in Athens last year, Fields didn't transfer Ohio State to be a backup; while Day wants Fields to earn the starting job decisively with his performance in fall camp, he's been taking the majority of first-team reps dating back to spring practice. Unless Fields gets injured or Hoak clearly outperforms him over the next couple weeks, the job is his to lose.
There's no question that Fields has elite physical tools. Listed at 6-foot-3 and 223 pounds, Fields told reporters earlier this month that he ran the 40-yard dash in faster than 4.45 seconds, and he also demonstrates the ability to throw an excellent deep ball. 
In limited action off the bench at Georgia last season, Fields performed well. He completed 27 of 39 passing attempts for 328 yards and four touchdowns with zero interceptions, and ran 42 times for 266 yards and another four touchdowns.
Hoak, meanwhile, completed 13 of 26 passing attempts for 167 yards with two touchdowns and one interception, and did not have any rushing attempts in five game appearances for Kentucky last season. While Fields arrived at Ohio State in January, Hoak arrived in Columbus this summer after graduating from Kentucky this spring.
Chugunov, who joined the Buckeyes last August, is the only returning scholarship quarterback from last year's team. Before Ohio State, Chugunov played at West Virginia. He is the only quarterback on Ohio State's roster with starting experience at any college; he started two games for the Mountaineers in 2017, but completed just 43 of 90 passes in five game appearances for 536 yards with three touchdowns and two interceptions.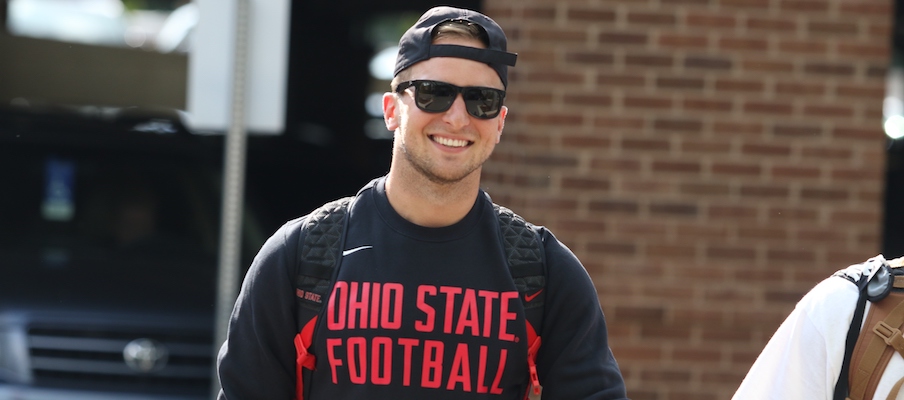 The only other returning quarterback from last season is Danny Vanatasky, a walk-on from Cincinnati. Fellow walk-ons Jagger LaRoe, a transfer from Texas A&M, and J.P. Andrade, a true freshman from California, round the quarterback roster.
What We Don't Know
While we know that Fields has the potential to be an elite quarterback, we don't know yet whether he's ready to be one. He never attempted more than eight passes in any game at Georgia and will have had less than eight months to master Ohio State's offense when the season begins. And the fact that Day still hasn't publicly named Fields as the starting quarterback suggests that he's not yet sure whether Fields is ready.
Assuming Fields is the week one starter, how effective will he be early in the season, especially as a passer? Will the Buckeyes trust him to make plays with his arm or will they lean on their run game, and how much will he factor into the run game? Will he be able to avoid making costly mistakes, and when he does turn the ball over or miss an open receiver, will he be able to bounce back stronger on the next play or series? Will his teammates rally around him as a leader even though he is a first-year Buckeye?
Those are all questions that will start to be answered when the season begins, and how well he answers them will go a long way in determining how successful Ohio State can be in 2019.
Beyond Fields, will Hoak be ready to play meaningful snaps after just one summer at Ohio State? Is Hoak and/or Chugunov good enough to take advantage of the talent around them and keep the offense rolling if either of them are needed to play? The answers to those questions also remain uncertain, leaving reason to have some qualms about the Buckeyes' quarterback depth.
None of the six quarterbacks on Ohio State's roster have ever thrown a pass for the Buckeyes in a game that counts, which makes it largely conjecture to project what the offense will look like with any of them leading the way.
Players to Watch
Ohio State's 2019 Quarterback Roster

| No. | Name | Ht. | Wt. | Year | Hometown (High School) |
| --- | --- | --- | --- | --- | --- |
| 1 | JUSTIN FIELDS | 6-3 | 223 | SO | Kennesaw, Ga. (Harrison) |
| 4 | CHRIS CHUGUNOV | 6-1 | 208 | RS SR | Skillman, N.J. (Montgomery) |
| 10 | DANNY VANATSKY | 6-1 | 205 | RS FR | Cincinnati, Ohio (Christian Academy) |
| 12 | GUNNAR HOAK | 6-4 | 212 | RS JR | Dublin, Ohio (Coffman) |
| 16 | JAGGER LAROE | 6-3 | 216 | RS FR | Colleyville, Texas (Colleyville Heritage) |
| 18 | J.P. ANDRADE | 6-3 | 205 | FR | La Verne, California (Bonita) |
Even though Fields has yet to even be named the starting quarterback, he's not only the player to watch in the quarterback room, he's the player to watch on the entire team. Even though he has never taken a snap for the Buckeyes, Ohio State's national championship hopes are likely dependent on whether he can live up to the lofty expectations that hover over him entering the season.
Because of the hype that has surrounded him since he was in high school, Fields will be in the national spotlight from the first game of the year. He's among the preseason betting favorites to win the Heisman Trophy, and his tools as both a passer and a runner give him the upside to be one of the most exciting players to watch in the country.
Ohio State will surely look to get Hoak some playing time early in the season, as well – particularly in its non-conference games against FAU and Miami (Ohio) – and as the likely No. 2 quarterback on the Buckeyes' depth chart, he'll need to be ready to play at all times in case of a Fields injury. That will make him a player to watch, too, whenever he gets on the field this year, especially early in the season.
Position Outlook
Fields' ceiling is extremely high, so the notion that he could be one of the nation's best quarterbacks this season and contend for a Heisman Trophy right away isn't too far-fetched. After all, Haskins was a Heisman Trophy finalist as a first-year starting quarterback in Day's offense last season, and Fields offers a capability to make big plays running the ball himself that Haskins did not.
Realistically, however, the more likely outcome is that Ohio State will take at least a small step back in quarterback play – especially in the passing game, and especially early in the season – from last year. After all, Haskins had the most statistically prolific season passing the ball of any quarterback in Ohio State history, and he had multiple years to grow within Ohio State's offense before being thrown into the fire, a luxury that neither Fields nor any other quarterback on the Buckeyes' roster has had.
Day has repeatedly made that point when discussing his expectations for Fields this season.
"A lot of people think well, Dwayne went from zero to 60 so fast and he just kind of jumped into the Heisman Trophy race, and that will happen (again). Well, that was a very different scenario than Justin Fields," Day said at Big Ten media days last month. "(Dwayne) had been in the program, that was his third year and he also had game experience. I thought that was a unique situation."
Day has said that he expects the Buckeyes to lean more heavily on J.K. Dobbins and their running game this season, at least early in the year, than they might have last year with Haskins at the helm. Fields should immediately make Ohio State's running game more dynamic, which could make this year's offense just as dangerous as last year's even if the passing game isn't quite as illustrious, but there is reason to expect this year's offense to be a work in progress because of the inexperience at the quarterback position.
Ohio State doesn't necessarily need Fields to be elite right off the bat. If he can make the plays that come to him and avoid turnovers or other mistakes that cost the Buckeyes field position, that will probably be enough for the Buckeyes to beat most of their early opponents. Then, if Fields can progressively get better and make more and more big plays as he gains more experience, he should hit his stride at the right time to give Ohio State a chance to win its make-or-break games – namely, its final two games of the regular season against Penn State and Michigan.
Hoak and Chugunov aren't J.T. Barrett and Cardale Jones, so any injuries at the quarterback position could potentially be devastating to Ohio State's championship hopes this season. And even though Fields has as much potential as any Ohio State quarterback has ever had, it shouldn't come as a surprise – and should probably be expected –  that he will have some growing pains this season.
With the early departure of Haskins to the NFL and minimal experience among Ohio State's other quarterbacks even before Martell and Baldwin transferred, the Buckeyes were bound to enter this season with uncertainty at the position once again. It's well within the realm of possibility that Fields could be Ohio State's next superstar quarterback, though, and he offers that potential at a level that perhaps no other quarterback that could have been on the Buckeyes' roster this year (excluding Haskins) could offer.
Projected Depth Chart
1. Justin Fields
2. Gunnar Hoak
3. Chris Chugunov