If you don't follow Ohio State closely, you probably think the Buckeyes are primed to take a step back at wide receiver this season. They lost Parris Campbell, Terry McLaurin and Johnnie Dixon, who were three of their four most productive pass-catchers last season, who were all captains last season and who are all now on NFL rosters.
Within the Ohio State football program itself and its fan base, however, expectations for the Buckeyes' 2019 receiving corps are as high as ever – and with good reason.
Campbell, McLaurin and Dixon will surely be missed this season, not only for their playmaking ability but especially for the leadership they brought to the Buckeyes. But there's still plenty of talent in Brian Hartline's position group, including both experienced players and young up-and-comers, to be excited about going into this year.
Eleven Warriors' 2019 Season Preview continues with a look at Ohio State's wide receiver room from top to bottom.
What We Know
Season Previews
While Ohio State lost three key seniors from last year's rotation, the Buckeyes return three other wide receivers who have been staples in the rotation for the past two years who are now seniors themselves: K.J. Hill, Austin Mack and Binjimen Victor.
Hill has been one of Ohio State's two most productive receivers, along with Campbell, for the past two years. The fifth-year senior will enter the season as the star of the Buckeyes' receiver group. With 144 career catches for 1,696 yards and 10 touchdowns, Hill needs just 48 receptions this season to break David Boston's record for the most career catches ever by an Ohio State receiver.
After rotating with Campbell for the past two seasons, Hill will start and play a majority of snaps at slot receiver this season.
Mack and Victor, meanwhile, have rotated regularly on the outside at the X receiver position for the past two years. Both fourth-year seniors, Victor enters the season with 48 career catches for 767 yards and 12 touchdowns, while Mack enters the year with 52 receptions for 689 yards and three touchdowns in his first three years at Ohio State.
Collectively, the three of them know it is their turn to step up and be leaders this year.
"Me, Austin, and Ben, we've been grabbing young receivers to come out, work out, show them the ropes, show them the work ethic, what you've got to do to be the best," Hill said at Big Ten media days. 
The other returning receiver who made a name for himself down the stretch of last season was Chris Olave. With Mack sidelined by a foot injury for the final six games of 2018, Olave took his place in the rotation and emerged as a playmaker late in the year, catching 12 passes for 197 yards and three touchdowns, including two touchdown catches (along with a block punt that was returned for a touchdown) in the Buckeyes' 62-39 win over Michigan.
While Day has said that Mack and Victor will likely both be starting wide receivers this year, with Mack moving to the Z receiver position, Olave is also a lock to see regular playing time in the rotation this year.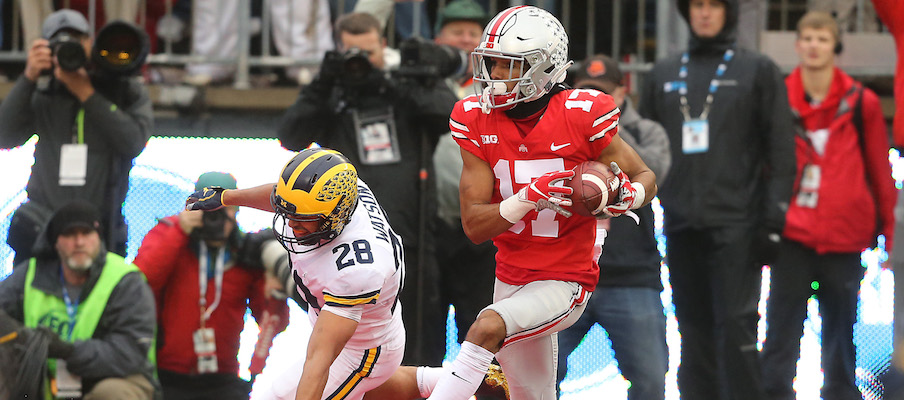 C.J. Saunders, a former walk-on who earned a scholarship in the spring of 2018, gives the Buckeyes a fourth senior in the wide receiver room and has seen occasional playing time over the past two years, catching 27 passes for 294 yards and one touchdowns.
Jaylen Harris and Ellijah Gardiner are both seeking their first significant playing time entering their redshirt sophomore seasons at Ohio State. Harris has caught only four passes for 49 yards in his first two years as a Buckeye while Gardiner has yet to record a single catch, but both have drawn praise for their development this summer and could be ready to push for spots in the rotation.
Saunders, Harris and Gardiner, however, face strong competition from a trio of talented young receivers who are looking to earn their way into the rotation, as well. 
Jaelen Gill, the No. 30 overall prospect in the recruiting class of 2018, is a candidate for playing time at H-back after redshirting last season. Garrett Wilson, the No. 20 overall prospect nationally in this year's recruiting class, has drawn rave reviews since arriving on campus as an early enrollee this spring and appears likely to earn immediate playing time this season. Fellow true freshman Jameson Williams, the No. 82 overall prospect in the class of 2019, has also made a push for immediate playing time since arriving on campus this summer, losing his black stripe after just his sixth practice as a Buckeye.
In total, Ohio State has 11 scholarship wide receivers on its 2019 roster; redshirt freshman Kamryn Babb, however, will miss at least the start of the season for the second year in a row after suffering a knee injury this spring.
A trio of walk-ons – junior Chris Booker, who recently joined the Buckeyes after previously playing for Ohio State's club football team, and redshirt freshmen Sam Wiglusz and Austin Kutscher – round out the wide receiver roster.
What We Don't Know
With 10 wide receivers who could all be legitimate candidates for real playing time this year, the biggest question entering the season is how many of them – and who all among them – will actually see the field on a regular basis this year.
Hartline said this spring that the Buckeyes want to have as many receivers as ready to play as possible, and suggested that every receiver who is ready to play could get that opportunity. Would it actually make sense, though, for the Buckeyes to play more than six receivers, the number of receivers they have rotated for the past couple years? It's presumable that the rotation will ultimately consist of two core players at each of the three spots, but we still don't know for sure whether Hartline will stick with what worked last year or break from precedent.
If the Buckeyes stick with a six-man rotation, they have some tough decisions to make over the next couple weeks. Saunders has been knocking on the door for a spot in the rotation for the past couple years, but Gill offers more upside and big-play potential. Harris has also been just outside the rotation for the past couple years, but Wilson looks ready to be an impact player right away. Gardiner and Williams are trying to force their way into the conversation, too.
Hill continuing to be a productive slot receiver is one of the surest bets on the entire team, but there are still lingering questions with the other receivers at the top of the rotation. Will Mack, who has missed practice time early in camp with an undisclosed injury, be able to stay healthy and finish his Ohio State career with a big season? Can Victor, who has made some spectacular plays over the past two seasons but has never been consistently productive, finally put it all together this year? And can Olave turn his breakout performances near the end of last year instead consistent production this year?
There's no question that Ohio State's wide receiver room remains loaded with talent, but there is a question of whether they can fill the void of leadership left by the departure of the three captains from last season. Hartline and Day have suggested at various points this offseason that they have wanted to see Hill, Mack and Victor step up as more vocal leaders, and their leadership won't truly be tested until the season begins and the Buckeyes face in-game adversity.
Losing those leaders will also put Hartline to the test in his second year as Ohio State's wide receivers coach. While the wide receivers had an excellent season under his leadership after he became their interim position coach last July, and he is widely viewed as a rising star in the coaching industry, he'll need to back up his strong start with a less experienced group of wide receivers this year.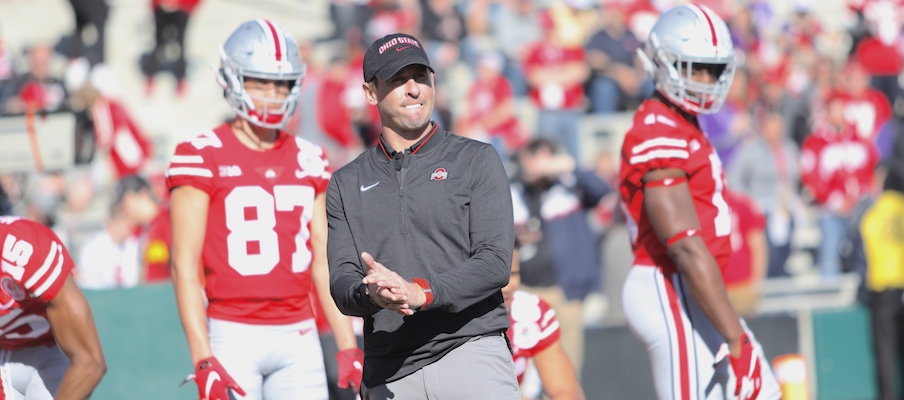 Players to Watch
Ohio State's 2019 Wide Receiver Roster

| No. | Name | Ht. | Wt. | Year | Hometown (High School) |
| --- | --- | --- | --- | --- | --- |
| 5 | GARRETT WILSON | 6-0 | 188 | FR | Austin, Texas (Lake Travis) |
| 6 | JAMESON WILLIAMS | 6-2 | 170 | FR | St. Louis, Mo. (Cardinal Ritter College Prep) |
| 7 | KAMRYN BABB | 6-0 | 195 | RS FR | St. Louis, Mo. (Christian Brothers College) |
| 9 | BINJIMEN VICTOR | 6-4 | 199 | SR | Pompano Beach, Fla. (Coconut Creek) |
| 11 | AUSTIN MACK | 6-2 | 215 | SR | Fort Wayne, Ind. (Bishop Luers) |
| 14 | K.J. HILL | 6-0 | 195 | RS SR | Little Rock, Ark. (North Little Rock) |
| 15 | JAYLEN HARRIS | 6-5 | 215 | RS SO | Cleveland, Ohio (Cleveland Heights) |
| 17 | CHRIS OLAVE | 6-1 | 185 | SO | San Marcos, Calif. (Mission Hills) |
| 26 | JAELEN GILL | 6-0 | 195 | RS FR | Westerville, Ohio (South) |
| 80 | C.J. SAUNDERS | 5-10 | 190 | RS SR | Dublin, Ohio (Coffman) |
| 82 | SAM WIGLUSZ | 5-11 | 185 | RS FR | Brecksville, Ohio (Brecksville-Broadview Heights) |
| 85 | AUSTIN KUTSCHER | 6-0 | 200 | RS FR | Massillon, Ohio (Washington) |
| 86 | CHRIS BOOKER | 6-0 | 185 | JR | St. Louis, Mo. (John Burroughs) |
| 87 | ELLIJAH GARDINER | 6-4 | 205 | RS SO | Kemp, Texas (Kemp) |
If we were taking bets on which Ohio State wide receiver would have the most catches this year, the odds would be heavily in Hill's favor. His surehandedness, route-running ability and knack for getting open and ahead of the chains in crucial game situations should make him a go-to target once again.
Mack and Victor have been projected as potential breakout players since their sophomore seasons, and even though that hasn't quite materialized for either of them yet, their new status as two of the most experienced receivers on the team make them strong candidates to have big years.
Second-year receivers Olave and Gill are both prime candidates to be breakout players in Ohio State's receiving corps this year. Olave looked like a star in the making with the speed and smoothness he demonstrated last season, and that was before he even had a chance to go through a full offseason with the Buckeyes. Gill is entirely unproven at this point, but he's an explosive athlete and a former high school running back who could offer the combination of receiving and running ability that Ohio State has not had from the H-back position since Curtis Samuel.
Ohio State's most intriguing wide receiver entering this season, though, is Wilson. The five-star recruit from Austin, Texas, showed spectacular ball skills during his career at Lake Travis High School, and he's already made a big impression on his coaches and teammates with how well he's performed in practices. It's not only possible that Wilson will make an immediate impact, it would be a surprise if he didn't, and he has the potential to emerge as one of the Buckeyes' best downfield weapons right off the bat.
Position Outlook
Simply put, Ohio State's wide receiver corps should be a strength of the team and one of the best in the country once again. The Buckeyes are loaded with talented players at the position who offer a wide variety of skill sets to beat defenses in different ways.
The Buckeyes are replacing their three best leaders and top big-play threats at the position from the past two seasons, and their departures shouldn't simply be overlooked. That said, Ohio State still has plenty of experience at wide receiver with Hill, Mack and Victor while Olave, Wilson and Gill all offer serious potential to be game-changing playmakers. 
Add in Saunders, Harris, Williams and Gardiner, and the Buckeyes are loaded with depth that will ensure they can have a strong rotation that keeps their receivers fresh throughout the season.
If the performance of Ohio State's wide receivers last year was any indication, Hartline should have his talented group of players prepared to make the most of their abilities this season.
"If you look at last year … what we were doing is we were playing really, really fast, and by the fourth quarter, teams were kind of breaking down and our guys were fresh because we were playing depth," Day said of Ohio State's wide receiver corps last month. "When you look at who we have coming back (this year), I think we have a chance for that same thing." 
Projected Depth Chart
X Receiver
1. Binjimen Victor
2. Garrett Wilson
3. Jaylen Harris
Z Receiver
1. Austin Mack
2. Chris Olave
3. Jameson Williams
4. Ellijah Gardiner
Slot Receiver/H-Back
1. K.J. Hill
2. Jaelen Gill
3. C.J. Saunders