Ohio State could have opted to abandon its wide receiver rotation.
Ryan Day is entering his first year as Ohio State's head coach, Brian Hartline is entering his first full season as the Buckeyes' wide receivers coach and Parris Campbell, Terry McLaurin and Johnnie Dixon are all now in the NFL.
With a new coaching staff and a less experienced receiving corps, Ohio State could have chosen to lock in on starters at the position instead of rotating at least two players at each spot.
There's several reasons, though, why it wouldn't have been in their best interest to do that.
First of all, Ohio State still has plenty of talent at wide receiver. In addition to seniors K.J. Hill, Austin Mack and Binjimen Victor, Chris Olave emerged as a breakout player down the stretch of last season, while Garrett Wilson, Jaelen Gill, Jaylen Harris, C.J. Saunders, Ellijah Gardiner and Jameson Williams are also all pushing for playing time.
If the Buckeyes are going to get all the wide receivers on the field that deserve to be on the field – and if they're going to promise an opportunity to earn immediate playing time to all the highly touted wide receiver prospects they have lined up for future recruiting classes – they have to continue rotating at the position.
Most importantly, the Buckeyes believe that rotating all of their receivers keeps them all fresh, and in turn improves their ability to make plays that win games when the game is on the line.
"If you look at last year … what we were doing is we were playing really, really fast, and by the fourth quarter, teams were kind of breaking down and our guys were fresh because we were playing depth," Day said at Big Ten Media Days. "When you look at who we have coming back, I think we have a chance for that same thing. Not as much experience, but when you look at Austin and Ben, they've played there before, K.J.'s got a ton of experience and then Chris Olave came on at the end of the season. So we want to get to that six-, seven-man rotation if we can."
The Buckeyes will lean heavily on their senior wide receivers; Hill is locked in as the starter at the H position, while Day said last week that Mack and Victor will most likely both start, too. Mack and Victor rotated with each other at the X receiver position last season, but Mack spent the spring practicing at Z receiver, which could enable them to both start opposite each other.
Olave has already proved that he belongs in the rotation, so he'll also see a substantial share of playing time, most likely at Z. Wilson, who consistently drew praise for how well he performed in his first spring as a Buckeye, looks like a sure bet to earn a spot in the rotation, too. Gill and Saunders are both real candidates to be Hill's backup in the slot, and Harris and Gardiner will certainly try to force their way into the rotation as well.
"I see guys like Ellijah Gardiner and Jaylen Harris coming into their third year, turning from a boy into a man," Hill said at Big Ten Media Days. "I can see it in their eyes, they're thinking different. They want to be on that field. They see the success that the last three (Campbell, Dixon and McLaurin) just had, and they want the same thing. So they're working towards that."
While the Buckeyes are targeting a rotation of six or seven receivers, Hartline wants all of his receivers to be ready to play, and said this spring that he is open to the possibility of an even deeper rotation if he believes there are enough receivers who belong on the field.
"Truly, the best players play, and then based on what they have earned through their film, we'll just see how time goes," Hartline said this spring. "We're an uptempo offense, so we need guys, we need depth. We're gonna roll guys. Because in the end, we just can't play fast unless we have legs. So the more guys, the better … whether you're 'the first guy in the room' or 'the 15th guy in the room,' everyone's going to get coached and be expected to excel at the very top."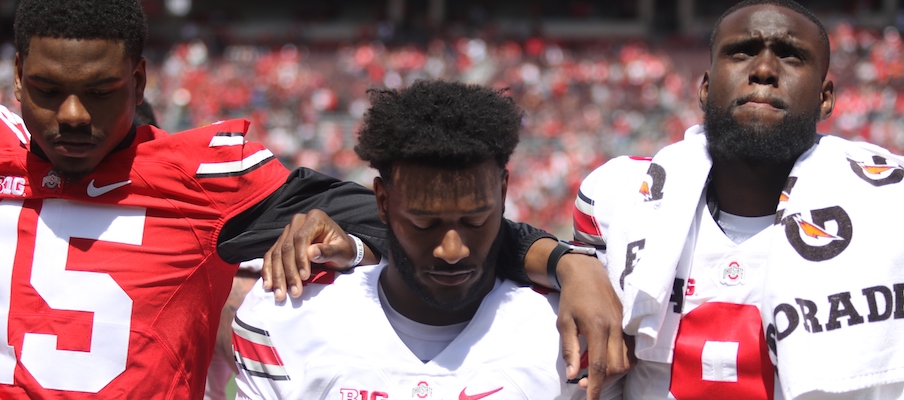 The downside of a deep rotation is that it can take the best receivers off the field regularly, and the wide receiver position is notorious for being a position where the best players feel like they should have the ball thrown their way all the time.
Fortunately for the Buckeyes, those aren't the kind of receivers they've had in recent years. Campbell, Dixon and McLaurin were all revered by their teammates and coaches for their team-first attitudes, and Hill, Mack and Victor all demonstrate the same qualities. Now, it's up to them to pick up where the three departed captains left off and ensure that the Buckeyes' younger receivers buy into the system just as much as they did.
"That talks to that room and what Brian Hartline has done in terms of building unselfishness in that room," Day said. "There's a lot of receivers that want the ball. They want their catches. They want their numbers. But these guys didn't care, and we have to keep that mentality going in that room."
Hill is confident that culture will endure in Ohio State's wide receiver room – even next year after he and Mack and Victor are gone – because of how enduring it has already been.
"I feel like that culture will stay around forever, because even before Hartline was the receivers coach, it was like that," Hill said. "Guys took care of me like I was their little brother. Mike Thomas, Jalin Marshall, Curtis Samuel, guys like that."
"We have to keep that mentality going in that room."– Ryan Day on the unselfishness of Ohio State's wide receivers
That mentality of unselfishness isn't only about accepting that they won't always be on the field, but also helping their teammates make plays when they are on the field. Ohio State expects its receivers to be able to block just as well as they are able to catch, and while McLaurin was the poster child for that aspect of unselfish play last season, Hill expects that to be an enduring quality of the Buckeyes' wide receiver room, too.
"The way that we block, we take that mentality of being different because if you're different you can't be replaced," Hill said.
Of course, all the wide receivers still want to have their chances to make plays – Hill, who is just 48 catches away from David Boston's record for the most career catches at Ohio State, as much as anyone – but they like to see their teammates make plays, too. Most importantly, Hill said, they want to win.
"Everybody had catches last year, everybody had records broken or something, so it's like as long as everybody eating, we're all good. As long as everybody is helping us to win, we was all good," Hill said. "Basically, it was just all winning. Who wants a 200-yard game and we lost? It don't mean nothing at the end of the day. It's just a stat. But I feel like it's all about winning, and if you make that play to win, we're going to hype you up."
As old faces move on and new faces come in, that's the culture Day and Hartline want to make sure remains in the wide receiver room.