The glow of the NFL entices anybody, and it certainly tempted K.J. Hill.
He had the chance to leave Ohio State and turn pro, which would have both fulfilled a lifelong dream and put a life-changing chunk of change in his bank account. Given the chance, though, Hill balked at forgoing his final year of eligibility. 
Choosing to stay with the Buckeyes, Hill has cited a hefty list of factors that led him back to college football for a fifth year. One of them? He now has a quarterback he wanted and – for a brief moment – wasn't sure he'd have.
When weighing whether he wanted to leave for the NFL or not, Hill considered the lure of remaining at Ohio State and becoming the team's undisputed No. 1 wide receiver after years of performing in the shadows of other wideouts. The possibility intrigued him. But he also knew he needed a quarterback he could trust.
While in Los Angeles preparing for the Rose Bowl, he knew Dwayne Haskins would leave for the NFL, and the rumblings of Tate Martell transferring seemed real. That begged the question of who would throw him passes in 2019 if he stuck around. So, Hill took his plight directly to Ryan Day, who was just days from officially taking over as head coach.
"I told him I needed to know what the quarterback situation was," Hill said. "Do I need to leave with Dwayne or if I wanted to stay would I have a quarterback? Because there was talks about Tate transferring and all of this stuff and I just didn't know what it was."
Day gave him the answer: Justin Fields planned to transfer from Georgia to Ohio State. 
Hill believes he's one of the first people to know about the addition, which makes sense. Even though Martell was still on the roster and Haskins hadn't officially announced his intention to turn pro, Day couldn't afford to not tell Hill. If he wasn't transparent, Day risked losing him to the NFL, along with Parris Campbell, Terry McLaurin and Johnnie Dixon. So, he gave Hill the inside scoop.
Had Ohio State not landed Fields, Hill said his decision "definitely" would have been different, meaning he would have turned pro.
"I needed a quarterback," Hill said. "It was nobody here. They said Tate was about to leave and there was nobody in the room. Dwayne was about to leave. He was gone."
Hill now has his quarterback, and he'll be as important to Fields as the quarterback was to him.
As he prepares for his fifth-year season, the focus on him is much greater than what it was even just one year ago. Having caught 70 passes for 885 yards and six touchdowns in 2018, Hill is the only returner who had more than 26 receptions last season. Parris Campbell, Terry McLaurin and Johnnie Dixon – a trio of team captains who combined for 167 receptions and 31 touchdowns – ran out of eligibility and left for the NFL, creating a natural hole for Hill to fill both as the team's top wide receiver and the unit's leader.
"It's going to be kind of weird. It was already weird in the offseason," Hill said. "A couple FaceTime calls every day, almost, talking to all of them. But I know I've got big shoes to fill. I had three great leaders in the receiver room. I followed them and I want to fill those shoes and have the younger guys look up to me like I looked up to them so we can keep the standard in the receiver room and raise the bar."
Even though Hill is just 48 catches away from breaking David Boston's record for the most career receptions in school history, he has started just four games. For most of his career at Ohio State, other wide receivers have overshadowed him.
"Ohio State has had plenty of great players to come through here, and I just want to be one of those players that will be remembered."– K.J. Hill
Sure, he's had moments of greatness, such as the game-winning touchdown catch against Penn State or a 187-yard performance against Minnesota that featured two touchdowns and a one-handed grab. But he doesn't have the speed, explosiveness or game-breaking ability of some of his former teammates, which often put him in the background.
"I had a deep receiving room," Hill said. "You had to talk about Parris Campbell. You had to talk about Terry McClaurin. You had to talk about Johnnie Dixon, Ben Victor, Austin Mack, everybody. It is what it is, but at the end of the day, I just play my game."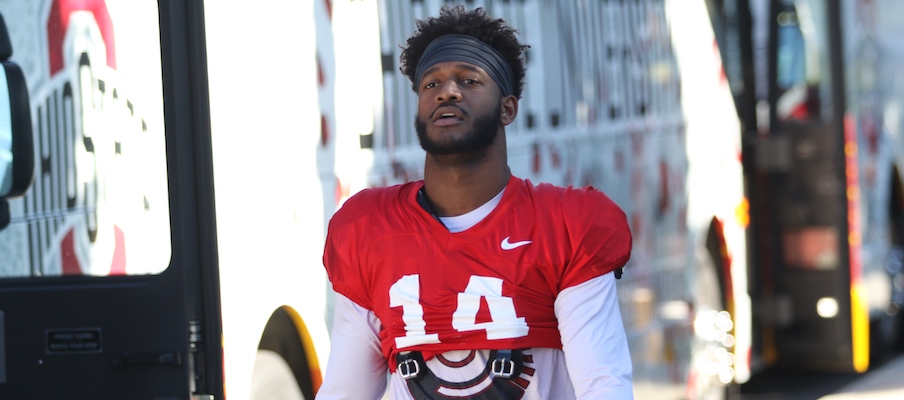 Hill doesn't even have to consider that possibility again. In a wide receiver room with plenty of questions, he's a safe bet to lead the team in catches this fall as Fields' top target through the air. 
Mack is recovering from an injury that ended his 2018 season, and Victor hasn't proven to be a consistent option for either J.T. Barrett or Dwayne Haskins. Chris Olave could have a breakout season, but he's inexperienced with just 12 career catches. Garrett Wilson carries high expectations, though he's just a freshman. 
Then, there's Hill, the sure-handed fifth-year receiver who has 144 career receptions and makes it all look so easy.
"Ohio State has had plenty of great players to come through here, and I just want to be one of those players that will be remembered," Hill said.