No Ohio State position group enters the 2019 season with more to prove than the linebackers.
They're one of the most experienced units on the team, returning all three starters from last year. The roster that might go at least three-deep at each of the three core linebacker positions. Yet they remain one of the biggest question marks on the entire team.
Ohio State's linebackers struggled for most of last season – for most of the last two seasons, for that matter – when Billy Davis was their position coach and Greg Schiano was their defensive coordinator. A new pair of co-defensive coordinators in Greg Mattison and Jeff Hafley and a new pair of linebackers coaches in Al Washington and Mattison has brought a renewed level of confidence to the group, but they'll still be relying mostly on the same players who were part of the Buckeyes' defensive woes last year.
Can another year of experience for Malik Harrison, Tuf Borland, Pete Werner and the rest of the Buckeyes' linebackers, paired with a new defensive coaching staff and a new defensive scheme, enable them to actually perform up to their potential and bring the Buckeyes back to their traditionally high standard of linebacker play?
We explore that question and take a closer look at Ohio State's linebacker roster entering the season in this installment of Eleven Warriors' 2019 Season Preview.
What We Know
Season Previews
Every linebacker who saw regular playing time on Ohio State's defense last season is back on the roster for the 2019 season, including all three starters from 2018. Malik Harrison played 863 snaps last season (most among all Ohio State defensive players) as the starting weakside linebacker, Pete Werner played 833 snaps last season as the starting strongside linebacker and Tuf Borland played 537 snaps at the starting middle linebacker.
All of them have continued to take the majority of snaps with the first-team defense at their respective positions in practices leading up to the season.
"They've earned it," Mattison said while meeting with the media last week.
Baron Browning, who rotated with Borland at middle linebacker and saw some playing time in nickel packages for a total of 289 defensive snaps last season, is also back in the fold and among the veteran linebackers competing for significant playing time at the top of the depth chart.
Dallas Gant, Teradja Mitchell and K'Vaughan Pope, who were all four-star recruits in the class of 2018, are among the additional linebackers competing for spots on the two-deep. None of them played in more than one game on defense last year but all of them were regulars on special teams; each of them has seen occasional work with the first-team defense and regular work with the second-team defense between spring practices and preseason camp.
The Buckeyes have a new trio of freshman linebackers who arrived on campus this summer in Cade Stover, Craig Young and Tommy Eichenberg. Eichenberg has been sidelined in preseason practices with an undisclosed injury, but Stover and Young have been competing for immediate playing time on special teams.
Fifth-year senior linebacker Justin Hilliard is back this season after playing 114 defensive snaps in 2018, but whether he will be able to play this year remains uncertain after he ruptured his Achilles this spring.
Although they are still listed as safeties on Ohio State's official roster, Brendon White and Jahsen Wint are also now considered members of the linebacker unit. Both of them are now playing bullet, a hybrid linebacker-safety position, and are coached by Mattison, who is serving as the primary position coach for the Sam linebackers and bullets while Washington is coaching the two inside linebacker positions.
White started the final six games of last season at strong safety after a breakout 13-tackle performance against Nebraska, and finished the year with 46 total tackles, four tackles for loss and an interception. Wint began last season as a co-starter at safety with Isaiah Pryor, but played only on special teams in the Buckeyes' final eight games of the year after struggling on defense in the first six.
What We Don't Know
Ohio State hasn't formally named starters at the linebacker position, so it's still possible that there could be changes to the lineup from last season. Browning, Mitchell, Gant and Pope have all drawn praise from their coaches for their development this offseason, so all of them remain candidates to find their way into the lineup in one capacity or another.
The real question, though, shouldn't necessarily be who starts at linebacker but how exactly the linebackers will rotate. While Browning was the only non-starter at linebacker who rotated in regularly at the position last year, the Buckeyes' new defensive coaches have indicated that they want to make more substitutions at linebacker this year in order to keep players fresh and utilize their depth.
"We got depth. It's no mystery. Let's utilize that," Washington said Wednesday. "Why sit guys down when you don't need to? Let's roll. Because nowadays when you play these tempo teams, that's what you're trying to do. They're trying to stress you out. You see the defensive line rotate. You don't see as much at the second level but when you got guys like we got that are not only talented but they're, it's almost like 1A, 1B, I think that's the goal."
In a defense that will feature a variety of different looks, there could also be package-specific roles for linebackers who aren't starters, though it's unclear at this point what exactly those roles might look like.
Given that Harrison, Borland, Werner and Browning appear likely to be the top linebackers on the depth chart again, along with White at the bullet, the bigger question might be how long their leashes are. Even when those same linebackers struggled last year, Davis and Schiano stuck with them instead of giving other linebackers chances to play; if any of those linebackers struggle again this year, will Washington and Mattison be quicker to make changes?
There's reason to believe another year of experience, new coaches and a new defensive scheme should lead to improvement for the returning starters at linebacker – and there's also reason to believe that younger linebackers like Mitchell, Gant and Pope should be ready to contribute now that they have a year of experience under their belt – but we won't know that for sure until they actually take the field for game action.
It also remains uncertain how exactly the Buckeyes will be utilize the new bullet position in their linebacker rotation. Both the bullets themselves and their coaches have suggested that they will be used primarily in rotation with Werner, functioning as a smaller, faster strongside linebacker with more coverage ability. There will likely be other ways in which the Buckeyes get White involved too, though, that won't be revealed until they're ready to deploy him in a game that counts.
Players to Watch
Ohio State's 2019 Linebacker Roster

| No. | Name | Ht. | Wt. | Year | Hometown (High School) |
| --- | --- | --- | --- | --- | --- |
| 5 | BARON BROWNING | 6-3 | 248 | JR | Fort Worth, Texas (Kennedale) |
| 7 | TERADJA MITCHELL | 6-2 | 242 | SO | Virginia Beach, Va. (Bishop Sullivan) |
| 16 | CADE STOVER | 6-4 | 225 | FR | Mansfield, Ohio (Lexington) |
| 19 | DALLAS GANT | 6-3 | 232 | SO | Toledo, Ohio (St. John's Jesuit) |
| 20 | PETE WERNER | 6-3 | 239 | JR | Indianapolis, Ind. (Cathedral) |
| 23 | JAHSEN WINT | 5-10 | 200 | RS JR | Brooklyn, N.Y. (Erasmus Hall) |
| 25 | BRENDON WHITE | 6-2 | 215 | JR | Powell, Ohio (Olentangy Liberty) |
| 32 | TUF BORLAND | 6-1 | 232 | RS JR | Bolingbrook, Ill. (Bolingbrook) |
| 36 | K'VAUGHAN POPE | 6-1 | 231 | SO | Dinwiddie, Va. (Dinwiddie) |
| 37 | CRAIG YOUNG | 6-4 | 200 | FR | Fort Wayne, Ind. (Wayne) |
| 39 | MALIK HARRISON | 6-3 | 240 | SR | Columbus, Ohio (Walnut Ridge) |
| 41 | TOMMY EICHENBERG | 6-3 | 225 | FR | Cleveland, Ohio (St. Ignatius) |
| 44 | BEN SCHMIESING | 6-1 | 225 | RS FR | Piqua, Ohio (Piqua) |
| 46 | CADE KACHERSKI | 6-2 | 212 | RS FR | Dublin, Ohio (Jerome) |
| 47 | JUSTIN HILLIARD | 6-1 | 235 | RS SR | Cincinnati, Ohio (St. Xavier) |
| 48 | LOGAN HITTLE | 5-11 | 210 | RS JR | Nashport, Ohio (Tri-Valley) |
| 55 | TRAYVON WILBURN | 5-11 | 220 | RS FR | Cincinnati, Ohio (Mount Healthy) |
Assuming both are in the starting lineup for the season opener against FAU on Aug. 31, there won't be many players on the entire team who are under the microscope more than Borland and Werner. Both of them were widely regarded as two of the weakest links on Ohio State's defense last year, so they are going to need to perform well right off the bat to change the perceptions that many Buckeyes fans and critics have about them.
That said, Mattison and Washington with expressed nothing but confidence in them; Washington said this week that Werner "has had probably one of the best camps I've seen a guy have," and he described Borland as "a warrior, and he gets to the ball." 
Borland was hampered by an Achilles injury last season, so he should be healthier and able to play up to his potential this year, but questions remain about his speed. Werner has plenty of athleticism to excel at the linebacker position, but was too often out of position to make plays last year; that might have been more of a product of the scheme than anything else, but he's going to have to prove it with production this year.
Browning, who arrived at Ohio State as a five-star recruit but has had a quiet first two seasons in Columbus, will also be a linebacker under the microscope this year. Already in the back half of his career, it could be now or never for Browning to live up to the immense hype he came in with. Ohio State head coach Ryan Day, Mattison and Washington have all praised Browning for his development during fall camp, though, and expect him to make an impact in their linebacker rotation this year.
"He's probably one of the brightest guys I've ever been around," Washington said of Browning. "He's progressing, man. He's playing the way he should play. He's still gotta get better. I love the way his mind is right now. All he's focused on is getting better. And it's awesome to see."
White, who was one of the Buckeyes' best defensive playmakers down the stretch of last season, will also certainly be a player to watch in his new role. He offers a combination of athletic ability and downhill aggressiveness that should allow him to be dangerous as a blitzer and run defender while also bringing more coverage ability to Ohio State's linebacker corps.
Position Outlook
Even with all the returning experience at the position and excitement surrounding the new defensive scheme, there's reason to have concerns about the Buckeyes' linebackers entering this season. Ohio State's play at the position simply hasn't been up to expectations for the past couple years, so the Buckeyes need significantly improved play at the second level for their defense to get back to playing at an elite level.
Inside the program, though, there's no shortage of optimism about what Ohio State's linebacker corps is capable of doing this year. With a deep mix of both veterans and underclassmen, the Buckeyes are confident that they have a group at the position who will do their jobs as expected, make plays on the ball and provide leadership on the defense.
"All you can judge them on right now for me is how are they now compared to January," Washington said. "I say they're doing excellent. They show up on time. When they're in the weight room with coach Mick, and it's not going to be any other way, they work their tails off. In the meetings, they take notes. They get out here in practice, they work. If something's wrong, they get it fixed."
Harrison was quietly solid in an otherwise down year for the linebackers last season and could be a star for the Buckeyes as a senior. Borland should play at a higher level now that he is healthy, and the returning captain will provide leadership for the entire defense. Werner is a better athlete than he gets credit for and showed flashes of potential to be a very good linebacker if he can put it all together. White's new role should put him in positions to make plays when he's on the field, and Browning, Mitchell, Gant and Pope are all strong candidates to come off the bench and make plays, too.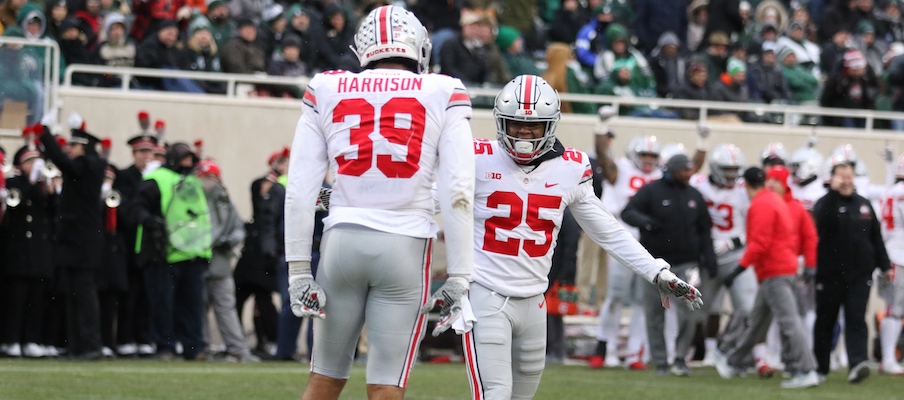 To go from a weakness last year to a strength this year, Ohio State's linebackers will need to play faster and tackle and cover better, and their coaches will need to do a better job of playing them to their strengths while also being unafraid to make changes if they don't play up to expectations early. 
If they can make all of that happen, though, there is enough talent in Columbus for the Buckeyes' linebackers to make a huge leap and return to their usual standard of top-notch play.
Projected Depth Chart
Weakside Linebacker
1. Malik Harrison
2. Dallas Gant
3. Craig Young
Middle Linebacker
1. Tuf Borland
2. Baron Browning
3. Teradja Mitchell
Strongside Linebacker
1. Pete Werner
2. K'Vaughan Pope
3. Cade Stover
Bullet
1. Brendon White
2. Jahsen Wint