Ohio State's defensive line features two distinct defensive tackle positions, and most defensive tackles practice and play specifically at one position or the other.
Davon Hamilton, Robert Landers and Tommy Togiai play the nose tackle position, which is typically reserved for stronger, stouter defensive tackles who can hold their ground against double-team blocks and free up their teammates around them to make plays. Jashon Cornell, Taron Vincent and Haskell Garrett play the 3-technique tackle position, which typically features quicker, more explosive defensive tackles who can defeat one-on-one blocks, shoot gaps into the backfield and pass rush.
Ohio State defensive line coach Larry Johnson prefers to have his defensive tackles focus on one position or the other – whichever one fits their respective skill sets best – so that they can specialize their games for the specific roles they play.
Antwuan Jackson, however, has been an exception to that rule, spending time at both positions in practice as he prepares for his second season with the Buckeyes.
"I think I'm the only one that's playing 3-technique and nose, and I'm glad that Coach J trusts me to play 3-technique and nose guard," Jackson said last week.
A redshirt junior in eligibility after spending one year at Auburn and one season at Blinn College before enrolling at Ohio State in January 2018, Jackson still doesn't have a clear path to the field because of the trio of players in front of him at both defensive tackle spots. All six of them are expected to see regular playing time, which won't leave much playing time for anybody else.
By cross-training at both defensive tackle positions, though, Jackson could potentially be the next man up in the rotation in either spot if there are any injuries. 
With only two years remaining of collegiate eligibility, Jackson would surely like to be in line for more playing time than he is. But he understands what his role on the defense is for now and is focused on preparing himself to take advantage of his opportunities to play whenever they do come.
"My role right now is to just be a reserve player, just to go as hard as I can and make plays for the defense," Jackson said. "My job is right now just come in after Davon or Tommy, like the nose guard or 3-technique, just come in and play as hard as I can, do what I can for the team."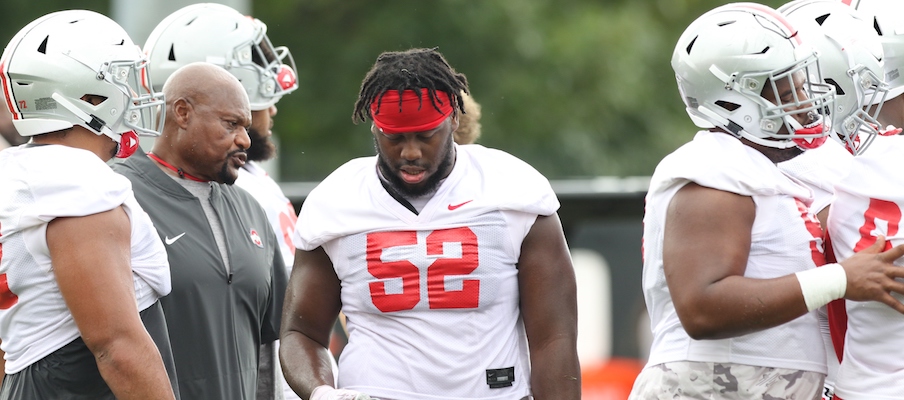 It hasn't materialized with significant playing time yet, but Jackson believes he has improved since he arrived on campus last year. One way he's done that is by getting in better shape. He weighed 310 pounds when he arrived at Ohio State and gained even more weight while recovering from foot surgery soon thereafter, but he's since dropped to as low as 290 pounds in order to improve his athleticism and stamina.
"The highest I got to was like 317 (pounds), and that's when Coach J got me on the salad and tuna," Jackson said. "That was good for me."
Jackson has also performed well in the classroom. He received the Miechelle Willis Award from Ohio State in March for making "significant strides" in his academic coursework, and he graduated from the university in May with a degree in human development and family sciences.
After going to three different schools in a three-year span, Jackson has settled in at Ohio State. He believes his weight and the foot injury he came in with held him back initially – and he played just 24 snaps last year as a result – but now, he feels more confident in his ability and still believes he made the right decision to become a Buckeye. 
"I'm loving it here. I love Ohio State," Jackson said. "I feel like I've developed a lot, just having confidence now, coming from Auburn to junior college and just getting all that rust off me. That was my big thing, talking to Coach J, every day after practice and stuff, just trying to get my confidence back and trying to get healthy and get to moving."
With all of the talent still ahead of him on the depth chart, you probably shouldn't expect to see Jackson play substantially this year. If he stays the course, continues to develop and takes advantage of the playing time he does get, though, he should finally get his chance to play a bigger role in 2020, when Hamilton, Landers and Cornell will have finished their careers.