Nobody can accuse defensive tackle Taron Vincent of aiming too low.
Collectively, Ohio State's six scholarship defensive linemen who are entering their second seasons of college football played 470 snaps as freshmen in 2018 – with Vincent playing 98, the third-most among them – and that number will likely more than double this fall. 
With that, Vincent believes, comes a desire – or self-imposed expectation – for the second-year defensive linemen to play at an extremely high level.
"Just want to dominate the Big Ten, dominate college football," Vincent said this spring.
That's all, huh?
The group includes defensive ends Tyreke Smith, Tyler Friday, Javontae Jean-Baptsite and Alex Williams, along with defensive tackles Tommy Togiai and Vincent. Four of them – Smith, Friday, Togiai and Vincent – were rated among the top-100 recruits in the 2018 class. 
Their opportunities for playing time should increase for each of them this fall. But even in relatively limited snaps, the four who didn't redshirt flashed at times, picking up 25 combined tackles, four tackles for loss and two sacks.
"We got a little glimpse," Vincent said. "People got a little sneak peek. I think we'll get more opportunity this year playing."
Vincent, in particular, finds himself in the position of potentially grabbing a much larger share of playing time now that Dre'Mont Jones left college to pursue a career in the NFL.
"Taron's so disruptive, so disruptive in the run game, in the pass-rush. We call him battering ram because once he gets off the ball, he's knocking everybody off."– Jashon Cornell on Taron Vincent
As the team partook in its 15 allotted spring practices, Vincent battled with Haskell Garrett, Jashon Cornell and Jerron Cage to win the suddenly wide-open starting spot. 
"It just makes us all better," Vincent said. "So, one dude doing good, so you're trying to top him, so everybody's just beating each other to make each other better."
The competition to replace Jones raged throughout the spring.
"That's in process," defensive line coach Larry Johnson said in the middle of spring. "That's the job. That's what it's all about. It's about competition. You've got Taron Vincent, then you've got Jashon Cornell who's fighting for a job behind him, and then we have another guy that's going to fall in and do a great job for us … Haskell Garrett, he's done a great job for us."
When spring concluded, Johnson had no defined starter or depth chart at either defensive tackle spot. But by considering the pecking order at 3-technique in the spring game and spring practices, Cornell – a redshirt senior who moved back inside this spring after one year at defensive end – appeared to have taken a slight edge as the team headed into the summer. 
Vincent, though, isn't far behind if he's even behind at all.
"Taron's so disruptive, so disruptive in the run game, in the pass-rush," Cornell said. "We call him battering ram because once he gets off the ball, he's knocking everybody off."
The man nicknamed "battering ram" picked up three tackles and a sack in 10 games as a freshman, and he already had a heck of a pedigree before even beginning his college career.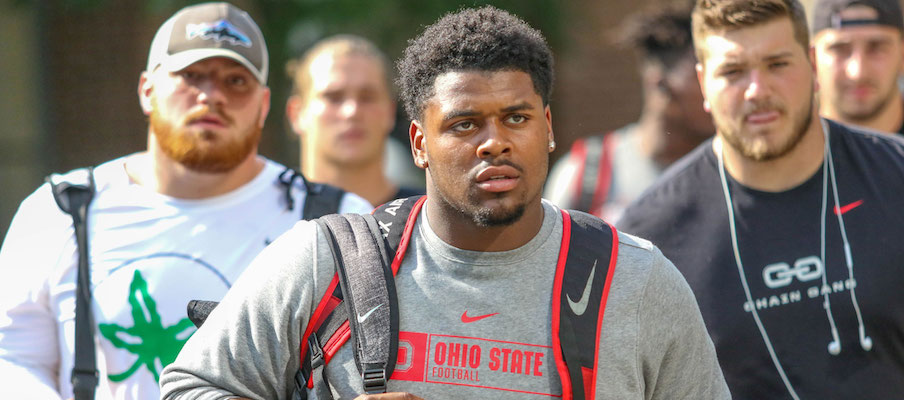 A year ago, he enrolled at Ohio State after committing to the program as the long-sought-after five-star defensive tackle that had seemed to previously elude the Buckeyes. In the more than two years 247Sports ranked him, beginning the summer after his freshman year of high school, he was never ranked outside of the top 20 overall prospects in his class. 
He ended his high school career at IMG Academy as the 20th-best prospect in the class and the No. 1 defensive tackle in the country.
In the modern recruiting era, Ohio State had never before signed the top-ranked defensive tackle in a recruiting class. Vincent was first, yet due to the presence of Jones, he didn't get baptized by fire as a freshman. Instead, he stayed relatively under the radar, and it remains that way as he enters his second year in the program.
"Just now being in college football and I'm now getting my feet wet, so I'm not panicking with what I'm doing," Vincent said. "I'm just locked in, trying to focus on my technique."
Much of his freshman year was spent learning from Jones, whom he always knew would likely leave for the NFL after the season.
"He's my big brother," Vincent said. "He just taught me all the stuff he learned, working my hands, my get-off, stuff like that."
Regardless of whether he wins the starting job in preseason camp or not, Vincent will have a significantly increased role as a true sophomore.
Johnson, whenever possible, prefers to rotate at every position on the defensive line. With defensive tackle being possibly the deepest position on the team at both nose tackle and 3-technique, a heavy rotation seems likely, with Vincent being a key cog.
"You can never have too many," Johnson said. "You want to play down and mix guys up. I've never felt that we have too many. We've got a plan to play those guys. They're all going to play."
Cornell will play. Vincent will play. Garrett will play. How much? That's up to Johnson.
But the man who Cornell said teammates call "battering ram" could have a chance to play as many impactful snaps as anyone.