When Nick Bosa went out with an injury in the third week of the 2018 season, Ohio State needed someone – anyone – to step up and attempt to replace the irreplaceable.
Dre'Mont Jones rose to the challenge. Even without Bosa on the edge to take away some of the offense's focus, he thrived, racking up 52 quarterback pressures, 23 more than Northwestern's Jordan Thompson who had the second-most in the Big Ten, per Pro Football Focus. Jones had the second-most quarterback pressures among all defensive tackles.
With the Denver Broncos selecting him in the third round of the 2019 NFL Draft, the Buckeyes won't be able to rely on him to wreak havoc on the interior any more, yet they remain well-positioned at defensive tackle both in 2019 and into the future.
Robert Landers and Davon Hamilton, a pair of fifth-year nose tackles, will return for their final season together in Columbus. Jashon Cornell, another redshirt senior, might have the early edge to start at 3-technique in place of Jones. Tommy Togiai and Taron Vincent, two of the three top-rated defensive tackles in the 2018 recruiting cycle, made pushes for increased playing time this spring. Haskell Garrett, Antwuan Jackson Jr. and Jerron Cage have each spent multiple seasons in the program and will be in the mix.
"You can never have too many," Larry Johnson said on March 29. "You're one play down, the next guy's up. I've never felt that we have too many. We've got a plan to play those guys. They're all going to play."
Even though Landers has tried his best to promote the 300-plus-pound linemen by donning a cowboy hat, dishing out candy at the past two spring games and changing his hair color, defensive tackle remains an often-overlooked, decidedly un-sexy position featuring giants who typically don't rack up the statistics of defensive ends or, really, anyone else on the defense.
But whether many people have noticed or not, Johnson has made defensive tackle a position of strength, and in 2019, it might just be the deepest position on the team.
"Right now, the inside guys have really done a great job this spring," Johnson said. "So I think we're in great shape going into the season."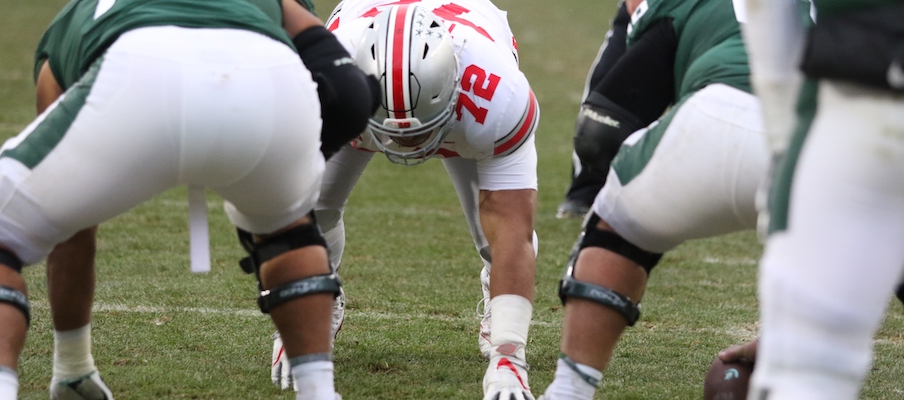 Ohio State could legitimately go four nose tackles deep in the fall.
Landers has battled injuries the past couple years, preventing him from fully maximizing his potential. The fun-loving 6-foot-1, 285-pound lineman's mix of first-step quickness, agility and lower-body power has led to 17.5 tackles for loss in his career. Provided he gets through the season fully healthy, he'll have a chance to offer some of the inside disruption the Buckeyes lost when Jones left for the NFL.
This spring, a lower-body injury limited Landers, allowing Hamilton to take the majority of first-team reps. A Pickerington Central graduate, Hamilton has been a steady option up front, playing both defensive tackle spots before settling into nose tackle the past couple years. At 6-foot-4, 308 pounds, he's proven difficult for offensive linemen to move.
If either or both Landers and Hamilton had left for the NFL after last season, Ohio State would have been perfectly fine with Togiai in the two-deep depth chart. Cornell called him "by far the strongest person" on the team. He might have the most potential among the team's nose tackles. Though Togiai's snaps will be limited again in 2019, he's taking the opportunity to learn from the veterans in front of him.
"Having BB and Davon ahead of me, coaching me, it's just like extra coaches," Togiai said. "So I use that to benefit me in ways, even after coach J's done, I'll go to them, ask them if they have any tips for me after."
Jackson currently sits at fourth on the depth chart. The redshirt junior was the top overall prospect in junior college last year. He played just 24 defensive snaps in 2018, but will likely see the field more often with a full year of experience in the program.
Regardless of which of the four play, Johnson expressed satisfaction about the depth at nose tackle multiple times when speaking in late March.
"I can interchange anybody and I'll get the same kind of work from each guy," Johnson said.
At 3-technique, Ohio State likely won't find a single defensive tackle who will disrupt games in 2019 like Jones did in 2018, but it has an intriguing selection of options, with the ability to rotate upward of three.
"That's in process," Johnson said. "That's the job. That's what it's all about."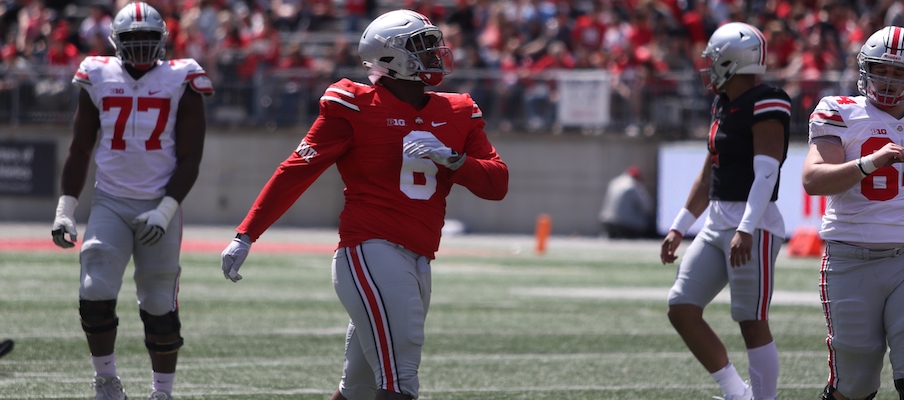 Cornell transitioned back from defensive end to defensive tackle for his fifth season, enabling him to play the position he feels most natural lining up at. The 6-foot-3, 280-pound lineman served as more of a run stopper than an edge rusher last season, but he believes he'll have a chance to occupy backfields in the fall from the inside, something Johnson will be searching for without Jones to rely on.
Vincent, the top defensive tackle recruit in the country last year, will likely be Cornell's main competition to start. He played only 98 snaps as a freshman, picking up three tackles and one sack, but the 6-foot-2, 293-pound 3-technique is in line for a significant uptick in snaps at the Jones-less position.
"Taron's so disruptive, so disruptive in the run game, in the pass rush," Cornell said. "We call him battering ram because once he gets off the ball, he's knocking everybody off."
In December at the Rose Bowl, Jones said Johnson expects Garrett "to be the guy" to replace him. Though Garrett currently appears to be third in line, the redshirt sophomore was once a top-75 overall recruit and might offer more of a stout run-stopping presence than Cornell and Vincent. Cage, a rising redshirt sophomore, will fight for snaps, too.
Even though no starter has been named, the defensive tackles will rotate and attempt to replace Jones via committee.
"There's big shoes to fill on the inside," Garrett said. "Everything that we do as a unit and for me, we just need more leadership, to be more consistent."
Not too long ago, Ohio State struggled to recruit top-of-the-line defensive tackles. But Johnson changed that in recent years and created a position teeming with depth, featuring quality veterans and intriguing underclassmen.
Jones' time in Columbus ran out, but the Buckeyes remain in an optimal spot both in the short term and long term at defensive tackle.
"You're going to see the same thing that you saw year in, year out," Garrett said. "There's going to be no drop-off in expectations as a unit."