Over and over, Larry Johnson has reloaded.
Tyquan Lewis, Sam Hubbard, Jalyn Holmes, Joey Bosa, Adolphus Washington, Joel Hale, Tommy Schutt, Noah Spence and Michael Bennett each either ran out of eligibility or left Ohio State early to head to the NFL draft in the past half-decade, yet the defensive line has never had much of a drop-off. Regardless of which four linemen Johnson trots onto the field, the Buckeyes have counted on their defensive front to change games.
The upcoming year – even without Nick Bosa and Dre'Mont Jones – shouldn't be any different. Johnson prefers to avoid using the word "replace," but that's exactly what he has done in his five-season Ohio State career, and that's what he'll do again next year.
"You can't replace Dre'Mont, can't with Nick Bosa," Johnson said in December at the Rose Bowl. "What do you think, we replaced Joey Bosa? Look at it. The next guy goes up."
Next up comes a group of six second-year linemen, four of whom had a taste of action as true freshmen.
"We always talk about it. Me, Tommy, Taron, Tyler, we know that we're not freshmen anymore. We know we have to step up, and we have to be a key part of the defense."– Tyreke Smith
A quartet of seniors – Jonathon Cooper, Robert Landers, Jashon Cornell and Davon Hamilton – plus Chase Young gives Ohio State a solid group of veterans, but its sophomores will be counted on for significantly increased roles on a deep defensive front.
Tyreke Smith earned a spot on the Rushmen package last year as a true freshman. Tyler Friday edged his way onto the field early, earning double-digit snaps in three of the first four games. Tommy Togiai had at least 10 snaps in seven games. Taron Vincent played 98 snaps in his first season, including a season-high 19 snaps in the Rose Bowl. Neither Javontae Jean-Baptise or Alex Williams played a snap as a true freshman, instead using the year to develop.
All six will have larger roles in 2019, with Vincent pushing for a starting spot and Smith likely to earn starter-level snaps.
"I think all of us, I think we all need to buy in together as a group, individually, and then come together as a unit and learn from the older guys ahead of us and take what we've learned from them and use it to our advantage," Togiai said.
Johnson doesn't want to put first-year players in any position to fail, preferring them to learn from their mistakes in moments that won't affect outcomes of games.
But that stance changes in players' second years. Johnson's go-to phrase, next man up, means those who saw the field sparingly as freshmen will be counted on to step up in their second seasons, especially those who didn't redshirt and played as freshmen.
"I think the guys that we have, they're all T's, we call them the T guys," Johnson said.
We've got Taron, a T, Tyler, a T, Tyreke, a T, and Tommy, a T. So, hey, you've got to come up with a little nickname for yourselves. But those four guys have really done an outstanding job, really have. They've got a chance to have a really bright future."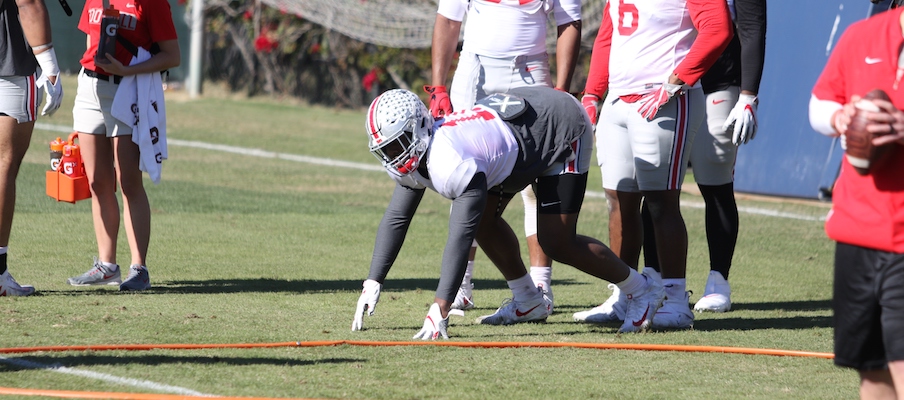 Smith has a clear route to the field. Ohio State, which isn't teeming with upperclassman defensive ends, likely turns to him as the third edge rusher in the rotation since Cornell moved back inside to defensive tackle. Both Smith and Johnson believe he could be in for an impactful sophomore season.
Friday will also have a role at defensive end. He played uneven snaps last season, but as a sophomore, he'll have a chance to earn a spot in the rotation or the Rushmen package.
The other two T-named linemen will fight for spots on the inside. Vincent has a chance to push for the starting 3-technique spot. Cornell and Haskell Garrett are his main competition, but as a former five-star prospect, he has the potential to ascend into the spot. Togiai, widely regarded as the strongest player on the team, won't have a chance to start quite yet. Landers and Hamilton, a pair of fifth-year seniors, are currently ahead of him on the depth chart at nose tackle. But his strength-quickness combination will ensure he gets on the field.
"We always talk about it," Smith said. "Me, Tommy, Taron, Tyler, we know that we're not freshmen anymore. We know we have to step up, and we have to be a key part of the defense. It's Ohio State – the D-line always is coming, and we're always on top. So we just know we've got to be on top. We know we've got to play the best, we know we've got to practice hard, we know we've got to do extra."
Both Jean-Baptiste and Williams will also likely find their way on the field as redshirt freshmen, even if they don't play as much as the foursome of rising sophomores.
Johnson opted to keep both on the sidelines during the 2018 season, even though he said they progressed enough that he could have played them. They're both tall, lanky and needed time to physically develop into their bodies.
"They both needed fundamental work," Johnson said. "Just needed growth and development. So we decided to hold those two guys back. But then in the course of the season, we were ready to go with those guys because they practice well, if we needed to. But at the end of the year, we feel like we're just going to redshirt these guys. Here was a great jump-start into the future for next year. So I'm looking forward to both of those guys."
The six rising second-year linemen combined for 480 snaps as freshmen, fewer snaps than Young, Cooper and Jones each. In larger roles, a couple of them could individually eclipse the 480-snap mark in 2019.
Young will draw the headlines among the defensive linemen, but the growth of the second-year ends and tackles could determine just how much of an impact Johnson's group will make.