Even though he is the only returning starter on Ohio State's offensive line from last season, Thayer Munford hasn't been taking all the first-team reps at left tackle this preseason.
Munford isn't in jeopardy of losing his starting job. Ohio State head coach Ryan Day and offensive line coach Greg Studrawa have both made it clear that they expect him to be a leader for the offensive line this year.
But because Munford missed the end of last season and all of this spring after undergoing back surgery in January, Ohio State has been cautiously easing him back into the lineup. 
Fifth-year senior offensive tackle Joshua Alabi, who started in place of the injured Munford in last season's Rose Bowl, has been splitting first-team reps with Munford early in camp. Day has described that as "volume control" for Munford, as the Buckeyes want to bring him along gradually over the course of August in an effort to ensure he is fully healthy going into their season opener against Florida Atlantic on Aug. 31.
"We're not just going to throw him out to the wolves early on. We're going to kind of ease him back," Day said Saturday. "But so far his progress has been really, really good."
As a competitor, Munford would like to be taking all the reps with the ones, especially after he spent spring practices walking laps around the field instead of participating in drills with his fellow offensive linemen. But Munford understands that it's in his best interest to slowly ramp up his workload coming off of injury.
"It's hard, but at the same time I know if I go hard every play and go with the ones every time, I'm bound to get injured again," Munford said last week. "I don't want that. And I also don't want to let down my teammates either if I do do that."
Since playing his final game of last season in the Big Ten championship against Northwestern on Dec. 1, Munford has had a long road back to getting ready to play this season. After undergoing his surgery in January, it was a struggle for the 6-foot-6, 313-pound left tackle to even start walking again. 
With the help of Ohio State's athletic training and strength and conditioning staffs, though, Munford is back on the field now and feeling healthier than he did last season, when he battled through nagging injuries for much of the year.
"I feel a lot better than I did last year," Munford said. "I'm just happy to be back with my brothers and happy to compete and happy to be with them on the field."
Studrawa also feels good about what he's seen from Munford early in camp.
"I think he's done really good with his weight," Studrawa said of Munford. "He looks like a million bucks. And that's going to take some of the stress off his back. We're limiting him till he gets back into the swing of things … but Thayer looks really good."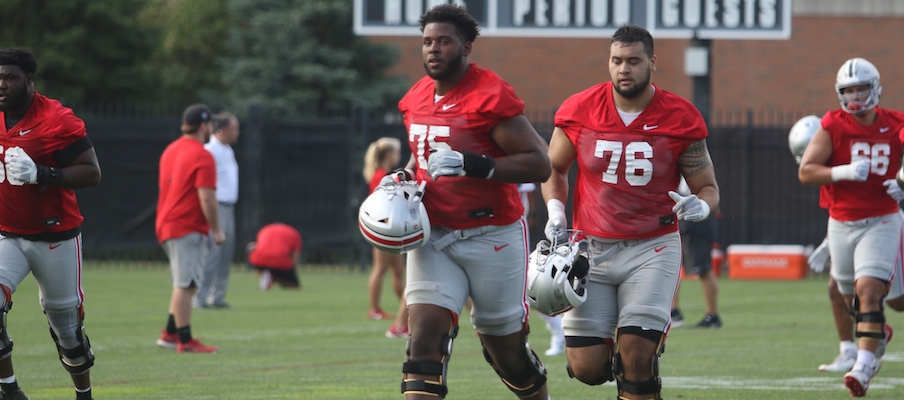 Fellow Ohio State offensive tackle Branden Bowen, who knows firsthand about the challenges of coming back from a significant injury after missing all of season while continuing to recover from a broken leg, doesn't expect Munford's lengthy recovery to affect his play.
"We put on the pads (last week) and he looks like hasn't even missed a step," Bowen said. "He was even better than he was last year already."
Munford acknowledges that no matter what he does, there is nothing he can do to eliminate the possibility of getting injured once again this season – which is another reason why Alabi is getting continued first-team work, as the Buckeyes want to make sure he is ready to play as needed. But Munford played through injuries and "still was trying to dominate players" last season, and he'll do the same again this year if he has to, though he'll do what he can to keep himself as healthy as possible.
"The thing is as far as an offensive lineman, or any football player, you have to recover. If you don't recover, your body's going to be banged up the next day or the next week against any team in the Big Ten," Munford said. "If you don't recover, you're just basically saying forget my teammates, forget everybody else. 'Cause you're not playing at your very best."
Although coaches and teammates have expressed confidence that Alabi is a starting-caliber offensive tackle, too, there's no question that Munford enters the season as one of the Buckeyes' most important players up front. He started each of Ohio State's first 13 games at left tackle last season, earning honorable mention All-Big Ten honors, and will be turned to for leadership as the only returning offensive lineman who started more than two games for the Buckeyes in 2018.
Despite being limited in practices this offseason, Munford – who is still just 19 years old entering his junior season – feels as though he has stepped up as a leader, becoming more confident in speaking up and helping show his teammates the way.
"I feel like last year, I wasn't ready to actually talk to the other guys that's already played on the offensive line," Munford said. "That's personally what I'm trying to do right now. And since I'm not getting as much reps as I need, as many reps that I was supposed to be, I'm back there helping out Jonah (Jackson). I'm helping out back there with Josh (Alabi), Josh Myers, Wyatt (Davis) and Branden (Bowen), helping them out with their technique, helping out with what to do on each play."
That said, Munford doesn't feel as though the burden of offensive line leadership falls solely on his shoulders.
Jackson was a starter and a captain at Rutgers before coming to Ohio State as a graduate transfer, and Bowen was a starter for the Buckeyes in 2017 before his injury. Both of them, as well as Alabi, are fifth-year seniors. Munford also expects Meyer and Davis, his fellow members of Ohio State's offensive line recruiting class of 2018, to emerge as leaders, as well.
"I'm ready for it, but it still doesn't mean nobody else can step up," Munford said. "Wyatt steps up. Josh steps up. Branden steps up. Even Jonah steps up. As leaders and the older guys who have actually been through the struggle here at Ohio State, we know our plays, and we know how to come at defenses, how we come off the ball. So I have help. I'm not just alone."
With Munford protecting Dwayne Haskins' blind side, Ohio State had one of the best passing offenses in college football last season, finishing the year second in passing yards per game (364.3). The Buckeyes' rushing offense took a step back, however, as they ranked just 63rd nationally in rushing yards per game (171.3) and 76th in rushing yards per attempt (4.21). 
So while Munford's first season starting at left tackle should be considered a success, especially considering he was just a true sophomore and the injuries he played through, he's looking to elevate his game and the entire offensive line's game to a new level this season to keep the pocket clean in the passing game while also opening more holes in the running game.
"I'm not having that mindset like 'Oh, we was this high-scoring offense last year,'" Munford said. "Our mindset for this year is like all right, we ain't get our run game going as well as we needed to. We didn't break off the big runs that we needed to. Now this year, we got to work harder on runs and even better at pass sets."