For the first half of Ohio State's 2017 regular season, Branden Bowen looked poised to be a starter on the Buckeyes' offensive line for the next three years.
Bowen started the Buckeyes' first six games of 2017 at right guard, and performed well. Even though he began the year practicing as an offensive tackle, and wasn't widely projected to win a right guard competition that also included Matthew Burrell, Demetrius Knox and Malcolm Pridgeon, Bowen showed what he could do as both a run blocker and pass protector on Ohio State's offensive line, and his future looked bright.
It only took one play, however, for Bowen's career trajectory to change in a big way.
During the first quarter of Ohio State's game against Maryland on Oct. 7, 2017, a Maryland defender was blocked into Bowen's left leg, fracturing his tibia and fibula.
Bowen hasn't played in a game since.
After undergoing two surgeries on his leg following the injury and missing the remainder of the 2017 season and last year's spring practices Bowen was still expected to have a shot to compete his way back into the starting lineup this past season. As he participated in the beginning of fall camp, however, Bowen realized his leg still didn't feel quite right, and he ended up having to undergo a third surgery after finding out that his fibula had not fully healed.
That was a tough pill for Bowen to swallow.
"It was really frustrating," Bowen said. "I was looking forward to another good year, and I guess not being able to do that, it was disappointing. It was definitely hard to deal with."
---
As Bowen has battled through the unexpectedly long process of recovering from his injury, he's acknowledged that the recovery has challenged him just as much mentally as it has physically.
In recognition of World Mental Health Day in October, Bowen posted a personal message to his Twitter account in which he revealed that he has battled with depression and anxiety in the past.
Today is World Mental Health Day so I thought Id write a piece for anyone who is or has previously battled with their mental health. #WorldMentalHealthDay pic.twitter.com/P4TGUucskh

— Branden Bowen (@BrandenBowen) October 10, 2018
Before his injury, Bowen was doing as well as he ever had in his Ohio State career, overcoming his battles off the field to succeed on it. The past year-plus has thrown a whole new challenge in his path, however, as Bowen had never been sidelined by a serious injury before breaking his leg.
"It was a roller-coaster," Bowen said in an interview after the Big Ten Championship Game. "I had never been hurt before, so when I did, it was just like, I didn't know how to handle it. I didn't know, going from the highest point in my life to the lowest point in my life."
The lowest point in his recovery, Bowen said, came about three months after he suffered his injury. His progress had started to come to a halt, which frustrated him.
"You get really good weeks and then really bad weeks where you can't do as much as you did last week and you know you got to be patient, and I'm an impatient person," Bowen said. "It's hard to be patient when all you want to do is get back on the field."
When Bowen wasn't able to play or even practice, Ohio State offensive line coach Greg Studrawa could see that Bowen wasn't himself.
"Any time a kid suffers an injury, he feels isolated," Studrawa said before the Rose Bowl. "He's not part of it. He's not there every day. He's not going through things. And I saw that in him."
Bowen's fiancée, Kate Lindsey, could also see the injury take a toll on his mental state.
"You want to come back as soon as possible, but you also know that you need to heal. I think that mentally was really hard on him," Lindsey said. "And that was hard to see him go through that, because at the end of the day, all I can do is be there for him. There's not much I can say, there's really nothing I can do."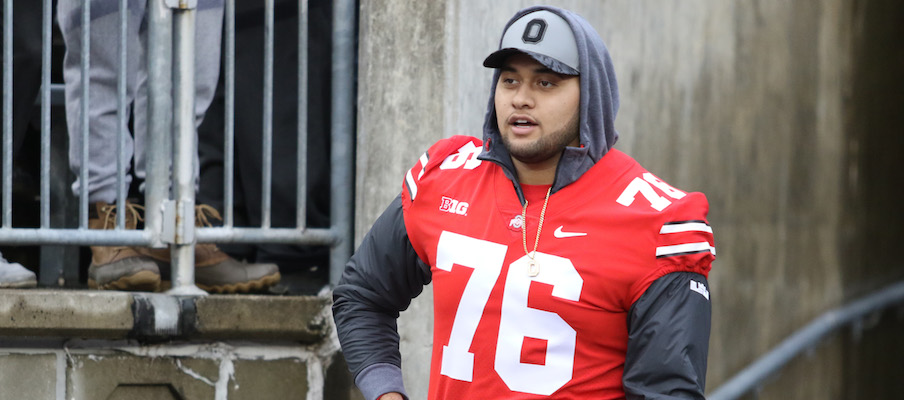 Bowen said it did help him, though, to have a strong support group around him – including Lindsey, her family and his own family, and also including his Ohio State teammates, specifically fellow offensive linemen Demetrius Knox, Isaiah Prince and Jamarco Jones.
"Staying around my teammates and my coaches and all that, they really helped me along the way, and really become a family when I needed them." Bowen said. "Throughout this injury, I had to open up to people in ways that I never thought I would. And the people around you have different experiences that can help you so much and make your life so much easier than if you just kept to the side trying to fight it yourself."
After more than a year on the sidelines, Bowen was finally cleared to play prior to the Buckeyes' ninth game of this past season on Nov. 3.
A little bit of the emotion we've (MOSTLY HE) has been dealing with for over a year. B's dedication & commitment to this team is undeniable. Please keep praying for his healing & continued health Feels good to see him in a uniform after 13 months. pic.twitter.com/VMLJz86CqE

— Kate Lindsey (@katelindsey) November 3, 2018
That didn't actually lead to any playing time in the Buckeyes' final six games of the year, but Bowen said it felt great just to be able to practice with his teammates again.
"Amazing," Bowen said of returning to the field. "Being around my guys … I missed this. Aside from the little three weeks, two weeks in camp, it had been 13-14 months since I'd been able to be around the guys, and just lining up next to them, I mean I'd line up next to Meech and just be like, 'Oh, I'm back. I'm out here with my brothers again.' And it's just been indescribable."
Studrawa saw that difference in Bowen, too.
"To have an injury that lasts a year, and to see him go through the frustration and all the things that he went through, I'm just happy he's back full-go," Studrawa said. "He feels well. He's confident in his leg again. To see the smile on a kid's face to go out to practice is priceless. Because for a year, he's dealt with coming back from that thing. To have him back now, it's awesome."
Now that he knows firsthand how fragile the opportunity to play football career, Bowen said he is grateful just to be back on the field.
"I look at every opportunity I have to play football again as something that is real," Bowen said. "Something that could be taken away from me so quickly. So now every time I step on that field and especially step on that field with your brothers, it means the world to me. There's nowhere I'd rather be."
Studrawa said that even though Bowen didn't play at all this past season, he was still a valuable veteran presence in the offensive line room.
"The fact that he's been a starter, the fact that he's been through the wars, those kids look up to him with confidence," Studrawa said. "They can bounce things off him about, 'Hey, how's this? How's that?' He shared those things with those kids, and it makes them more confident."
"Every time I step on that field and especially step on that field with your brothers, it means the world to me. There's nowhere I'd rather be."– Branden Bowen on what it means to him to be back on the football field
Just because Bowen is happy just to be back on the field with his teammates doesn't mean that he is satisfied. As he now begins preparations for his fifth-year senior season at Ohio State, Bowen is determined to regain a place on the Buckeyes' starting offensive line.
"Absolutely," Bowen said. "I definitely want to be able to play in this game (Big Ten championship game) and get me one of those rings."
Bowen said he now feels "110 percent" healthy, so he is confident he will be able to put his best foot forward once spring practices start and the competition begins. And after spending time practicing at both tackle and guard this past season, Bowen is a potential candidate to start at either position, where the Buckeyes have openings in their lineup following the departures of Pridgeon, Knox, Prince and Michael Jordan from last season.
Thayer Munford returns as Ohio State's starting left tackle, Wyatt Davis is expected to start at right guard and Josh Myers is expected to start at center. But the left guard spot on the depth chart appears to be wide open, while the right tackle spot is also open for competition with Joshua Alabi and Nicholas Petit-Frere as candidates to start at that position.
"I just want to add value to the team, and I want to help the team any way I can," Bowen said. "Whether that means playing guard, tackle, whatever they need me to do."
Because he hasn't played in more than a year, Bowen will have to prove himself all over again to earn a spot in the starting offensive line, but his long road back to the field has only made him more determined than ever to do so.
Lindsey became emotional when asked what it would mean to see her fiancé back in the lineup next year, because she knows how hard he has worked for that chance.
"He just so deserves to be back where he was. Because he worked so hard the first time to get there," Lindsey said. "He was completely the underdog. Nobody thought that was going to be his spot. And he told himself he was going to win it, and he did. And unfortunately this year, he just wasn't healthy to do that.
"Now he's finally healthy, and I think this time around, it went so well, the recovery, that he's even more motivated than he was that first time," Lindsey added. "I think he's really excited to be a leader this year, and he knows he needs to take on that role, and his body finally has caught up to where he knows he can be mentally."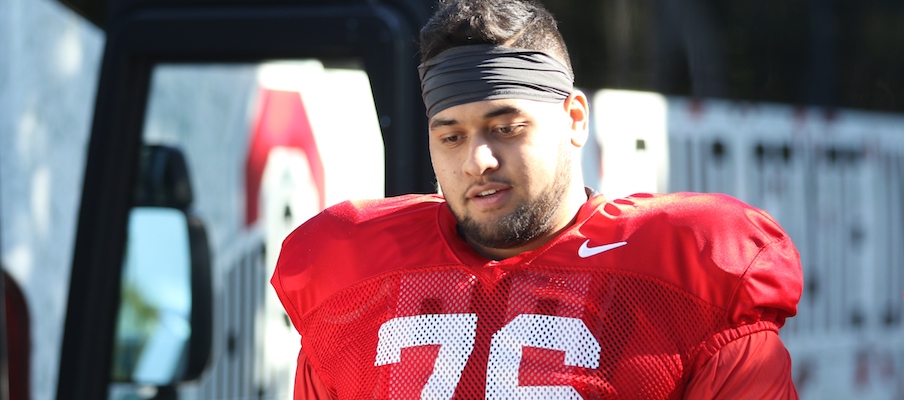 Bowen and Lindsey are also set to have a big year off the field in 2019, as they are set to become first-time parents with a son, Booker, due to arrive in March.
Lindsey said Bowen is just as excited about being a father as he is about being back on the football field, and all the while he has had to battle through his recovery from injury, he has been by her side as she goes through her pregnancy.
"No matter the day, no matter what he had that day, the time of day, he's always getting me what I need, there for me, coming to all of my appointments," Lindsey said. "For him to handle school, still get good grades, still perform and be able to heal like he has so quickly after his third surgery, it's just crazy to me, while going through the fact that now he's preparing to be a father.
"He's one of the best people I know, and his strength is really inspiring to me," Lindsey added. "What he's gone through has helped me become a better fiancée, helped prepare me to be a mom and has just shown me the things in him that I want to instill in our son."