With Luke Farrell, Rashod Berry and Jeremy Ruckert all vying for playing time at the tight end position, Ohio State is looking for more ways to get two or even three of them on the field simultaneously.
One way the Buckeyes could do that is by spreading Ruckert out and playing him as an H receiver.
K.J. Hill is the Buckeyes' starting H-back/slot receiver, while C.J. Saunders and Jaelen Gill are also competing for playing time at that spot. But with Parris Campbell now set to begin his career in the NFL, as well as Terry McLaurin and Johnnie Dixon, there could be more opportunities for Ohio State's tight ends – particularly Ruckert – to line up as receivers.
"We're just trying something new," Ruckert said while meeting with the media following the Buckeyes' eighth practice of the spring on Friday. "It's spring, so we're putting a lot of stuff in. And I'm cool with it, I like it. So whatever I can do to help the team win, whatever they want me to do, I'm down to do it."
While Ohio State didn't play Ruckert at receiver as a freshman last season, playing wideout isn't actually new to him. He primarily lined up at wide receiver during his career at Lindenhurst (N.Y.) High School, so he's familiar with being flexed out as a pass-catcher.
A highly touted recruit who offensive coordinator and tight ends coach Kevin Wilson believes has the most upside of any tight end on the roster, Ruckert is an excellent athlete who is the most natural fit among Ohio State's tight end to also play the H receiver role.
"I'm kind of going back to my old stomping grounds, so it's a lot of fun going out there and being allowed to do my thing," Ruckert said about playing receiver. "It's a different position obviously, because I'm not really attached to the ball. We got a lot of depth at tight end, so that allows me to do that, and learning from the older guys at H, too – K.J., I'm learning a lot from him watching him, C.J. – so it's definitely something I'm learning and it's something I'm willing to do. Anything to help the team."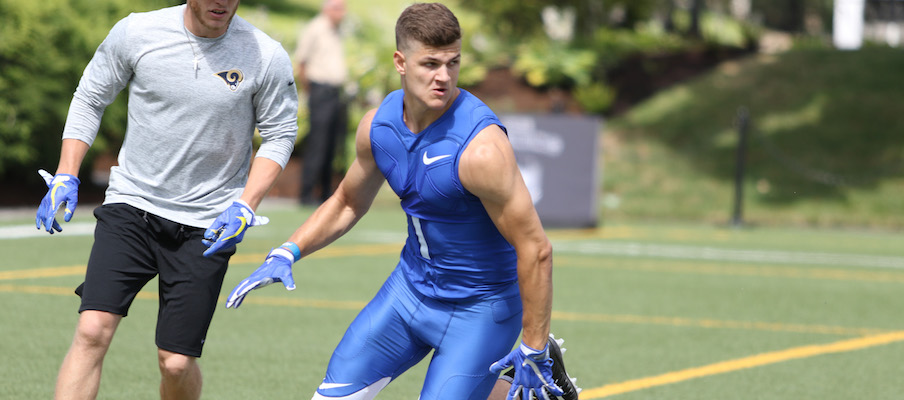 It's possible that any of Ohio State's tight ends could see playing time at the H position, because that's something Wilson – who also described Farrell as the Buckeyes' "most consistent" tight end, and Berry as their "strongest and most dynamic player" at the position – expects all of them to be able to do. Ohio State utilizes its tight ends in a variety of ways within its offense, which means they all spend time practicing in various alignments.
"All H is, it's the third receiver or in some cases, the second tight end," Wilson said. "Our tight end will play true tight end position, he'll play off the ball, he'll play in the backfield, he'll play receiver. So when two tight ends are in the field, they can both be tight ends. One of them could play off the ball or both of them off the ball. They can play together as a wing. They can play as a fullback. They can flex out at receiver. You could put two tight ends on the field and go empty. Because Jeremy Ruckert can play in space, but so does Luke Farrell. So does Rashod Berry. So every job that the tight end does with one tight end is the same job he does as the second tight end."
When the Buckeyes are recruiting tight ends, Wilson says they put a premium on athleticism and look for players who can run and catch that they believe can develop as blockers.
"In our day and age, at tight end, we're looking for receiving-type players that can become tough enough and big enough to block. That's what Luke is and Jeremy is and Rashod and Jake (Hausmann)," Wilson said. "When we look at tight end recruits, the guys that really can block who can't run don't fit. So the receiver that plays in space who gets tough enough and strong enough is really the evolution of what the tight ends are."
After arriving at Ohio State last summer, Ruckert spent much of his first season getting bigger and stronger and tougher as a blocker, which is one reason why he played only 129 offensive snaps as a freshman – compared to 640 for Farrell and 403 for Berry.
Now, though, the Buckeyes have reason to get him on the field more. They don't have as much returning experience at receiver, and Wilson likes what he's seen from Ruckert's development from last year to this spring.
"When you're an athletic player and you're young and maybe not as strong as you need to be, if you're thinking about what to do, you don't create enough power to block," Wilson said. "So he's stronger, but he's more confident, and because he's a good athlete, he can be a good blocker because he has natural speed. But it's getting him comfortable to understand how to play with leverage, and he's becoming a consistent blocker."
Ruckert believes last year was huge for his development and getting his feet, and going through his first winter of strength and conditioning workouts led by Mickey Marotti has helped prepare him for his sophomore season, as well.
"I wish I came last spring," said Ruckert, who said he now weighs about 251 pounds after coming in at 237. "Not only does he get you tough and your body in shape, but the mental toughness is the biggest thing. Coming in at 4:30 in the morning, going to mat drills, there's nothing like that. You know it's going to be hard, you know it's going to be tough and it's so competitive that if you don't bring your A-game every day, you'll get exposed."
"I'm kind of going back to my old stomping grounds, so it's a lot of fun going out there and being allowed to do my thing."– Jeremy Ruckert on lining up at receiver
Ruckert said he is still practicing mostly as a traditional tight end, and expects to continue playing in that role, as well. But he believes his ability to also flex out and play receiver, combined with what Farrell and Berry and Hausmann can do as tight ends, gives Ohio State's offense the potential to be more multiple and create more mismatches.
"Our unit is so strong that we can have multiple tight ends on the field, and that causes a lot of matchup problems," Ruckert said. "So the fact that I'm able to go out wide and make plays on the perimeter helps a lot, but I think the fact that we have a bunch of strong tight ends that can play tight end and then allow me to go out and play wide receiver a lot more is going to cause a lot of problems."
How much the Buckeyes ultimately use Ruckert or any of their tight ends at the H position, though, will depend on who proves they belong on the field more: the tight ends, or other wide receivers who are competing for playing time at that spot.
"The reason we've never done that? The second tight end wasn't as good as the second receiver or the third receiver or the fourth receiver. So what are you gonna do? You're gonna play your best 11, or your best 12, or 13 or 14 or 15 people," Wilson said. "If the tight end position is better, and their skill set says they can do a lot of jobs, now we change formations but then get on the field. If you wanted to do that and those are bad players, you take them off the field, you put the good players on the field.
"The only reason they're going to go out there is they're playing well enough to crack the top 11. And they're helping your team win. They give you diversity, because you can go big in spread, but they also need to be productive. And right now it has a chance to be a productive group."