Ohio State's 2019 schedule might be more challenging than it initially appears.
Take a quick look at the Buckeyes' schedule, and the first thing that might jump out at you is that they don't play a non-conference game against a Power 5 opponent this year. Dig into the schedule a little deeper, though, and you'll find plenty of games with the potential to present challenges for Ohio State this year.
Ohio State still has to play nine conference games this season, and there aren't many opponents in the Big Ten portion of the schedule that can be taken lightly – especially at the end of the season, when the Buckeyes will conclude their 12-game regular-season slate with back-to-back games against the two teams that are likely to be their strongest competition in the Big Ten East: Penn State and Michigan.
The schedule will ramp up as the season progresses – which could play into the favor of a team with a first-year head coach and a first-year starting quarterback – but there are plenty of games in September and October that have the potential to be tricky for Ohio State, too, including a four-game stretch that features contests against Nebraska, Michigan State, Northwestern and Wisconsin.
With just over two weeks to go until the Buckeyes' season opener, we take a brief look at each of Ohio State's 12 regular-season games and what to expect from each of them.
Game 1: Florida Atlantic
Aug. 31, Ohio Stadium, Noon, FOX
The first official game of the Ryan Day and Justin Fields era at Ohio State will come against Lane Kiffin's Florida Atlantic squad. The season opener will be the first-ever matchup between the Buckeyes and the Owls.
After an 11-3 season in Kiffin's first year at the helm, FAU went just 5-7 last year. The Owls were projected to finish third in Conference USA's East division in the conference's preseason media poll, but they are currently 27-point underdogs against the Buckeyes, according to Bovada. The Buckeyes shouldn't have much trouble winning this game, and will likely be able to play their backups in the second half.
Matchup to Watch: Ohio State QB Justin Fields vs. Florida Atlantic defense
Fields will almost certainly be named the Buckeyes' starting quarterback when Day makes that announcement on Monday, which means he'll be in the spotlight as he plays his debut game as a Buckeye. FAU's defense shouldn't pose too tough a test – the Owls ranked 85th nationally in yards allowed per game (424.4) and 92nd points allowed per game (31.8) last year – but Fields' performance, good or bad, will likely be the top story of a game that shouldn't be particularly competitive on either side of the ball.
Game 2: Cincinnati
Sept. 7, Ohio Stadium, Noon, ABC
Former Ohio State defensive lineman and assistant coach Luke Fickell will make his return to the Shoe in the second week of the season, when Cincinnati makes its first trip to Ohio Stadium since 2014 for what should be the Buckeyes' most competitive non-conference game of the year.
Cincinnati has lost 11 straight games against Ohio State dating back to 1900, but Fickell's squad should provide stouter competition than FAU and is capable of giving Ohio State a scare. The Bearcats went 11-2 last season, when their defense ranked in the top 11 nationally in both yards allowed per game (303.5) and points allowed per game (17.2). Quarterback Desmond Ridder was the American Athletic Conference's rookie of the year last season, while running back Michael Warren II was the conference's second-leading rusher with 1,329 yards and 19 touchdowns.
Matchup to Watch: Cincinnati QB Desmond Ridder vs. Ohio State defense
Cincinnati will provide the first real test of the season for Ohio State's new-look defense, and Ridder is a big reason why. As a redshirt freshman last year, Ridder completed 62.4 percent of his passing attempts for 2,445 yards and 20 touchdowns with only five interceptions, while he also ran for 572 yards and five touchdowns. He'll challenge the Buckeyes' defense both through the air and on the ground.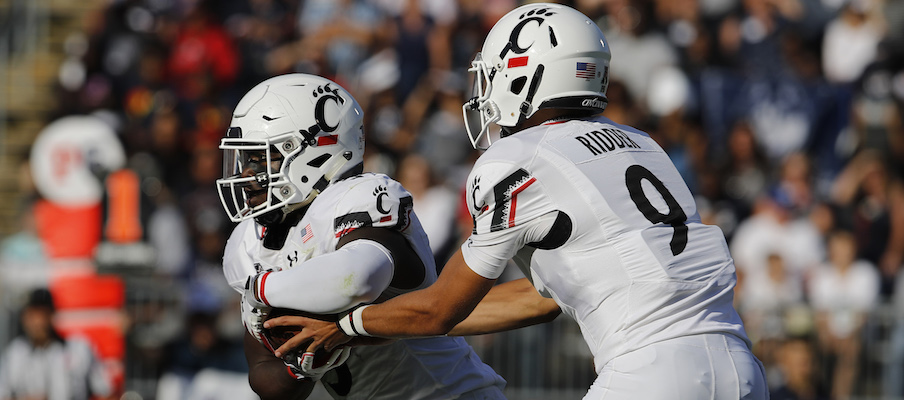 Game 3: Indiana
Sept. 14, Memorial Stadium (Bloomington, Indiana), Noon, FOX
Ohio State's first conference game and first road game of the year will come in Bloomington. The Buckeyes have won 23 straight games against Indiana dating back to 1991, but the Hoosiers have hung around in some of the recent matchups between the two teams, especially in their home stadium. Two years ago, Indiana led at halftime before Ohio State ultimately won 49-26. In the 2015 game at Memorial Stadium, Indiana came close to a game-tying touchdown drive in the waning moments of Ohio State's 34-27 win.
The Hoosiers aren't expected to be anything more than a middle-of-the-pack team in the Big Ten once again this year, but this isn't a game the Buckeyes can simply overlook, and it will be Day's first true road game as a head coach.
Matchup to Watch: Indiana RBs Stevie Scott/Sampson James vs. Ohio State defense
It's uncertain who Indiana's starting quarterback will be for this game – Peyton Ramsey, Michael Penix Jr. and Jack Tuttle have all been competing in camp – but regardless, the strength of the Hoosiers' offense is likely to be their running game. 6-foot-2, 231-pound Stevie Scott ran for 1,137 yards and 10 touchdowns last year as a true freshman, and they bring in four-star recruit Sampson James, who was once committed to Ohio State before flipping to Indiana. They should provide a solid early-season test for the Buckeyes' tackling efforts on defense.
Game 4: Miami (Ohio)
Sept. 21, Ohio Stadium, BTN
Ohio State will wrap up its non-conference slate with a game against the RedHawks of Miami, who will make the approximately two-hour trip to Columbus for the first time since 2012 and the sixth-ever matchup between the two schools.
The Buckeyes have never lost in any of their previous matchups against Miami, and that isn't likely to change this year. The RedHawks were picked in their conference's preseason poll to finish second in the Mid-American Conference's East division, but Ohio State is more talented at every position on the field. The Buckeyes will look to wrap this one up early so they can get their starters some rest and their reserves some playing time before getting into the meat of their schedule.
Matchup to Watch: Ohio State QB Gunnar Hoak vs. Miami defense
The RedHawks' starters should be overmatched on both sides of the ball in this game, but what will make this game intriguing is the likely extended opportunity to watch the Buckeyes' backups play, and it could be Gunnar Hoak's biggest opportunity to shine this year. While his career isn't currently going as planned, you might remember that Tate Martell had some impressive showings off the bench in early-season games for the Buckeyes last year, including a record-setting 10-for-10 game against Rutgers; this could be a good chance for Hoak to do something similar and show what he can do in case he is needed later in the season.
Game 5: Nebraska
Sept. 28, Memorial Stadium (Lincoln, Nebraska)
The first major challenge of the season for Ohio State could come at the end of September, when the Buckeyes will head to Nebraska to face a team that is expected to be a serious contender in the Big Ten West this season.
While the Cornhuskers only won four games in 2018, they have the potential to make a major leap forward this season. Scott Frost is entering his second year as Nebraska's head coach – in his second year in his previous job at UCF, the Knights went undefeated – and Adrian Martinez is entering his second year as starting quarterback after an impressive true freshman season. Ohio State will need to bring its A-game to Lincoln to ensure it comes home with a win.
Matchup to Watch: Nebraska QB Adrian Martinez vs. Ohio State defense
Other than Fields, no Big Ten quarterback is entering the season with more hype than Martinez, and how well he performs in this game will determine how much of a chance Nebraska has to win. The Cornhuskers aren't expected to be great on defense, so the Buckeyes should be able to score points in Lincoln, but Martinez's ability to make plays with his arm and his legs – along the weapons around him, like wide receiver JD Spielman, who has 17 catches for 261 yards and two touchdowns in two games against Ohio State – could expose the Buckeyes' defense if they haven't made significant improvements from last year.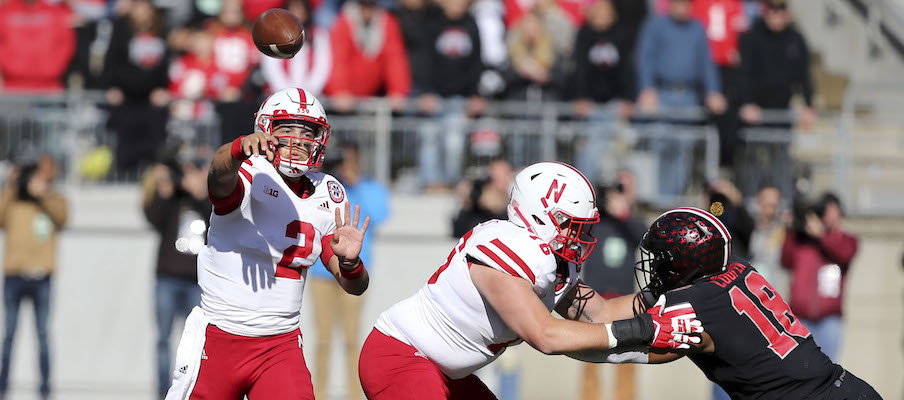 Game 6: Michigan State
Oct. 5, Ohio Stadium, 7:30 p.m., ABC/ESPN
Ohio State will wrap up its first half of the season by donning its black alternate uniforms and playing under the lights in its sixth game of the year against Michigan State, which has beaten Ohio State more times (three) than any other team in the past eight years.
Mark Dantonio's team typically plays the Buckeyes tough, and the Spartans return eight starters from a defense that ranked in the top 10 nationally in both total defense (303.2 yards allowed per game) and scoring defense (17.2 points allowed per game) last year. The Spartans have held Ohio State to 26 points or less in six of their last eight matchups, and with all the talent they return on that side of the ball this season, the Buckeyes' offense should face one of its toughest tests of the year once again from the green and white.
Matchup to Watch: Ohio State offensive line vs. Michigan State defensive line
Expectations are high for Ohio State's offensive line entering the season, but this game will be one of the biggest tests of the year of how good the Buckeyes actually are up front. The Spartans return all four of their starting defensive linemen from last season, including one of the nation's best defensive ends in Kenny Willekes, as well as one of the nation's top middle linebackers in Joe Bachie. They held Ohio State to just 54 yards rushing in 2018, and when the Buckeyes have lost to the Spartans in the past, it's typically because they've lost the battle in the trenches.
Game 7: Northwestern
Oct. 18, Ryan Field (Evanston, Illinois), 8:30 p.m., FS1
Ohio State will play its first-ever Friday night game when it travels to Evanston for its first road game at Northwestern since 2013. The Buckeyes will have an extra week to prepare for this game, but so will Northwestern, and this is the most comparable game on the schedule to the Purdue and Iowa games in which Ohio State fell flat in the last two years.
The Wildcats are the reigning division champions in the Big Ten West, and their passing offense could be more dangerous this year with new starting quarterback Hunter Johnson, a five-star recruit who began his career at Clemson before transferring to the Wildcats. Ohio State has a substantially more talented roster, but Pat Fitzgerald's teams are known for playing smart and tough, and this year's team should be no different. The Buckeyes can't afford to sleepwalk into this game, because like the Boilermakers and Hawkeyes, Northwestern could be good enough to make them pay if they do.
Matchup to Watch: Ohio State RB J.K. Dobbins vs. Northwestern defense
Northwestern held Ohio State to just 108 rushing yards on 46 attempts in last year's Big Ten Championship Game, and tough road games like this one are the type of games where the Buckeyes need J.K. Dobbins, as their clear-cut feature running back this year, to be able to take over. The Wildcats' defensive front should be one of their biggest strengths again, though, as they return three of their biggest stars from last season in defensive end Joe Gaziano and linebackers Paddy Fisher and Blake Gallagher.
Game 8: Wisconsin
Oct. 26, Ohio Stadium
After a disappointing 8-5 season last year, the expectations surrounding Wisconsin are lower than usual entering this season, but that doesn't mean the Badgers can be overlooked as a potentially challenging opponent. Ohio State has won six straight games against Wisconsin dating back to 2011, but most of those games have been close – with the obvious exception of the Buckeyes' 59-0 throttling of the Badgers in 2014 – and Paul Chryst's teams are always tough in the trenches.
Whether the Badgers can contend for a Big Ten West title this year will likely depend on their play at quarterback, where Jack Coan appears to have pulled ahead of Graham Mertz in the battle to be the starter this year, but they should have one of the nation's best rushing offenses once again with Jonathan Taylor back at running back and a reputation for excellent offensive line play.
Matchup to Watch: Wisconsin RB Jonathan Taylor vs. Ohio State rushing defense
Taylor has been the most productive running back in college football for the past two years, rushing for 1,977 yards and 13 touchdowns in 2017 and 2,194 yards and 16 touchdowns in 2018. He's only been held to less than 50 yards twice so far in his Wisconsin career – but one of those games came against Ohio State in the 2017 Big Ten Championship Game, when he gained only 41 yards on 15 carries. He ran for more than 100 yards in every game but one last year, though, so bottling him up again will be crucial for the Buckeyes to beat the Badgers again this year.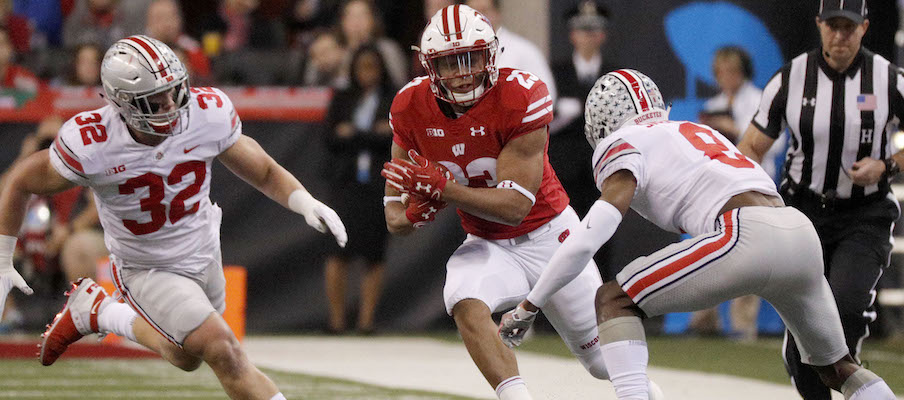 Game 9: Maryland
Nov. 9, Ohio Stadium
While Maryland is projected to be a bottom-half Big Ten East team once again this year, the Terrapins can no longer simply be viewed as an easy team to beat. After taking the Buckeyes to overtime and coming a two-point conversion away from what would have been a stunning upset in College Park last year, Maryland should have Ohio State's attention going into this game this season.
The circumstances of this game are much more titled in Ohio State's favor this season – the Buckeyes will be coming off their second bye week of the year and playing at home, while the Terps' trip to Columbus will be their seventh straight game without a week off – but Maryland also has what might be its most talented team since joining the Big Ten, and new head coach Mike Locksley has brought new optimism to College Park that the Terps can be competitive.
Matchup to Watch: Maryland RB Anthony McFarland vs. Ohio State rushing defense
If there's any game Ohio State's defense should have circled as a redemption game going into this season, it's the Maryland game after the Terrapins scored 51 points against the Buckeyes last year. To prevent another embarrassing performance, they'll need to do a much better job containing Anthony McFarland, who rushed for 298 yards against the Buckeyes' porous defense last season and is expected to be among the Big Ten's best running backs this year.
Game 10: Rutgers
Nov. 16, HighPoint Solutions Stadium (Piscataway, New Jersey)
With the two games that directly follow this game on the schedule, the Buckeyes could be at risk of looking past this game – but this is one of the few they can probably afford to overlook without any danger of suffering an upset. Rutgers has lost by at least 39 points in each of its first five games against Ohio State since joining the Big Ten, and the Scarlet Knights are expected to be among the conference's cellar-dwellers once again.
Former Ohio State assistant Chris Ash will look to right the ship this year after a 1-11 season last year – and he'll probably need to in order to keep his job in Piscataway – but the Scarlet Knights would have to make monumental strides to have a chance to beat the Buckeyes in November. This should be an opportunity for Ohio State to take its starters out of the game early and play deep into its bench one more time before the toughest stretch of the season begins.
Matchup to Watch: Ohio State LG Jonah Jackson vs. Rutgers defensive line
There really isn't a matchup you'll need to watch in this game for competitive reasons, but this one should be fun to watch. Jackson played at Rutgers before coming to Ohio State as a graduate transfer this summer, and his former teammates at Big Ten media days said they expect plenty of trash talk with Jackson leading up to this game. He'll likely be extra motivated to have a big game in the stadium where he previously played his own games, and his former teammates on Rutgers' defense will certainly have their sights on trying to beat his blocks.
Game 11: Penn State
Nov. 23, Ohio Stadium
Ohio State's divisional matchup with Penn State has provided some of the most thrilling games in college football over the past three years. After Penn State pulled off a stunning upset over Ohio State in Happy Valley in 2016, the Buckeyes stole victories from the jaws of defeat with fourth-quarter comebacks in each of their past two games against the Nittany Lions.
With Trace McSorley gone, Penn State isn't entering the season with as much buzz as it has had the last couple years, but the Nittany Lions are still one of the Big Ten's most talented teams on both sides of the ball. Considering the way the last three years of games between the two teams have gone, both teams should be fired up entering this one, and there could be major implications on the line for both teams in the penultimate game of their regular seasons. It would be a surprise if this isn't another highly competitive game.
Matchup to Watch: Penn State WR K.J. Hamler vs. Ohio State defense and special teams
Ohio State's problem with giving up big plays on defense last year became unavoidably clear when K.J. Hamler turned a slant into a 93-yard touchdown against the Buckeyes in State College. Going into last year's game against Ohio State, Hamler – who had four total catches for 138 yards and four total kick and punt returns for 57 yards – was still a relative unknown. Now, though, he's the Nittany Lions' top returning offensive playmaker, as a receiver and as both a kickoff and punt returner, and Ohio State's defense and special teams should both be locked in on making sure they don't allow him to use his top-notch speed to break off any big plays in this season's game.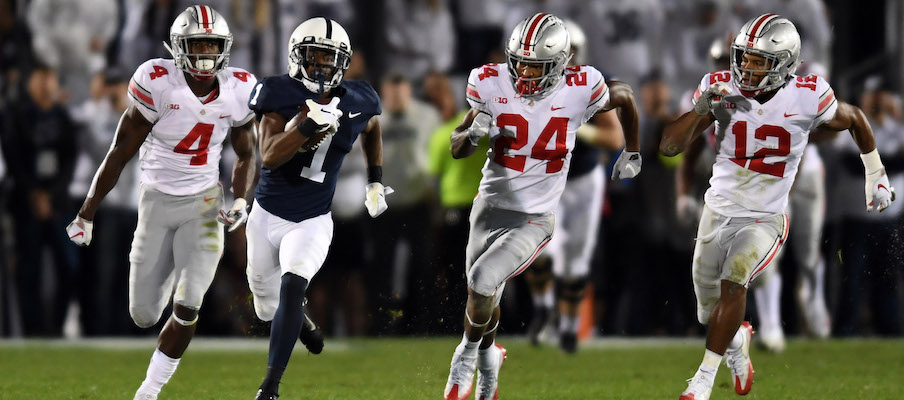 Game 12: Michigan
Nov. 30, Michigan Stadium (Ann Arbor, Michigan), Noon, FOX
As always, the final game of the regular season against Michigan will be the most anticipated game on Ohio State's schedule, and this year's game might have even more anticipation than usual. While Michigan will be looking to snap its seven-game losing streak against the Buckeyes, Ryan Day will be looking to pick up where Urban Meyer left off and continue Ohio State's run of dominance over Jim Harbaugh and the Wolverines.
Despite the lopsided recent history of the rivalry, Michigan is actually favored to win this game by most sportsbooks with preseason lines, including BetOnline. But even without Meyer, Ohio State continues to take a year-round approach to beating the team up north, while Harbaugh has yet to prove he can win the big game. 
As if any more motivation was needed for either team, Ohio State and Michigan are expected to be the two best teams in the Big Ten once again, which means a Big Ten East title, a spot in the Big Ten Championship Game and potentially a chance to make the College Football Playoff could all be on the line when the scarlet and gray and maize and blue meet in the Big House at the end of November.
Matchup to Watch: Josh Gattis' Michigan offense vs. Greg Mattison's Ohio State defense
While Michigan's strength in recent years has been its defense, it's the Wolverines' offense that has many prognosticators projecting this could be the year they finally break through and win the Big Ten. The Wolverines return a majority of their offensive starters from last season, including quarterback Shea Patterson and four starting offensive linemen, and new offensive coordinator Josh Gattis is expected to bring a more modern offensive system to Ann Arbor that should make Michigan tougher to defend.
Ohio State's offense, of course, was its strength last year, but the key to the Buckeyes' success this year could be their defense, and one of the men leading that turnaround is former Michigan assistant coach Greg Mattison. In tandem with fellow co-defensive coordinator Jeff Hafley, fellow former Michigan assistant Al Washington and the rest of Ohio State's defensive coaching staff, the Buckeyes will look to thwart whatever Gattis and the rest of Michigan's offensive coaching staff – which includes former Ohio State assistant Ed Warinner – might throw at them.
With two units looking to improve upon their performance from last year and bad blood that will go both ways, the matchup between the Michigan offense and the Ohio State defense at the end of November will be one of the most anticipated games within a game of the entire season.