The Wolverines know they can't avoid the elephant in the room.
Michigan has now lost its annual rivalry game against Ohio State for seven straight years, including all four games against the Buckeyes since Jim Harbaugh became head coach and each game against Ohio State that every current player on Michigan's roster has played in. It's the second such losing streak for the Wolverines in the past 15 years, as Jim Tressel's Buckeyes also won seven straight games against Michigan from 2004 to 2010.
While the Wolverines have still been among the Big Ten's better teams in recent years, winning at least 10 games in three of Harbaugh's first four seasons in Ann Arbor, they've become defined by their inability to get over the hump – especially against Ohio State – and they're aware that their performance hasn't met expectations.
So when one reporter at Big Ten Media Days apologized for asking Harbaugh yet another question about the Wolverines' most recent loss to Ohio State – a 62-39 drubbing in Ohio Stadium last season – Harbaugh didn't mind.
"That's OK, we bring it up a lot," Harbaugh said. "We embrace it."
As high expectations surround Michigan once again entering this season, with many college football analysts projecting that the Wolverines will win the Big Ten, Harbaugh said the Wolverines are using their past failures as lessons and motivation as they chase greater success in 2019.
"I think a lot of people talk positively, everything's positive, everything you're doing is positive; especially this time of year, you hear that from everybody," Harbaugh said Friday. "We embrace the negative, we embrace the suck. Let's improve, let's take into account the things that we've done, the times we've lost and what we can do to make that not happen again, ever."
That's not to say that the Wolverines don't have high expectations of their own, though. Harbaugh said Friday that the Wolverines' goals aren't only to beat Ohio State and to win the Big Ten, but also to make the College Football Playoff and win a national championship. And even though the Wolverines haven't accomplished any of those goals in the past seven years, their players are confident they are capable this year.
"When you look around the room at the talent that we have, at the guys we have, at the coaches that we have, you'd be hard-pressed to find a team that could beat us on paper," said Michigan left guard Ben Bredeson. "So it's going to take us screwing up ourselves, I think, to get beat."
In order to accomplish those goals, Harbaugh and Bredeson said the Wolverines need to start by focusing on making themselves better – and not necessarily on beating any specific opponent, including Ohio State – each day.
"I think that's a mistake that we've made in the past is looking ahead to things, and we're just trying to win every single day and focus on ourselves and if we do that, then we're going to be a tough team to beat come the end of November," Bredeson said.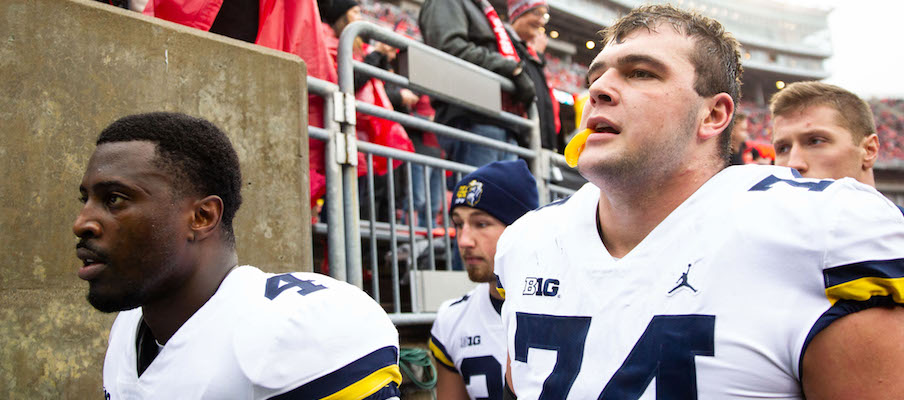 While Ohio State makes it well known that it works toward "beating the team up north" all year long – and that work, at least in regards to its rivalry game results, paid off throughout the Urban Meyer era – Michigan is more hesitant to place that level of emphasis on one game. While Bredeson said there are daily reminders about who the Wolverines play in their final game of the regular season, he didn't want to specify what those reminders are, and multiple players said they believe they need to focus on one game at a time in order to accomplish their season-long goals.
"When you're talking about prioritizing a rivalry game, we need to look at the season as a whole," said Michigan linebacker Jordan Glasgow. "If we win our rivalry game, and we lose every other game, is that a successful season? In my eyes, no. Every game is extremely important.
"We can look at rivalry games as Michigan State, Ohio State, Notre Dame – even though we haven't played Notre Dame nearly as much in the recent past – but if we lose to the other teams and we beat them, we're 3-9, and then that's a failure of a season in my eyes. And I want to be 12-0 at the end of the regular season. So we will prioritize every game as much as we can, and obviously those rivalry games hold a special place in a lot of people's hearts. But we can't think of those games as being the most important games of the season, because every game is extremely important."
Although some believe this could be the best opportunity yet for Harbaugh's Wolverines to break through and beat Ohio State and win the Big Ten, in part because Meyer is no longer coaching the Buckeyes, this isn't the first time in recent years that the Wolverines have entered the season with high expectations. 
The Wolverines were a popular choice to win the Big Ten in both 2016 and 2018, too, and while they won 10 of their first 11 games in each of those seasons, they sputtered down the stretch – losing to Ohio State and then losing again in their bowl game.
"I think that maybe people were a little emotionally drained," Glasgow said in reference to last year. "We went on a 10-game win streak, we were riding high. I think that people just may have gotten off of the path that they were on when they would prepare for games. And it's our job now, going through that experience, having tremendous success and then the failure at the end of the season to understand that we need to keep our process the same every week. We need to retool every week, we need to take everything as seriously as we can and we need to be ready to play every play in every game."
"If we win our rivalry game, and we lose every other game, is that a successful season? In my eyes, no. Every game is extremely important."– Michigan linebacker Jordan Glasgow
Harbaugh and all three Michigan players at Big Ten Media Days downplayed the notion that Meyer's departure would make Ohio State any easier to beat, as they expect the Buckeyes to continue to be a formidable opponent under Ryan Day's leadership.
If the Wolverines are going to finally turn the tables against Ohio State, they can't count on the Buckeyes being worse – they have to be better. The Wolverines are confident, though, that the lessons they have learned from their previous shortcomings will make them more prepared than ever for their chance to beat Ohio State and chase even bigger goals this year.
"I just feel like we need to do everything better, as in focusing more in the meeting rooms, lifting harder in the weight room and working harder on the practice field," said Michigan linebacker Khaleke Hudson. "I feel all that plays a role into how you're playing at the end of the season and how you play against your rivals. They won the past couple years but this year, we're coming for change. And we wouldn't want nothing better than to make ourselves proud, make our families proud and make our fans proud by getting a win against this team."
The Wolverines aren't necessarily focusing on the expectations that surround them, but they certainly aren't running away from them – even as the shadow of their losing streak against the team down south looms as large as it ever has.
"That's where I would pick us," Harbaugh said when asked about being projected to win the Big Ten. "I feel like our team is in a really good place."