CHICAGO – Not a single blemish.
In seven years as Ohio State's head coach, Urban Meyer never lost to Michigan. Not once. He beat Brady Hoke three times and won all four matchups against Jim Harbaugh. The rivalry by which both Big Ten programs are constantly measured meant everything to Meyer, and he won the seven games by an average margin of 12.3 points.
He's gone now, though, having headed into retirement after the 2018 season.
In comes Ryan Day. Unlike Meyer, Jim Tressel and Woody Hayes, Day didn't grow up in Ohio. But he has an understanding of the rivalry. Day said he has watched The Game since he was a child, and he's already 2-0 vs. the Wolverines as an assistant coach.
As a first-year head coach, Day doesn't plan to make any adjustments to how Ohio State prepares to face Michigan.
"No. That worked," Day said on Thursday at Big Ten media days. "That worked just fine."
The dozens of reporters surrounding Day's podium couldn't help but chuckle. Everybody knew he was right.
Meyer's approach worked with Ohio State on the road, and it worked when the Buckeyes played host to Michigan. It worked with his team as the heavy favorite, and it worked when it held the rare standing of underdog. It worked in tight games, and it worked in blowouts. It worked against Hoke, and it worked against Harbaugh. 
Ohio State had only once before won seven games in a row against Michigan – it came under Tressel. Meyer did it again. Day now has a chance to extend the streak to eight when he and the Buckeyes invade Ann Arbor, Michigan, on Nov. 30.
"The thing I learned from Urban right the minute I got there was you work The Game every day," Day said. "And the way to honor the rivalry and respect the rivalry is to work it every day, and we do. It's a part of what we do in recruiting or every day we have periods we have in practice where we call it the Team Up North Drill where we work in practice, so we live it every day. It's something we always have in the back of our minds. We have stuff up in our facility and we need to respect those guys to the utmost and the program they have and we know this year is going to be hard. Last year was a little bit of an anomaly. It got sideways. But we know it's not going to be easy this year, so we're going to have our hands full again going up there."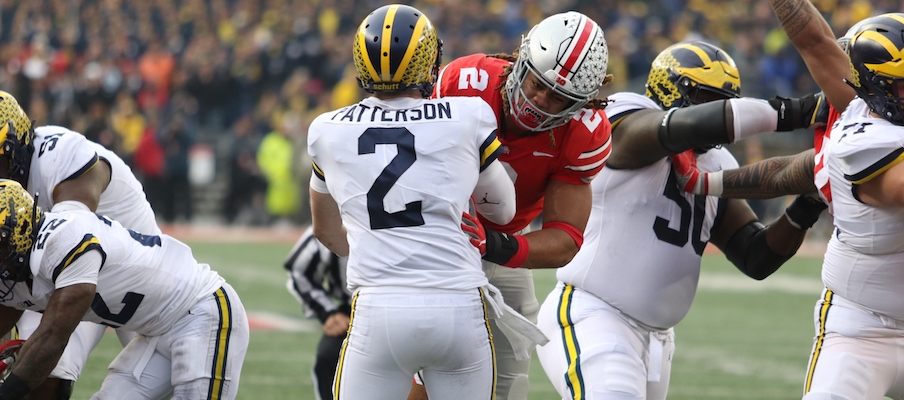 The Michigan-centric offseason drills that bleed into the season remain the same.
If the clock counting down the days until Ohio State faces Michigan says 189 days, the players have to do 189 reps of whatever strength and conditioning coach Mickey Marotti assigns. If the clock says 312 days, Marotti makes everybody do 312 reps of an exercise. Pain breeds disdain, and disdain has bred results.
Those types of drills were prevalent under Meyer, and they seemingly haven't changed at all with Day in charge. 
"It helps a lot when we train so hard for something for so long and then the day is finally there to let it all loose," Jonathon Cooper said. "You are ready and prepared and you've put in the work constantly and nonstop. For the guys, it's payday and let's go out and have some fun. You realize why you did all those situps, all those pushups and all those runs. It was for them. In that day, we hate them and they hate us. That's just the way it is. When you have a punching bag in front of you with the letter M on it and you're tired and you keep punching it and you keep punching it because you have a coach there telling you to punch it, it puts a mindset in you. It changes you. It's different."
Even the music – LL Cool J's It's Time For War – that played throughout the Woody Hayes Athletic Center during Michigan week during Meyer's reign will remain the same, Cooper said.
The traditions, approach and messaging have worked, so why change anything?
"You don't really understand it until you actually play, how intense and how much every play matters," Jordan Fuller said. "It's gonna hurt, it's gonna be dirty, it's gonna be grimy, but I mean, that's why we work so hard. Just to overcome that."
Meyer harped on two aspects of the rivalry throughout his seven years: respect and constant focus.
The more Day talks about the rivalry, the more he sounds like someone trying to follow Meyer's playbook that led him to a 7-0 record.
"We live it every day," Day said. "Being part of that rivalry, growing up and seeing it, it was one of those things that seemed bigger than life and now having played in it for two games and being 2-0 is unbelievable. We know we are going to be in it again next year and it is going to be hard and all of those things. Nothing but respect for the rivalry."
In order for Day to stay in the good graces of Buckeyes fans, he'll need to continue translating that respect into victories.
"It didn't take long for me to figure out what the expectations were of Ohio State football," Meyer said during his Dec. 4 retirement press conference. "Number one, win the rivalry game. And number two, win every game after that."
Meyer accomplished number one, leaving the program as the first permanent head coach since the 1940's to never lose to Michigan. Nobody at Ohio State has ever done the rivalry better than him.
In 134 days, it'll be time to see whether Day can begin to find similar success in the game that defines so many coaches' legacies.