CHICAGO – All three of Michigan's player representatives at last week's Big Ten media days have close relationships with coaches who are now on the other side of one of college football's most bitter rivalries.
Michigan senior left guard Ben Bredeson has known Greg Mattison since his sophomore year of high school, when he was beginning to emerge as one of the top offensive linemen in the recruiting cycle of 2016. At the time, Mattison was an assistant coach at Michigan, and he served as the Wolverines' primary recruiter for Bredeson, who ultimately chose to join Mattison in Ann Arbor.
Over the last five years, Bredeson and Mattison have built a close bond that even a move across rivalry lines – as Mattison left Michigan in January to become the co-defensive coordinator at Ohio State – could not break.
"He's a great man. He's helped me in more ways than I know. I'm never going to say anything bad about Coach Mattison," Bredeson said Friday in Chicago. "It does suck to see him leave and it does hurt. But I'll never say anything bad about him, because he has done so much for me that not many people really know."
Michigan linebackers Khaleke Hudson and Jordan Glasgow, meanwhile, were coached last season by Al Washington, who became Ohio State's linebackers coach in January after one year as Michigan's linebackers coach. Both of them, particularly Hudson, had good things to say about their time spent with Washington even though he was only in Ann Arbor for one year.
"Coach Al's my guy," Hudson said. "Still my guy to today. He's taught me a lot with pass-rushing and playing in the box at linebacker, and he's taught me a lot about staying hungry and always keeping a fire under you. He's just a great coach, he's a high-energy type of guy and it's unfortunate that he made the decision to leave, to go to Ohio State. But everyone makes a decision for themselves, and that was the best decision for him and his family situation. So you really can't be mad at him for that."
Glasgow described Washington as a "great coach" and "very personable."
"I had a good personal connection with him and I liked him as a guy and as a mentor," Glasgow said.
Washington, who grew up in Columbus, made the decision to leave Michigan for Ohio State in part so that his family could be together more often, and Hudson said he could only respect that decision.
"He has young kids, and he wanted them to be around their grandparents, stuff like that, and that's completely understandable," Hudson said. "You can't get mad at the man for making a decision like that. So I just wish him nothing but the best with that university ... and I'll use all the knowledge that he gave me to make myself a better man."
Michigan head coach Jim Harbaugh wasn't interested in talking about Mattison and Washington when he was asked about them during his Big Ten media days press conference on Friday, choosing to keep his focus on his current coaching staff.
"I don't really have any thoughts on that anymore," Harbaugh said. "I'll just refer you back to the comments that I made about I really love our staff at the University of Michigan right now."
When asked about Mattison in March, Harbaugh told reporters in Ann Arbor that they "were not going to be sending each other Christmas cards, based on where he went." He also said, though, that he did not hold Mattison's decision to go to Ohio State against him, given that Mattison more than doubled his salary and became a co-defensive coordinator instead of just a defensive line coach, which was his title for the past four years under Harbaugh after previously serving as the defensive coordinator for four years before Harbaugh's arrival.
"Still a good man," Harbaugh said of Mattison in March. "Still have a ton of respect for him, and we'll be friends again someday when we're done coaching."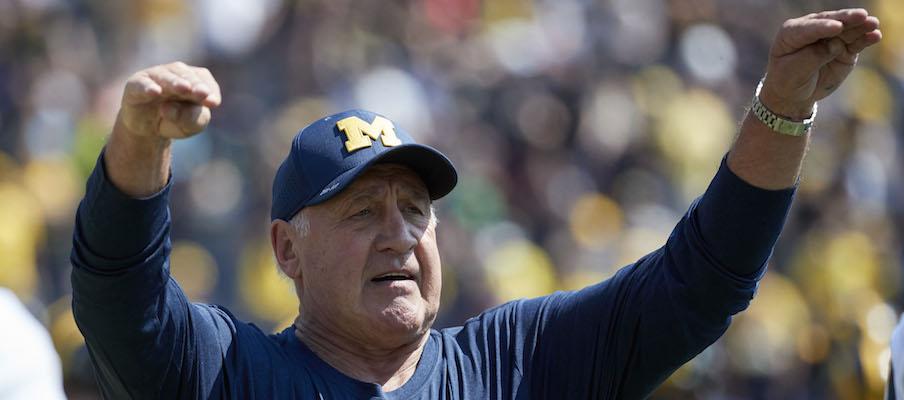 While the three players in Chicago all praised Mattison or Washington, they also acknowledged that their former coaches' decisions to defect to Ohio State would serve as added motivation as the Wolverines look to snap their seven-game losing streak against the Buckeyes this year.
"I do want to beat him at the end of November," Bredeson said in reference to Mattison, echoing comments he made when previously asked about Mattison by Michigan reporters in March.
Hudson, in reference to Washington, said: "When we play against them, it's just time to go against him now. That's still my guy, but when we're inside the lines on the field, it's all business and it's time to go."
Glasgow said he believes Michigan, who added Shaun Nua and Anthony Campanile to replace Mattison and Washington as assistant coaches, has made its coaching staff better. The Wolverines will look to prove that when they host Ohio State in Ann Arbor on Nov. 30.
"It's sad to see people leave, especially for Ohio State," Glasgow said. "But we've retooled. We have great coaches to replace him, better coaches to replace him, and I'm excited for where our team is now.
"Why do coaches leave? Because they feel that they are in a better position. And it's our job to show that we were the best position we could have possibly been in."