CHICAGO – While most of the conversations at college football media days look ahead to the upcoming season, they can also serve as an opportunity to look back.
For a reporter who covers one team in a conference, it can serve as an opportunity to talk to some of the other players in the conference about their connections to the school he or she covers.
Several players from other schools at this year's Big Ten Media Days had connections with Ohio State that dated back to their years as a recruit, including some of the conference's biggest stars – Purdue wide receiver Rondale Moore, Nebraska quarterback Adrian Martinez and Maryland running back Anthony McFarland among them – as well as a pair of Michigan players who are now among the key players for the Buckeyes' biggest rival.
As we did last year, Eleven Warriors caught up with six players from other schools around the conference to get their perspective on their recruiting conversations (or lack thereof) with Ohio State and why they ultimately chose to go elsewhere in the Big Ten.
Author's note: Minnesota defensive end Carter Coughlin and Purdue linebacker Markus Bailey, who were also among the players recruited by Ohio State that attended this year's Big Ten Media Days, were included in last year's article and therefore are not included below.
Rondale Moore, WR, Purdue
While Rondale Moore terrorized Ohio State for 12 catches for 170 yards and two touchdowns to lead Purdue to a 49-20 upset over the Buckeyes last season, there was a time where it looked as though Moore could end up playing for Ohio State himself.
After making an unofficial visit to a spring practice in April 2017, Moore received a scholarship offer from former Ohio State wide receivers coach Zach Smith. He made another unofficial visit to Ohio State for the Buckeyes' September 2017 game against Oklahoma (after initially committing to Texas in June), and overall, he liked what he saw in Columbus.
"I really loved the way they practice, they practiced really fast and hard, so I really loved the culture they had there," Moore said. 
Ohio State, however, prioritized other wide receivers in the class of 2018, ultimately signing Jaelen Gill, Kamryn Babb and L'Christian "Blue" Smith during the early signing period and adding Chris Olave late in the cycle to fill the final wide receiver spot in the class. 
Moore ultimately committed to Purdue – after faking out the audience by initially picking up an Ohio State hat from the table – during a live announcement at the U.S. Army All-American Game in January 2018.
"At the end of the day, Purdue was where my heart was, and that was where I wanted to go," Moore said. "Who I wanted to be surrounded by day by day. The culture we were building. I wanted to leave a legacy. I wanted the chance to play early and everything. So just all the little things that mattered to me the most that I wrote down on a piece of paper, they were checking everything off."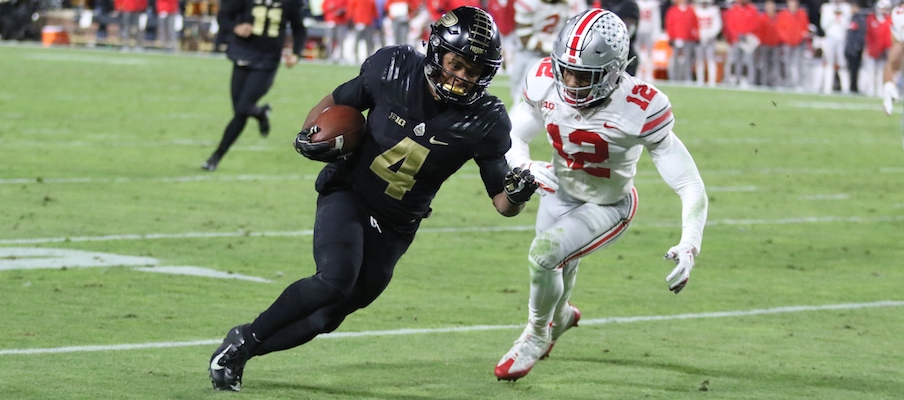 Adrian Martinez, QB, Nebraska
When it started to become clear that Emory Jones would not sign with Ohio State in the months leading up to the early signing period for the class of 2018, Martinez was one of a few quarterbacks who the Buckeyes recruited as Jones' potential replacement in the class. 
Martinez made an official visit to Ohio State for the Buckeyes' game against Michigan State in November 2017, and there was mutual interest between both parties. The Buckeyes never ended up making an offer to Martinez, however, as they chose to bring in Matthew Baldwin instead.
"Ohio State obviously is a really cool place," Martinez said. "A lot of history. Winning program. And meeting the coaches and the players, Dwayne Haskins was my host, I had a good time. Good experience. They never ended up offering me a scholarship at the end of the day, and that was kind of the end of that."
Had the Buckeyes chosen to offer Martinez instead of Baldwin, Ohio State's quarterback competition could have potentially looked a lot different than it did this spring. After starting immediately for Nebraska last year, though, Martinez is glad he ended up becoming a Cornhusker.
"I always referred to it as God's plan," Martinez said. "The opportunity and just the chance to get to go to the University of Nebraska all opened up at the perfect time for me, and I couldn't be more thankful for it. Coach Frost, just the community in Lincoln and the players I'm around, I'm just so thankful I ended up where I did."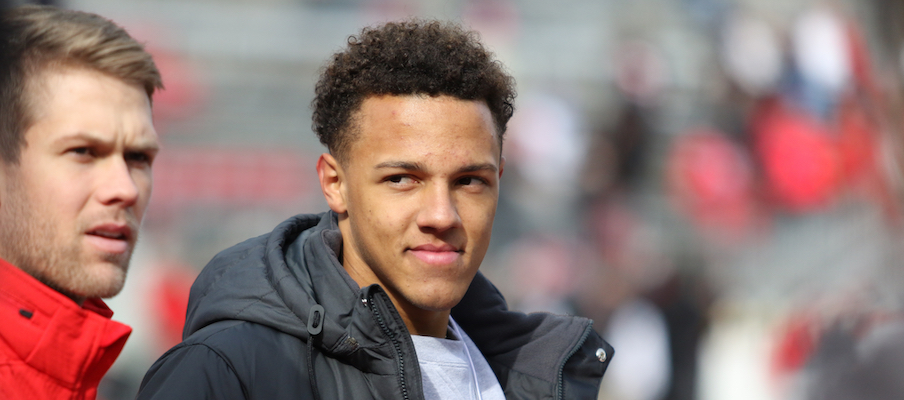 Anthony McFarland, RB, Maryland
Like Moore, McFarland had a huge game against Ohio State's much-maligned defense last year – running for 298 yards and two touchdowns on 21 carries as Maryland pushed Ohio State to overtime in a near-upset – and he also received a scholarship offer from the Buckeyes when he was in high school.
A teammate of Ohio State defensive end Chase Young at DeMatha Catholic High School in Hyattsville, Maryland, McFarland received an offer from the Buckeyes in 2014, when he was just a sophomore and ranked as one of the top overall prospects in his class.
Ohio State didn't end up pursuing McFarland aggressively, however, as J.K. Dobbins ultimately emerged as the Buckeyes' top running back target for the class of 2017.
"They did for a little bit, for a while, my sophomore year," McFarland said when asked how much Ohio State recruited him. "Then I think they just stopped. I think they just really stopped recruiting me."
Even if Ohio State had made a stronger push for McFarland, it might not have ultimately made a difference, as he chose to stay in his home state and play for Maryland – after also strongly considering Miami – in order to be close to his family.
"My family always said, they don't care where I go, they wanted what was best for me, but they always kept it real with me and said they're not going to be able to come to a lot of games," McFarland said. "And what kid wants to be somewhere and you see everybody else with their parents and you're not with your parents? I'm a family person, so that's the reason why I stayed home the most."
McFarland said Ohio State running backs coach Tony Alford expressed regret for not making a bigger effort to recruit him, however, after his big game against the Buckeyes in November.
"He came to me, put his arms around me and said, 'I don't know how we didn't recruit you more.' And I was just like, 'Well, I'm here now, no point in you saying that,'" McFarland recalled. "But it's all good. I got much love and respect for Ohio State, and the way they do things, the way they win, their tradition."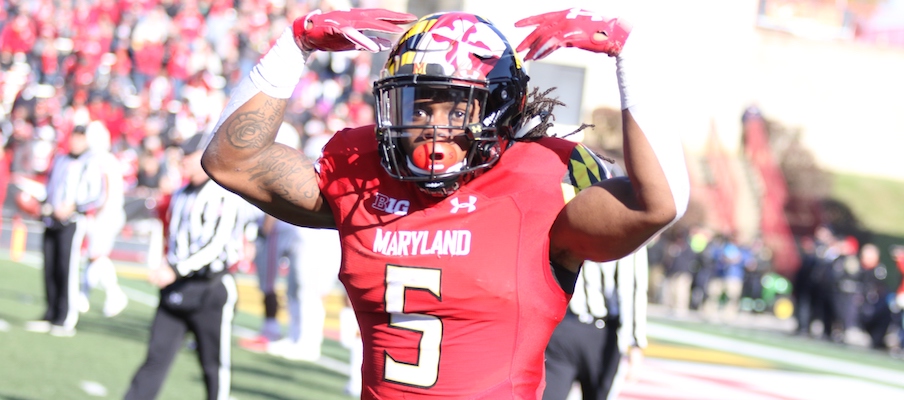 Ben Bredeson, LG, Michigan
As one of the top-ranked offensive linemen in the recruiting class of 2016, Bredeson was recruited by Ohio State and its offensive line coach at the time, Ed Warinner, who is now Michigan's offensive line coach. Bredeson, however, decided that Ohio State was not the right fit for him.
"We had great conversations there. He was trying to sell me on Ohio State, and like I told him, when I told him I wasn't going there, it was nothing against him, Ohio State just wasn't the place for me," Bredeson said of being recruited by Warinner. "He was a great coach over there, it just wasn't the right fit for me, and he respected that. Not every school fits right for everybody else."
Instead, Bredeson decided the school that was the right fit for him was Michigan, where he was primarily recruited by Greg Mattison, who is now the co-defensive coordinator at Ohio State. Bredeson, who is now entering his fourth season as the Wolverines' starting left guard, committed to Michigan in June 2015, prior to his senior year at Arrowhead High School in Hartland, Wisconsin.
"There's a time where you're on campus and everything just feels right," Bredeson said. "I thought the mixture of academics and athletics and the city of Ann Arbor was just the perfect place for me, and that's what really sold it for me coming out of my junior year of high school, when I knew that I just wanted to be a Wolverine."
Khaleke Hudson, LB, Michigan
As a three-star safety prospect for the class of 2016, Hudson also shared some mutual interest with Ohio State as a recruit. He made unofficial visits to Columbus for Ohio State's game against Michigan in November 2014 and against Penn State in October 2015, and Urban Meyer made multiple trips to McKeesport, Pennsylvania, to have what Hudson described as "good conversations" with him.
"Coach Urban Meyer came to the school twice, sat down and talked to me about the potential of me going there, and I went to a couple games," Hudson said.
Hudson, however, never ended up receiving an offer from Ohio State, and he ultimately chose to sign with Michigan – where he is entering his third season as the starting "Viper" linebacker in the Wolverines' defense – after also making official visits to Penn State, Pittsburgh, UCLA and Virginia Tech.
"I just felt like there wasn't no university better," Hudson said about why he chose Michigan. "With academics and football, you can't get nothing better than this. Also, I wanted to get kind of far away from my hometown, but also wanted to be close enough to where if I need to get back, it's not a hassle. And I felt like this was the perfect spot. It's only four hours away from my hometown, and I can get back and forth, my family can come visit me and everything can be good."
Joe Bachie, LB, Michigan State
One of three Ohio natives among this year's Big Ten Media Days representatives, along with Bailey and Ohio State defensive end Jonathon Cooper, Bachie – unlike the other players in this article – did not receive significant interest from the Buckeyes as a recruit. The linebacker from Berea-Midpark High School was ranked as just the 44th-best prospect in the state of Ohio for the class of 2016, and the majority of his offers came from MAC schools.
Had the Buckeyes pursued Bachie as a recruit, their interest would have been reciprocated.
"Obviously I grew up an Ohio State fan, from Ohio, it's just what you do," Bachie said. "You walk five minutes down the road, you're going to see an Ohio State flag no matter what."
Ohio State never made a push for Bachie, however, and Michigan State – which has made a habit of recruiting players from Ohio who aren't offered by the Buckeyes – swooped in. Thanks in part to a recruiting effort led by former Ohio State offensive coordinator Jim Bollman, who is now the offensive line coach at Michigan State, Bachie committed to the Spartans on the same day he received his offer in April 2015.
"It's the perfect fit for me," Bachie said. "I can't complain. They're built on defense, toughness, hard-working, giving great effort, and that's everything that I was built on from my parents back home. And that's how I'm going to raise my kids. Just the things in life that you need, and that's exactly what we preach here at Michigan State."
Bachie has emerged as one of the Big Ten's best linebackers in his three years at Michigan State, earning first-team All-Big Ten honors in 2018.