CHICAGO – Ohio State is often successful when it recruits against other Big Ten schools, but sometimes, a player who is coveted by the Buckeyes decides to take his talents to another school in the conference.
Eleven Warriors caught up with six players at Big Ten Media Days who were recruited by Ohio State, but have since become stars for other schools in the conference, to ask them what it was like to be recruited by the Buckeyes and why they ultimately chose the schools they did.
Taivon Jacobs, WR, Maryland
While there were several other players at Big Ten Media Days who were merely recruited by Ohio State, Taivon Jacobs was actually committed to the Buckeyes before flipping to Maryland on National Signing Day in 2013. Speaking with Eleven Warriors this week, Jacobs said he grew up dreaming of playing for Ohio State, but the Camp Springs, Maryland native ultimately decided to stay in his home state to be closer to his family, specifically his daughter.
"Like any other kid, it was my dream school when I was younger," Jacobs said. "It had always been my dream to go there, and as you get older, you realize there's more to it. And so I kind of just had to make the right decision for not only myself but for my family as well."
What it was like to be recruited by Ohio State: "It was a very long process. I had to work my way to that position. I'm not the biggest guy or the strongest guy or the fastest guy, so my work ethic got me that far. And to be in that position where I had a scholarship from one of the best programs in the country was amazing."
Why he ultimately chose Maryland: "It was family. I had a little girl waiting on me back home, and I couldn't go too far from her, because I'm a very family-oriented man. So I couldn't leave too far."
Any second thoughts about not attending Ohio State? "I never go back on my decisions. I'm a man of my word, and every decision I make, I make a conscious decision to make it. I think it over twice, I talk it over with my family, so any decision I make, I never regret it."
A sixth-year senior, Jacobs missed both the 2014 and 2016 seasons due to injuries, but is the Terrapins' leading returning receiver after catching 47 passes for 553 yards and five touchdowns in 2017.
Derwin Gray, LT, Maryland
Rated as a four-star offensive tackle and as the No. 91 overall prospect in the recruiting class of 2013, Derwin Gray received offers from some of the top college football programs in the country including Ohio State as well as Auburn, Clemson, Florida, Florida State, Michigan State and Penn State, among others. The Washington, D.C. native told Eleven Warriors, however, that staying close to home meant more to him than the opportunity to play for any of those schools.
What it was like to be recruited by Ohio State: "I was being recruited by a lot of guys, so they was recruiting me just like the rest of those teams was, so there wasn't really nothing that stood out more than others. Facilities, uniforms and visits and stuff like that is the only thing that really stands out for you as a young guy, but once you really look deep into it, recruiting moreso should be where you see yourself in four or five years, and where you see yourself being effective and putting yourself in position to represent yourself and your family and most importantly, your hometown and where you come from."
Why he ultimately chose Maryland: "I'm a hometown guy. I wasn't really into the glamour and going somewhere with all the flash. I felt like if I'm a great player, I will be seen. And I felt like, just coming to Maryland, I could change something. So I felt like being a hometown guy, I could bring other guys along. Some guys chose to leave and some guys stayed, but I'm confident in the group of guys that stayed here, and that we're going to get it done."
Did he consider Ohio State at all? "It crossed my mind, but I felt like Maryland was the place for me, and I still feel like Maryland's the place for me. I'm happy I'm here, and I'm ready to get the season started."
An All-Big Ten honorable mention last season as a junior, Gray is entering his second season as the Terrapins' starting left tackle.
Chase Winovich, DE, Michigan
Before he joined the Buckeyes' biggest rivals, Chase Winovich actually grew up as an Ohio State fan. Before signing with the Wolverines in 2014, Winovich told MLive's Nick Baumgardner that he was "very close to committing to (Ohio State) on the spot" after receiving an offer from Urban Meyer and the Buckeyes in 2013.
"I had Ohio State jerseys, I had Ohio State Buckeyes in my room, I had the Ohio State flag in my room," Winovich told Baumgardner. "I even had an Ohio State-themed credit card."
When it came time to make visits to schools, however, Winovich didn't get the same feeling in Columbus that he did in Ann Arbor, the Jefferson Hills, Pennsylvania native told Eleven Warriors this week.
What was it like to be recruited by Ohio State: "I thought Ohio State … it's weird talking positive about them … but I thought they had great facilities. I thought there was a lot of positives with everything that they did."
Why he ultimately chose Michigan: "Honestly, I just felt like there was something off. Taking visits to Ohio State, I just felt like something just rubbed me the wrong way, just wasn't right. And so, I was kind of dissuaded when I left the campus there. I knew I'd consider them, but I just didn't have that feeling like I did whenever I took a visit at Michigan or left there knowing like, 'Man, I love this place. I want to do whatever it takes to make these guys to that level, that standard' that they were talking about."
Winovich enters his fifth-year senior season as one of the Big Ten's best defensive ends, earning first-team All-Big Ten honors after leading the conference in tackles for loss (18.5) and tackles by a defensive lineman (79) in 2017.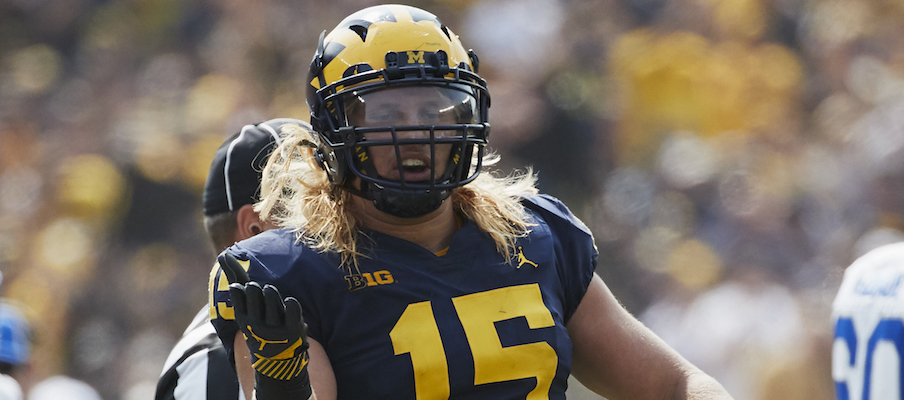 LJ Scott, RB, Michigan State
Many recruiting analysts predicted that LJ Scott, a native of Hubbard, Ohio, would ultimately end up at Ohio State, but the state of Ohio's second-ranked prospect for the class of 2015 chose to sign with Michigan State instead. Recalling his recruitment earlier this week, Scott said his relationship with former Michigan State safety Kurtis Drummond – who also hailed from Hubbard – played a role in his decision along with the family environment he felt at Michigan State and the opportunity to play immediately for the Spartans.
What was it like to be recruited by Ohio State: "I had some nice visits at Ohio State. Great program, great coach, great players. I know a lot of players that played over there from high school."
Why he ultimately chose Michigan State: "It was more of a family thing for me, and I had a chance to get the number at my position as a freshman, and obviously as a high school kid, that'll be huge for anyone. And getting the job that I wanted, getting the spot. So not that I didn't have that at Ohio State, but I just felt more of a family here. The environment here, the atmosphere within the coaches and within the players, it was just all love."
Scott immediately became Michigan State's leading rusher in 2015, carrying the ball 146 times for 699 yards and 11 touchdowns. He is entering his fourth season as the Spartans' lead running back, having rushed for totals of 2,591 yards and 25 touchdowns over the last three years.
Carter Coughlin, OLB, Minnesota
A four-star linebacker out of Eden Prairie, Minnesota, Carter Coughlin strongly contemplated becoming a Buckeye, to the point that Ohio State was one of the final two schools he considered. But even though Coughlin had nothing but good things to say about Ohio State and his recruitment by the Buckeyes, he eventually decided that his home-state school was the right school for him.
What was it like to be recruited by Ohio State: "I loved Ohio State. I loved the coaching staff, I loved the tradition there, all that kind of stuff. And a lot of it was really appealing. Facilities were awesome, everything was great. To be honest with you, my parents both thought I was going to end up going to Ohio State, because that was just how great the impression was of the university."
Why he ultimately chose Minnesota: "I don't know if I can pinpoint one specific thing, but Minnesota was everything that I wanted in a school. And I made like a pros and cons list, literally wrote out everything I could think of about Minnesota and Ohio State – because those were really my two schools – and even after that, I couldn't make my mind up. But then one day it just hit me that Minnesota's got everything I could ever want in a school."
Has Minnesota been everything he hoped it would be? "Without a doubt, yes. I never second-guessed my decision, ever."
Coughlin was an All-Big Ten honorable mention last season, as a sophomore, after leading Minnesota with 11.5 tackles for loss and 6.5 sacks.
Markus Bailey, OLB, Purdue
Unlike the other players on this list, Markus Bailey never received a scholarship offer from Ohio State. We still caught up with Bailey, though, because of where he is from. A Columbus native who attended Hilliard Davidson High School, Bailey grew up as a Buckeyes fan in Ohio State's backyard, but the lack of an offer from the Buckeyes led the three-star linebacker to become a Boilermaker over offers from about a dozen other schools including Illinois, Indiana and Northwestern.
Were you recruited by Ohio State? "I was recruited by Ohio State. I didn't get an official offer, though. (Former Ohio State defensive coordinator and linebackers coach) Luke Fickell was the coach that was really recruiting me."
Why he ultimately chose Purdue: "I knew I wanted to play in the Big Ten. It was pretty close to home, three-and-a-half hour drive, so I can come back home to visit my family and friends in Columbus. I wanted to play Big Ten football. The academic prestigiousness of Purdue University, I wanted to get a degree from there. And those things all combined together to make my decision. And I like the campus feel, the college town feel there too."
Is he happy he chose to become a Boilermaker? "Definitely happy with the choice I made. I think what I wanted to do, I wanted to be able to play early somewhere and then make a name for myself wherever I went. I think I've done a pretty good job to this point."
Bailey has been one of Purdue's most productive defensive players in each of his first two full seasons as a Boilermaker, leading the Boilermakers with 97 total tackles and four interceptions as a redshirt freshman in 2016 and following that up with 89 total tackles, including 11 tackles for loss and seven sacks, in 2017.