"We've been learning from him. He's got a great system." - Jim Harbaugh on the impact of new Michigan offensive coordinator Josh Gattis

Optimism is hardly in short supply this time of year. With refreshing vacations still close in the rear-view mirror and training camp just around the corner, most football coaches love late July.
Jim Harbaugh is clearly no different. Despite drawing attention to himself in ways that will both endear him to and raise questions among his own fanbase last week at Big Ten media days, the Michigan head coach is set to embark upon the first season in which his team was picked to win the Big Ten before a game is ever played.
While defensive coordinator Don Brown is expected to lead yet another top-5 defense this fall despite losing a number of significant pieces from last year's squad, the offense is the biggest reason for excitement in Ann Arbor. Eight starters return from a unit that finished 21st nationally in scoring offense last fall at 35.7 points-per-game and is led by senior quarterback Shea Patterson.
While many of the pieces return for a run at the Big Ten title, the man calling the shots on that side of the ball is still learning his way around the Mitten State. After a year spent as co-coordinator and wide receivers coach of the record-setting offense at Alabama, Josh Gattis made the move north this past winter.
As Bruce Feldman detailed in his profile of the new Michigan offensive coordinator for The Athletic, the deal came together quickly when Gattis was denied the same role in Tuscaloosa following the departure of play-caller Mike Locksley.
When Gattis arrived at the office, he and Tide coach Nick Saban had a conversation about the 35-year-old coach's future. Gattis was hoping he'd get the shot to replace Locksley, but Saban said he didn't want a first-time play-caller on offense. He wanted Gattis to help with the gameplan and install the offense, but someone else would call the plays.

"So, in order for me to show you that I'm good at calling plays, where I have the utmost confidence, I gotta go do that," Gattis told Saban.

Around 9 a.m., Michigan coach Jim Harbaugh phoned Gattis, who said he was honored to get the call but asked to talk specifics.

"This is to be the offensive coordinator," Harbaugh said. "You run your system. You run the offense. Your verbiage. Your terminology. It's fully in your control."
Such a move is a big one for the former quarterback. Known to be intimately involved with both the philosophy of the scheme and the day-to-day coaching of his position as a player, Harbaugh surprised many by granting Gattis such autonomy.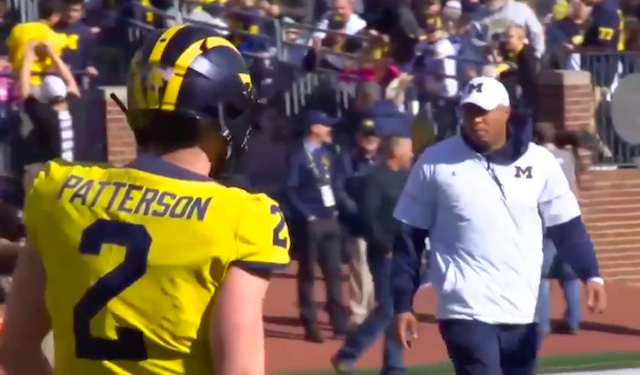 "I don't think I could find a better situation, to be a coordinator at a place to being able to have the support from Coach Harbaugh that he's given me," Gattis told Feldman. "There's not once he's coming around and said, Hey, let's do this. Let's do that. Instead, it's been, What do you want to do? How do you want to structure practice? How do you want to run the meetings?"
However, those that watched the Crimson Tide last fall likely recognize that the product Gattis is building will look far different from the one seen in Ann Arbor for the last four seasons. With a dual-threat Heisman candidate under center in Tua Tagovailoa, the Tide went with a full-on spread system, operating from the shotgun with three or four wideouts at nearly all times.
The results speak for themselves, as not only did Tagovailoa set single-season school records for both passing yards (3,966) and passing touchdowns (43), but Alabama ranked higher nationally in total offense (6th) than they did in total defense (16th) for the first time under Saban. As the Wolverines look to finally catch up to their rivals in Columbus, a similar evolution is supposedly taking place.
"How much we've been able to change the mentality in practice, that has been the one thing that I've really emphasized to the players," Gattis told Feldman. "I think at times we got caught up with being the little brother to the defense, where that was the same type of situation last year going into Alabama. Previously in the past years, their offense had always seen themselves as the little brother to the defense. We changed that mindset of the offense and installed confidence first before we installed any of the plays. That's the one thing we did this spring."
While little has been seen of this new system, the Michigan spring game provided a number of clues. Gone are the two-tight end, I-formation sets with Patterson under center, replaced by a quick-strike, shotgun attack that highlights the skills of the Wolverines' talented receivers. 
"I'll start with just how it's helped us with our football team," Harbaugh said of the scheme last week at Big Ten media days. "Really felt watching Shea Patterson especially and Dillon McCaffrey also, their play-making ability, their ability to operate as a passer and as a runner, how explosive they both are, Shea with his ability to make quick decisions, really fits the shotgun, really fits the RPO world, really fits the uptempo. They really like it."
Thanks to the athleticism provided by Patterson, McCaffrey, and sophomore QB Joe Milton, the quarterback run game is firmly back in the maize and blue repertoire. Consistently throughout the spring game last April, the trio of quarterbacks began a play by reading an unblocked defender and making Brown's troops look lost.
Gattis didn't build the system from his time as a player, however. As a safety at Wake Forest, he helped turn around a moribund program and was a captain during the school's second-ever ACC title and first trip to the Orange Bowl in 2006.
Following a short NFL playing career and one year coaching at Western Michigan, Gattis found his way onto James Franklin's staff at Vanderbilt. Despite never having played the position at a high level, the young wide receivers coach proved his worth early on by approaching the game from a defender's point of view and coaching his players how to beat it.
Thanks, in large part, to Gattis' efforts tutoring All-American receiver Jordan Matthews at Vandy, Franklin was given the head coaching job at Penn State in 2014, and the young coach followed his boss to State College. There, he'd be tutored by the man who likely shaped his schematic approach more than anyone, former PSU offensive coordinator and current Mississippi State head coach Joe Moorhead.
Moorhead, of course, rebuilt the Nittany Lion offense seemingly overnight upon his arrival from Fordham in 2016. Built on quick reads for the quarterback, the collection of fairly straightforward concepts proved difficult to stop, earning Penn State its first conference title and Rose Bowl appearance in eight years.
"I sometimes refer to our offense as the Chipotle offense. There's not a ton of ingredients but there's a ton of mixing and matching going on," Moorhead said during a 2018 appearance on The Solid Verbal. "You have a few things you can hang your hat on and through different tags and RPO aspects, you can change the presentation and make it look like you are doing more than you actually are."
Moorhead's influence was evident during the Michigan spring game last April, as Gattis packaged multiple schemes into the same play in hopes of getting the ball out of Patterson's hands and into those of playmakers like Tarik Black.
While four starters return on Ed Warriner's offensive line, questions remain at the running back position. But regardless of who lines up next to Patterson, their job will be made easier by a never-ending barrage of RPOs meant to keep extra defenders out of the box.
"I would say 85 to 90 percent of the runs we called had a second phase or a tag," Moorhead said of his system last summer. "Rarely do we just call a run and just hand it off without having the quarterback read somebody at the first, second, or third level."
With so many eyes on the backfield, Gattis will undoubtedly pair his run game with a diverse set of play-action passes. Like Tagovailoa and former PSU standout Trace McSorley, Patterson has shown the ability to buy time in the pocket with his legs, allowing receivers to break open on long-developing patterns downfield.
Despite all the positive vibes emanating from Ann Arbor, it's unclear just how smooth this transition will be once the season is underway. While the scheme certainly seems more suited to Patterson's skill set and experience, Gattis has yet to call a single play during a live game.
It's easy to say now that this is his system, but Harbaugh has clashed with his coordinators in the past, including those like Tim Drevno and Pep Hamilton who had coached with him for many years prior. What will happen when Gattis can't unlock the secrets of Iowa's or Notre Dame's defense come October? Will Harbaugh continue to grant the same autonomy to a 35-year old, first-time play-caller?
Only time will tell, but as of now, with kickoff still over a month away, the honeymoon period continues for Gattis and his new boss.
"So with Coach Gattis, been watching Coach Gattis since he was at Western Michigan and followed his career, felt he was just very decisive when the opportunity presented itself to hire Josh Gattis, he's been excellent," Harbaugh added last week. "We've been learning from him. He's got a great system. And also like our team. I said earlier, we've got a young, enthusiastic team, which also has a lot of experience. You could describe Josh Gattis in that very same way. He's a young, enthusiastic, high-energy coach that really fits our team because we have a group of coaches that are exactly that way."