Whenever Jeff Okudah unlocks his phone, he's just a couple of taps away from seeing the number he set and hopes to reach that he doesn't want anybody else to know.
The amount of interceptions.
He says the single-digit number is more than three, but it's less than six. No, he won't let you in on exactly what he's aiming for, but he'll give it up if he hits his mark this fall.
"I won't tell you the goal, but just know I have a goal because I'm not leaving here with zero interceptions on the stat sheet," Okudah said on Friday.
That's right. Okudah doesn't have a single interception at Ohio State.
It's almost difficult to believe.
This is the 6-foot-1, 200-pounder with long arms who runs 4.41-second 40-yard dash that has scouts drooling. He's the player Bleacher Report's Matt Miller called a possible top-five overall 2020 NFL Draft pick, and the one who was described as being better than any cornerback taken in the 2019 draft by NFL Network's Daniel Jeremiah. He has the prototypical build of a lockdown cornerback with a pedigree dating back to his high school days when he left Texas as the top-ranked prospect at his position in the country. 
He's everything a team could want in a cornerback – and he still hasn't recorded a single interception in college.
But, remember the last heralded cornerback to come through Columbus who didn't have an interception in his first two years before his stock blew up as a junior, sending him to the NFL after his third year? Okudah sure does. His name is Denzel Ward, the Cleveland Browns' No. 4 pick in the 2018 NFL Draft.
Somebody, Okudah said, recently compared his trajectory to that of Ward.
"It's kind of comparable as far as freshman year, did some special teams stuff," Okudah said. "Sophomore year, the stats were kind of identical. And now it's just about taking that last step, and that's just being consistent every single time you step on the field and just becoming a lockdown cornerback."
Up to this point, the comparison is apt, down the how they both had nine career pass break-ups in their first two years.
Of course, it's always important to note that interceptions don't tell the full story of a cornerback. Okudah had a dominant performance – sans any picks off of Jake Browning – against Washington in the Rose Bowl that showcased his talent to a wide audience of scouts and draftniks. He totalled eight pass break-ups, which tied him with Kendall Sheffield for the team lead in 2018.
Okudah indisputably has shown flashes of greatness in his first two seasons. But that's what they've been. Flashes. This fall represents his chance to play consistently at that level.
The next step in his career matters more than any he has taken in his first two seasons at Columbus. If all goes right, he'll lock up his status as a first-round pick, similarly to what Ward did two years ago. But he certainly knows of the other scenarios that he's trying to avoid.
"Right now, I just feel like, I just told my family, I want to stay with a focus on the main thing right now," Okudah said. "A projection, to me, is only a projection. So just being able to just get out there and be able to lock in and do my job. If you don't do your job, the projection can go from first round to undrafted or come back to school. I'm just here to just do my job and get 1 percent better every day. I think that's still my mantra."
Doing his job, especially in the Rose Bowl, led to him finding his name on some way-too-early 2020 NFL Draft rankings, including one from Sports Illustrated that had him going eighth overall. Not bad for somebody who technically only started one game last year.
"I think I'm starting to figure everything out."– Jeff Okudah
And don't think any of the preseason hype comes as any bit of a surprise to Okudah.
"It feels great," Okudah said. "And I think that on top of that, I feel like I expected it. Coming from Texas to Ohio, I don't think anyone wants to make that decision unless they expect themselves to have a successful career. So I would say that if I wasn't able to achieve what I was set out to achieve, I'd be more so disappointed in myself."
He could have stayed in Texas or played for some school closer to home. But Okudah chose to become a Buckeye, and at the time, one of the benefits to making that move included an opportunity to have Kerry Coombs coach him.
That didn't last long.
After Okudah's freshman season, Coombs left the college ranks to take a job as the secondary coach for the Tennessee Titans. The following year, Urban Meyer brought Taver Johnson back to Ohio State as cornerbacks coach. When Meyer retired, Ryan Day replaced Johnson with Jeff Hafley, who disposed of the press-man coverage reliance in favor of mixing up defensive looks.
Through the coaching turnover, Okudah's approach has been to "never complain."
"At the end of the day, it's still Ohio State. We still have the same infrastructure. So if you're not able to develop, I mean," Okudah said, his words trailing off. 
He referenced a wall at the Woody Hayes Athletic Center littered with the names of former Ohio State cornerbacks and safeties who made it to the NFL. 
"Some guys didn't have Kerry Coombs, but they're still on that wall," Okudah said. "You can't make excuses. At the end of the day, you've just got to keep pushing."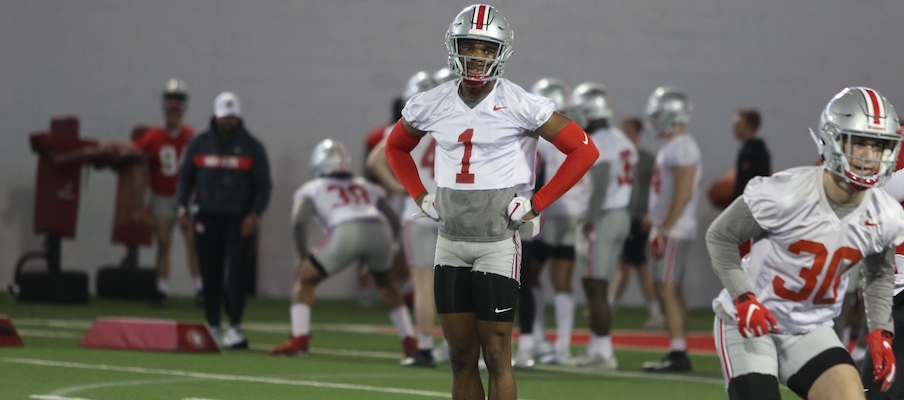 That pushing will likely end with him earning a spot on the wall, and he hopes it stems from a Ward-like junior jump that catapults him into the NFL.
Ward didn't blow up due to interceptions or spectacular plays. Consistency made him a top-five pick. Ward recorded just two picks as a junior, but he broke up 15 passes. Quarterbacks regularly tested him in the first half of the season before they smartened up and sent their passes elsewhere. 
A Ward-esque season seems within the realm of possibility for Okudah.
"I think I'm starting to figure everything out," he said.
Okudah also had a healthy offseason, which wasn't afforded to him last year when he had surgery in January. Therefore, he managed to put on muscle he simply couldn't a year ago.
"I carried that into the spring, and then coming out here today, everything felt good," Okudah said. "So I'm excited to see the results."
So, too, are talent evaluators in NFL front offices.