It's almost that time.
After a fairly quiet offseason in the Ohio State football stratosphere, newly minted head coach Ryan Day's Buckeyes sit just nine sunrises removed for the season opener against Florida Atlantic. 
Optimism is sky-high for a team featuring a new head coach, five new assistant coaches, a first-year starting quarterback, oodles of blue-chip talent and most of the members of a 2018 defense that was statistically the worst in school history. 
So how will things unfold for a program that hasn't lost more than two games in a single season since 2011? 
For the goods on the 2019 Buckeyes, 11W's own Ramzy Nasrallah, Kevin Harrish and David Wertheim bring the noise in our Season Preview roundtable. 

I think just about any logical fan expects K.J. Hill to be Ohio State's leading receiver, certainly in catches, and therefore he should lead in yards as well. Assuming Hill turns that trick, who would you pick as the guy to evolve into Justin Fields' second-most productive pass catcher? Will the top two separate from the pack or will it be a tight bunch?
Ramzy: The 11W staff has heard me droning on forever about Baby Giraffe breaking through and producing a Great Value Randy Moss-type season, despite his inability to gain a single pound of productive weight in a strength program run by Mickey Marotti. Sometimes he makes impossible catches; sometimes he makes impossible drops. The X position is now his and Garrett Wilson is pretty good, so it's time for Baby Giraffe to gallop into all of our hearts, not just mine.
Kevin: I really don't think anyone is going to come anywhere near K.J. Hill in terms of production because the slot receiver puts up just ungodly numbers in this offense, but I'm going to go with Austin Mack. He doesn't even need to really emerge, he just needs to do what he did last year. Aside from his weird 13-drop game against TCU, he was actually having a pretty solid season last year before his injury and is still the second-most productive returning receiver even though he missed almost seven games. Understand, I really, really wanted to pick Garrett Wilson here, but Mack is the correct choice.
David: Every year I'm on the Binjimen Victor hype train, and every year I get let down. But let's do it again anyway because this is the year 100% for sure this time that Victor breaks out. 
Victor set a new high in receiving yards last year (albeit with less receptions) and made a few big plays, most notably his long touchdown reception to get the Buckeyes back into the game against Penn State, a game they would of course win. At 6'4 and with good leaping ability, Victor has the natural athleticism that is necessary to win jump balls and become a big-play or redzone threat. I don't think he will catch nearly enough to beat Hill (who will shatter everyone), but I'm hoping for 40 catches and eight or nine touchdowns.
J.K. Dobbins seems reenergized after a drop off in production last year as a sophomore. He also doesn't seem to have a legit backup at the moment. Thinking about those factors plus the return of a running quarterback, what kind of season do you expect from Dobbins? How many yards do you expect? Yards per carry make a major jump? 
David: In his freshman campaign, Dobbins ran for a healthy 1,403 yards on 194 carries (7.2 ypc) despite platooning with Mike Weber. Last year, Weber seemed to beat him out and the yards per carry dipped down to just 4.6. Some of that had to be offensive line issues and Dwayne Haskins inability to be a threat with his legs, but Dobbins also seemed noticeably bad at times. 
This year, with a talented offensive line, a quarterback capable of being mobile, an easier schedule, and another year of experience (along with virtually no chance of a platoon, at least to open the year), Dobbins should be much better, and the numbers should back that up. I don't think he'll reach the 7.2 mark again, but somewhere in the 5-6 range seems reasonable.
Ramzy: I expect him to have a Zeke-type 2014 season, which means the production will be fine and he'll still finish outside of All-B1G 1st team honors behind Jonathan Taylor and Anthony McFarland Jr, the same way Zeke couldn't overcome Tevin Coleman and Melvin Gordon during the Buckeyes' title year. That's because Ohio State did everything else better than Indiana and Wisconsin did that year, and it will do everything else better than Wisconsin and Maryland will this year. JK only needs to be fine in this offense. If he builds up to a crescendo like Zeke did at the end of 2014, hey cool.
Kevin: Oh he'll rush for over 1,600 yards, and maybe closer to 1,800. It's going to help his production that he isn't giving half his carries to another running back, but I think it's going to help his production even more to have a dual-threat quarterback to take some attention off of him in the ground game, which is hilariously ironic if you remember how stoked the running backs were before last season that the quarterback wouldn't be getting so many carries in the offense. Oops.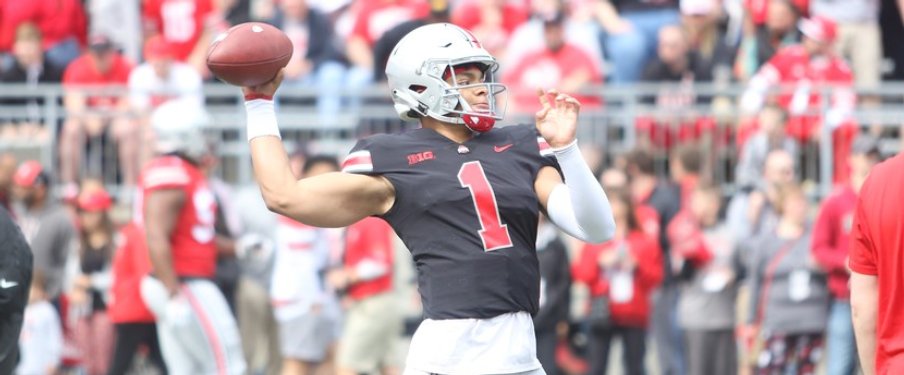 Sticking to just the offensive side of the ball, what concerns you most? Any particular position, player or facet of the overall attack? 
Kevin: The answer to this question should be the offensive line that's replacing four starters, but with the way everything's shaken out, there's a chance only one of those "new starters" is actually a first-time starter. So I guess my biggest concern is the first-year starter at quarterback, who I expect to win the Heisman this year. Damn, these questions are fun!
Ramzy: The only thing that consistently stopped Ohio State's offense last season was lack of discipline. They performed well even with a tepid running attack. I'm concerned about if they're unable to clean it up, again. If they can, hello playoffs.
David: If Justin Fields goes down, it's lights out on the season. If two offensive linemen go down, there's big trouble as well. Ohio State is not deep whatsoever at either of those two positions, so it could spell doom if they suffer injuries. Overall, I think the scheme will be good and I think the personnel is very talented. They just aren't deep up front and under center. Which is bad. 
Linebackers. Do you expect the linebacker corps to perform significantly better than last year? Why or why not? Will the group look more like Larry Johnson's from a rotational standpoint or will Greg Mattison and Al Washington land on a key trio? Any breakout players in there like maybe Teradja Mitchell?
David: I mean, they cannot be much worse. I think Malik Harrison is a stud, and he should lead the unit to more success than they had last year, at the very least. I hope that Pete Werner and Tuf Borland do not have monopolies on their respective positions, because I want to see more speed on the field. Now, that's not to say I want Teradja Mitchell running around like his head is cut off, but if he is ready and can play a big role, put him on the field. I don't care about seniority, I don't care about who is a captain and who isn't. The best players need to be on the field.
Kevin: Given that nobody's had a single bad thing to say about Tuf Borland or Pete Werner this entire offseason, I have a feeling it's going to be the same guys on the field this year that we saw last year. I also think they're going to magically perform a hell of a lot better this year, which is going to be a massive indictment on the old regime.
Ramzy: I expect them to be the traditional, pain-in-the-ass Ohio State linebackers we all grew up with and expect. Malik Harrison, Pete Werner, Baron Browning, MYHITTA, Tuf Borland, Dallas Gant and K'Vaughn Pope as the regulars.
Chase Young is on track to be a top-five pick in next year's draft and while there is other defensive end depth to be sure, who might emerge as the second-best rush end is a bit murkier – for me anyway. Will Jonathon Cooper or Tyreke Smith, or I suppose even Tyler Friday or Zach Harrison, emerge as a legit counterpart that defenses must really account for? Will the lack of a stud partner on the opposite side impact Young's production at all?
Kevin: I don't really know enough about this defensive scheme to give the world's most confident answer here since I don't really know how the defensive end positions are going to differ. I think Tyreke Smith could very well be the second-best pass rusher on the roster, I just don't think he's going to play opposite of Chase Young much at all because both will be weakside defensive ends. So I'll go with Jonathon Cooper – depending on the status of his rumored injury – because I think he'll hold that spot down and benefit from the attention The Predator deservedly draws.
Ramzy: Kind of like how Young benefited from Nick Bosa occupying attention, I expect Jonathan Cooper to take the beneficiary crown. Also, Robert Landers will continue to be the most disruptive guy on that line and hell for opposing offenses, but whatever keep sleeping on him.
David: I think Tyreke Smith will have a big year, provided he is healed from his injury issues. I don't think Zach Harrison is ready yet, although nothing would make me happier than to see him play a big role early (and do it well). It seems as though Cooper is who he is, a solid defensive lineman who isn't going to wow you or be absolutely dominant. But he will still be solid. That's the long way to say that Tyreke Smith will be pretty good this year.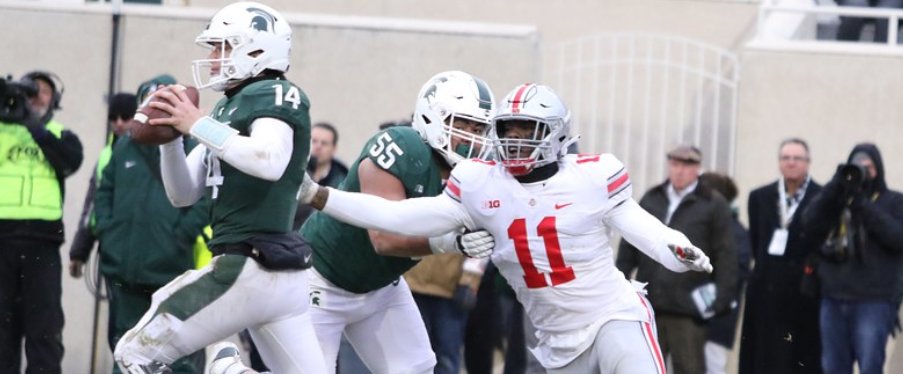 Who wins the Big Ten West? Can that team pose any real threat to Ohio State or whichever team emerges from the East in the Big Ten title game?
David: I don't know and I don't really care. Ohio State is more talented than any team in the west, and they honestly should cakewalk any team they were to meet in that game in Indianapolis.  I guess I'll pick Purdue because I want to see that game again with Ryan Day at the helm this time.
Ramzy: It won't be Illinois. The other six teams are all distinct possibilities here, but I'll go with Iowa because Kirk Ferentz hasn't won B1G Coach of the Year since 2015 which means the Hawkeyes are past due to win nine regular season games again and dazzle the voters in doing so.
Kevin: I'm picking Nebraska. The Cornhuskers have recruited shockingly well the past few years and now they have a competent head coach, a preseason Heisman contender at quarterback, and a lethal offense. If they can find any semblance of a defense, Nebraska can just ride Cornbelt Braxton Miller all the way to Indianapolis (for their second loss to Ohio State).
Since this is a season preview piece, I have to ask ... How does the 2019 slate shake out for the good guys? Give us a final record and expound on how Ohio State fares against Michigan and in the postseason.
Ramzy: They're running the table. This particular combination of talent, coaching, flexibility, atmosphere and a jolt of freshness in what's the most seamless transition of power in program history puts this team at 12-0 and heading back to Indianapolis. That doesn't necessarily mean Day is going to beat out Ferentz for COY honors, but it will put the Buckeyes back in the College Football Playoff after they beat Iowa.
Kevin: 14-1. I have no idea where the loss will come, but it sure as hell won't be in the last four games. I ain't scared. Top to bottom, this is one of, if not the most talented team Ohio State has ever had. The program's two best recruiting classes in the #teen rankings era are now sophomores and juniors and the guy taking over at quarterback is the highest-rated prospect in program history. I know recruiting stars don't win championships all alone (sometimes they get waxed against Purdue), but that talent in Ryan Day's offense with Jeff Hafley leading the defense – don't expect me to be reasonable about that. I'm calling a Natty.
David: Ohio State goes 12-2. The Buckeyes drop one regular-season game, probably to Northwestern on Friday night or – hopefully not – Penn State at home the week before Michigan. I think the Buckeyes will still win the east after beating Michigan by a touchdown or two, get to Indianapolis, win there, and lose in the first round of the playoff to Clemson or Alabama.