CHICAGO – College football players who become team captains as underclassmen rarely lose that title. 
J.T. Barrett didn't. His Ohio State teammates voted him as a captain prior to the 2015 season, and the starting quarterback remained in the role the next two seasons. In 2017 as a redshirt senior, he became the first three-year captain in program history. Almost as much as anything he did on the field, he'll be remembered for his contributions as a leader.
Tuf Borland will likely join Barrett as the second Buckeye ever to be a three-year captain. He was one of the team's seven captains a year ago, and it's highly unlikely he leaves early for the NFL, meaning he'll most likely be a team captain for both the 2019 and 2020 seasons.
Even though his leadership isn't a question, his status as a starter remains uncertain.
"Tuf Borland played a lot for us last year and he's being pushed," Ryan Day said on Thursday. "He's being pushed by Teradja Mitchell."
Nobody on Ohio State's defense drew as much criticism from the fan base as Borland last year.
Playing in the middle of a defense that allowed more than 400 yards per game and was more susceptible to giving up big plays than almost any other team in the country, his lack of speed and agility was evident to opponents who targeted him. He struggled when playing in space against spread offenses that wanted to force him to make plays away from the line of scrimmage.
Even though Borland suffered an offseason Achilles injury, he rushed back to action, and former linebackers coach Billy Davis stuck with him throughout the difficulties of the 2018 season. He started 11 of 14 games and accumulated 67 tackles, the third-most on the team. 
Borland made his 20th career start in the Rose Bowl against Washington, but there's a chance he won't start his 21st game against Florida Atlantic on Aug. 31.
"That MIKE's got to be a dude."– Al Washington on middle linebackers
With a new linebacker coach in Al Washington, a new defensive scheme and another year of development for Mitchell and Baron Browning, Borland won't enter fall camp in a couple weeks as the sure starter. Is he the likely starter? Sure. Anybody who has 20 starts and is a returning team captain has the edge. But he's not locked into the job.
Mitchell and Browning are his main competitors to start, and it seems most likely that the competition will come down to either Mitchell or Borland.
A year ago, Mitchell entered the program as a top-50 overall prospect and the second-ranked inside linebacker in his class. The Virginia Beach, Virginia, native played just two defensive snaps as a true freshman, with most of his contributions coming as a gunner on the kickoff team.
In Ohio State's 15 practices this spring, Mitchell finally got a chance to take reps with the first-team defense. Both Day and Washington mentioned Mitchell as a player who impressed them.
"He had a good spring," Day said. "He made some strides. He's still learning the defense, diagnosing the plays, where to go in the pass game. He goes really hard. He's tough. He's a leader."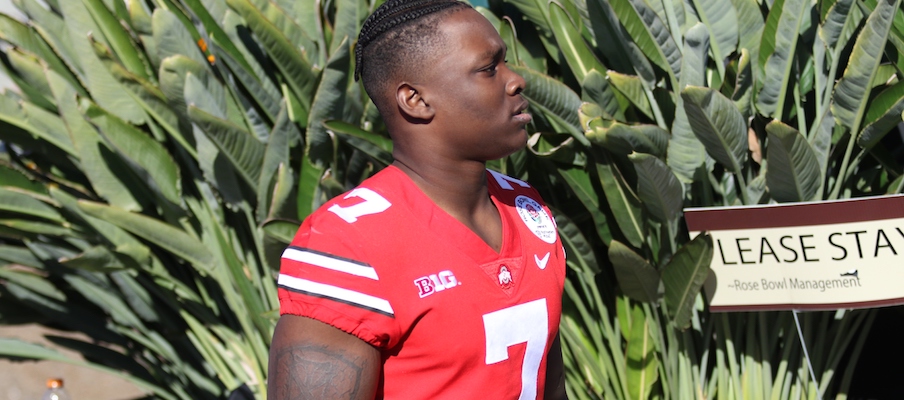 If Washington doesn't want to solely rely on Borland, Mitchell or Browning, he could consider rotating them.
Ohio State has had plenty of success with rotations on both sides of the ball in the recent past. Kerry Coombs and Taver Johnson rotated cornerbacks. Larry Johnson constantly rotates his defensive linemen. Last year, Day got an up-close view of Brian Hartline rotating his wide receivers and Tony Alford going back-and-forth with Mike Weber and J.K. Dobbins.
"If you look at what we did on offense last year we rotated those guys a bunch," Day said. "I think you can do that at all positions. It keeps you fresh. It helps you later on in the game, it helps you later on in the season. But they have to earn the spot. We're not going to do it just to do it. If someone is that much further ahead they're going to play more than the other guy. If they earn playing time they're going to play."
With all three starting linebackers back and only one player – Dante Booker – gone from last year's unit, Ohio State has depth at all three positions. 
Werner will likely start at strongside linebacker, and K'Vaughan Pope has made moves behind him as he prepares to enter his second year. Malik Harrison returns as the starting weakside linebacker; behind him, Browning and Dallas Gant are pushing for snaps. Borland, at middle linebacker, has Mitchell and Browning at his heels.
"Al Washington has got his hands full," Day said. "I talk to him all the time about you've got to figure out who's going to play, and it's a good thing. There's a lot of healthy competition right there."
Day's vision is to turn the linebacker room into a competitive environment reminiscent of what Johnson created.
"We want that room to look like the defensive line room has looked in the past," Day said. "And Larry Johnson has built that room up to where you look at the guys who have come before and then the young guys who are there, there's a mentorship going on in that room, and we want to build that in the linebacker room, and Al Washington is working on that."
The development of that environment depends on Washington putting together an improved linebacker unit this fall, which begins at middle linebacker.
He can go with Borland, one of the team's go-to leaders and most experienced players and one of two returning team captains. He can opt for Mitchell, the rising 6-foot-2, 242-pound linebacker who said he likes to play aggressively and "thump." Or, he could opt for both and use them in a rotation, possibly along with Browning.
"That Mike's got to be a dude," Washington said this spring.
Washington has the returning team captain and the self-described thumper.
So, who's the dude?