To Ryan Day, Ohio State's 2019 schedule has two chunks.
It begins with the portion of the schedule before the first bye week, a six-week stretch that features games against Florida Atlantic, Cincinnati, Indiana, Miami (Ohio), Nebraska and Michigan State. Then they get a breather. The week off is followed by another stretch of six games which includes the second bye week of the season. 
By the end of the season, experience won't be a problem for Justin Fields – or Gunnar Hoak, if he shockingly wins the starting quarterback spot. But during those first six games, Day emphasized the team will need to play to its strengths. 
One of those areas it will have to lean on, in Day's mind, will be the exact area that held the Buckeyes back last season: defense.
"I think we have good players. I think we have a good staff. I think we have a good scheme," Day said on Thursday at Big Ten Media Days. "And so when I go to bed at night, I think to myself, 'Boy, we should be pretty good.' I said it to the guys on the staff. I said, 'Do you want a better D-line? Do you want a better secondary? Do you want better linebackers? I don't know if there's better players out there in the country. Maybe there are – I'd like to see them.' 
"We have a really good staff and a really good scheme. So, I go to bed thinking to myself, 'Boy, we have to be pretty good on defense.' And I think we will be."
If he just based that idea on what happened last year, he'd have no reason to make that claim.
Ohio State allowed 5,648 yards of offense in 2018, more yards than any previous season in program history. Opponents averaged 25.5 points and 403.4 yards per game. Purdue dropped 49 points on the Buckeyes and Maryland scored 51 points. Only 10 teams in the country allowed more than the 12 plays of 50 yards or more. No team gave up more plays of at least 80 yards.
"You know, last season was last season," Jonathon Cooper said. "And as much as we would like to change things and make things look a little bit better, they happened and we can't go back and change it."
Optimism for a turnaround this fall, though, is plentiful in mid-July.
"I feel like it's definitely going to be fixed this year," Cooper said. "There was something in the defense that was resisting us from playing the way we were supposed to play. What that was" – Cooper shrugged with his hands – "but all I know is that it's going to be fixed, and we're going to play with that chip on our shoulder."
Does he not know what went wrong, or did he not want to say?
"What do you think?" Cooper said before breaking into a laugh.
Ohio State has an almost entirely new defensive coaching staff and nearly the same defensive personnel.
When Day began his first-ever stint as a head coach, he turned over the entirety of the defensive coaching staff other than Larry Johnson, whom he has called a legend. Jeff Hafley, Greg Mattison, Al Washington and Matt Barnes replaced Greg Schiano, Alex Grinch, Taver Johnson and Billy Davis.
Similarly to Urban Meyer, Day will spend most of his time working with the offense, meaning he'll rely heavily on the defensive staff – namely, defensive coordinators Hafley and Mattison – to spearhead that unit's improvement. 
"When we were putting a staff together, I wanted to make sure we had a staff that could solve the problems themselves," Day said. "I know that as an offensive coach, some of the best environments I've been in is when I can, as an offensive coordinator, solve the problems on my own. Because I think, at the end of the day, you want to make sure that you are doing things the way you want to do them. 
"So between Greg Mattison, Larry Johnson, Jeff Hafley, Al Washington and Matt Barnes, there's so much experience in that room that I believe in them that they're going to solve the issues that come up, because there's going to be issues that come up."
The new group of coaches will have many of the players who played key roles last year at their disposal, albeit the returners will have more experience.
Both starting safeties – Jordan Fuller and Brendon White – are back. Damon Arnette, Jeffrey Okudah and Shaun Wade each have substantial experience at cornerback. All three starting linebackers – Malik Harrison, Tuf Borland and Pete Werner – are back, and all but one of their backups return. Defensive ends Chase Young and Cooper are also back, along with defensive tackles Davon Hamilton and Robert Landers.
"On defense, there's a group of guys over there who are salty who have a lot to prove," Day said. "August is going to be a big month for us, and looking forward to getting going in a couple weeks."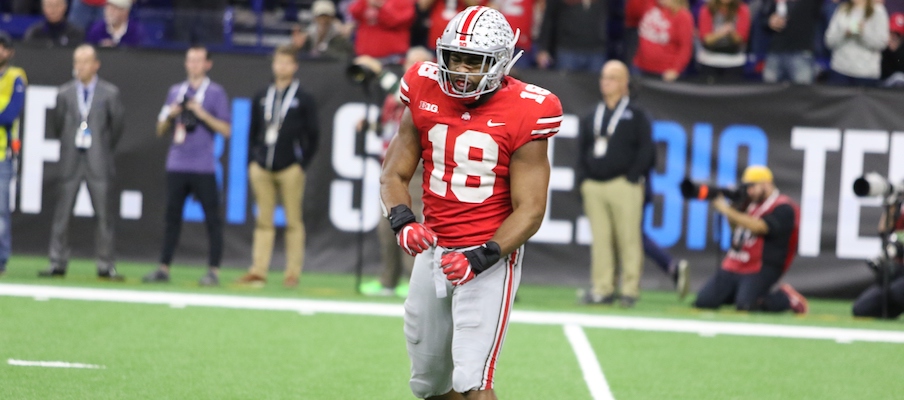 More than six months have passed since Day hired those coaches, giving the Buckeyes plenty of time to learn the new scheme.
Thus far, two themes have been obvious: the team wants to play faster and have the ability to adjust schemes and personnel depending on the opponent. 
"Is it going to be perfect? No. It's not going to be perfect," Day said. "But we're going to have to solve the problems as they come because they're going to come. And how quickly we can solve those problems I think will indicate the kind of defense we're going to be."
Regardless of how the look of the defense develops, all that matters is how many points and yards it allows, and Ohio State set a mighty low bar last year for the incoming defensive staff.
Nobody in Columbus wants a repeat performance.
"I'm pretty sure, positive that you will see a different defense than you saw last year," Cooper said.