Playing high school football for Trinity Christian Academy in Jacksonville, Florida, Shaun Wade had an acute understanding – and appreciation – of press man coverage.
He developed into the second-ranked cornerback recruit in his class while playing in a press-heavy environment. Naturally, that style of play attracted him to Kerry Coombs and Ohio State, which had gained a reputation for having aggressive, pressing cornerbacks. The penchant for that physical cornerback play also helped the Buckeyes land Jeff Okudah, the top-ranked cornerback in that class.
For two years, Ohio State continued to rely heavily on pressing, first with Coombs in 2017 and then with Taver Johnson in 2018.
That philosophy changed when Ryan Day brought Jeff Hafley in from the San Francisco 49ers and made him both the co-defensive coordinator and secondary coach. In the NFL, Hafley didn't rely on a single coverage scheme, rather believing teams need to mix up their looks in order to both confuse offenses and increase turnovers.
Sure, he still believes in playing press man, just like his predecessors.
"If you want to sit down and talk, I can talk to you about three hours about that," Hafley said on Tuesday. "Love press man. Got to be able to play press man. Have to be able to. I think it's a fundamental technique that's kind of lost in football right now, and it's hard, and you've got to work it."
But at Ohio State, that style will no longer be what defines the Buckeyes' cornerbacks.
"You'll see us press," Hafley said. "I just don't think it will be on every single play, you won't press."
With Hafley in charge and drawing from his NFL experience, Ohio State will play more zone coverage than in prior years. After so many years of relying heavily on press, it requires almost as much of a change in mindset as it does in how the cornerbacks play on the field. Every cornerback currently on the roster was recruited with the intention of playing press man coverage, and that's what they did until this spring.
What would Arnette have said about possibly playing zone at this point a year ago?
"I'd be like, 'Man we're a press corner team. Like, we press. That's what we do,'" Arnette said.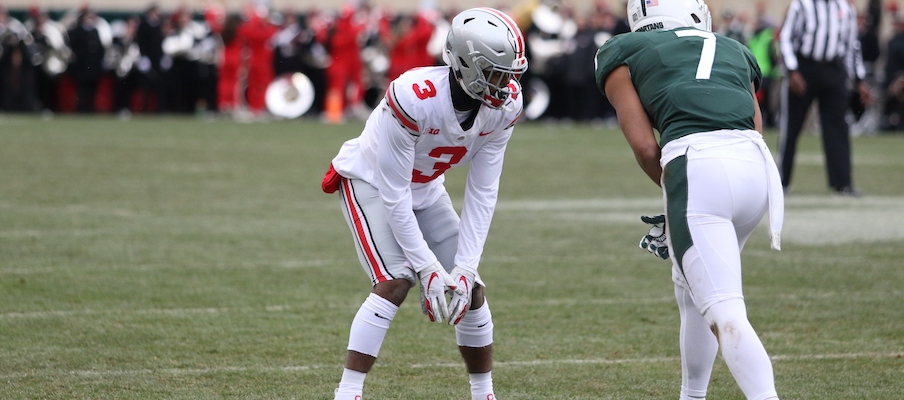 Not anymore. Now, that has completely flipped.
With the change in scheme came a change in attitude. Urban Meyer, Coombs, Johnson and the rest of the Ohio State coaches to pass through Columbus in recent years all had the players fully bought in.
But eight months after Hafley arrived in Columbus with assistant secondary coach Matt Barnes, the Buckeyes' cornerbacks have completely changed their tune. They speak about playing press coverage every play as if it doesn't make sense, even though they believed in that philosophy until January.
Okudah: "When you just play so much press man, you kind of really don't realize the toll it puts on your body on the course of a 14-game season, like just running back and forth and just always being fatigued."
Wade: "If you play in press the whole game, they're going to know what you're going to do in the press all the time. So you have to mix it up."
Arnette: "Every play, you can't do that. They don't do that every play in the league, so why do we got to do it every play?"
These aren't just run-of-the-mill cornerbacks who bought into what Hafley was selling.
Okudah, the No. 1 cornerback recruit in the country in 2017, has already drawn significant buzz about becoming a first-round pick in next year's draft. Wade was once the No. 2 cornerback recruit in the country, and he already has a season of experience playing starter-level snaps. Arnette, who was about as far gone as any college football player can be before deciding to wait another year on the NFL, has started more games than anybody else on the defense.
Their change in mindsets didn't come immediately.
"I think when (Hafley) first got here, I didn't know we were going to play Cover 3 like that," Okudah said. "I wasn't used to playing so much zone, so it was kind of difficult at first to, 'OK, we're going to play more zone than we have in the past.' But once we've seen the results that come from that, it's kind of hard to go back to 'Let's play press man nine out of 10 snaps.'"
Results, to both Hafley and the cornerbacks, mattered.
Ohio State had seven cornerbacks drafted into the NFL in the past six years, including five who became first-round picks. The emphasis on pressing clearly worked well enough that NFL teams wanted cornerbacks who played in the Buckeyes' system. 
Hafley had an NFL resume too, though, which helped him gain immediate respect.
"He's been in the league for seven or eight years," Wade said. "You ain't got no choice but to trust him. He coached some of the best. Richard Sherman. He used to coach (Sevyn Banks') brother (Marcell Harris) on San Francisco. He knows so many people. You have to trust him. How he came in here teaching us different things that we didn't know, and I've been in college for two years already."
Hafley also didn't walk into the Woody Hayes Athletic Center taking a blowtorch to the previous coaching regime's thoughts on how to play defense, even though there'll be noticeable differences in how they line up and play.
"The guys that have coached here before did an unbelievable job," Hafley said. "So I'm not saying, 'No, we're changing.' No, that's not what we said at all. In our scheme, we need to be able to play some off. We need to be able to press. And what do I do? I show them it working. I show them why. If you show somebody why and you put it on tape and you show them that, I don't think the buy-in's hard. These guys trust us, which is awesome."
In the spring, Okudah said, Hafley cut up a bunch of tape from Richard Sherman, who he coached in San Francisco. In order to show examples of how the Buckeyes will play, Hafley showed the defensive backs film from the Seattle Seahawks and Atlanta Falcons, along with what he did the past three seasons with the 49ers.
Hafley then translated that film work to the practice field where, Wade said, he'd predict offensive plays before they happened, showing the cornerbacks he's trying to put them in optimal positions.
"If we're able to kind of recreate that at Ohio State, I think that we'd be considered a really good defense," Okudah said.