Urban Meyer isn't Ohio State's head coach anymore, and neither is Jim Tressel, but the message that they constantly preached has remained clear with the Buckeyes' coaching staff this offseason: Special teams are still a priority in Columbus.
"Special teams are as important as any phase that we have," new Ohio State co-defensive coordinator Greg Mattison said earlier this month.
While new Ohio State head coach Ryan Day doesn't have a lot of experience coaching special teams, he said this week that he is "very much involved now" with coaching the Buckeyes in that phase of the game. Special teams remain a collaborative effort among the coaching staff, as they were under Meyer's leadership, but Ohio State also now has a dedicated special teams coordinator in Matt Barnes.
Offense and defense typically garner most of the attention, but the idea that strong special teams play is crucial to winning the battle of field position remains one of Ohio State's core philosophies.
So while season previews like these don't always include an entire piece devoted to special teams, the premium that Ohio State continues to place on strong special teams play made it only seem right to take a look at that phase of the game – not only the specialists, but the units as a whole and who else could contribute on them – to wrap up our looks at each of the Buckeyes' positional units as part of Eleven Warriors' 2019 Season Preview.
What We Know
Season Previews
Ohio State's kicker, punter and long snapper are all back from last season. Blake Haubeil, Drue Chrisman and Liam McCullough are the only players at their positions currently on scholarship for the Buckeyes, so all of them are locked into their starting jobs.
Haubeil, who took over as Ohio State's field goal kicker for the final eight games of last season after Sean Nuernberger suffered a season-ending injury, made 10 of 13 field goal attempts and all 37 of his extra point attempts in 2018. Chrisman, in his second year as Ohio State's starting punter, has a career average of 43.7 yards per punt and is a two-time semifinalist for the Ray Guy Award.
Around them, we don't necessarily know yet who else will make up the Buckeyes' special teams units, but we can expect to continue to see some of the team's most prominent players on the field playing key roles for the kicking, punting and return teams.
"We're a program that believes in playing our best players on special teams," Barnes said earlier this month. 
At the same time, Barnes also believes in special teams being a proving ground for young players before they earn playing time on offense or defense – as was Meyer's ethos – so it is likely that Ohio State's special teams units will feature a healthy mix of first- and second-year players trying to work their way up the depth chart, too.
"Where offense or defense, there's more nuance, there's a lot more variables, there's more moving parts; special teams, we talk about reducing the game to effort and technique," Barnes said. "So go play as hard as you can, and then if we can get that guys honed in on techniques, which we spend a lot of time – I'd venture to say we spend more time here on technique than probably anywhere else – so if we can get them playing hard and with great technique, they've got a chance."
Barnes is also the assistant secondary coach, but special teams are his primary area of responsibility, allowing him to spend more dedicated time with the specialists than any full-time position coach did on the previous staff. Quality control coach Parker Fleming, who Barnes described this spring as "the best quality control coach in the country," is also still working directly with the Buckeyes' special teams.
What We Don't Know
Demario McCall is back after emerging as Ohio State's lead kickoff returner down the stretch of last season, while K.J. Hill is back after serving as the Buckeyes' primary punt returner for the past two seasons, but will they continue to be the Buckeyes' lead returners this year? That hadn't been decided when Barnes met with the media earlier this month.
C.J. Saunders, Jaelen Gill and even true freshman wide receiver Garrett Wilson have also gotten reps on the return units in preseason camp. The questions the Buckeyes have to answer in determining who their lead kickoff and punt returners should be: Is ball security more important than the potential to make big plays, and who can give Ohio State the best combination of both?
While Ohio State's kickoff, punt and punt block teams were usually strong during the Meyer era, one element the Buckeyes have lacked in recent years has been explosive returns. Ohio State has not had a punt return for a touchdown since 2014 (Jalin Marshall) or a kickoff return for a touchdown since 2010 (Jordan Hall), so that's one area where the Buckeyes should be chasing improvement this year.
Both Barnes and Day have suggested that while the Buckeyes want their returners to make explosive plays, ensuring ball security and giving their offense a chance to take possession will remain the top priorities.
"In the return game, I think you try to find your most dynamic guy, but at the end of the day, ball security is critical," Day said. "So can we find a guy who's really dynamic with the ball in his hands who also can secure the ball? Because we're not going to put a guy back there that has the risk of putting the ball on the ground. We just can't do that. We're too explosive on offense and we're not going to do that. So the idea is to have the ball at the end of the play, but when we can be aggressive and it's smart, we'll do that."
Similarly, the Buckeyes would like to block more kicks and punts this year, but how much more aggressive they will be in those areas remains to be determined, as they want to be careful not to be too aggressive to the point that they commit penalties that keep their defense on the field.
"There's a little risk when you go get a punt because if you get a 15-yard penalty, now you're flipping the field and you're giving the offense the ball back again," Day said. 
"We're not going to put a guy back there that has the risk of putting the ball on the ground. We just can't do that. We're too explosive on offense and we're not going to do that."– Ryan Day on prioritizing ball security in the return game
Determining who will return kicks and punts aren't the only important personnel questions the Buckeyes have had to answer in the weeks leading up to the season. They've also had to find the right guys to play the other roles on their coverage and return units to ensure that they will be able to block for their returners and be in position to shut down opposing returners.
Perhaps most notably, the Buckeyes are looking for someone to step up and be their new star punt gunner now that Terry McLaurin is in the NFL. Jeff Okudah and Chris Olave saw some reps in that role last year, so they're the leading candidates to be the gunners this year, but they haven't publicly committed to anyone specifically playing that role yet.
"That's a really important position that nobody is going to talk about, but it's huge for us. It won us the Michigan State game (last season)," Day said. "That's just as important as finding our X receiver."
Ohio State also has to decide whether to change up its kickoff approach. Under Meyer, the Buckeyes utilized a coffin-corner kickoff strategy in which they tried to force returners to field the ball inside the 10-yard line and down them within the 25, but the new fair catch rule in college football has led to less of those kicks actually being returned. Barnes expressed that he isn't too concerned, though, about making changes there.
"If it ain't broke, don't fix it," Barnes said. "From a kickoff standpoint, we're just gonna go cover them. We're gonna kick them and we're gonna go cover them, and if they choose to fair catch it, so be it."
Players to Watch
Ohio State's 2019 Specialist Roster

| No. | Name | Pos. | Ht. | Wt. | Year | Hometown (High School) |
| --- | --- | --- | --- | --- | --- | --- |
| 28 | DOMINIC DIMACCIO | K | 5-8 | 190 | RS SO | Powell, Ohio (DeSales) |
| 90 | JACK DENEHER | K | 6-4 | 200 | FR | Dover, Ohio (Dover) |
| 95 | BLAKE HAUBEIL | K | 6-4 | 225 | JR | Buffalo, N.Y. (Canisius) |
| 42 | BRADLEY ROBINSON | LS | 6-1 | 230 | RS JR | Troy, Michigan (Athens) |
| 49 | LIAM MCCULLOUGH | LS | 6-2 | 237 | RS SR | Columbus, Ohio (Worthington Kilbourne) |
| 65 | PHILLIP THOMAS | LS | 6-0 | 230 | RS JR | Louisville, Ohio (Louisville) |
| 94 | ROEN MCCULLOUGH | LS | 6-1 | 230 | RS FR | Columbus, Ohio (Worthington Kilbourne) |
| 29 | ZACH HOOVER | P | 6-2 | 190 | RS JR | Toledo, Ohio (Central Catholic) |
| 91 | DRUE CHRISMAN | P | 6-3 | 220 | RS JR | Lawrenceburg, Indiana (La Salle) |
| 93 | JAKE METZER | P | 6-2 | 225 | RS JR | Doylestown, Pa. (Central Bucks West) |
| 96 | MICHAEL O'SHAUGHNESSY | P | 6-4 | 200 | FR | New Albany, Ohio (New Albany) |
Chrisman, McCullough and Haubeil could all be among the best in the nation at their respective positions in 2019. Chrisman is already regarded as one of the country's best punters. McCullough has been rock-solid in his first three years as Ohio State's long snapper, and was named to the preseason watch list for the Patrick Mannelly Award, which honors the Football Bowl Subdivision's best senior long snapper.
Haubeil enters the season with more to prove, but he was ranked as the fourth-best kicker in the recruiting class of 2017. His longest made field goal last season came from 47 yards out, but he made a 61-yard field goal in high school and has shown the leg strength on kickoffs to be a top-notch kicker if he can be consistent with his accuracy and deliver in clutch situations, where he hasn't really been tested yet.
The special teams players who will be most intriguing to watch, though, will be the returners and whether they can make more game-changing plays this season. McCall and Gill appear to offer the most upside, particularly on kickoff returners, as runners with the speed and shiftiness to break away from defenders in the open field, but the Buckeyes could remain inclined to rely on Hill and Saunders as punt returners because of their experience and surehandedness.
Wilson is certainly a player to watch on offense as he begins his Ohio State career as a five-star wide receiver prospect, but he's an intriguing candidate in the return game as well if the Buckeyes give him any opportunities there this season.
"He's smooth, he's got unbelievable ball skills, he's got confidence that far exceeds his years, so I expect good things from him," Barnes said of Wilson.
McLaurin made a name for himself that gunners rarely do last season because of how elite he was in playing that role, and the Buckeyes have plenty of athletes with the potential to follow in his footsteps and be excellent gunners this year. The top candidate might very well be Olave, who emerged as a star in last year's Michigan game when he not only caught two touchdown passes but also blocked a punt that Sevyn Banks returned for a touchdown.
"You mention Chris Olave, I'd sure love it to be him, because he can really run," Barnes said in regards to the gunner position.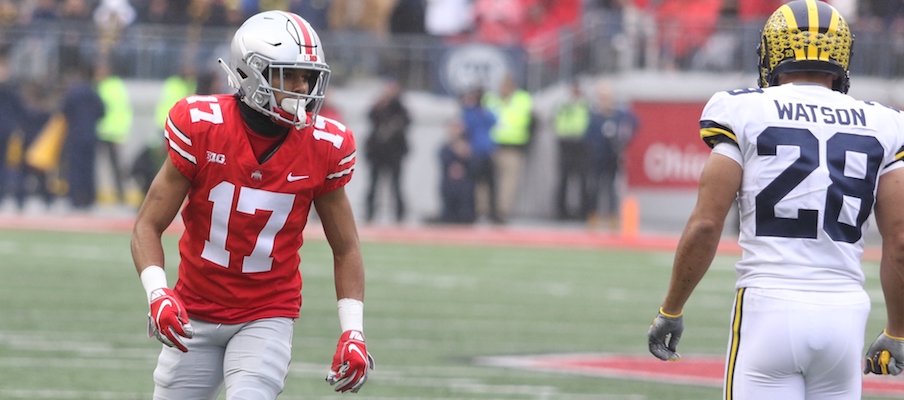 While Wilson is probably more likely to make a name for himself as a receiver than as a returner this season, special teams should also be an opportunity for some of Ohio State's other new freshmen to begin making their mark on the Buckeyes this year. Barnes named running back Marcus Crowley, safety Bryson Shaw and linebackers Cade Stover and Craig Young as some of the newcomers who have impressed him with their efforts on special teams in practice. Wide receiver Jameson Williams has demonstrated an ability to block punts in camp and also appears to be a strong candidate to play right away on special teams.
Position Outlook
With rosters that have been consistently deep with elite athletes and buy-in throughout the program that special teams matter, Ohio State's special teams have already been regularly considered to be among the best in the country for many years. With as much talent as the Buckeyes have on their 2019 rosters and the emphasis that Ohio State's new coaches are clearly still putting on that phase of the game, there's little reason to believe the Buckeyes won't be strong on special teams once again.
Still, though, there's room for improvement. It's been years since Ohio State had a return game that struck fear into opponents. The punting unit led by Chrisman has been excellent, and the Buckeyes' kickers haven't missed an extra point in either of the last two seasons, but they haven't been spectacular on kickoffs or field goals over the past couple of years. Avoiding costly mistakes that could give the ball back to the opposing offense should be a priority, but there should be room for the Buckeyes to be more aggressive and try to make more big plays on special teams without being reckless.
Whether Ohio State's offense can find immediate success with Justin Fields at quarterback and whether the defense can bounce back from a down year will be in the spotlight when the Buckeyes begin their season next weekend, but whether the Buckeyes can deliver championship-caliber special teams play will also be a factor in their success this season.
"Things have been done really, really well here, I would say at an elite level," Barnes said. "We've been excellent here, but we want to reach a new level, if we can. Obviously the bar's been set very high, and we just want to continue to try to push forward."
Projected Depth Chart
Kicker
1. Blake Haubeil
2. Zach Hoover
Punter
1. Drue Chrisman
2. Jake Metzer
Long Snapper
1. Liam McCullough
2. Bradley Robinson
Holder
1. Drue Chrisman
2. C.J. Saunders
Kickoff Returner
1. Demario McCall
2. Jaelen Gill
Punt Returner
1. K.J. Hill
2. C.J. Saunders