Another top 2014 athlete was in Columbus for "The Game" and is widely known amongst the Buckeye faithful. Hebron (KY) Conner QB Drew Barker has been on the Ohio State campus many times for camps and to check out the program, and "The Game" was his second visit to the 'Shoe for a game this year.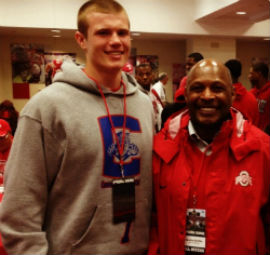 Barker had a monster season for Conner, as he finished the season with 1,455 rushing yards and 18 touchdowns to go along with 2,072 passing yards and 22 touchdowns, totaling 3,507 yards and 40 touchdowns.  
His ability to run the ball with power and his vicious stiff arm have drawn comparisons to Tim Tebow and Collin Klein, as far as style of play goes. Do not let that fool you though, as Barker can get it done with his aerial attack as well.
The four-star prospect is one of many signal callers the Ohio State staff has targeted in the class of 2014, a list that includes DeShaun Watson, William Ulmer, DeShone Kizer, Kyle Allen, Jerrod Heard, and Caleb Henderson. The Buckeye coaching staff is continuing to evaluate the position, and has only offered Watson to this point.
It has been said that Ohio State could take two quarterbacks for the class, but we were told they only plan on taking one due to number constraints thanks to sanctions stemming from Tatgate.  After the 2013 season the Buckeyes will be losing the services of Kenny Guiton, but barring early entry to the NFL Draft from anyone, would still maintain Braxton Miller, Cardale Jones, and incoming freshman, JT Barrett.  
The Bucks were in a strong hold position with Barker at one point, but things have changed, and other schools have joined the mix. The Buckeyes got in on the Conner star early, but other premier programs like Alabama, Notre Dame, LSU, Georgia, and South Carolina have been reaching out to Barker quite a bit, and the Gamecocks have even come forth with a scholarship offer. 
Keep reading to find out what one of the top signal callers in the class of 2014 thought about his first Ohio State-Michigan game, what he thinks about a possible Buckeye offer, what his timeline is to make a college choice, and more.
What did you think about your experience of being at an Ohio State vs Michigan game?
It was just an awesome time. To say I went to an Ohio State-Michigan game is a blessing that not many people can say, or get the opportunity to do.
You have been to Ohio State several times. What was one thing that stood about this visit to OSU?
It wasn't much different than other visits to Columbus as I have been there several times. It was great to have a chance to speak with all the other top recruits there though. I got to spend time with Clifton Garrett, Raekwon McMillan, Thaddeus Snodgrass, Ezekiel Elliott, James Quick, Jalin Marshall, and Cam Burrows.
Are some of the other 2014 recruits and you still considering playing together?
Yes. I think I can do a very good job at recruiting others and getting people to come together and play together.
Did you get a chance to speak to any of the coaches?
I spoke with Coach Herman, the quarterbacks coach and offensive coordinator. He said he would be in Texas this upcoming week but would come by my school after. He just messaged me that those plans have changed in the past hour. He will be at my school Wednesday (yesterday) to see me and watch my basketball practice.
Has the OSU coaching staff indicated to you how they will approach the QB situation in 2014?
They said they would be going around and seeing all their targets at the position and making a decision later on who they want.
What would an Ohio State offer mean to you?
An Ohio State offer would be great if it came and I hope it does. It's The Ohio State University so that's one that every recruit would covet.
Are there any schools standing out so far in your recruiting process?
I'm still planning on considering all of my options. I'm getting a lot more interest from other great schools, and I also have to pay attention to all the coaching changes happening and considering that as well.
Do you have any other visits scheduled, or ones you want to take?
I'm really not sure of any winter visits at this point. I was hoping to slow things down and take it easy.
Are there any coaching staffs you have a better relationship with than others?
I have a lot of good relationships developed with schools like LSU, Georgia, Notre Dame, Alabama, and Louisville. I talk to Coach Mengus and Coach Spurrier from South Carolina a lot, and I talk to Ohio State a lot.
Is there a timeline in which you hope to make a decision on where to attend college?
I'm wanting to make my decision some time in the spring.
HIGHLIGHTS:
Other recruiting coverage from the weekend: