Over the summer, Eleven Warriors is taking a look at the state of every position on the Ohio State football team.
Ohio State has more uncertainty about its linebacker personnel than any other position, but there might not be more schematic questions on the team than at cornerback.
Jeff Hafley, the first-year secondary coach, won't rely nearly as heavily on press man coverage as the Buckeyes did prior to his arrival. Instead, he says he'll frequently vary his coverages. Based on this spring, he also could mix up personnel packages to throw off defenses.
There's a lot still to learn about how Hafley will deploy his cornerbacks, but he'll have some experienced options to work with.
The Personnel
Ohio State expects to have eight scholarship cornerbacks on the team this season. 
Damon Arnette (RS-Sr.): Back for his fifth season at Ohio State, Arnette has started more game than anyone else on his team's defense. In his 25 starts, he has 105 tackles, 14 pass breakups and four interceptions. He was an honorable mention All-Big Ten selection each of the past two seasons. Though he has a boatload of experience, Arnette has struggled with consistency and was flagged for five pass interference penalties in 2018. The Buckeyes need the projected starting outside cornerback to produce more than ever this fall.
Jeff Okudah (Jr.): Two years ago, Okudah enrolled at Ohio State as the top-rated cornerback in his class, and he has lived up to the billing. The fourth corner as a freshman on a team that rotated three players at his position, he earned significant playing time in the 2017 Cotton Bowl before moving into the rotation as a sophomore. He had a couple bumps, but finished the season with his best performance yet, dominating Washington in the Rose Bowl. Okudah broke up eight passes in 2018, but he has not yet recorded an interception in college. It wouldn't be a surprise to see him head to the NFL after this season to become a first-round draft pick in 2020.
Marcus Williamson (Jr.): Injuries have hindered Williamson's career thus far, putting him further behind than he'd prefer to be as a rising junior. He didn't play in the final nine games of the 2018 season due to an undisclosed injury, and he also was limited in spring practices due to an injury. The Westerville native, who played his senior season of high school football in Florida at IMG Academy, will battle for a backup cornerback spot in the preseason, provided he gets fully healthy.
Amir Riep (Jr.): Out of Cincinnati Colerain, Riep entered Ohio State as a cornerback. But he moved to safety as a sophomore. His current position isn't clear due to how Hafley and Matt Barnes have configured the secondary. He's currently listed on the official roster as a safety, but he played the same position as Wade in the spring, which means he moved between slot cornerback and safety. Riep is often overlooked in the secondary, but he'll likely find himself on the two-deep depth chart this fall and will have an opportunity to compete for a starting spot as a senior. He has 13 tackles and one interception in his career.
Shaun Wade (RS-So.): As the second-ranked cornerback in his recruiting class, just behind Okudah, Wade hasn't disappointed in Columbus, and he's in for an even bigger role as a redshirt sophomore. Abdominal surgery sidelined him as a freshman, but he rebounded by playing 513 snaps in 2018. Wade bounced from cornerback to nickelback to safety, learning each position and playing all of them in games – though he spent most of his time in the slot. Hafley doesn't appear likely to take him off the field much this fall, though his role is fairly clouded. Wade lined up in the slot this spring, and he also backed up to play safety. We might not have clarity on just what the Buckeyes plan to do with him until the season begins.
Sevyn Banks (So.): Greg Schiano created some waves on his way out, saying Banks "could be the next big-time corner here if he keeps developing" before the Buckeyes played the Rose Bowl. As a freshman, the Floridian's biggest moment came when he returned a punt blocked by Chris Olave for a touchdown in the 62-39 win against Michigan. He didn't play a single snap on defense the entire season. In Year 2, Banks is jockeying for position as a backup cornerback. He will battle Tyreke Johnson, Cameron Brown and Williamson for the snaps behind Arnette, Okudah and Wade.
Cameron Brown (So.): After playing in the first five games of the 2018 season, Brown did not see the field the remainder of the year and did not dress for multiple games due to a leg injury. The St. Louis native will compete for playing time as a backup, but the majority of his snaps as a sophomore likely will come on special teams. 
Tyreke Johnson (RS-Fr.): Though he joined the Buckeyes as a five-star recruit and the No. 21 overall prospect in his class, Johnson played in just two games as a freshman and recorded just two defensive snaps, both of which came in Ohio State's blowout victory versus Tulane. He has a chance to become a backup on the two-deep depth chart this fall, which could give him pole position to become a starter as soon as 2020. 
Ohio State has one cornerback commit.
Lejond Cavazos (2020): At one point, Cavazos was the second prospect to commit to Ohio State's 2020 class, pulling the trigger on June 27. He backed off the pledge once Urban Meyer retired, but recommitted to play for the Ryan Day-led Buckeyes on April 12 after reevaluating his options. Cavazos, who attends IMG Academy, is the No. 253 overall prospect in 2020. He's ranked as the 20th-best safety in the country, but he's expected to start his collegiate career as a cornerback.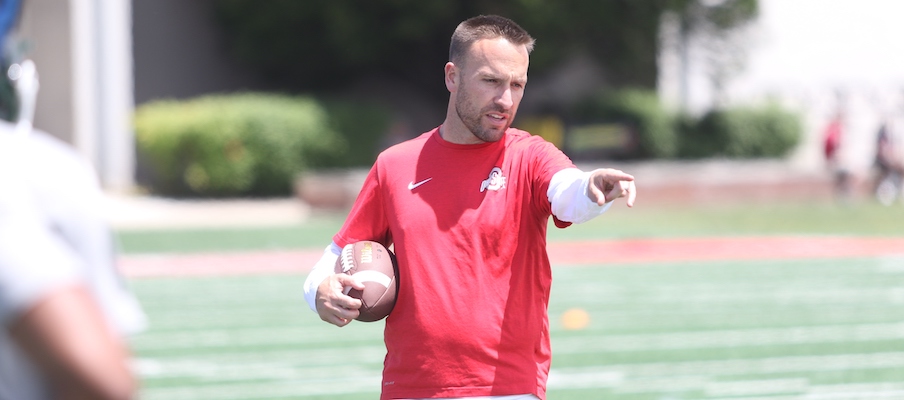 Outlook in 2019
Okudah and Arnette are expected to slot in as the starting outside cornerbacks in Hafley's secondary. Okudah has All-American potential. Arnette is talented, but hasn't played the consistency Ohio State would like. 
State of the Position
The Buckeyes don't have a choice this fall: they need both Okudah and Arnette to work out. If either of them have significant or prolonged struggles, Hafley would be put in a difficult position, and there's not much he could do as an easy fix. 
Wade will likely play some snaps at outside cornerback, but he appears to be slotting into a versatile role that will have him lining up both as a slot corner and safety. Since he can play multiple positions and has a year of experience doing just that, don't expect him to come off the field much. Wade, along with Okudah, is ready for a breakout season.
With Hafley coaching the position, the cornerbacks won't have a complete reliance on press man coverage. Instead, they'll play a variety of coverages aiming to throw off offenses. Hafley hasn't talked much about whether the cornerbacks will rotate or how much Arnette, Okudah and Wade will come off the field. But given the lack of experience behind them, it's reasonable to expect them to play the vast majority of cornerback snaps.
Williamson, Banks, Johnson and Brown are jockeying for position behind the three starters, and none of them have played more than 77 snaps in a season. They need reps because Okudah and Arnette will likely go to the NFL after the 2019 season, but are they ready for increased roles? If not, the burden on Okudah, Arnette and Wade becomes even larger this fall.
Strengths of the position
If Okudah takes the next step in his development, he could become a star. Everything about him screams impact cornerback. He has the typical long, lanky build of a corner and ended the 2018 season with the best game of his young career. The natural next step if to become a lockdown collegiate corner, and it's up to him and Hafley to make that happen.
Arnette, who will start opposite him, was far from perfect in 2018. But he's the most experienced defensive player on the team, and his decision to stay for one more year gave Hafley some insurance. Had he left early for the NFL, as many anticipated he would do, Ohio State would have been forced to rely even more heavily on the inexperienced corners currently in backup roles.
Wade is an overqualified third corner. On most other teams in the country, he'd start at outside cornerback. If he sticks in school, he could have that chance in 2020. But this fall, he'll move around the field and look to impact games mainly in other ways.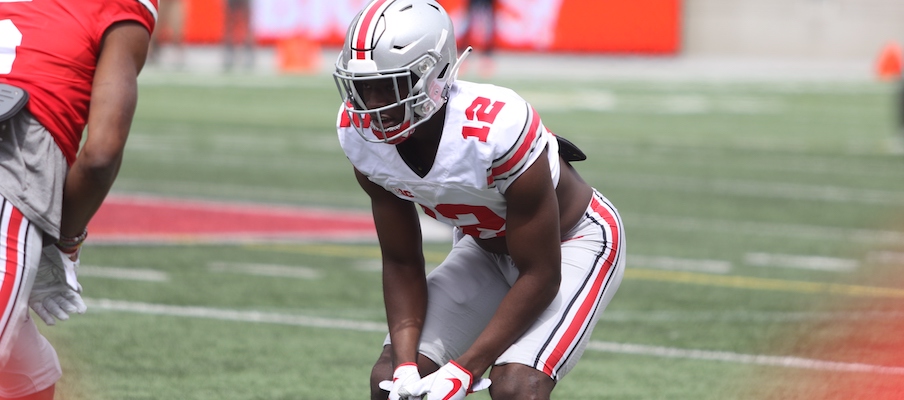 Weaknesses of the position
The Buckeyes have three strong cornerbacks, with Okudah, Arnette and Wade, but they might be over-relying on them to pan out. Williamson was limited due to injury this spring. Brown has battled injury. Banks and Johnson had relatively quiet springs. Behind the trio of starters, no one appears primed to leap into a significantly larger role.
The question of depth gets even more suspect after the 2019 season, once Arnette and Okudah, in all likelihood, leave for the NFL. If Wade leaves too, the Buckeyes could be in trouble.
The 2020 season will be the true test of Hafley and Barnes as position coaches. Though many people have expressed excitement about Hafley, it's worth noting that he's the third position coach teaching the cornerbacks in the past three years, and he's bringing in a new scheme. There could be bumps on this road.
Long-Term Outlook
Since Okudah, Arnette and Wade are in the picture, the 2019 depth chart isn't particularly difficult to figure out. The starters have essentially been set since the beginning of spring practice, and they don't appear likely to change.
Beyond this fall, though, there's a lot of uncertainty, both stemming from NFL draft early entry decisions and a collective lack of experience from the backups at the position.
2019 Projected Depth Chart
Cornerback: Jeff Okudah, Tyreke Johnson
Cornerback: Damon Arnette, Marcus Williamson
Slot Cornerback/Safety: Shaun Wade, Amir Riep
2020 Projected Depth Chart
Cornerback: Shaun Wade, Marcus Williamson
Cornerback: Tyreke Johnson, Sevyn Banks
Slot Cornerback/Safety: Amir Riep
2021 Projected Depth Chart
Cornerback: Sevyn Banks, Lejond Cavazos
Cornerback: Tyreke Johnson, Cameron Brown
Arnette will be out of eligibility following the 2019 season, and Ohio State fans should hope Okudah leaves for the NFL with him because it would mean he had a successful junior campaign. At this point, it's fair to expect him to head to the NFL, forcing the Buckeyes to replace both outside cornerbacks in 2020.
There's also the possibility that Wade plays at a high level and opts to leave college for the NFL, which could put Hafley and Barnes in an exceedingly difficult position without any returning starters.
Given the lack of certainty about who will serve as backups this fall, it's a fool's errand to even attempt to project the 2020 and 2021 depth charts. Johnson, Banks, Brown and Williamson will compete in preseason camp in August for the backup spots, which will put them in optimal positions heading into next spring.
The 2020 and 2021 seasons will both test Hafley's coaching ability and how well Ohio State has recruited the position in recent years. 
Multiple currently inexperienced cornerbacks must step up into starting roles in both future seasons, and it's almost impossible to predict which will take advantage of the opportunity. For that reason, it's worth following which of the backups play the most this fall.