Taver Johnson knew the deal when he agreed to join Urban Meyer's staff and replace Kerry Coombs, who left to coach defensive backs for the Tennessee Titans after the 2017 season.
Even though Coombs and the five first-round cornerbacks he produced in his final five years at Ohio State headed out the Woody Hayes Athletic Center door, Meyer didn't hire Johnson to bring his defensive philosophy to Columbus. He wanted the cornerbacks' identity to remain intact under the new coach.
Press man coverage defined the Buckeyes' cornerbacks under Coombs, leading to tremendous success, and it continued to define them with Johnson as position coach. Why? Because that's just what Ohio State does, as he said last fall.
"That's who we are," Johnson said on Oct. 9. "That's what we signed up for. And we'll have some situations where we will play some zone, we will play some bail, but yes, that's who we are. Our guys understand that, and they know that we have to get it done ... That's our job, that's what we signed up for. And we can. There's no doubt about it. And that's not changing."
It didn't change – at least not with Johnson on the staff.
But when Ryan Day retooled the defensive coaching staff after Ohio State hired him to replace Meyer, out went the undying reliance on press man coverage.  He tabbed Jeff Hafley, a seven-year assistant in the NFL, as the co-defensive coordinator and put him in charge of the secondary. He also hired Matt Barnes, plucking him from Maryland to become the special teams coordinator and assistant secondary coach.
"Plus, the way that the game has developed, you see all of these crossers and pick routes and we can't just let our guys go in there and just get knocked around the whole game either. We've got to be able to mix it up."– Jeff Hafley
With them came different thoughts on how to successfully put together a defensive backfield. Though Hafley believes press man coverage has a use in college football, he doesn't believe in the complete reliance on it, meaning the cornerbacks' identity from the past half-decade will change.
"I think that we are still going to press people," Hafley said. "I totally believe in pressing, especially in man situations, especially with some of the guys that we have that are really long and very talented. But I just think that you have to mix things up. I think you have to give corners the ability to zone off and be able to play off the quarterback to try and go make some plays rather than just be in man the whole time."
In the past, even when offenses began to pick up yards through the air versus the Buckeyes, the defensive coaches rarely wavered, often sticking exclusively to press man coverage.
Such dependence on that style of play led to a healthy assembly line of cornerbacks who went on to play in the NFL. Marshon Lattimore, Gareon Conley, Bradley Roby, Eli Apple and Denzel Ward became first-round picks under Coombs. Their experience and film in Ohio State's system aided their draft stock because the press man philosophy relied heavily on high-level play from cornerbacks.
To Hafley, though, varying up coverages will both lead to more turnovers and benefit the Buckeyes against ever-evolving offenses.
"I also think you also get tired playing man the whole entire game, which you have to protect those guys sometimes and mix it up," Hafley said. "You've got to make the quarterbacks think because what I think what you'll see, most of you guys understand, most of your interceptions in man coverage come from pressure, tipped balls. In zone coverage, you give a guy a chance to read the quarterback, kind of see routes, anticipate, break and go get the football."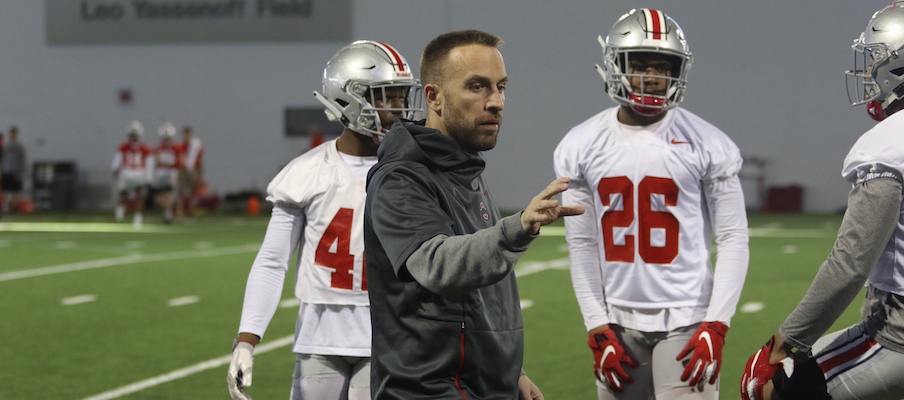 Ohio State managed 11 interceptions last season, as Shaun Wade led the team with three picks. The three other interceptions by cornerbacks came from Kendall Sheffield (two) and Damon Arnette (one).
The Buckeyes ranked outside of the top 40 in interceptions in the Football Bowl Subdivision for the past two years, though they were fourth in the nation with 21 picks – boosted by seven from Malik Hooker, four from Conley and four from Lattimore – in 2016.
Jeff Okudah said Ohio State's newly implemented defensive style "definitely" allows for cornerbacks to make more plays on the ball.
"As a unit, we're trying to strive to get 15 interceptions this year, I ain't going to lie to you," Wade said in March. "As my personal goal, get a couple interceptions, get a couple PBU's, but as a unit, we're trying to strive to be great. Be BIA again."
Being "Best In America," as the Ohio State cornerbacks were coined a few years ago, no longer entails a pure press man identity.
Though Hafley's group aims for a similarly high level of production, the new coaching staff wants to force offenses to guess.
"As far as the cornerbacks, it's zone in some scenarios, but it's also man," Okudah said this spring. "You get a zone concept with some man in there. I feel like it's a pretty good balance as far as what we're trying to do."
Hafley hasn't coached college football since 2011, when he served as Greg Schiano's secondary coach at Rutgers. But with the ways college football offenses have changed, he sees the variance in coverage as a necessity.
"The way that the game has developed, you see all of these crossers and pick routes and we can't just let our guys go in there and just get knocked around the whole game either," Hafley said. "We've got to be able to mix it up."