No college football coach ever wants to say anything outlandish in June. They don't want to make unnecessary headlines for public fodder during the summer.
Unsurprisingly, Ryan Day mostly stuck to the basics at his press conference on Wednesday, not revealing much new information. When discussing his thinking about Ohio State's roster, he didn't say anything particularly complicated or enlightening.
"I keep going to the fact that our really good players have to play good," he said. "Our veteran players have to play veteran."
Nothing hard to understand about that. But when Day began rattling off names, one stood out.
He mentioned K.J. Hill and the need for him to play well on third down, which made sense. The returning fifth-year senior will likely set the program's all-time catch record at some point this season. Then he referenced Chase Young, who he said has to get after the quarterback. Another one that didn't need much of an explanation, given his 10.5 sacks as a sophomore last season.
But the third and final name Day mentioned didn't lead the Buckeyes in any statistical categories in 2018. He's not on pace to set any program records. Given how Day and Jeff Hafley have talked about Damon Arnette, though, they expect to count on the redshirt senior to become an impact performer as a starting cornerback this fall
"Damon Arnette's got to show up in the pass game," Day said.
Arnette often gets lost in the shuffle.
For sensible reasons, everybody wants to talk about the potential of Jeff Okudah or the versatility and ascendance of Shaun Wade. Both of those rising juniors entered the program in 2017 as five-star cornerbacks, and they've seemingly been on the fast track to the NFL ever since. Okudah and Wade could become stars, both at the professional level, and they will continue to build their collegiate resumes this fall.
"He is made of the right stuff, he is tough, and he loves football. He might like football more than most people I have ever been around. You love guys like that."– Jeff Hafley on Damon Arnette
Arnette is a known commodity – at least, that's the widely held impression of him, considering he has played so frequently since enrolling in 2015.
No returning defender has started more games than Arnette. Not Chase Young. Not Jonathon Cooper. Not Tuf Borland. Not Jordan Fuller. Not Malik Harrison. No one. Given that he has started 25 games in his collegiate career and has taken more than 1,100 snaps in the past two years combined, Arnette has shown plenty on tape.
He has intercepted four passes and defended 14 passes as a Buckeye. He picked off a pass in the 2018 Big Ten championship game victory against Northwestern, and he snagged another in Ohio State's four-point win versus the Wildcats two years prior.
But Arnette also has played inconsistently, getting burned on a number of occasions last season, including on a 60-yard pass from Maryland's Tyrell Pigrome to Darryl Jones. In that same game, he was out of position on extended runs that led to Terrapin touchdowns.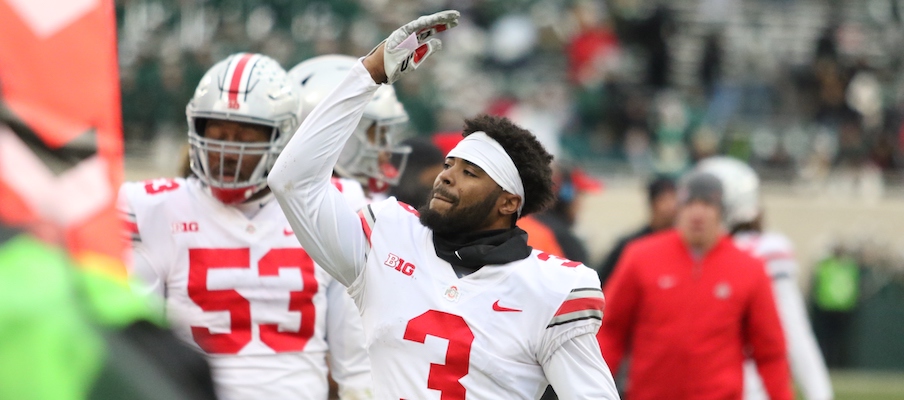 In the past three seasons, he's shown just about everything – interceptions, penalties, passes defended, missed tackles, lockdown coverage, receptions allowed and more – except consistency. At times in his Ohio State career, the 6-foot, 195-pound Floridian has appeared to be a lock to play in the NFL, with draft analysts noting they're keeping their eyes on him, but in other games, he has looked lost.
Jeff Hafley, who followed Kerry Coombs and Taver Johnston to become Arnette's third position coach in the past three years, said he took time to watch Arnette before he even accepted the job as Ohio State's co-defensive coordinator and secondary coach.
"I think I said it to you guys earlier, he's given everything that he has had, and he has not been any issue," Hafley said on Wednesday. "So, if I never had heard anything about him, and you guys had mentioned (inconsistent play, I would have said) what are you guys talking about? That is how I came in, I wanted to give everyone a clean slate and I did that. Until he proves otherwise, I am not going to think about it.
Consider Arnette's slate clean in Hafley's mind.
When he turned on the film as he ramped up his preparation for the job, Hafley said he saw Arnette as a "very talented player."
"He plays hard and has tremendous ability. Can cover, tough, physical, and then I saw the same things on the field," Hafley said. "He's a guy that loves football and a guy who works hard, a guy who gave it his all every single day, a guy who actually seemed like he enjoyed being out there. He played with confidence and has a ton of ability. There are some things that we need to work on, just like everybody else."
Arnette returned, at least in part, to learn from Hafley. He believes he's an NFL-quality cornerback, but he wants his new position coach to teach him about the intricacies of the league, having spent seven seasons in the pros coaching defensive backs.
In order to increase his draft stock this fall, Arnette's play to play performance must improve, and he knows that. When speaking to Eleven Warriors in February, Arnette specifically mentioned a "lack of consistency" that has plagued him.
He has one more Ohio State season remaining to show the strides in that area before taking the leap to the NFL.
"I think he had a really good spring. and I think he picked up on some of the techniques we are doing very well," Hafley said. "I think he is a very talented player and we have got to get him better in training camp and he has got to stay healthy. I think he has a chance to have a really good year. He is made of the right stuff, he is tough, and he loves football. He might like football more than most people I have ever been around. You love guys like that."
With Arnette, Wade, Okudah, Jordan Fuller and Brendon White back for the 2019 season, Hafley and Greg Mattison have options. They could play a variety of personnel groupings.
But given the way Day and Hafley talk about his importance, and how he was used in spring practice, Arnette doesn't have an option to not live up to his expectations. In order for the Buckeyes to have the level of production the revamped defensive coaching staff expects, he has to impact games in a consistent manner.