The Buckeyes led for the majority of the Peach Bowl, but fell just short in the 42-41 loss to Georgia.
Six freshmen saw playing time for the Buckeyes as they battled for four quarters before ultimately losing the Peach Bowl. Dallan Hayden and Sonny Styles were the freshmen who played the biggest roles in the New Year's Eve battle.
Ryan Day called on Hayden to make his first start of the season. He played 33 offensive snaps against the Bulldogs, tripling the 11 snaps he was given against Michigan, and finished the game with nine carries for 44 yards. The running back from Memphis was also used as a blocker on Ohio State's last five kickoff returns.  
Given the opportunity to play 38 overall snaps, Styles recorded two tackles in his first postseason game with the Buckeyes, both of which came on kickoff coverage. The five-star defensive back from Pickerington Central played 12 snaps on defense and was on the field for every Ohio State, kickoff, kickoff return, punt return and PAT/FG block team. 
Rest of the class
Jyaire Brown took the field at cornerback for the final snap of the game.

Caden Curry was on the field for every kickoff (8), FG/PAT (8), kickoff return (8) and punt return (2).
Jayden Fielding had eight kickoffs with six being touchbacks.
C.J. Hicks participated as a blocker on seven kickoff returns.
18 of Ohio State's 21 scholarship freshmen in the 2022 class were given a chance to play in at least one game. Nine total freshmen did not take redshirts: Curry, Fielding, Hicks, Styles, Hayden, Brown, Kye Stokes, Kojo Antwi and Kaleb Brown.
The 2022 class closes its freshman season with an 11–2 record.
Class of 2022 Tracker

| NAME | POS | DEBUT | GEORGIA STATS | GP | SEASON STATS |
| --- | --- | --- | --- | --- | --- |
| CADEN CURRY | DE | Notre Dame | Special teams | 13 | 14 tackles, 1.5 TFL (6 yards), 0.5 sack |
| JAYDEN FIELDING | K | Notre Dame | 8 kickoffs, 6 touchbacks | 13 | 97 kickoffs, 40 touchbacks; 1 tackle |
| C.J. HICKS | LB | Arkansas State | Special teams | 12 | 5 tackles |
| SONNY STYLES | S | Arkansas State | 2 tackles | 12 | 10 tackles, 1 TFL (2 yards) |
| DALLAN HAYDEN | RB | Arkansas State | 9 rushes, 44 yards | 10 | 111 rushes, 554 yards, 5 TD; 4 catches, 23 yards |
| JYAIRE BROWN | CB | Arkansas State | 1 defensive snap | 10 | 8 tackles, 1 FF, 1 PBU |
| KYE STOKES | S | Arkansas State |   | 9 | 12 tackles, 1 TFL (4 yards), 1 FF |
| KOJO ANTWI | WR | Toledo |   | 5 | 13 offensive snaps |
| KALEB BROWN | WR | Toledo |   | 5 | 1 catch, 5 yards |
| TEGRA TSHABOLA | OL | Arkansas State |   | 4 | 52 offensive snaps |
| RYAN TURNER | CB | Toledo |   | 4 | 1 tackle, 1 sack (6 yards), 1 TFL (6 yards) |
| KENYATTA JACKSON | DE | Arkansas State |   | 3 | 2 tackles, 1 TFL (1 yard) |
| HERO KANU | DT | Arkansas State |   | 3 | 19 defensive snaps |
| DEVIN BROWN | QB | Toledo |   | 2 | 1 rush, 1 yard |
| TC CAFFEY | RB | Toledo | Unavailable (injury) | 2 | 10 rushes, 66 yards, 1 TD |
| BENNETT CHRISTIAN | TE | Toledo |   | 2 | 11 offensive snaps |
| KYION GRAYES | WR | Toledo |   | 2 | 1 catch, 2 yards |
| GABE POWERS | LB | Toledo |   | 2 | Special team snaps |
| OMARI ABOR | DE | Arkansas State |   | 1 |   |
| GEORGE FITZPATRICK | OL | Indiana |   | 1 | 9 offensive snaps |
| CALEB BURTON | WR |   |   |   |   |
| AVERY HENRY | OL |   |   |   |   |
| CARSON HINZMAN | OL |   |   |   |   |
(Note: The table does not include freshman walk-ons who did not play this season.)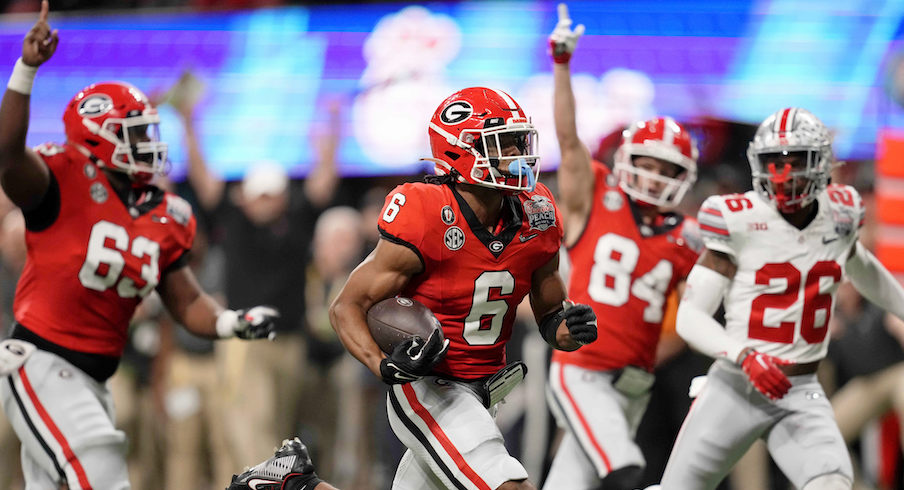 #1 Georgia 42, #4 Ohio State 41
Dec. 31, 2022 • Mercedes-Benz Stadium • Atlanta, GA