Going into the 2022 season, Ohio State didn't shy away from setting high expectations for Jim Knowles' first year.
At Big Ten Media Days, Ryan Day said he thought the Buckeyes should have a top-10 defense this year. A few weeks later, Knowles doubled down on those comments, saying he thought Ohio State should have a top-five defense. Teradja Mitchell went even further, saying he thought Ohio State's defense "should be aiming for No. 1."
For most of the season, Ohio State came close to backing up those expectations. The Buckeyes held their opponents to averages of just 15.6 points per game and 271.5 yards per game in their first 10 games of the year – numbers that would have both ranked in the top seven nationally if they had held up for Ohio State's final three games.
In the big games at the end of the season that truly mattered, however, Ohio State's defense didn't come close to meeting those expectations, and the Buckeyes fell short of achieving all of their major goals once again as a result.
After giving up 45 points on 530 yards to Michigan in the final game of the regular season, Ohio State gave up 42 points on 533 yards to Georgia in Saturday night's Peach Bowl, resulting in a second consecutive loss to end the 2022 season.
For the second game in a row, Ohio State gave up a program-worst number of yards per play, as Georgia averaged 8.88 yards per play on 60 plays after Michigan averaged 8.83 yards per play on the same number of plays in the Buckeyes' previous contest.
Explosive plays killed the Buckeyes once again as Ohio State gave up 10 plays of at least 20 yards to the Bulldogs, including four plays of 35 yards or more.
"If we're going to win these games, we can't give up those big explosive plays," Ryan Day said during his postgame press conference. "They're hard to come back from."
Ohio State's defense particularly struggled in the first half, in which the Buckeyes allowed 24 points and 314 yards on just 32 plays. The Buckeyes' halftime adjustments worked in the third quarter, in which Ohio State held Georgia scoreless and to only 15 yards on its first three possessions of the second half. With the game on the line in the fourth quarter, however, the Buckeyes gave up three straight scoring drives.
The Buckeyes held Georgia to a field goal on their opening possession of the fourth quarter, but the dam broke on the Bulldogs' next two drives. Arian Smith scored a 76-yard touchdown when Lathan Ransom fell down in coverage to make it a one-score game. Then, after Ohio State settled for the field goal on its subsequent series to keep it a one-score game, UGA drove 72 yards down the field on five plays, as Stetson Bennett connected with Kearis Jackson on a 35-yard pass and followed that up with the game-winning 10-yard touchdown toss to AD Mitchell two plays later.
And just like that ... WE'RE ALL TIED UP#CFBPlayoff pic.twitter.com/1Z1XZAWcdP

— ESPN (@espn) January 1, 2023
While Ohio State's offense was excellent for much of the game, scoring more points (41) than anyone had against Georgia all year on 467 yards, the Buckeyes' defense wasn't able to get the job done when the game was on the line. Knowles said that falls on him.
"Bottom line, it comes down to execution, and we didn't get it done in the fourth quarter defensively," Knowles said. "And it's up to me now to spend a lot of dark nights figuring out (why that happened). It's not the players, it's on me to put them in the right positions, and when you don't get it done, you can always look at it and look at a call here or there and say, 'Boy, I wish I was in a different call.'"
Ohio State was never expected to be as dominant defensively in its final games of the year as it was for most of the regular season, when the Buckeyes largely beat up on bad offenses. Georgia and Michigan ranked in the top 10 this year in points scored per game, so it stands to reason that they were the offenses that had the most success against the Buckeyes.
Still, the Buckeyes allowed the Bulldogs and Wolverines to score and gain yards above their season averages. In the games where Ohio State was supposed to rise to the occasion and play its best football, the Buckeyes' defense got exposed rather than elevating its game to a higher level.
Why the defense faltered in both of those games wasn't necessarily for the same reasons. Knowles said the Buckeyes utilized a less aggressive game plan against Georgia than against Michigan; it just didn't work the way it was supposed to.
"We played defense to prevent the big play," Knowles said. "We didn't do much blitzing tonight. We really didn't. We were pretty basic, giving our guys a chance to play. So it wasn't the aggressiveness. We just missed on a couple."
"If we're going to win these games, we can't give up those big explosive plays." – Ryan Day
There also always should have been an expectation of some growing pains in Knowles' first season at Ohio State. His track record at previous schools shows that his defensive transformations have typically taken multiple years to yield their desired results, and multiple returning Buckeye defenders said after the game that they expect another offseason with Knowles to lead to better results.
"I think with the guys who are coming back, too, and having just another year in the defense will make a big difference," said defensive end Jack Sawyer.
That said, Knowles is being paid $1.9 million a year for making Ohio State's defense one of the best in the country, and neither he nor Day nor any other Buckeyes made an effort to lower that expectation before the season began. Ohio State's defense didn't meet that expectation when a trip to the Big Ten Championship Game was on the line against Michigan and when a trip to the national championship game was on the line against Georgia, so Knowles knows it's on him to find answers so that the defense will play better in big games in the future.
"Like I said from the beginning, at Ohio State, the expectations are different. That's why we get paid the way we do. That's why we get the resources that we do. The expectations are different," Knowles said. "So, do I think we played our best? I don't know, I'll have to watch the film, but I know we gave up too many plays. And that's my job to fix that and not let that happen. Didn't get it done tonight."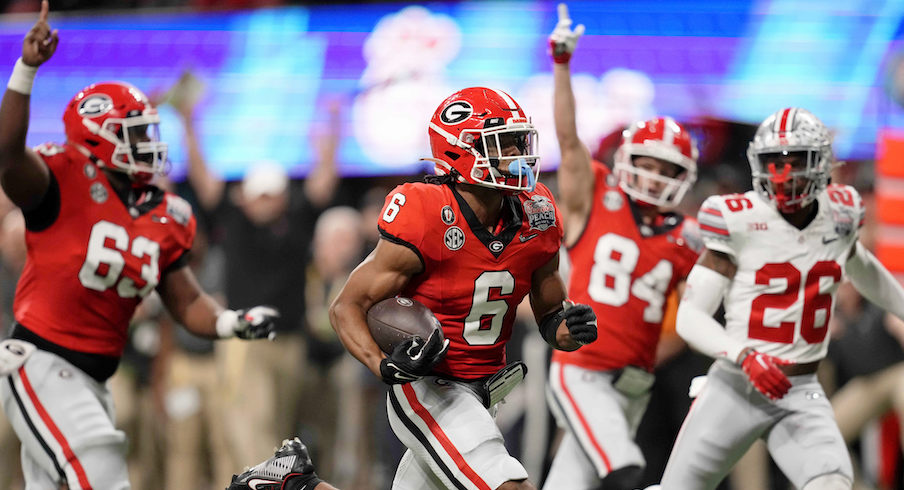 #1 Georgia 42, #4 Ohio State 41
Dec. 31, 2022 • Mercedes-Benz Stadium • Atlanta, GA