In a sense, it's understandable why an Ohio State fan would be shocked/upset/angry/etc. at the outcome of the Peach Bowl. The Buckeyes had the defending champs on the ropes for most of the game, and Georgia's last minute comeback to win is an emotional backbreaker.
If, of course, you didn't already steel yourself for the inevitable defensive collapse by Ohio State's defense.
Jim Knowles makes a lot (a LOT) of money to be at least competent at his job, and while Rome may not have been built in a day, a calendar year should've been enough to improve a defense enough to get just one single stop at the end of a gigantic game. Unsurprisingly, by now anyway, it was not. Until proven otherwise, this is a defense that will prevent the Buckeyes from beating Michigan, winning the Big Ten, and winning important games of all kinds.
They will blow 4th quarter leads, they will give up gigantic plays, they will fall flat on their faces. The long and short of it is that Ohio State's loss to Georgia, specifically due to a defensive collapse, was the inevitable outcome of this game from the moment the ball was kicked off.
Accepting this will save you a lot of grief.
THE TEAM
Love my brothers & coaches

— Javontae Jean-Baptiste (@Javontae_JB) January 1, 2023
Really wish things couldve ended differently .. sometimes giving it your all only gives you a chance.

A special thank you to Buckeye Nation and the ones who gave us unwavering support throughout this journey. Its been a pleasure. #GoBucks

— Teradja Mitchell (@teeraaw__) January 1, 2023
Proud of the guys! Proud to be your coach! Second to none. TTWFO! pic.twitter.com/zksV8CbKuc

— Brian Hartline (@brianhartline) January 1, 2023
THE ALUMNI
Guess Ill go be sad on cod

— Johnnie L. Dixon III (@YoungKing_JD5) January 1, 2023
I had so many SEC jokes that I've been saving this bowl season till after the game. Now I gotta tuck them all away. What a waste.

— Chimdi Chekwa (@ChimChek) January 1, 2023
Sending love to all them on the field it was a fight til the end both sides showed heart

— Eli Apple (@EliApple) January 1, 2023
Sucks. All of it sucks. Good for Georgia. Congrats. #GoFrogs

— Dustin Fox (@DustinFox37) January 1, 2023
I cant even be mad. Both team played their asses off. Hats off to the Dawgs.. #georgiavsosu

— Larry Grant (@LarryGrant95) January 1, 2023
Something has to change on defense. No reason those guys put up those points and effort and we lose.

— Maurice Clarett (@ReeseClarett13) January 1, 2023
My dawg missed that kick like his controller died Im sick Ohio St didnt deserve that ending wow

— Dre'Mont Jones (@TheOfficial_80) January 1, 2023
Look, respectfully, nobody cares when Georgia has the ball. I am simply NOT interested. Ohio State offense vs. Georgia D is what we're all here to see, and pretending anything that happens when UGA has the ball matters is dumb. It's not. Nobody cares. These points don't count.

— Mark Titus (@clubtrillion) January 1, 2023
THE REST
C.J. Stroud left it on the field in his final game of the season #CFBPlayoff pic.twitter.com/Ylve2KzSY2

— SportsCenter (@SportsCenter) January 1, 2023
My two positive take aways, not that anyone cares. The OL played fantastic all night vs the GA front. Allowed Cj tons of time. Legacy game for CJ, just incredible. What a damn shame these guys lost. A couple points away from a national championship IMO. I feel for those players.

— Jake ballard (@TheJakeBallard) January 1, 2023
I am proud of my guys. I cant say enough about how we played. We kept swinging and kept fighting. Im blessed to have a coach like Coach Day and blessed to have the teammates I have.@CJ7STROUD #GoBucks pic.twitter.com/k1d7iqD2f0

— Ohio State Buckeyes (@OhioStAthletics) January 1, 2023
View of the missed fg from the media holding tank under the stadium. pic.twitter.com/TfHQcOyQ5o

— Ben Hartsock (@BenHartsock) January 1, 2023
Ryan Day spends a moment with his family outside of the locker room pic.twitter.com/nih5UiqGiW

— Caroline Rice (@carolinerice19) January 1, 2023
Buckeyes had 14-poing lead three times. Couldn't keep it. Not a good night for Jim Knowles.

— Rob Oller (@rollerCD) January 1, 2023
Watching Ohio States kicker shank the game-winning kick against Georgia right at midnight on New Years Eve. pic.twitter.com/77qZRaZdIv

— Proton Don (@proton_don) January 1, 2023
As a head coach, @OhioStateFBs #RyanDay is 41-0 when leading after the 3rd quarter. #CFPSemifinal #OSUvsGA #Buckeye

— SportSource Analytics (@SportSourceA) January 1, 2023
OHIO STATE STRIKES FIRST! CJ Stroud to Marvin Harrison Jr for the 31 yard TD! #PeachBowl pic.twitter.com/reBVIh2qvQ

— @ (@FTBeard7) January 1, 2023
Lord have mercy pic.twitter.com/Jg7dlyJ15u

— Rob Oller (@rollerCD) January 1, 2023
HEY, AT LEAST MICHIGAN LOST!
The crowd just went wild again after Quentin Johnstons 76-yard touchdown for TCU. pic.twitter.com/q5vFpCBp9A

— Dan Hope (@Dan_Hope) January 1, 2023
he's going through it pic.twitter.com/DxOpOdjVFj

— CJ Fogler AKA Perc70 #BlackLivesMatter (@cjzero) January 1, 2023
And... that's it! No more football for eight months, when we get to see if the Buckeyes learned anything from a season of shooting themselves in the foot.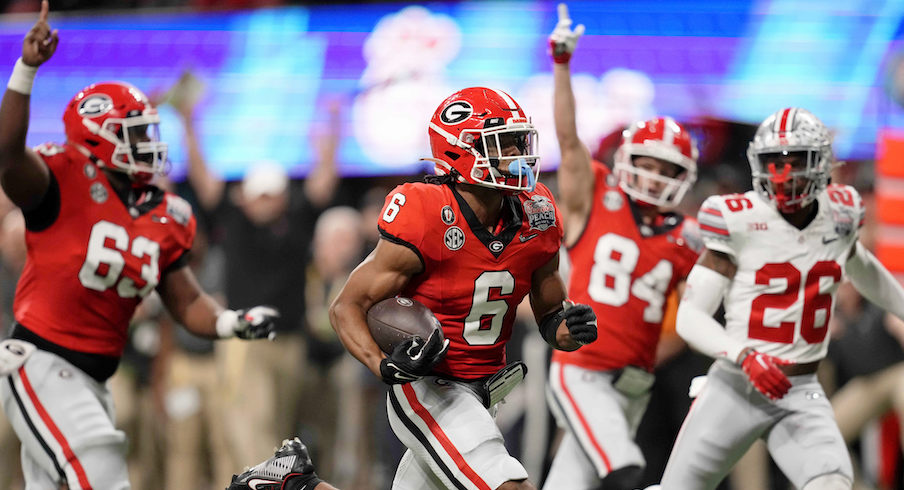 #1 Georgia 42, #4 Ohio State 41
Dec. 31, 2022 • Mercedes-Benz Stadium • Atlanta, GA