Ohio State's season ended in heartbreaking fashion as the clock struck midnight on 2022.
Despite leading for most of the game, the Buckeyes suffered a 42-41 loss to Georgia after being outscored 18-3 in the fourth quarter, with Georgia scoring the game-winning touchdown on a 10-yard pass from Stetson Bennett to AD Mitchell with just 54 seconds remaining and Noah Ruggles missing a potential game-winning 50-yard field goal just as 2022 became 2023.
 
Q1
Q2
Q3
Q4
 

#4 

Ohio State
7
21
10
3
41

#1

 GEORGIA
7
17
0
18
42
Neither team scored points on their opening possessions. The Buckeyes were forced to punt on their first drive after C.J. Stroud was sacked on third down on an unblocked blitz by Georgia linebacker Smael Mondon Jr. Georgia drove inside Ohio State's 30-yard line on its opening series, but settled for a 47-yard field goal attempt that Jack Podlesny missed after a third-down tackle for loss by Denzel Burke on a Bennett run.
The Buckeyes scored the first seven points of the game on their next drive when C.J. Stroud connected with Marvin Harrison Jr. on a 31-yard touchdown pass. Stroud patiently allowed the play to develop and bought time with his feet before throwing an accurate strike to Harrison in the end zone on the run.
OHIO STATE STRIKES FIRST

C.J. Stroud Marvin Harrison Jr. for 6 pic.twitter.com/MsWHE3DM1V

— ESPN (@espn) January 1, 2023
Georgia tied the game up on the next possession with an eight-play, 75-yard drive that was capped off by a 25-yard touchdown catch-and-run by Kenny McIntosh off a screen pass.
The Buckeyes retook the lead on their next possession with an 11-play, 75-yard drive that Miyan Williams capped off with a powerful 2-yard run into the end zone. On Georgia's very next play, Bennett threw the ball right to Steele Chambers, who picked it off for the game's first takeaway.
That gave Ohio State the ball back at the 30-yard line, and the Buckeyes took advantage of the prime field position when Stroud bought time with his feet again before throwing a 16-yard pass to Harrison for their second touchdown connection of the night.
CJ STROUD! WHAT A PLAY! #PeachBowl pic.twitter.com/C3183bRouI

— @ (@FTBeard7) January 1, 2023
Georgia promptly responded on its next two possessions. First, Kendall Milton ran for an 11-yard touchdown after a 47-yard catch by Arian Smith, who found single coverage against Tommy Eichenberg in a play that brought flashbacks to DeVonta Smith's catch against Tuf Borland in Ohio State's 2020 CFP national championship game loss.
Stetson Bennett deep to Arian Smith for 47 yards! #Georgia #PeachBowl pic.twitter.com/WU0AapAdoz

— @ (@FTBeard7) January 1, 2023
On Georgia's next drive, McIntosh ran for a 52-yard gain (which would have been a 62-yard touchdown if he hadn't been tripped up by the turf monster) after Georgia's offensive line gave him a huge role and Ronnie Hickman missed a tackle in space. Bennett finished off the drive with a 3-yard touchdown run to tie the game.
Ohio State took a risk by going for it on 4th-and-1 from its own 35-yard line on its subsequent possession, and that gamble nearly paid off as Stroud ran for a gain of eight yards. But that conversion was negated by Ohio State's first penalty of the night, an illegal motion flag against Mitch Rossi, and the Buckeyes were forced to punt for a second straight possession.
Georgia took its first lead of the game with 1:44 to play in the second quarter on a 31-yard field goal by Podlesny after driving into the red zone for a third straight possession.
The Buckeyes would end up taking a 4-point lead into halftime, though, after Stroud connected with Xavier Johnson for a 37-yard touchdown with 49 seconds left to play in the second quarter. Lined up at running back, Johnson spun around to catch a deep pass out of the backfield and then made a defender miss with a spin move on his way into the end zone.
Ohio State scores in 55 seconds! CJ Stroud to Xavier Johnson for the 37 yard TD! #PeachBowl pic.twitter.com/VCmIXHvnwP

— @ (@FTBeard7) January 1, 2023
Georgia opted to kneel out the first-half clock facing 3rd-and-10 with 40 seconds left to play before halftime, and Ohio State's defense forced its first punt of the game with a 3-and-out on the Bulldogs' opening defensive series.
The Buckeyes extended their lead back to two scores on their next possession with a six-play, 70-yard drive capped off by a 10-yard touchdown connection from Stroud to Egbuka.
Ohio State's defense forced a second straight punt on Georgia's next series, but a 52-yard punt backed the Buckeyes up to their own 10-yard line. Ohio State lost yardage from there before punting, and a pair of missed tackles on Kearis Jackson's punt return gave Georgia the ball back at the 32-yard line. But the Buckeye defense held firm to force a 52-yard field goal attempt by Podlesny, which he missed wide right to keep OSU up 11.
That gave the Buckeyes a chance to take a three-score lead before the end of the third quarter, but they ended up settling for a 25-yard Noah Ruggles field goal on 4th-and-7. Georgia was initially called for targeting on the previous play after a hard hit by Bulldog safety Javon Bullard knocked Harrison out of the game, but the targeting penalty was rescinded following replay review.
After allowing Georgia to drive back into the red zone on its next possession, Ohio State nearly came up with a huge 4th-and-6 stop on a catch-and-run by Brock Bowers. Following a replay review, it was determined Bowers had gained a first down. But the Bulldogs lost 10 yards on a fumble two plays later and ended up having to settle for a 31-yard field goal, keeping it a two-score game.
| OHIO STATE | METRIC | GEORGIA |
| --- | --- | --- |
| 467 | TOTAL YARDS | 533 |
| 119 | RUSHING YARDS | 135 |
| 32 | RUSHING ATTEMPTS | 26 |
| 3.7 | AVERAGE per RUSH | 5.2 |
| 1 | RUSHING TOUCHDOWNS | 2 |
| 348 | PASSING YARDS | 398 |
| 23-34 | COMPLETIONS–ATTEMPTS | 23-34 |
| 15.1 | AVERAGE per COMPLETION | 17.3 |
| 4 | PASSING TOUCHDOWNS | 3 |
| 24 | 1st DOWNS | 21 |
| 66 | TOTAL PLAYS | 60 |
| 7.1 | YARDS PER PLAY | 8.9 |
| 5-5 | RED ZONE | 6-6 |
| 4-12 | third down conv | 2-10 |
| 4-24 | PENALTIES | 4-45 |
| 32:36 | POSSESSION | 27:24 |
Held to a 3-and-out on its next possession, Ohio State rolled the dice by attempting the same fake punt it planned to run against Michigan with Mason Arnold snapping the ball to Rossi. The gamble would have worked, as the snap was executed properly and Rossi converted a first down, but Georgia called a timeout just before the play, forcing Ohio State to actually punt the ball away.
Lathan Ransom fell down in coverage on the very next play, leaving Smith wide open for a 76-yard touchdown catch. Georgia went for two after the touchdown and Bennett completed a pass to Ladd McConkey to cut Ohio State's lead to three with 8:41 to play.
Ohio State drove into Georgia territory on its subsequent possession but was forced to settle for a 48-yard field goal, which Noah Ruggles made for the longest field goal of his Ohio State career, after a 12-yard sack by Georgia linebacker Jamon Dumas-Johnson.
That allowed the Bulldogs to win the game with a touchdown, and that's exactly what they did, driving 72 yards in five plays to pull ahead on the scoreboard by one point with 54 seconds remaining. Stroud drove the Buckeyes into field goal territory on the subsequent possession, but Ruggles was unable to make the 50-yard field goal Ohio State needed to win the game.
Ohio State ends the season with an 11-2 record after losing its final two games of the season while Georgia advances to the CFP national championship game to play TCU.
Game Notes
11 Ohio State players were unavailable for Saturday's game, including TreVeyon Henderson and Jaxon Smith-Njigba. Gee Scott Jr. also did not play after being listed as a game-time decision.
Cade Stover was taken to the hospital for precautionary reasons after suffering back spasms following an attempted hurdle late in the first quarter.
Dallan Hayden made his first career start at running back.
College Football Hall of Fame inductees Mike Doss (Ohio State) and Champ Bailey (Georgia) served as honorary captains for the pregame coin toss. Stroud, Stover, Eichenberg and Kamryn Babb were Ohio State's game captains.
2023 Ohio State signees Jelani Thurman, Jermaine Mathews and Will Smith Jr. were all on the sidelines with the Buckeyes for Saturday night's game.
A Mercedes-Benz Stadium record crowd of 79,330 people was in attendance for the game.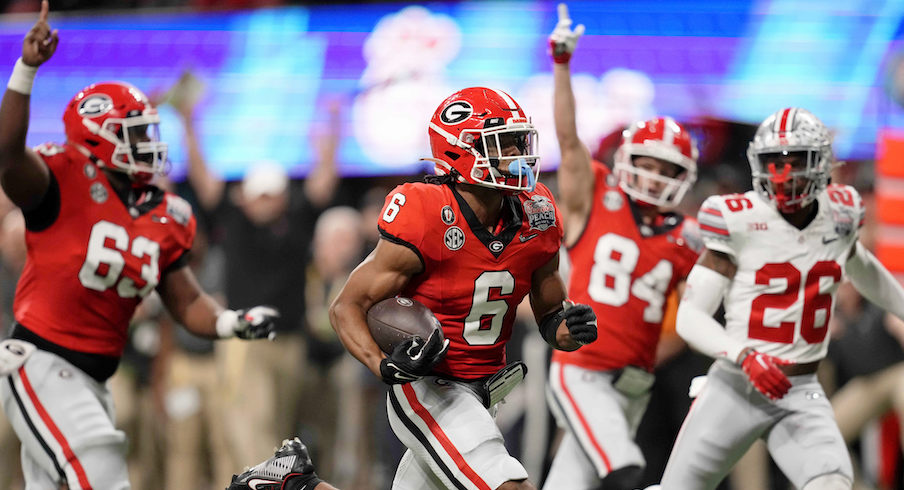 #1 Georgia 42, #4 Ohio State 41
Dec. 31, 2022 • Mercedes-Benz Stadium • Atlanta, GA