Two points.
That's the margin that separated Ohio State from a berth in next week's national championship game. The Buckeyes took a 14-point lead into the fourth quarter against Georgia, but it wasn't enough to hold off a Bulldog comeback that ended in a 42-41 win for the defending national champions in Saturday's College Football Playoff semifinal at the Peach Bowl.
For those looking to direct the blame in any particular direction, though, you can't point at C.J. Stroud, who may have played in the gutsiest game in what is likely his last in an Ohio State uniform. Stroud finished with 348 passing yards and four touchdowns on 23-for-34 passing, and if you take out the impact of the four sacks he absorbed, Stroud also rushed for 70 yards on eight attempts.
Stroud gave the Buckeyes a chance to win it in the final seconds after a 27-yard scramble put Ohio State in field-goal range, but the 50-yard attempt misfired and Georgia wound up the victor.
"The last drive, man, I seen how much time we had with timeouts, and I knew we could do it. I tried my hardest to get us down here," Stroud said. "I got to maybe split somebody else, make another move, just try to get a little more, but I tried my hardest. I think I left my heart out on that field. Of course, it's something that's heavy on the heart. It's going to be tough, but I'd rather -- I don't want to go out there with anybody else. I love my teammates so much. We put everything on the line, and I would never want to do it with anybody else."
Marvin Harrison Jr., who caught five passes for 106 yards and two touchdowns from Stroud in the first half alone, said his quarterback proved just how tough he is in a stellar performance at Mercedes-Benz Stadium.
"I mean, If he's not the best player in the country right now, then I don't know who is," Harrison said. "I think he gave it his all. (People said) he can't run or he's not tough enough to run. I think he showed that today, like he can do anything he wants on the football field. And he's such a great leader for this team. And I'm definitely gonna miss him, personally. This whole team's gonna miss him. He's just such a great player. Blessed to be able to play a whole year with him. I got to start with him this year and seeing him last year too with that Rose Bowl, I'm just definitely blessed to play with a quarterback like him and also have a friend, at the end of the day. On and off the field."
Harrison didn't play at all during Georgia's 18-3 run in the fourth quarter, though, as a hard hit in the end zone left him in concussion protocol on the sideline for the biggest moments of the game. Harrison said he fought to return to the action, but ultimately honored the training staff's decision to hold him out.
"Of course (I tried to go back in). I mean, I did my best. I wanted to be out there with my team," Harrison said. "Like I said, I respect the trainer's decision. At the end of the day they're just looking out for my health. So I definitely tried to fight. … Obviously they knew I wanted to go back into the game."
Ryan Day said Harrison's absence in the final 15 minutes "absolutely" had an impact on the final result of the contest.
"To say that losing Marv didn't have an impact on the game, it absolutely did," Day said. "What this guy did and the way he competed in the second half with all those things coming at him, I just can't say enough. I'm so proud of the way he played."
Jim Knowles' Ohio State defense surrendered more than 40 points for the second straight game to close out the season with two losses. Michigan scored 45 on the Buckeyes and Georgia put up 42, and the Bulldogs finished with a whopping 533 yards of total offense – the most Ohio State gave up all season.
Zach Harrison said the point total was unacceptable, although he was still proud of some of his unit's work in the loss.
"Yeah. 42 points, we can't let up 42 points in a game like that, especially with the offense playing the way it is, but as C.J. said, the plan was to go out there and let it all out, and we definitely did that," Zach Harrison said. "You can't say we didn't play hard. There's definitely some plays we definitely could have went back, could have executed better on, could have made tackles and been in a better position. But we played hard, and I'm proud of my guys, and I love my guys for doing that."
As for the missed field goal in the waning seconds, Steele Chambers said Noah Ruggles shouldn't shoulder the blame for the errant 50-yarder. In a game in which a host of close calls might have swayed things one way or another, Chambers said the whole team must share in the accountability.
"Can't put it on him. There's so many other times in the game whenever we could have executed better, could have done our jobs better," Chambers said. "It's not just one player. So anyone that says he lost the game is wrong. I mean, he's a part of our brotherhood too. Hell of a player. Kept us in the game because he was making kicks all day."
Chambers, who has already stated he'll be back with the Buckeyes for the 2023 season, said he stayed out on the field to watch Georgia celebrate a victory in a game that Ohio State seemed poised to win for several stretches.
"I stayed out, I wanted to watch the celebration. Because I mean, I feel like it should have been us," Chambers said. "But I mean, it's just a tight brotherhood. I would die for any one of those guys in the locker room."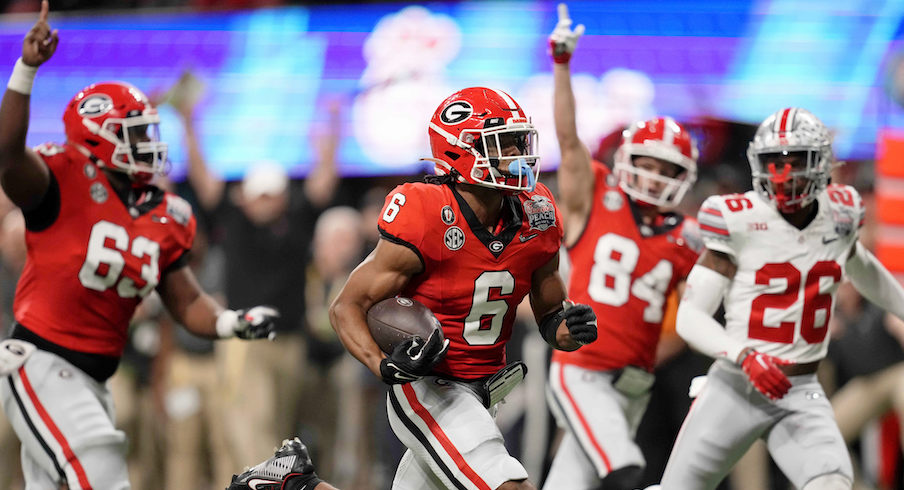 #1 Georgia 42, #4 Ohio State 41
Dec. 31, 2022 • Mercedes-Benz Stadium • Atlanta, GA