So close, yet so far away, it seems.
In order to beat Georgia and upset the No. 1 team in the College Football Playoff semifinal Saturday night, Ohio State had to play its best game of the season. It did, at least offensively, but the Buckeyes came up just short in the end, losing a heartbreaker to the top-ranked Bulldogs, 42-41.
It was a devastating way to end the season, one that included Ohio State losing its final two games to close out the year–literally, as a clock struck midnight as soon as Noah Ruggles missed a potential game-winning field goal with three seconds remaining, turning the page to 2023 on the east coast.
Even in defeat, Ohio State has plenty to be proud if considering the type of game they had against the Bulldogs. Kirby Smart agrees.
"Really, I know you don't believe it, my heart goes out to those guys because they played well enough to win," the Georgia head coach said of Ohio State's performance Saturday night.
C.J. Stroud had one of the best games of his career in his last game as a Buckeye. Whether it was with his arm or legs, the gunslinger was making plays all over the field, finishing with 348 passing yards and four touchdowns while completing 23 of 34 passes and also running for 34 yards.
"A lot of credit goes to them," Georgia head coach Kirby Smart said of Ohio State's performance in the Peach Bowl. "We tried man. We tried zone. We mixed it up. The most disappointing was the series before the half. They earned it most of the time, and we had some big stops.
"They've got really good playmakers and they got a guy that could throw the ball to them and got a really offensive line, and they can score points."
Score points, indeed, as the Buckeyes notch 41 points. The problem was that the defense allowed Georgia to score 42 points of its own.
Against Michigan, Ohio State attempted to run a fake punt but the ball was snapped to the wrong person, which was revealed after the game by Jim Harbaugh. Against Georgia, the Buckeyes attempted to run the same play. They did, and they got the first down. The problem: Smart called a timeout just before the play. Ohio State then punted and Georgia scored a 76-yard touchdown just one play later. A game-changing sequence.
"They just were not in their traditional formation," Smart said of calling a timeout. "A lot of teams carry that speed break. They come up the line quick. Everybody's lined up tight. And we've seen it in the SEC. A lot of teams carry it, and you try to practice it, but it's another thing when they actually do it and execute it. So it was one of those gut reactions that I didn't think that we had it lined up properly to stop it, so we called timeout."
Fake punt included, Ryan Day had one heckuva game. He certainly still has a lot to work to do in order to catch up to head coaches like Kirby Smart and Nick Saban, Day seems to be on the right track. Now, Ohio State must just come through and take care of business next time it is in the playoff because playing "well enough to win" only counts if the Buckeyes actually get the W.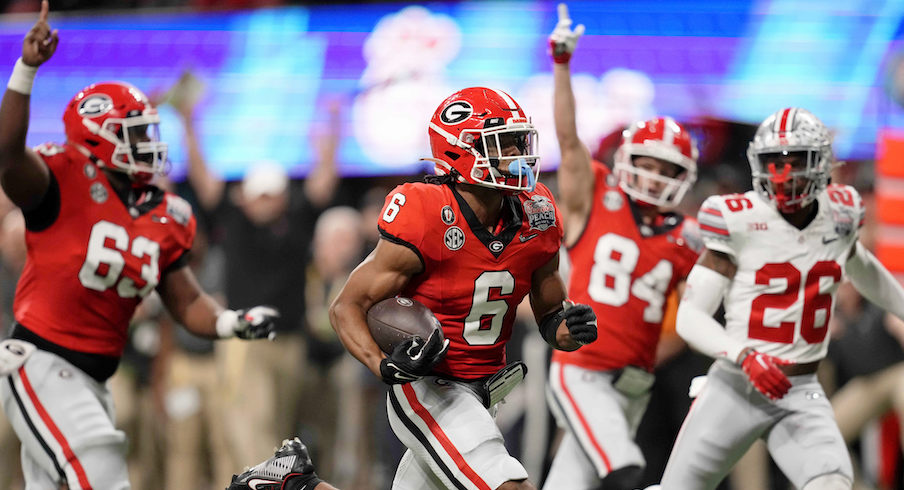 #1 Georgia 42, #4 Ohio State 41
Dec. 31, 2022 • Mercedes-Benz Stadium • Atlanta, GA