Ohio State's season ended in heartbreaking fashion Saturday.
With only a few seconds remaining in the Peach Bowl, Noah Ruggles' 50-yard game-winning field goal attempt sailed wide left, giving Georgia a 42-41 victory in the College Football Playoff semifinals.
Following the tough loss, Ryan Day, C.J. Stroud and Zach Harrison took questions from reporters in a postgame news conference. We took notes on everything he said below:
Ryan Day
Day said he was "proud of the way" his guys competed and that it was good for the younger guys who will come back next year to see what it takes to win in the College Football Playoff.
On Marvin Harrison Jr., Day said he was ruled out due to concussion protocol. He said his injury "absolutely" had an impact on the game.
Day on why he called a run play for Dallan Hayden after Stroud's big run: "Two timeouts left. They were in zero, so if you split one, you could come out the back end. Any couple of yards there would add to the field goal. That was the idea. "Didn't execute (the run play) as well as we would've liked to, but I wouldn't change that call." (Stroud interjected "great call" during the explanation). 
Day said losing Cade Stover early in the game sent Ohio State into a tailspin with a couple of groupings.
Day said he "couldn't be any prouder" of how C.J. Stroud performed tonight.
On the targeting call, "I was told it was not targeting. He didn't take a shot to the head. To which, to get a concussion and not get hit in the head ... I'd have to see a replay." 
On if he was proud of his team taking a shot, Day said "It doesn't mean anything if you don't win. That's what hurts the most. When you put that much work and time, and you're right there and you don't get the victory ... it hurts to our core. We're here to win, and it didn't happen. But guys were flying around and competing and we flew around. It just didn't happen." 
On the offensive game plan going into the Georgia game: "They're all good plays when you have good players. We worked hard. The work that was put in over the last month by C.J., the receivers, the O-Line, just the way that they worked, everybody had some input on this gameplan... We had 1,500 reps in practice to get ready for this game plan. There are some calls I absolutely want back."
On the defensive performance, Day said: "It's a team loss. I thought the defense played gritty at times and kept grinding. All we were talking about is swinging is hard as we can. We did give up explosive plays again and we talked about avoiding the explosive play ... But calling it for what it is, we can't give up those explosive plays and win these games."
C.J. Stroud
On the last drive, Stroud said he tried to "leave it all out there on the line." 
Stroud said he was at a "loss for words" after the loss. 
Stroud said he left "his heart out on the field and that it's going to be tough, but he wouldn't want to go out with anybody else" other than his teammates.
Stroud said "I think at the end of the day, we're going to let everything hang and I think we did that. There was time after time we kept swinging and kept fighting. Of course, you'll have some regrets ... but it's hard what we do." 
Stroud said Day's gameplan "was a great gameplan. Coach Day did a hell of a job" while also thanking various assistant coaches for their input on the offensive game plan. 
Stroud said "we definitely should have won the game."
On Ryan Day, Stroud said: "I definitely think we should've won the game. Coach Day did a helluva job. He keeps showing up," he said. "That's a man – a man in the arena. I wouldn't rather play with or for anyone else."
Zach Harrison 
On the defense's performance, Harrison said "We can't let up 42 points in a game like that, especially the way the offense was playing."
In addition to the three above, Steele Chambers, Emeka Egbuka and Julian Fleming also met with reporters following the game.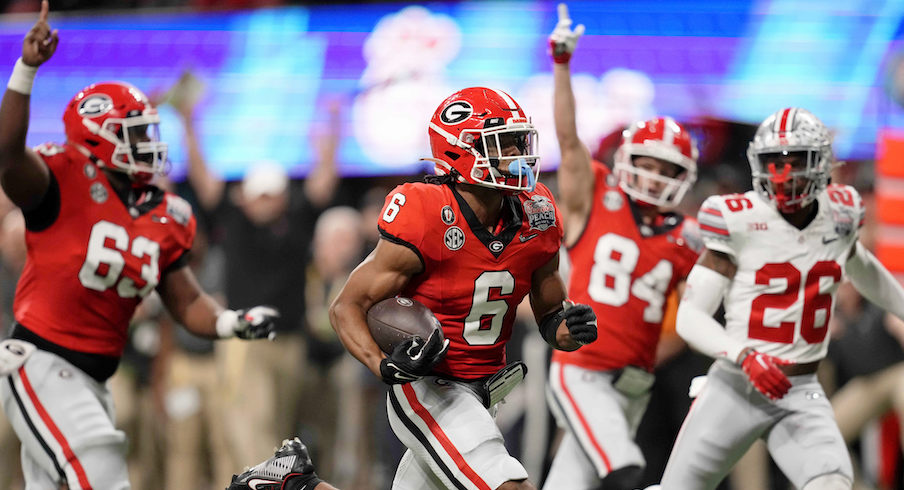 #1 Georgia 42, #4 Ohio State 41
Dec. 31, 2022 • Mercedes-Benz Stadium • Atlanta, GA