Ohio State rang in the new year by squandering a 38-24 fourth quarter lead, giving up an 18-3 blitz over the game's final 10 minutes and missing a 50-yard field goal as the clock struck midnight in a 42-41 loss to Georgia in a College Football Playoff semifinal. 
As Ryan Day promised, OSU came out swinging behind arguably C.J. Stroud's most impressive performance as a Buckeye but in the end, personnel losses, bad breaks and defensive shortcomings were too much for the signal-caller to overcome. 
Despite Ohio State's gritty performance, Georgia proved worthy of the winner's circle as it overcame two 14-point deficits, joining Michigan in exposing the Buckeye defense for game-changing big plays. 
The reality now is Day is a combined 2-5 versus Michigan and CFP opponents, his big investment in a defensive coordinator isn't enjoying early returns and the Buckeyes capped the 2022 season with two straight losses to finish 11-2. 
I think 99% of us can agree Ohio State's players left it all on the field last night and Day was more aggressive for the most part but overly celebrating moral victories would be an insult to the program's own standards. The tough reality is none of this team's three goals were met - win the conference, beat Michigan, win a national title. 
With that, let's get on to Five Things from a hard fought loss last night in the Peach Bowl. 
---
STROUD SHINES
I get some of the criticism C.J. Stroud endured as a Buckeye but last night was another reminder that for those griping that he didn't tuck and run enough, a huge chunk of that falls on his coach. 
Stroud played what I'd call his best game in scarlet and gray as he completed 23-of-34 passes for 348 yards a four touchdowns against zero picks while showing tremendous guile and awareness with his feet, particularly in the second half. 
His stat line showed 12 carries for 34 yards but among those numbers were four sacks for -36 yards. 
On either designed runs or scrambling when the pocket collapsed, Stroud ran for 71 yards on seven carries in the second half. He picked up seven crucial yards to keep OSU ahead of schedule on a first down run in the third quarter leading to a field goal and a 38-24 lead.
He ran for six yards on a 3rd-and-7 to set up the fake punt try in the fourth quarter that would've succeeded if not for Georgia being awarded at timeout just prior (?) to the snap. 
During the drive that gave Ohio State a 41-35 lead with 2:43 left in the game, meaning the Bulldogs would need a touchdown to win, Stroud ran for four yards on 1st-and-10, logged a ridiculous 17-yard run after sensing and spinning away from blindside pressure on a 2nd-and-6, and added five more on a zone read on a 1st-and-10. 
On Ohio State's last gasp after the Bulldogs went 72 yards on five plays to take a 42-41 lead, Stroud started the possession with a five-yard run before a clutch 27-yard scamper after seeing Georgia's man coverage had created a ton of room up the middle. The jaunt took Ohio State to within typical field goal range at the Georgia 31. Of course things didn't go well from there but if not for Stroud, there's no chance at a last-second field goal try. 
He was also nails with his arm as the numbers indicate but the story last night was his willingness and success running the football and also his ability to buy time in the pocket. Both of his touchdown tosses to Marvin Harrison Jr., for 31 and 16 yards respectively, showcased this as he evaded initial heavy pressure, navigated traffic and kept his eyes downfield, even directing Harrison to an open spot on one of the strikes. 
Hell of an effort from Stroud last night, haters be damned. 
DEFENSE DONE DID IT AGAIN 
It's honestly hard to believe Ohio State made the CFP with this defense. While it looked solid on paper through the first 10 games, the lack of competition was clearly a factor. 
The latest gut punch came as Jim Knowles' group allowed Stetson Bennett a career-high 398 passing yards. Eleven of Bennett's 23 completions went for at least 15 yards. 
In total, the Buckeyes allowed 10 plays of 20+ yards on the night, arguably none bigger than a 76-yard touchdown pass from Bennett to Arian Smith cutting Ohio State's lead to 38-35 with 8:41 left in the fourth quarter.
The play saw safety Lathan Ransom get tied up in his own footwork while in man-to-man coverage with what looked like zero help over the top in another example of Knowles playing more aggressive than necessary. Those examples over the last two games are too lengthy to list here but the result was Ohio State setting a new program-record for average yards per play allowed in a single game (8.88) after setting that same dubious record against Michigan, giving up 8.83 per play. Unacceptable. 
Maybe more problematic is this isn't just as simple as X's and O's. It's also an issue with Jimmys and Joes. This was a safety-driven defense with big holes at safety. This was a defense with shortcomings in playing man coverage yet Knowles dialed it up without help consistently. 
Yeah college football has changed and offenses can light it up but to give up 87 total points, over 1,000 yards, five touchdowns over 60 yards, damn near 40 points in the fourth quarters alone and generate one turnover over the last two games is collective defensive malpractice. Not sure how you come to any other conclusion. 
WHAT MIGHT HAVE BEEN 
For all the self-inflicted wounds last night, man Ohio State sure didn't catch many breaks. 
I already had no idea what targeting was and last night just reinforced it as Marvin Harrison Jr. somehow suffered a concussion without supposedly being hit in the head with a Georgia helmet on a vicious play by Javon Bullard. The fact it was initially ruled targeting but then overturned was something. Harrison of course was unguardable to that point with five grabs for 106 yards and two touchdowns. It's probably not a coincidence Stroud was just 4-of-8 for 29 yards after Harrison's departure. 
While Harrison's injury was by far the most notable, Ohio State also lost tight end Cade Stover to a back issue that landed him in the hospital. Day was already without tight end Gee Scott Jr. heading into the game meaning little used tight ends Joe Royer and Sam Hart saw the field at times. Nobody was expecting Stover to be a huge threat except for apparently Chris Fowler but as Day noted, the personnel groupings were jacked without the team's top two tight ends. 
Within a game full of big plays, one play that wasn't ended up being gigantic as Ohio State appeared to convert a 4th-and-1 fake punt from its own 34 yard line but the play was ruled dead as the zebras awarded Kirby Smart a timeout right at the snap. This may have been more bad luck than bad call but either way, it was a huge turn of events. Ohio State owned momentum and a 38-27 lead at the time. Instead of maintaining possession midway through the fourth quarter with an 11 point lead, the Buckeyes punted to the Georgia 24 and one play later, Ransom fell down with no help, allowing a 76-yard touchdown. A two-point conversion later, it was 38-35 Buckeyes with momentum completely and abruptly changed. 
I could go on and on.. Five snaps from Miyan Williams, Mitch Rossi's illegal motion on another fourth down conversion attempt that would've succeeded, the spot on Brock Bowers' own fourth down catch and run (not sure it was bad/wrong, just tough). Painful stuff. Don't get it twisted, Georgia made enough plays to win and I'm sure through the lens of a Bulldogs fan there were some tough scenarios last night but for even a slight underdog to pull an upset in what was basically a road game, it needs more things to go its way than Ohio State saw last night. 
DAY TRIP
As fans begin to more fully digest last night's outcome, it will be interesting to gauge what percent of fans are over Ryan Day as Ohio State's head coach. He's now 1-2 versus Michigan, 1-3 in the CFP and hasn't won a Big Ten title in two years. 
Even with an 11-2 season that most programs would kill for, Ohio State lost its last two games and failed to reach any of its three stated annual goals. 
The defense fell off a cliff down the stretch as already summarized and the way Day and Knowles navigated the Michigan loss with in-game strategy was tough to watch. 
That said, I have no reservations in saying it's too early to suggest Day is 100% not the right person for the job. 
Losing to Michigan should always be considered unacceptable but it's at least worth a footnote these last two Michigan teams weren't the same batch of scrubs Urban and Tressel were beating on. And Georgia is on the cusp of being the first back-to-back national championship program since Alabama in 2011-12. 
I get the angst and I'm not making excuses for him - far from it - just saying these things are complicated if you take the time to realize the nuance and complexity of it all versus simply grunting about him not beating a revitalized Michigan program twice. 
He's been aggressive in trying to fix the defense though it certainly hasn't paid off to this point, he clearly did some self-reflection in how he handled the Michigan game offensive strategy and made changes versus Georgia, and as you saw during the game and in postgame interviews, the team's culture appears rock solid. 
The players didn't blame each other or go into a shell after the Michigan loss. They came out against Georgia and gave the defending national champs all they could handle. 
It may turn out Day indeed isn't able to reach the program's lofty goals but I'm not ready to throw in the towel on that notion after these last two seasons. That said, I understand why some fans are more frustrated than others. 
ON THE BRIGHT SIDE
Since I'm already over 1,600 words in, I'll just say at least I'm petty enough to revel in the fact Michigan lost as a legit favorite over TCU.
I thoroughly enjoyed watching them give up a 50 burger, allow 263 rushing yards on 6.4 a pop, get jobbed on a few calls and witness the quarterback throw a couple pick sixes. 
Conference pride is for suckers and fans of mid-low tier programs. 
Happy New Year, everyone.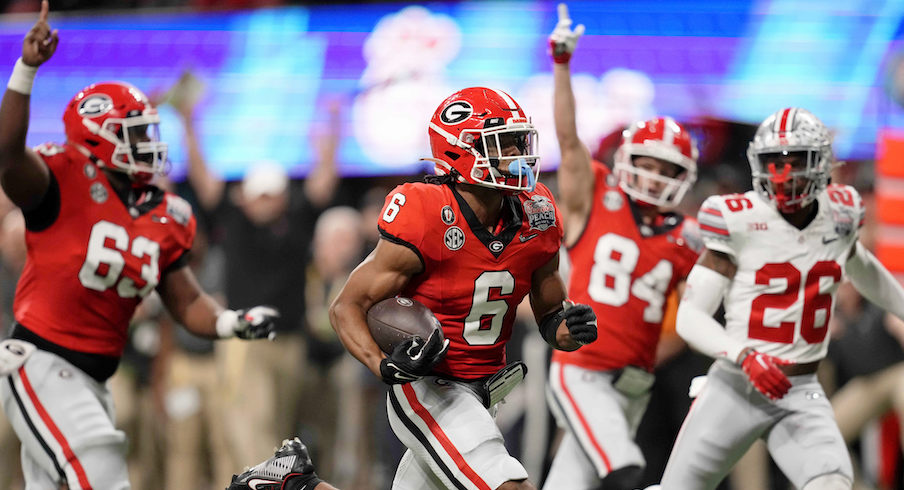 #1 Georgia 42, #4 Ohio State 41
Dec. 31, 2022 • Mercedes-Benz Stadium • Atlanta, GA