While Miyan Williams was available to play in the Peach Bowl, he didn't end up playing much against Georgia.
The Buckeyes' leading rusher for the 2022 season didn't start the game, with true freshman Dallan Hayden making his first career start in Williams' place, and he played only five total snaps for the game according to Pro Football Focus. Williams had battled a stomach bug this week while he was working his way back from an ankle injury he suffered in November against Indiana, and he said both injury and illness played a factor in his limited role against the Bulldogs.
"I missed practices, and just wasn't all the way, but I went out there and gave it my all," Williams told Eleven Warriors in the locker room after the game.
Despite his limited role and health, Williams still made his presence felt in the game when he powered his way into the end zone on a 2-yard touchdown run in the second quarter.
Miyan Williams powers in for the 2 yard TD #OhioState #PeachBowl pic.twitter.com/iu08v0cIjL

— @ (@FTBeard7) January 1, 2023
That, however, would be Williams' final carry of the night as he finished the game with just eight yards on three rushing attempts.
Fake punt snuffed out by timeout
Facing 4th-and-1 on the 34-yard line with just under nine minutes left to play in the game and Ohio State leading by 11, Ryan Day decided to roll the dice by dialing up a fake punt. On a play very similar to the fake punt Ohio State intended to run against Michigan, long snapper Mason Arnold snapped the ball to Mitch Rossi and Rossi took advantage of an opening on the left side to easily run for a conversion.
This time around, the fake punt wasn't foiled by any mistake of Ohio State's doing but by a timeout called by Georgia coach Kirby Smart that officials credited him with calling just before the ball was snapped.
Kirby Smart sniffs out the fake punt and calls timeout pic.twitter.com/1WymuuuY6f

— alex (@highlghtheaven) January 1, 2023
"They just were not in their traditional formation," Smart said after the game. "So it was one of those gut reactions that I didn't think that we had it lined up properly to stop it, so we called timeout."
Had that timeout not been granted, Ohio State would have gotten a new set of downs and been in position to, at a minimum, run some more time off the clock with a two-score lead. Instead, the Buckeyes actually punted the ball away after the timeout, which ended up doing them no good when Georgia scored a 76-yard touchdown on an Arian Smith reception on the very next play – a sequence that played a key role in Georgia's eventual 42-41 victory.
Rossi and the Buckeyes, meanwhile, are forced to live with knowing they had fake punts dialed up to work in back-to-back games yet ended up with nothing on either of them.
"At least that one I got it snapped and it's on tape, at least, so I guess that's a little consolation," Rossi said in the locker room after the game.
Stover hospitalized with back spasms
By the end of Saturday night's game, Ohio State was without its leading performers this season at running back, wide receiver and tight end.
While Williams played only sparingly due to his health and Marvin Harrison Jr. left the game in the third quarter with a concussion, Cade Stover was knocked out of the game late in the first quarter after being tackled on an attempted hurdle. After initially receiving treatment from Ohio State's medical staff on the sideline, Stover ended up heading back to the locker room and was later transported to a local hospital for precautionary reasons due to back spasms.
Per ESPN's Pete Thamel, Stover underwent an MRI which came back negative, indicating he did not suffer a more serious injury.
Gee Scott Jr. also did not play in Saturday's game after being listed as a game-time decision on the pregame status report, leaving Ohio State without two of its top three tight ends from this season by the end of the first quarter. As a result, Rossi (47) and Joe Royer (28) both played career-high snap counts at TE while Sam Hart also played a snap with the first-team offense.
Couple the tight end injuries with TreVeyon Henderson being out and Williams being limited at running back along with Jaxon Smith-Njigba being out and Harrison leaving early at wide receiver, and the Buckeyes found themselves digging deeper into the depth chart at the offensive skill positions than they normally would in a tight game. Xavier Johnson saw extended playing time (33 snaps) between both running back and wide receiver while Jayden Ballard also mixed in at wide receiver and Chip Trayanum also mixed in at RB.
"We lost Cade early in the game, which really sent us into a little tailspin in a couple of groupings," Day said. "I thought Xavier and Mitch and even Joe stepping in did a nice job with something we had to work through all season."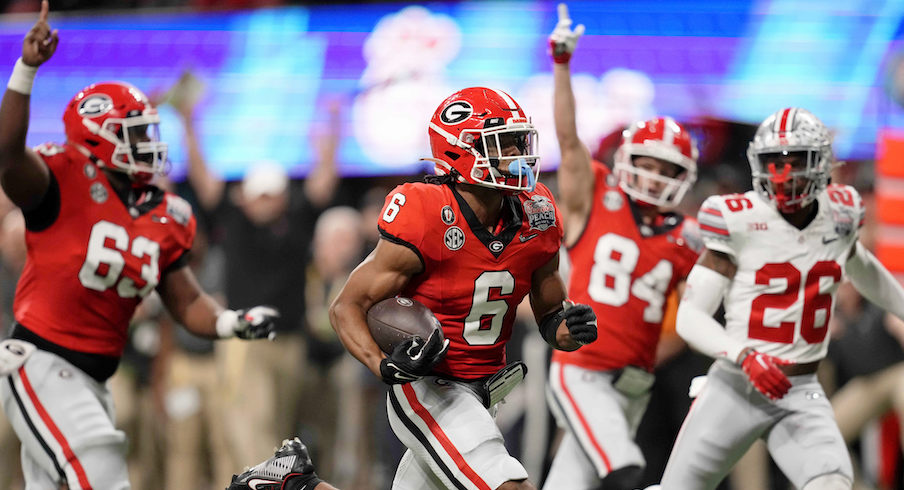 #1 Georgia 42, #4 Ohio State 41
Dec. 31, 2022 • Mercedes-Benz Stadium • Atlanta, GA