Happy New Year! If you're an Ohio State fan, 2023 is off to an awful start.
For the third time in four College Football Playoff appearances under Ryan Day, Ohio State outplayed its opponent. But here we are, reflecting on yet another loss on the biggest of stages.
Here are your three key stats from Ohio State's heartbreaking 42-41 loss to No. 1 Georgia in the Peach Bowl.
Six Minutes, 55 Seconds
In a night of what-ifs, a pivotal stretch of six minutes and 55 seconds spanning the end of the third quarter and several minutes into the fourth quarter will haunt Ohio State fans the most.
With Ohio State leading Georgia, 35-24, and facing a 3rd-and-goal from the Bulldogs' seven in the waning seconds of the third quarter, Georgia brought a blitz flushing C.J. Stroud back and out of the pocket. Throwing off his back foot, Stroud heaved one up for Marvin Harrison Jr. in the back of the end zone, with Georgia defensive back Javon Bullard arriving to deliver a monster hit on the ball.
Back judge Joe Johnston immediately threw a flag on the play, calling Bullard for targeting as Harrison, who would suffer a concussion, remained on the turf. The play was reviewed, and targeting was waived off. Instead of a first-and-goal with a chance to make it a three-possession game, Noah Ruggles came on to kick a 25-yard field goal to give Ohio State a 38-24 lead.
Georgia would have to settle for a field goal of their own on their next possession, cutting Ohio State's lead to 11. And that's where things really took a turn.
Despite a valiant Stroud scramble to nearly convert a 3rd-and-7 from their own 28 on their next possession, the Buckeyes were held to a three-and-out and brought on the punt team. On 4th-and-1, Ryan Day dialed up a fake punt with a direct snap to fullback Mitch Rossi, who ran around the left end for four yards and a first down.
Except Georgia was awarded a timeout prior to the snap on the fake punt. Here's Kirby Smart, circled, rushing to call the timeout after seeing a punt formation he – or someone on his staff upstairs – did not like.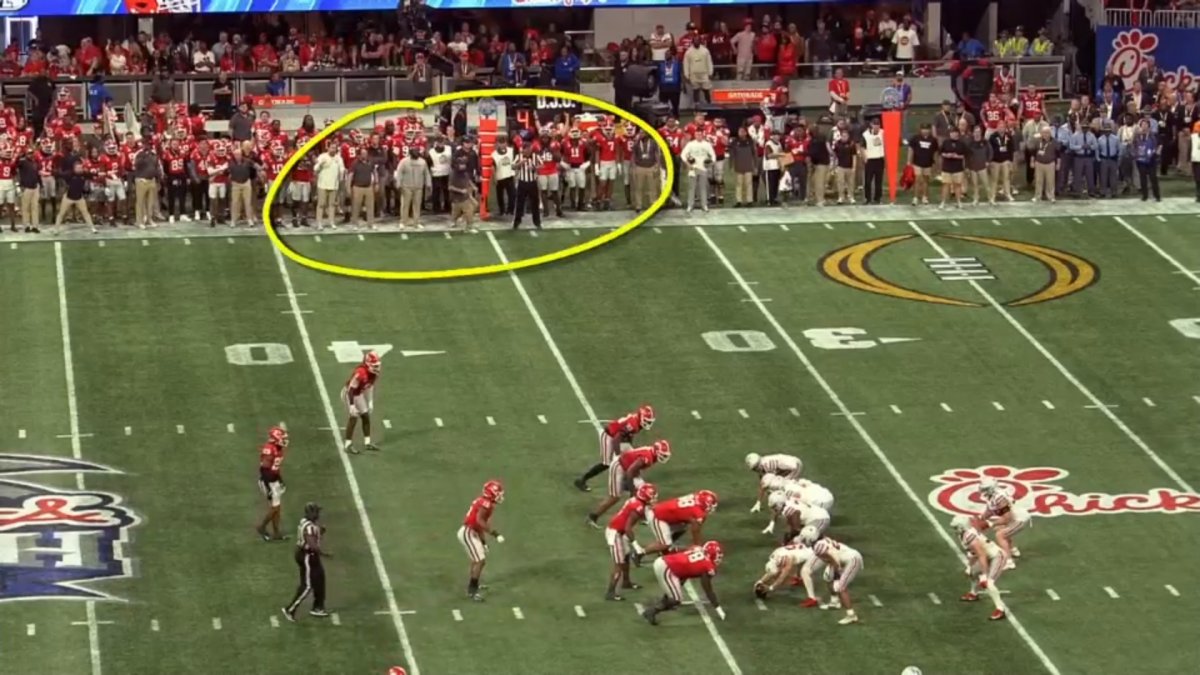 Although the ball was clearly snapped prior to the official signaling for the timeout, ESPN rules analyst Bill LeMonnier explained that a timeout can be granted if an official acknowledges the request for one, whether he's blown the whistle prior to the snap or not.
Ohio State punted after Georgia's timeout, with the Bulldogs taking over at their own 24. On the very next play, Ohio State defensive back Lathan Ransom slipped while covering Georgia wide receiver Arian Smith, and quarterback Stetson Bennett found him for a 76-yard touchdown. Georgia would pick up a two-point conversion following the touchdown, and just like that, it was a 38-35 game with 8:41 to play.
Six minutes and 55 seconds of hell for Ohio State that saw what could have been a three-score lead evaporate into a three-point lead.
192.4
Facing the No. 1 team in the nation, C.J. Stroud played perhaps his best game as a Buckeye Saturday night, throwing for 348 yards and four touchdowns and zero interceptions, good enough for a 192.4 quarterback rating.
Stroud completed eight of his first nine passes and had two separate streaks of seven completions in a row. At one point early in the third quarter, Stroud had thrown for as many touchdowns (4) as he had incompletions.
Time and again, he used delivered dimes to his wideouts, often scrambling to extend plays in the pocket to wait for receivers to break open downfield. The prettiest of which might have been his 16-yard strike to Harrison in the back of the end zone to give the Buckeyes a 21-7 lead early in the second quarter.
Late in the game, he turned to his legs more often, finishing with 70 yards rushing on the night, including a huge 27-yard run to the Georgia 32 with 28 seconds to play.
Stroud was criticized by a large portion of the Ohio State fanbase following a second straight loss to Michigan at the end of November but came to play Saturday night in Atlanta. Don't be surprised to hear his name attached to QB1 in the 2023 NFL Draft.
8.88 Yards per Play
Despite Stroud's heroics, the Buckeyes fell short because they simply could not get the defensive stops they needed in the Peach Bowl. On the night, Georgia averaged a ridiculous 8.88 yards per play, setting a new record for an Ohio State opponent. Ironically, the old high (low?) was set just over a month ago, when Michigan averaged 8.83 yards per play on the Buckeyes in Ohio Stadium.
Ohio State's defense held Georgia to 32 yards in the third quarter when the Buckeyes stretched their lead to 14, but the Bulldogs' 501 yards in the other three quarters to finish with 533 for the game.
Georgia's per-play average was so gaudy that it didn't even seem to matter that they went just 2-10 on third-down conversions.
"Fixing the defense" has been the mantra in Columbus for two years now, and it looks like it will be another big storyline heading into next season.
Bonus Stats & Numbers
Ohio State falls to 3–4 in College Football Playoff games, with Ryan Day falling to 1–3 as the head coach of the Buckeyes… Ryan Day has lost two straight games for the first time as a college football head coach… Ohio State falls to 2–12 in the postseason against teams from the SEC… Georgia piled up 455 yards on 17 big plays (rushes of 10+ yards and completions of 15+ yards)… Georgia quarterback Stetson Bennett was 8-10 on deep passing (15+ yards) and completed 11 of his final 13 passing attempts… This is worth repeating: Ohio State lost a game despite scoring 41 points and holding their opponent to 2-10 on third down (and 0-5 on third down in the second half)… We still cannot believe Ohio State lost this game.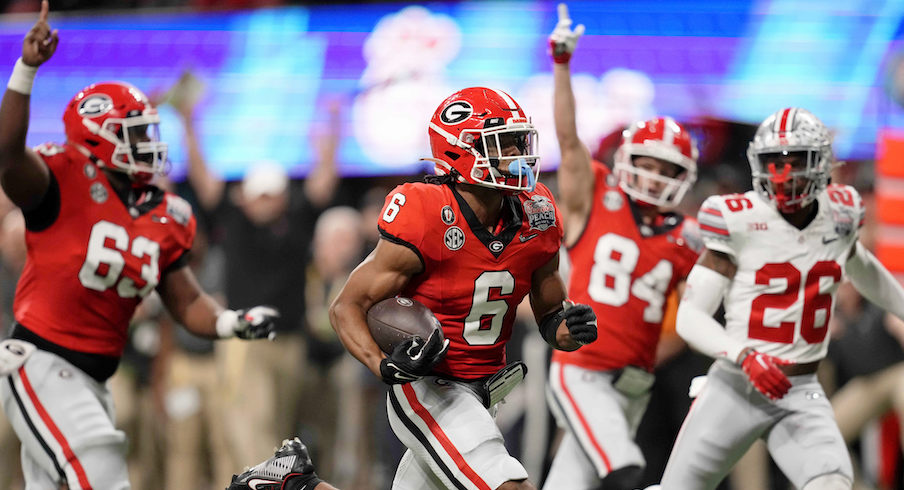 #1 Georgia 42, #4 Ohio State 41
Dec. 31, 2022 • Mercedes-Benz Stadium • Atlanta, GA