Throughout the course of the offseason, Eleven Warriors is taking an in-depth look at the state of every position group at Ohio State.
In 2018, Ohio State had a two-safety defense. In 2019, it went with a single-high safety and attempted to implement a hybrid linebacker-safety position called the "bullet" but didn't utilize it much. In 2020, the coaches rolled out a similar single-safety defense without any thought of the bullet but with some more two-safety looks thrown in.
Now in 2021, the Buckeyes are expected to bring the bullet back – though, to be fair, it's hard to bring something back that never truly existed. 
Josh Proctor returns as a senior to man the deep safety spot for Kerry Coombs and Matt Barnes. Complementing him will be some semblance of a combination of three players at the hybrid safety/linebacker bullet – Ronnie Hickman, Craig Young and Kourt Williams. Based on the way the Buckeyes lined up in spring and given how they've recruited, they're signaling their intention to go all-in on the bullet as a regular part of their defense going forward.
So, what should you anticipate from Ohio State's safety position in 2021 and beyond? For the last time in this series, let's dig in.
The Personnel
Josh Proctor: A fourth-year from Owasso, Oklahoma. Proctor became a full-time starter in the middle of last season for the first time in college to mixed results. The honorable mention All-Big Ten selection is being counted on to make major strides as a senior around which much of the secondary will be built. He'll again start at safety this fall, and he's expected to spend the whole season as what's effectively the free safety.
Marcus Hooker: A fourth-year from New Castle, Pennsylvania. Hooker's status as a member of this team was in question when he was arrested for a DUI but he remains a Buckeye as preseason camp nears. He started as the deep safety in this defense last season but eventually lost the job to Proctor. He'll come into the fall expected to be a reserve. 
Craig Young: A third-year from Fort Wayne, Indiana. Young spent his first two years in Columbus as a strongside linebacker, but now that the coaches are ready to turn further to the bullet, he's now with the safeties. He was one of two players in the spring game listed as a bullet. Listed at 6-foot-3 and 228 pounds, he's the biggest player in the safety room.
Ronnie Hickman: A third-year from Wayne, New Jersey. Hickman went from Greg Schiano to Jeff Hafley to Kerry Coombs and Matt Barnes before his second season at Ohio State even began. Now, he's both healthy – after an ACL tear wiped out his freshman year – and gets to have the same coaches for a second year. The one-time high-end four-star recruit has a chance to start at bullet this year.
Bryson Shaw: A third-year from Eldersburg, Maryland. Shaw hasn't played much yet in his career, having seen the field for 30 defensive snaps last season, but he has a chance to become the primary backup to Proctor this season. The former high school lacrosse star quietly has the depth chart set up in a way where he could see the field a good bit with a strong preseason.
Kourt Williams II: A second-year from Harbor City, California. Williams was careening toward making an immediate impact as a true freshman in 2020 before suffering a torn ACL in October. His first months within the program had him getting noteworthy praise from the coaches. Provided he's healthy enough to go when the season kicks off in a month and a half, Williams joins Young and Hickman as the third option at bullet. 
Jantzen Dunn: A first-year from Bowling Green, Kentucky. Dunn comes into the program as the No. 171 overall recruit in the cycle, and he immediately joined Proctor and Shaw as a free safety once enrolling earlier this year. Ohio State won a head-to-head recruiting battle with Oklahoma – which at one point thought it had Dunn's commitment – and now will enjoy the spoils of having him in its program.
Jaylen Johnson: A first-year from Cincinnati. Johnson, one of the most vocal player-recruiters in the 2021 class, is thought to be a fit as a bullet in Ohio State's defense. The La Salle graduate – ranked as the No. 412 overall recruit – is one of three three-star recruits in the Buckeyes' 2021 class.
Andre Turrentine: A first-year from Nashville, Tennessee. Turrentine, at 6-foot and 175 pounds, comes to Columbus as somebody who could end up at either safety or cornerback. He was ranked as the No. 170 overall prospect in his class.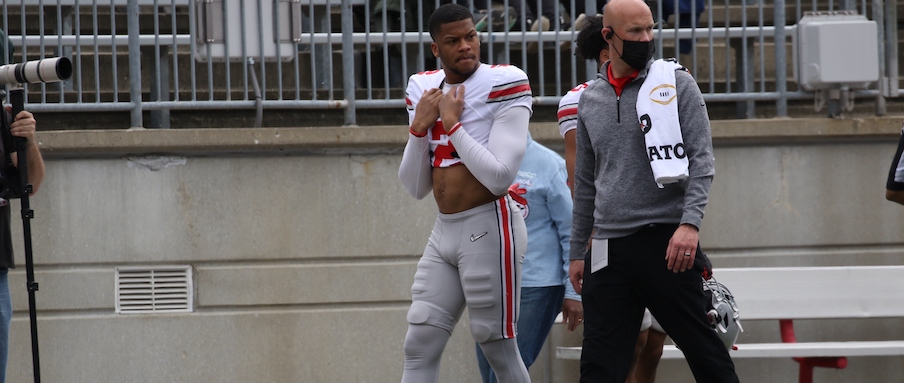 Outlook In 2021
There's one certainty. And one total unknown. Not much in between.
Proctor is the certainty. He'll be the starting deep safety in Ohio State's defense. A year ago, Barnes was making the case that, actually, Proctor was at his best as an in-the-box safety who could move around and make plays all over. That plan lasted half a season until he took over for Hooker as the starting single-high safety.
State of the Position
There's no confusion about Proctor's role this time around. It's his job to patrol the back end of the defense in a role that was once Jordan Fuller's a few years ago. He's always been an aggressive, hard-hitting, ball-seeking safety who prioritizes playmaking. This year, he'll try to pair those attributes with more under-control play considering he's the last line of defense. If things click for Proctor the way some people have long hoped, he could be one of the defense's brightest spots. 
It's especially important that Proctor is reliable because the depth behind him is questionable. Shaw is in his third year at Ohio State but has minimal in-game experience. Dunn and Turrentine are just true freshmen. Proctor's quietly one of the most indispensable players on this team.
The main question in the safety room is how the Buckeyes choose to deploy their bullets.
Two years ago, the defense – led by Hafley and Greg Mattison – appeared to be all-in on the bullet position with Brendon White. They ultimately determined that Pete Werner was the best option and effectively used him as a bullet while still calling him a strongside linebacker. The offseason messaging is similar this go-round, but there's no Werner at linebacker to take snaps. Provided the plan hasn't completely changed this summer, the Buckeyes will go into preseason camp in a couple of weeks with visions of using their bullets – Young, Hickman and Williams – as regular pieces of their defense.
Now, which of the three will start? WIll they be an every-down player? Will they rotate? Will they essentially operate as second safeties or third linebackers? There are a boatload of questions, most of which won't be answered until the season kicks off.
All three of the options are bullets are intriguing in their own ways.
Young is a physical anomaly who's larger than most safeties but could be a perfect fit in this hybrid role. He clocked a 10.7-second 100-meter dash in high school and is now 228 pounds. That combination of size and speed is what made Werner successful. Hickman's more of a traditional safety at 6-foot-1 and 205 pounds. He was recruited prior to the existence of the bullet but is believed to have the physicality necessary for the spot, which he manned in the spring game. Williams could end up at either safety or bullet. He's a favorite of the coaching staff but also will come into September without any playing experience at the college level because of his ACL injury.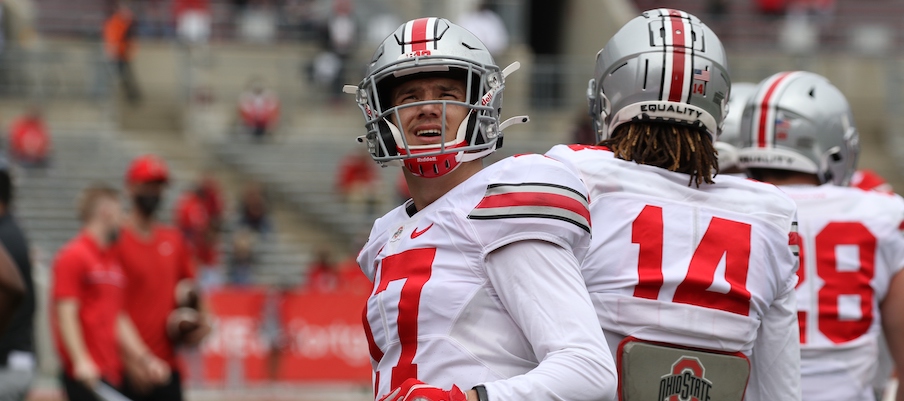 Long-Term Outlook
Projected Depth Chart in 2021
S: Josh Proctor, Bryson Shaw
Bullet: Ronnie Hickman, Craig Young
Projected Depth Chart in 2022
S: Kourt Williams, Bryson Shaw
Bullet: Ronnie Hickman, Craig Young
Projected Depth Chart in 2023
S: Kourt Williams, Bryson Shaw
Bullet: Jaylen Johnson, Xavier Nwankpa
Much like the situation at cornerback, the safety position in the midst of getting restocked. The Buckeyes brought in a trio of freshmen this year – Dunn, Turrentine and Johnson – and have Kye Stokes committed with eyes on landing Xavier Nwankpa and Zion Branch to round out the 2022 class.
So, in the long term, this position is set up for success. It's also set up for Ohio State to either go back to a two-safety defense or utilize the bullet regularly. Clearly, the coaches have placed a premium on accumulating as many versatile defensive backs as possible to replenish the position in a manner where they'll have at least two on the field at a time. They're recruiting like a staff that expects at least five defensive backs on the field at a time.
One of the biggest long-term questions that will have to be answered a year from now is the succession plan at the single-high safety. Proctor, though he has eligibility to be back in 2022, will be expected to leave for the NFL after this season. Will a fourth-year Shaw be ready to start in 2022? Do Dunn or Turrentine jump him on the depth chart? Or will Williams shift from bullet to free safety? Coombs and Barnes will want to have a general outline of a plan by the time the upcoming season comes to a close.
At bullet, some combination of Hickman, Young and Williams will play the majority of snaps the next two seasons. Johnson will be a prime candidate to take over once their time in Columbus is done, and so might Nwankpa if the Buckeyes win that recruiting battle.