Throughout the course of the offseason, Eleven Warriors is taking an in-depth look at the state of every position group at Ohio State.
The position for which Larry Johnson has gained the majority of his unimpeachable reputation as a legend is defensive end, and for understandable reasons. That's what happens when you bring in the Bosas, Chase Young and a boatload of other studs. 
But Ohio State has quietly been steady, to say the least, at defensive tackle in recent years. Johnson put Dre'Mont Jones, Tommy Togiai and DaVon Hamilton into the NFL as mid-round picks each of the past three years. Amazingly, this is the first time in program history that the Buckeyes have had defensive tackles in three consecutive drafts. With Haskell Garrett still in school, the streak should be extended next year, too.
So, with that recent run of success in mind, what can be expected from Ohio State's defensive tackles in 2021 and beyond? Let's dig in.
The Personnel
Antwuan Jackson: A sixth-year from Ellenwood, Georgia. Jackson's decision of whether to use his additional year of eligibility granted by the NCAA due to the pandemic was made more interesting when Togiai left. It opened up a potential spot at 1-technique for him to start in the middle of Ohio State's defense. So far, Jackson's been a third-stringer who rotated heavily last year. In 2021, he'll be expected to carve out his largest role yet.
Haskell Garrett: A fifth-year from Las Vegas, Nevada. Garrett pulled a surprise by eschewing the 2021 NFL Draft and opting to stay in Columbus for an extra year, using the pandemic-spurred season of eligibility offered by the NCAA. He turned in a remarkable All-American season in 2020 after getting shot in the face on Aug. 31. He's one of the Buckeyes' leaders and will be relied upon to turn out position-best production this fall.
Jerron Cage: A fifth-year senior from Cincinnati, Ohio. Cage has had a quiet first four years at Ohio State but ended last season with a start in the national championship game when Togiai had to sit out due to a positive COVID-19 test. He's a veteran who'll raise the floor of these defensive tackles. He and Jackson are the two early favorites to start at nose tackle.
Taron Vincent: A fourth-year from Baltimore, Maryland. Vincent's career went sideways before his second season began when he suffered a season-ending shoulder injury. He wasn't even ready to play when the following season rolled around. Now a redshirt junior, Vincent could be ready for a breakthrough. He's expected to rotate with Garrett at 3-technique.
Jaden McKenzie: A third-year from Wake Forest, North Carolina. McKenzie has only played sparingly thus far, seeing the field for only seven defensive snaps as a redshirt freshman last season. Brought in late in the 2019 cycle as a developmental prospect, he's in line to potentially rotate this season before his role could drastically increase in importance the two following years.
Noah Potter: A third-year from Mentor, Ohio. Potter's the wild card at the position. We haven't seen much of him since he arrived but he moved from defensive end to defensive tackle in the offseason. At 6-foot-6 and 270 pounds, he has plenty of size to succeed in the middle of the line. With his training as an edge rusher, it's fair to wonder whether he might be one of the better interior pass-rushing underclassmen.
Ty Hamilton: A second-year from Pickerington, Ohio. Hamilton, DaVon's younger brother, immediately impressed once arriving on campus but couldn't penetrate a deep depth chart for many nose tackle snaps as a true freshman. He'll join Jackson and Cage at 1-technique this season in preparation to potentially start as soon as 2022. 
Jacolbe Cowan: A second-year from Charlotte, North Carolina. Cowan came in as a defensive end but listed at a towering 6-foot-4 and 280 pounds, he's an ideal fit at an interior line spot. Due to an undisclosed injury, he didn't play at all last year. This fall, he'll make his debut and begin the path toward extended playing time down the line.
Michael Hall: A first-year from Streetsboro, Ohio. Hall has the potential to turn into a hell-raiser of a 3-technique. He thoroughly manhandled overpowered competition in Division-III football while at Streetsboro en route to becoming the 52nd-ranked overall prospect in his class. Though first-year defensive tackles don't usually play much, he'll be a big part of Johnson's plans in future years.
Tyleik Williams: A first-year from Manassas, Virginia. Williams, despite being just a true freshman, outweighs every other defensive lineman on the team by at least 20 pounds. The 6-foot-3, 330-pound nose tackle is a throwback of sorts considering Johnson has trended in recent years toward recruiting defensive tackles who can move between both 3-technique and 1-technique. He was somebody who impressed Ryan Day early in spring camp.
Ohio State does not have any defensive tackle commitments yet.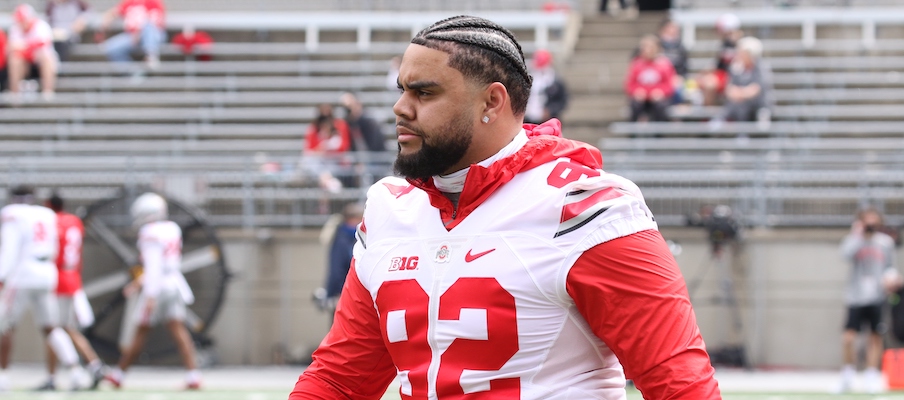 Outlook In 2021
Had Togiai chosen to stay for a fourth year, Ohio State could have run it back with entirely the same defensive tackles. He chose to leave for the NFL, though, ending up a Cleveland Brown who was picked in the fourth round.
Even without him in the mix anymore, the Buckeyes should be more than fine at defensive tackle this year.
State of the Position
It all begins with a high-ceiling 1-2 punch of 3-techniques in Haskell Garrett and Taron Vincent. One is a returning All-American and the other is a former five-star recruit seemingly on the precipice of a breakout.
Garrett suffered a leg injury that knocked him out for much of spring camp, though he's expected to be fine by the time the season begins. Provided he can replicate last year's production or take it a step further, the Buckeyes will have one of college football's best defensive tackles. What Vincent might be able to do is where the ceiling of this duo rises. He's finally healthy and showed every sign in the spring that he's taking a step forward that'll translate to games this fall.
"He's definitely playing his best football, and it all started in the offseason," Days said in the spring. "He gave himself to coach Mick (Marotti). He got gold. And now he's about to take off. If you were asking me probably the most improved right now, I would probably say Taron up front."
Johnson likes to get pass-rushing and disruption from his 3-techniques, and Vincent and Garrett should be able to give it to him.
Those two also have the ability to play nose tackle, where Garrett said they both took some reps in the spring. But more likely than not, that's where the Cage-Jackson pairing comes into play. It's a classic high-floor, low-ceiling situation. Together, they already have nine years of experience. They should be reliable, even if they're not game-changers – though DaVon Hamilton showed that unexpected late-career leaps at defensive tackle aren't impossible.
Ty Hamilton should be a legitimate option if Johnson wants a third guy in the nose tackle rotation. McKenzie could be in the mix for some 3-technique snaps, too.
The Potter-Cowan-Hall-Williams quartet will likely spend most of their time in 2021 developing in practice and watching the games from the sidelines. Yes, they'll get their in-game opportunities at times, but will there be any meaningful snaps for them to play this fall? Not many, in all likelihood. Their biggest impacts will come down the line.
Long-Term Outlook
Projected Depth Chart in 2021
3-technique: Haskell Garrett, Taron Vincent
Nose tackle: Jerron Cage, Antwuan Jackson
Projected Depth Chart in 2022
3-technique: Taron Vincent, Michael Hall
Nose tackle: Ty Hamilton, Tyleik Williams
Projected Depth Chart in 2023
3-technique: Michael Hall, Noah Potter
Nose tackle: Ty Hamilton, Tyleik Williams
Ohio State has to feel pretty good about its defensive tackle situation this fall. After 2021…? It's a mystery at both 3-technique and nose tackle.
Cage could opt to come back for a sixth year and Vincent could remain in school for a fifth year. Neither is a lock. If both happen to leave, Ohio State would have to replace all four of its top defensive tackles next offseason. As of now, we're projecting Vincent to remain on the team in 2022, but if he has a true breakout season this fall, it's worth preparing yourself for this possibility.
For that reason, the Buckeyes need to find out what they have in Hamilton, McKenzie, Hall, Williams, Potter and Cowan this upcoming season. Those six guys will play big roles in the following years. Hamilton and Williams are no-doubt nose tackles the same way Hall, Potter and Cowan are destined to play 3-technique. McKenzie might be able to play either of them. Darrion Henry-Young and Cormontae Hamilton could eventually outgrow the defensive end position, too.