Throughout the course of the offseason, Eleven Warriors is taking an in-depth look at the state of every position group at Ohio State.
We're getting this annual series underway with everybody's favorite position: Quarterback.
Gone is the Justin Fields era. The most talented signal-caller in Ohio State history left college to begin his NFL career earlier this year, officially signaling that there will be a new starter taking snaps behind center in 2021.
Three scholarship quarterbacks – C.J. Stroud, Jack Miller and Kyle McCord – populate the quarterback room right now with Quinn Ewers currently committed. 
The Personnel
C.J. Stroud: A second-year from Rancho Cucamonga, California. Stroud entered the summer as the perceived favorite to start this fall in the three-man competition with Miller and McCord. His stock has steadily risen since it took off at the 2019 Elite 11 Finals when he won MVP, preceding an Ohio State offer that he accepted. Stroud enrolled as a freshman last January and became the quasi-backup quarterback by the 2020 season's end. He didn't throw a pass but rushed for a 48-yard touchdown on his sole carry.
Jack Miller: A second-year from Scottsdale, Arizona. Miller originally committed to Ohio State on July 1, 2018, and he stuck with his pledge even though Ryan Day landed Stroud as the second quarterback in the 2019 class. He dealt with injuries late in his high school career, causing his recruiting rating to fall, and entered the program last January seemingly with less momentum than Stroud. Like his classmate, he hasn't thrown a pass in college but has rushed twice for 23 yards and a touchdown.
Kyle McCord: A first-year from Philadelphia. McCord, Pennsylvania's Gatorade Player of the Year, came onto campus in January with the intention of competing with Stroud and Miller for the starting job. He's the only five-star recruit among the trio. He completed spring camp, ending it by completing 12-of-16 passes for 184 yards and two touchdowns in the spring game.
Ohio State has one quarterback committed in its future classes.
Quinn Ewers: A 2022 commit from Southlake, Texas. He's an all-world talent ranked as the No. 1 overall prospect in his class regardless of position. At 6-foot-3 and 206 pounds, he's the total package, which is why he's the sixth player in the modern recruiting era to have a perfect 1.0000 247Sports composite ranking. Ryan Day and Corey Dennis flipped him from Texas, landing his pledge in November.
Outlook In 2021
It's never easy to replace somebody like Fields, who put together a stunning two years in Columbus. That, however, is the chief task for the Buckeyes this offseason.
When exactly Day and Dennis will make the quarterback decision between Stroud, McCord and Miller remains unknown. The head coach says he wants to name a starter before the season-opening week, and he'd like to have the winner of the competition in place before then, but he has said he's not married to a timeline.
"Until someone really puts themselves out in front of the other two, we'll just keep going," Day said.
All coaches and players who spoke to reporters throughout spring practices did everything they could to avoid revealing any information about how the quarterbacks looked. Media members got minimal chances to see practice. Even the spring game was played without tackling. So, it's been difficult to get a true gauge both on how exactly the quarterback picture looks and what type of production to expect from the yet-to-be-named starter.
As of May, it seems as though Stroud's holding onto the lead in the battle. He was a late-rising recruit who became a top-50 overall prospect late in the process, choosing Ohio State then ascending during his freshman year to backup duty – even though he was never officially named the No. 2 quarterback on last year's depth chart. This spring, he was typically the first quarterback going through drills, and he ended it with a 16-for-22 performance for 185 yards and two touchdowns in the spring game.
While Stroud ultimately winning the competition is the most likely outcome in the eyes of most, it's not a foregone conclusion.
McCord shined in the spring game, going 12-for-17 for 184 yards and two scores. He has what's arguably the most potent skill set among the trio of quarterbacks involved in the competition. His arm talent is evident. Working against him, however, is the fact that he arrived on campus in January and has to learn high-level concepts and master what Day needs in a quarterback by the time the season starts on Sept. 2. That's a lot to ask of a first-year signal-caller, though the lack of in-game experience by the others battling for the opening makes him starting this fall a realistic possibility.
Miller is still involved in the competition, though most on the outside of the Woody Hayes Athletic Center view him as the least likely of the three. No coach or player has said as much publicly, but Stroud was the emergency backup quarterback last fall, was ahead of him in drills this spring, and Miller then went through some spring game woes with him going 17-of-30 for 128 yards and an interception.
Soon enough, all of the speculation will come to an end.
Then, the real question will have to be answered: What kind of production will Ohio State get out of the next starting quarterback? Since Day brought them in as highly regarded recruits and has coached them along with Corey Dennis for a while, there has to be some level of confidence, but the fact none of them have ever thrown a pass in college makes things notably more uncertain.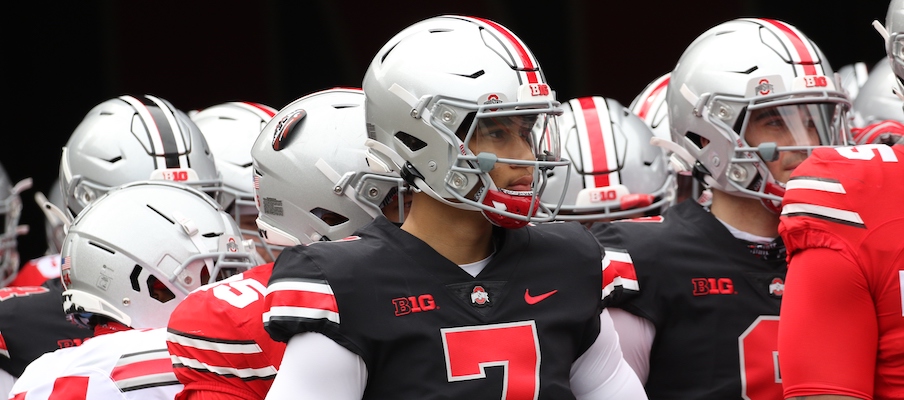 Long-Term Outlook
Projected 2021 Depth Chart
1. C.J. Stroud
2. Kyle McCord
3. Jack Miller
Projected 2022 Depth Chart
1. C.J. Stroud
2. Kyle McCord
3. Quinn Ewers
Projected 2023 Depth Chart
1. Quinn Ewers
2. Unknown 2023 signee
3. Unknown 2023 signee/Transfer
It's clear how high school quarterbacks view Day and the Ohio State offense. They see them as a vessel to get them ready for the NFL. 
Miller remained committed, Stroud was willing to become the second quarterback commit in his class, McCord hopped onto the scholarship offer early in the process and Ewers picked the out-of-state Buckeyes over his home-state Longhorns and every other school in the country. 
It's pretty much impossible to recruit any better than Ohio State currently is at quarterback. Can it retain all of them year after year? Of course not. But it seems as though the way to succeed at the position in the modern day is to bring in the best players possible in each class, understand some might transfer along the way and have them compete against each other every single year. That's what Day's now trying to do.
It, however, also makes accurately predicting the future depth charts at quarterback especially difficult.
If Stroud wins the starting job this offseason, would he hold onto it the following year with McCord in his second year and the freshman version of Ewers trying to take it from him? How long are guys willing to stay out of the transfer portal if they're not starters? Will Ohio State have to supplement outgoing transfers with incoming transfers? Is there a chance only one of the three quarterbacks currently on the roster ever is a full-time starter for the Buckeyes? How long would Ewers be willing to stick around while not being a starter?
How those questions get answered over the next couple of years will define the position's future in Columbus.
Parting Thoughts
It being a transitional year at quarterback brings about a degree of uncomfortability.
How could it not? Fields was an unreal talent, and the guy who replaces him – whoever it ends up being – will enter the Sept. 2 opener having never thrown a pass for the Buckeyes before. 
Nobody knows how good someone like Stroud would be if he wins the job. Because he was a top-50 recruit who turned into last year's backup, took the first starting reps this spring and has spent a year learning from Day and Dennis, there's no reason to panic. But anybody who hasn't watched him progress each day from inside the facility is not doing much more than speculating when they talk about how he – or McCord and Miller, for that matter – would perform this fall.
Still, the Buckeyes wouldn't trade this quarterback situation with many – if any – other college football teams, especially if Ewers is included in the equation.
There's no in-game experience, but there's a boatload of talent. Ohio State is in an enviable spot with its quarterbacks both now and into the future.