The structure head coach Ryan Day has built for Ohio State quarterbacks isn't accidental. Not in the least bit.
He has professed his desire to have the program seen as QBU. He wants the Buckeyes to produce top-end NFL quarterbacks better than anybody else. So he's installed an offense similar to that which they'll see in the pros. Justin Fields, the Chicago Bears' 11th overall draft pick, spent the past weekend at rookie minicamp learning about the system he's being asked to run. To him, at least thus far, it hasn't been much of a transition at all.
"I would say it's probably the same. I think the only different thing about our offense is at Ohio State we did signals from the sideline, so actually getting in the huddle and calling the play out is the only different thing," Fields said on Friday. "But everything else is pretty much the same when it comes to concepts and stuff like that."
Essentially, Fields has learned, Ohio State runs what those at the next level do.
For the Buckeyes' purposes right now, that offers a little bit of context about what Day and quarterbacks coach Corey Dennis are trying to do with the three underclassman quarterbacks on their roster vying for the starting job. C.J. Stroud, Jack Miller and Kyle McCord, as everybody who follows the team knows, haven't thrown a single pass at the college level. Yet one of them will have the keys to the offense in three and a half months when the season-opener kicks off.
"Obviously we'd love to have somebody that's in year two or three here. We don't have that luxury," Day said a few weeks ago. "So we've got some young guys, and they got work to do. And so it's a race to make up for time that we don't have. That's just the truth of it."
And as Fields says, they'll be operating something akin to an NFL offense.
Stepping in is a challenge for any first-year starting quarterback. It's only made more difficult for the Stroud-Miller-McCord triumvirate that lacks any notable in-game experience yet is about to get tested right off the bat in a few months.
Each year, Ohio State's schedule is constructed slightly differently. In 2021, it can be segmented into five separate parts.
Here's how it'll affect Stroud, Miller or McCord – whichever one starts come Sept. 2.
Thrown in the Deep End
There's no easing in for Ohio State's next quarterback.
The season-opener will be on the road at Minnesota, and it's expected to be a primetime showdown in Minneapolis. The last two starting quarterbacks – Dwayne Haskins and Justin Fields – played Oregon State and Florida Atlantic in their debuts. The Golden Gophers, who are coming off a 3-4 season, aren't expected to be a force. But they aren't necessarily a pushover either, especially in enemy territory with what's likely to be a full stadium under the lights on a Thursday. 
Awaiting the following week will be Oregon, a hopeful College Football Playoff contender. Not an optimal opponent for a new starting quarterback. Defensive end Kayvon Thibodeaux, a potential No. 1 overall selection in the 2022 NFL Draft, will be a force. And he's not a one-man show. Noah Sewell, Mykael Wright, Isaac Slade Matautia, Verone McKinley and Justin Flowe are part of arguably the Pac-12's most talented defense.
Not since 2017, when the Buckeyes played Indiana on the road and Oklahoma at home, have they faced such a stiff challenge in the first two weeks.
A Month to Step Back
The goal is pretty simple: Get to 2-0. If Ohio State can manage to do so, it'll have a chance to take a deep breath and readjust.
The Buckeyes are set up to play consecutive home games against Tulsa, Akron, Rutgers and Maryland before a bye week. 
Tulsa's losing first-round pick linebacker Zaven Collins and transfer cornerback Akayleb Evans. But since the Golden Hurricane went 6-3 last year and brings back seven defensive "super seniors" including five who started, they're worth keeping an eye on. Still, this should be a step back from the prior weekend's Oregon matchup.
Akron, which went 1-5 last season, is a total mess. Rutgers, while there's hope for the future, is still building from the ground up. Maryland returns 10 defensive starters, but their defense got carved up last year.
Some have wondered whether, in a worst-case scenario, Ohio State would consider making a quarterback change if the starter struggles to begin the season. It's a fair question with a trio of talented signal-callers on the roster. The way this sets up, though, there should be ample time to get back on track against lesser competition for four straight weeks. Unless the first couple of weeks are an abject disaster for Stroud, Miller or McCord, this month-long stretch sets up well.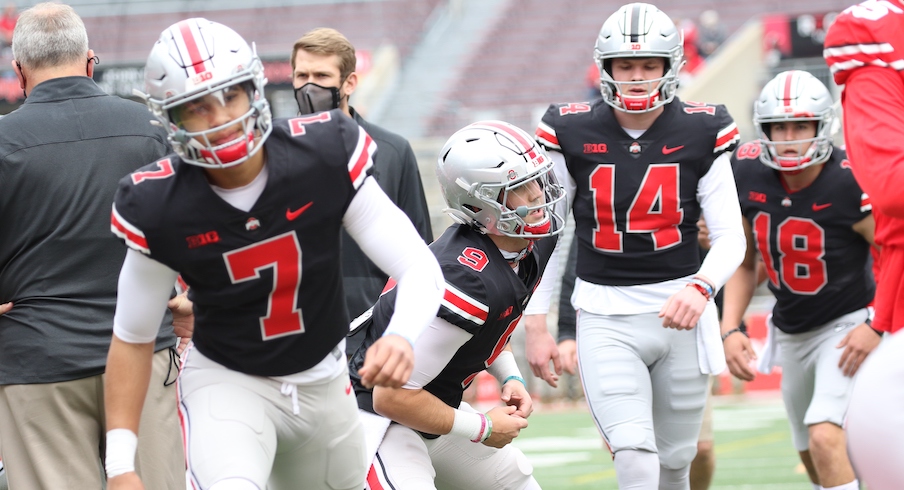 Three Tests
Coming out of the bye week, the Buckeyes' first-year quarterbacks will see three Big Ten teams not named Rutgers and Maryland. In other words, it should be a step up in competition.
Ohio State first goes to Bloomington, Indiana, to take on Tom Allen's plucky Hoosiers who gave Ryan Day a scare last year. They should feature another quality defense, which includes third-team All-American linebacker Micah McFadden, sixth-year Marcelino Ball and a solid secondary. 
The following weekend, the Buckeyes will welcome Penn State to Columbus. The Nittany Lions lost Micah Parsons, Jayson Oweh and Shaka Toney but bring back seven starters on defense, including Brandon Smith and the other starting linebackers.
Ohio State then goes on the road to face Nebraska, which returns nine starters from last season's less-than-sturdy defense. With some additional experience, guys like JoJo Domann are worth keeping an eye on.
How much Stroud, Miller or McCord can progress in the time after getting thrown in the fire in the opening two games will be on display in this three-week stretch.
A Breather
The next starting quarterback will experience two more should-be-blowouts before everything ramps up in the stretch run.
The Buckeyes have back-to-back November home games against Purdue and Michigan State for their final two showdown in Ohio Stadium this year. By most estimates, these should be two of the four worst teams in the Big Ten in 2021. If they can figure out a way to hang around Ohio State for longer than the first half, something probably went wrong on Day's sideline.
With the postseason nearing, consecutive games versus the Boilermakers and Spartans should offer a nice little confidence boost for the starting quarterback.
The Final Sprint
Michigan.
Big Ten championship.
Bowl – College Football Playoff? – season.
Both Haskins and Fields were humming at peak performance as the season wrapped up. The same will be expected of Stroud, Miller or McCord.